Important early work by Richard Smith soars to £102,500
14/02/2020 Modern & Contemporary British Art, News Stories & Press Release
LONDON: Bidders were out in force for Roseberys first Modern and Contemporary British art sale of the year, spending over £530,000 and absorbing 85% of the lots on offer. Containing an abundance of high-quality art, many by renowned British artists, the February 11 auction generated spirited bidding throughout with a number of lots exceeding expectations. 
Vicki Wonfor, Joint Managing Director commented " The strong sale results for this auction continues to reflect the ongoing trend for the strength of home grown British talent and its' appeal as a believable investment and prospect for both private collectors and the trade. We were delighted to have a full room for the majority of the sale and the buyer appeal was no doubt a combination of the large cross section of great artists on offer and the majority of works being from private collectors that had not been seen on the market for a long time."
This included the star of the sale, a recently discovered abstract painting in two parts by the late artist Richard Smith. It attracted intense competition before it was eventually knocked down at £102,500. Other top selling works included a rare early portrait by Vanessa Bell and a nude drawing by LS Lowry dating to his time as a student.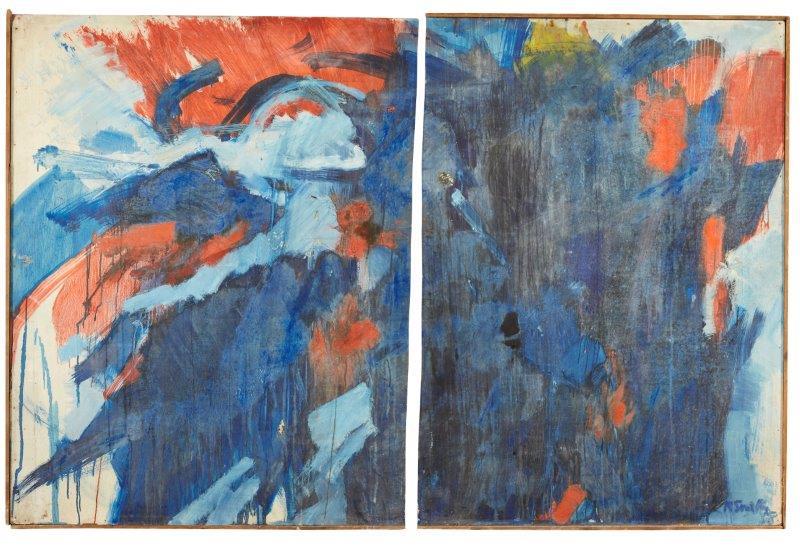 Signed and dated to 1958, Noplace is an important early work from Richard Smith's (1931-2016) formative years as a young painter fresh out of the Royal College of Art. The canvas, presumed to have been cut by the artist at a later date, belonged to the London-based architect Margaret Dent and came to Roseberys via her descendants. It was first shown (in one piece) at the Arts Council of Great Britain exhibition Abstract Impressionism in 1958 and was organised to bring together artists from England, France and the United States whose work represented both abstraction and a painterly interest in colour, touch, light and space. The following year, Smith received the Harkness Fellowship to travel to New York where he began to explore elements of both Abstract Expressionism and Pop art in his own work. [Lot 162]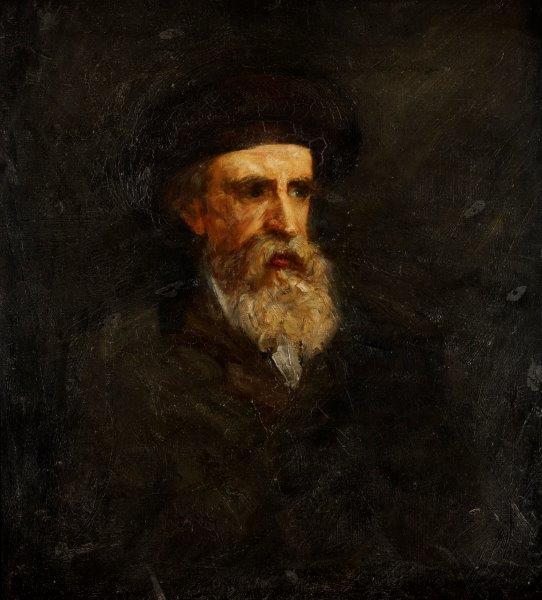 A portrait by Vanessa Bell (1879-1961) of her father Sir Leslie Stephen, believed to be the earliest known portrait by the Bloomsbury Group painter, sold for £20,000. Stephen, who was also the father of Virginia Woolf, was an eminent man of letters and an editor of the Dictionary of National Biography. The portrait is similar to another (on loan to the National Portrait Gallery) painted by the great Victorian painter George Frederic Watts who was both a family friend and a significant influence on Bell's early work. [Lot 30]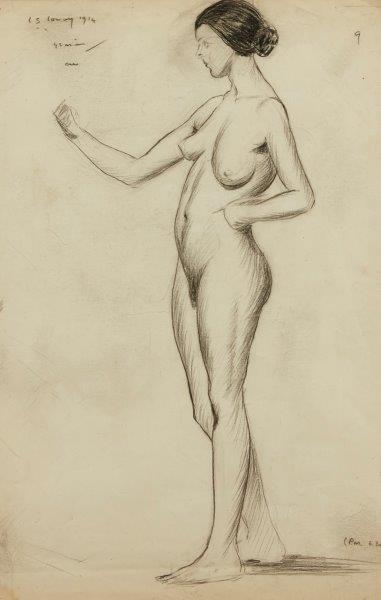 A rare early drawing by LS Lowry (1887-1976) and bearing his signature was taken to £22,500. The Salford artist created the female nude drawing at an evening life-drawing class in 1914 with the French Impressionist painter Adolphe Valette. "I cannot over-estimate the effect on me of the coming into this drab city of Adolphe Valette, full of French impressionists, aware of everything that was going on in Paris," said Lowry of his teacher. According to the inscription, it took 45 minutes to complete. [Lot 105]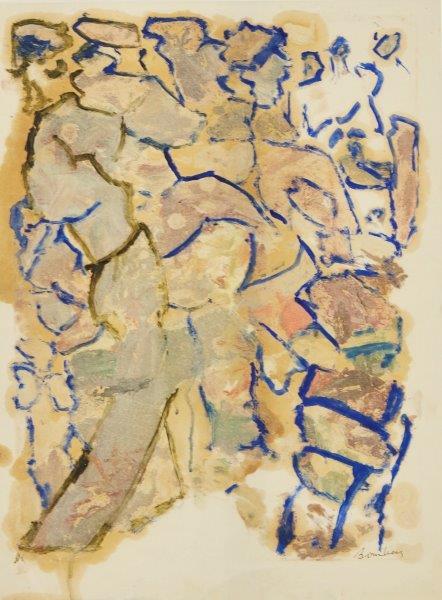 An unusual double-sided oil on paper by the influential 'Whitechapel Boys' artist David Bomberg (1890-1957), dated 1920, was chased to £8,500. The post-war work, titled Festivity to one side, was made when the painter began to move towards a more figurative style. [Lot 93]

A small painting by one of Bomberg's teacher, the famed Camden Town Group painter Walter Sickert (1860-1942), was knocked down for £8,125. Mackerel, a widely exhibited still life of fish on a plate with distinguished provenance stretching back to 1904, was possibly painted when the artist was staying in Dieppe with a divorced fishwife called Madame Villain. [Lot 2]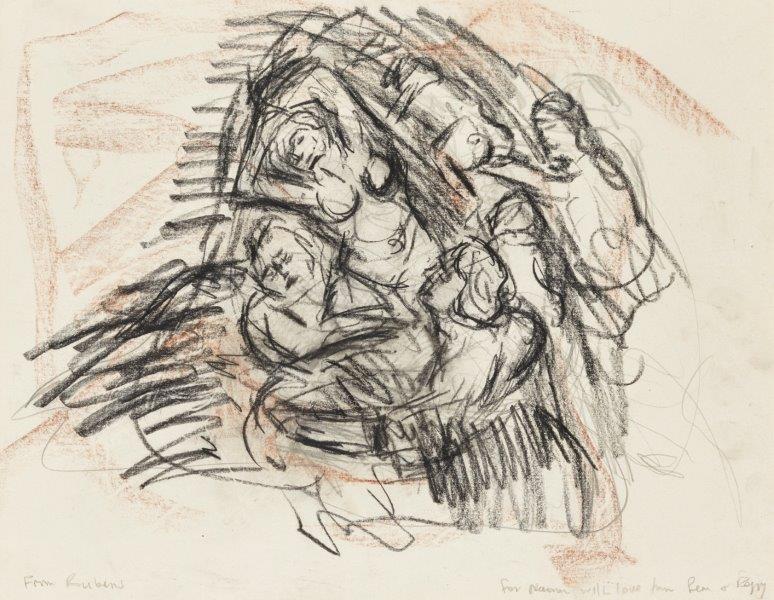 Pictures by Modern British artists inspired by Old Masters sold for high prices. From Rubens, a black and brown chalk over pencil by Leon Kossoff (1926-2019), sold for £7,750. It was one of many the artist made in response to and literally in the presence of Old Master oil paintings; in this case a painting by Peter Rubens. [Lot 98]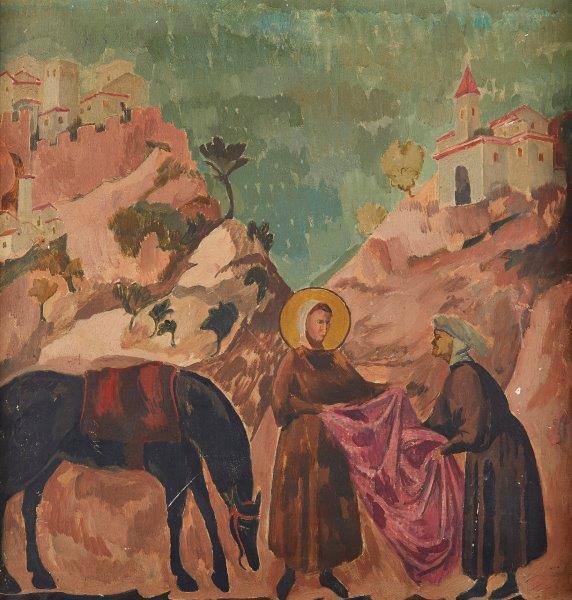 In 1917, the artist Roger Fry (1866-1934) organised Copies and Translations of Old Masters, an exhibition at the Omega Workshops to which he invited artists associated with the Omega to contribute. Fry encourage young artists not to make perfect copies of the originals, but rather to learn new things while making a loose copy or study of an Old Master painting. The auction included one of Fry's own contributions, an oil of St Francis giving his cloak to a destitute nobleman based on a fresco in Assisi by Giotto. It was taken to £3,625, more than double pre-sale expectations. [Lot 31]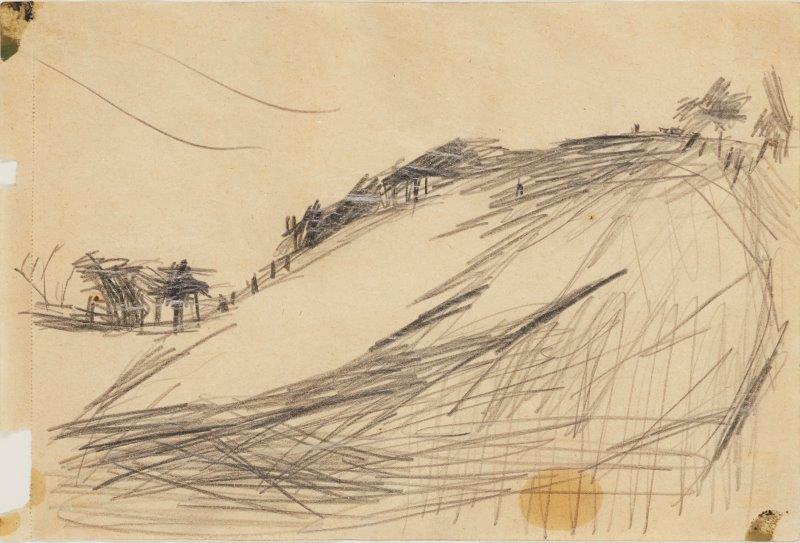 Primrose Hill, the small park in north London with paths that culminate at a high point with a fine view over the city, has been the local green spot for German-British painter Frank Auerbach (b.1931) since the 1950s when he moved to his nearby studio in Camden. A 1960 study of the park in pencil and oil paint that had featured in Sotheby's £2.7m auction of art from David Sylvester, Britain's greatest post-war critic and curator of modern art, was bid to £6,000. [Lot 91]
Among the sculpture highlights was a bronze by the Estonian British sculptor Dora Gordine (1895-1991) that attracted multiple bids and eventually sold for £6,250. Not only is it rare to see a bronze by her on the secondary market, this example, titled Sea Rose, had been exhibited at a London gallery in 1950 and was once owned by journalist and avid art collector Nancy Balfour. [Lot 166]
Consign items for future Modern & Contemporary British Art 
Learn more about the department here
For further information please contact Peigi Mackillop peigimackillop@roseberys.co.uk +44 (0) 20 8761 2522