Important collection of Chinese art from The van Daalen Collection
22/10/2020 News Stories & Press Release, Chinese, Japanese & South East Asian Art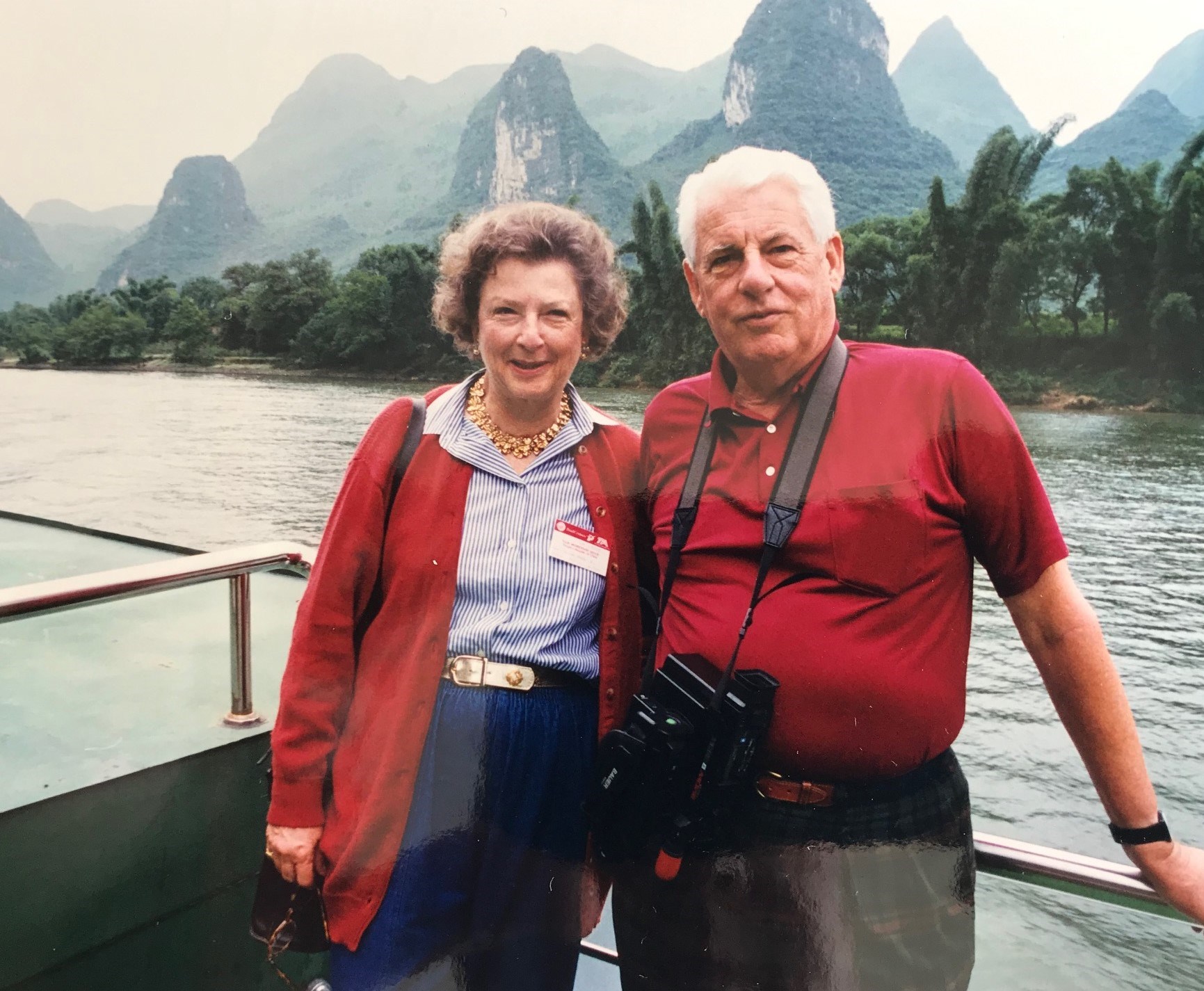 Leonie and Albert van Daalen-Roell – the collectors in, Guilin, China, October 1994
Albert (1927-2018) and Leonie van Daalen-Roell (1930-2018) were descendants of well-respected Dutch families who followed family tradition in amassing an extensive art collection.  Roseberys is privileged to offer around fifty lots from their estate which showcase their breadth in collecting tastes and eye for the magnificent and rare.  From magnificent archaic bronzes to Tang ceramics and later export porcelain, this offering presents a unique opportunity to acquire rare exceptional pieces of Chinese art with distinguished provenance.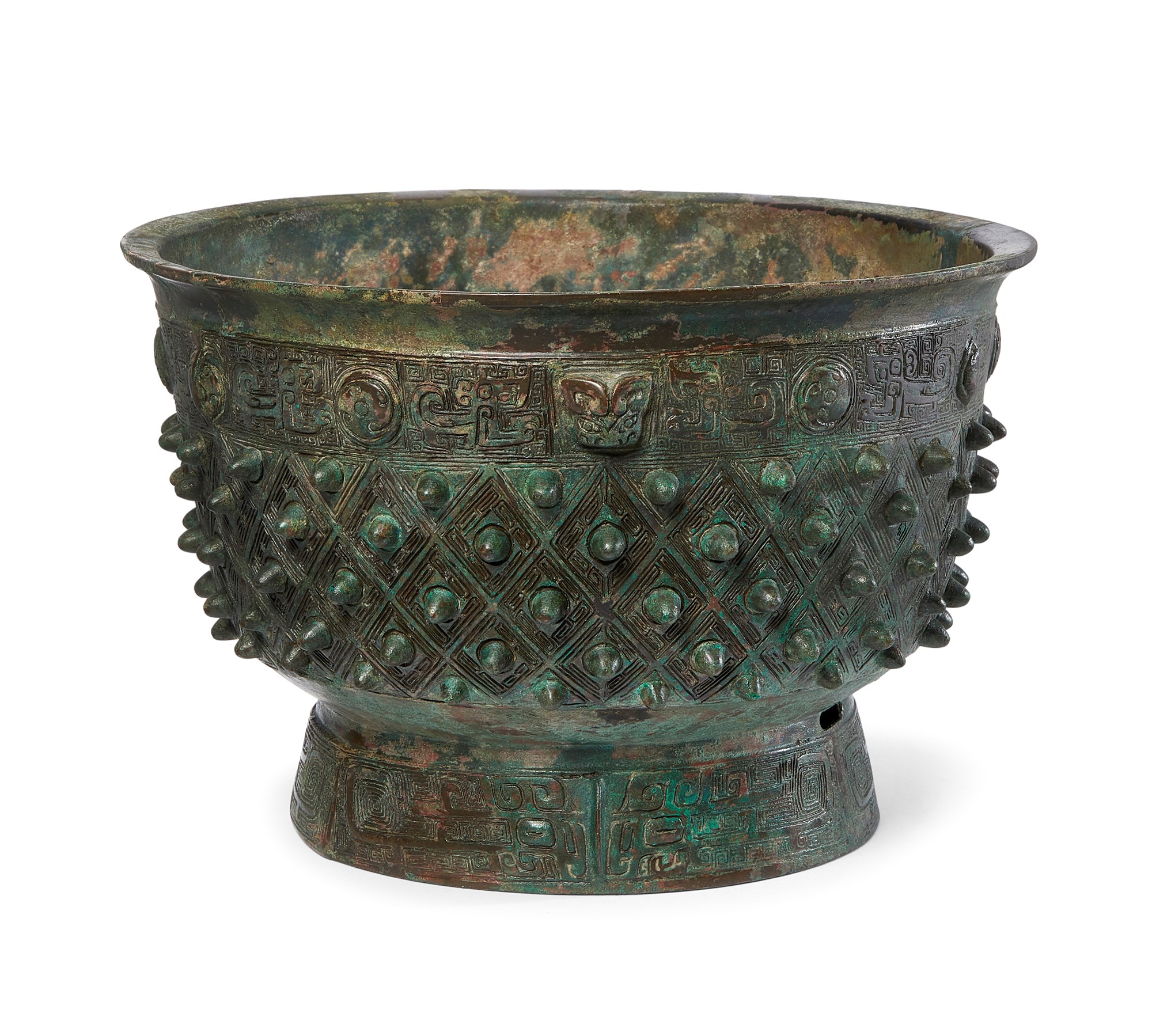 A Chinese archaic bronze ritual food vessel, Yu, late Shang dynasty, Provenance: Ben Janssens Oriental Art, London, 22 March 2001, Est. £50,000-£80,000
Spearheading this wonderful collection are two magnificent archaic bronze vessels.  The first (above) is a food vessel, yu, used for making offerings of grains and vegetables during religious ceremonies or ancestral rituals.  These vessels were popular during the Shang dynasty in the Yinxu Period, ca. 13th-11th centuries BCE and were typically formed as a round bowl raised by a ringed foot. Excavated examples, illustrated and discussed by R. Bagley, Shang Ritual Bronzes in the Arthur M. Sackler Collections, Washington, 1987, pp.504-507, no.98, and pp.510-14, nos.100 and 101, suggest that this type of vessel, with rounded protrusions emanating from a diamond cartouche, hails from Shaanxi province.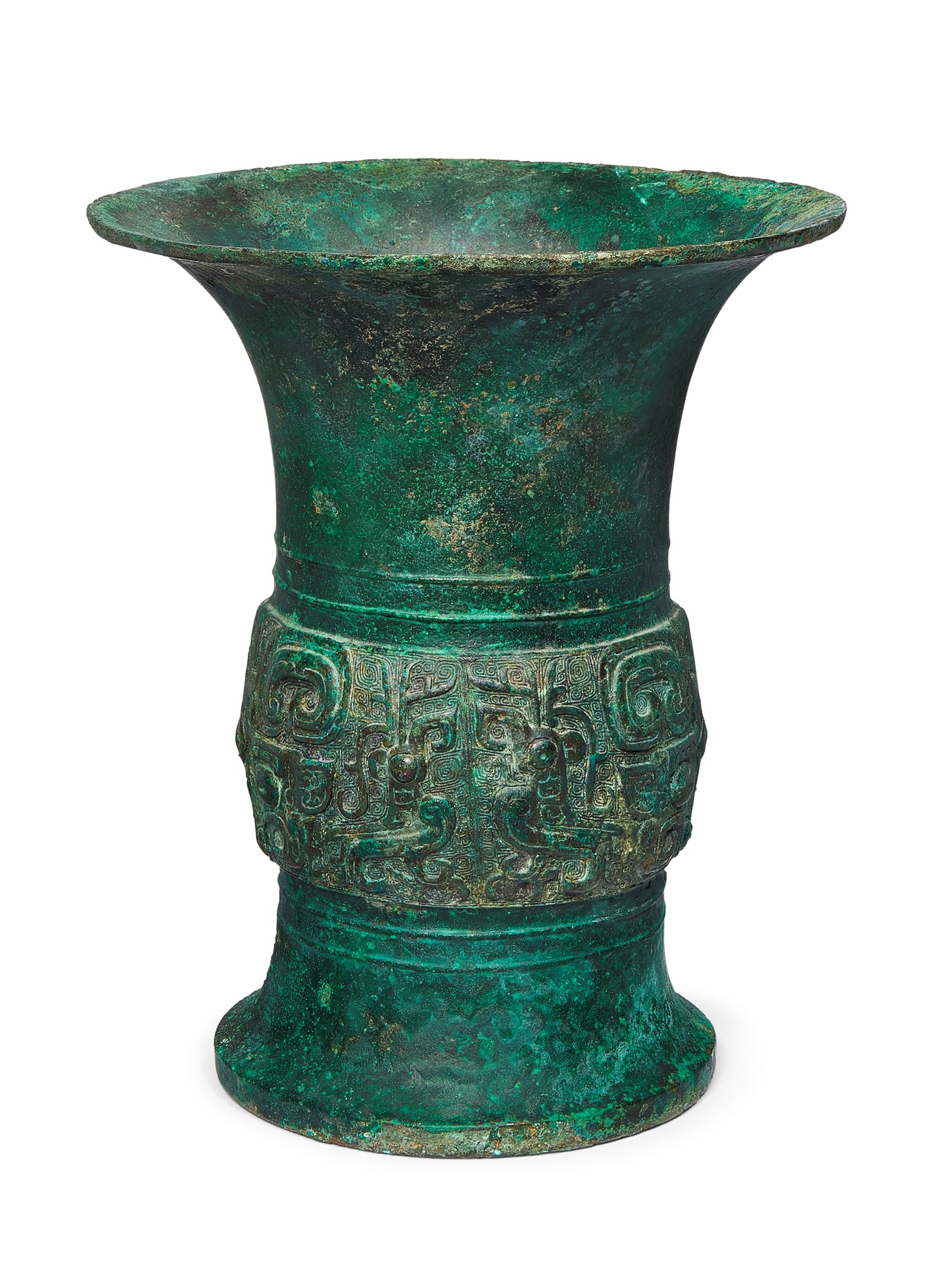 A Chinese archaic ritual bronze vessel, Zun, Fu Yi mark, early Western Zhou dynasty, Provenance: Ben Janssens Oriental Art, London, 2002, Est. £50,000-£80,000
This zun illustrated above was used in religious ceremonies to pour wine. Distinctive for its wide mouth to facilitate the pouring of wine, this particular example belongs to a very small group of bronzes which are decorated with two repeating 'bowstring' bands around its body.  The body is exceptionally well-cast with a striking design of two taotie masks and is covered in an appealing malachite-green patina.  The interior of the vessel is inscribed with a pictogram consisting of a clan sign followed by fu yi.  This is a dedication which means 'dedicate this vessel to' Fu Yi (Father Yi).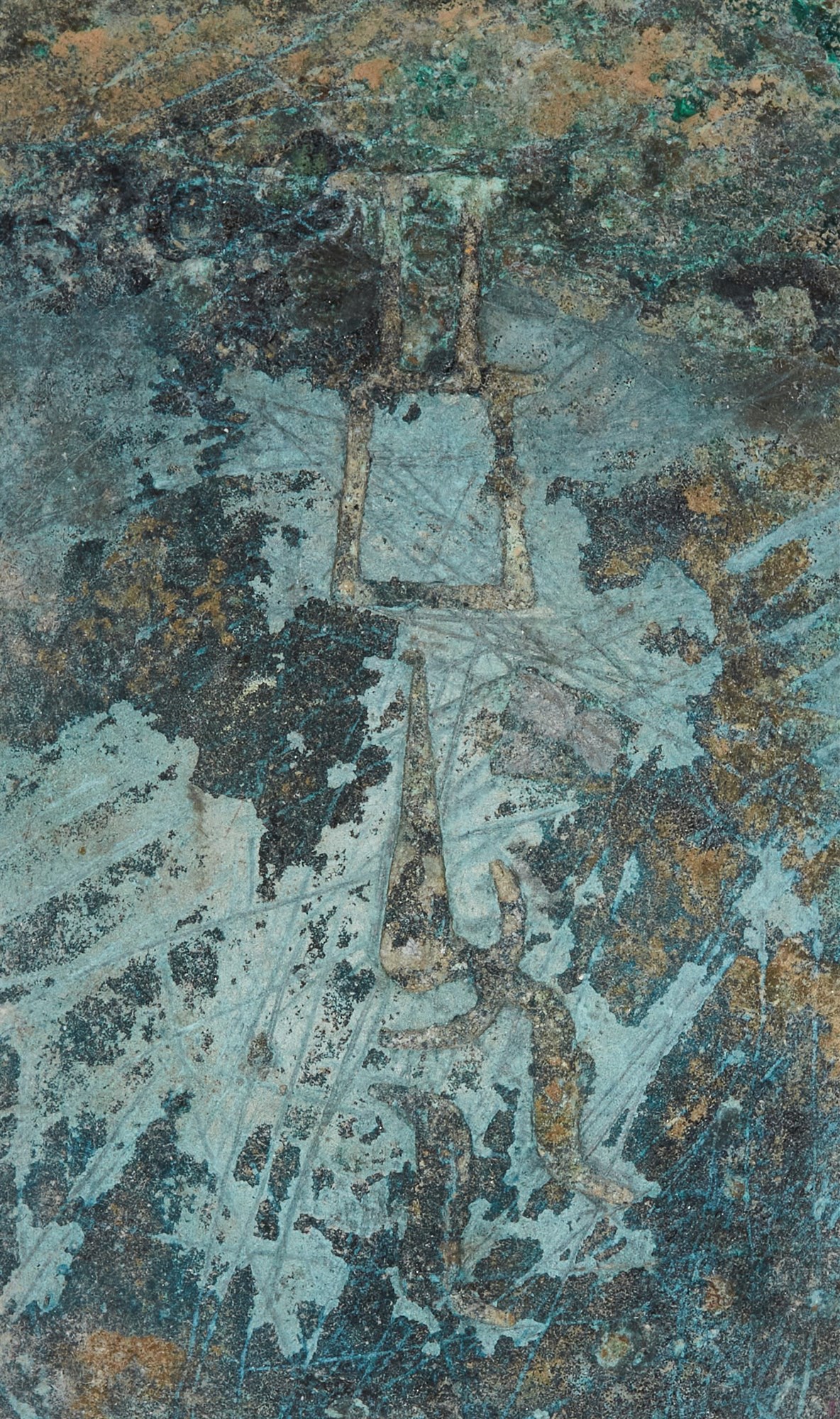 Both vessels serve to illustrate how advanced this civilization was.  The wide variety of decorative elements and designs in varying levels of relief demonstrate a high level of casting and skill achieved by bronze craftsmen at Shang and Western Zhou foundries and reflect the importance of ancestral worship.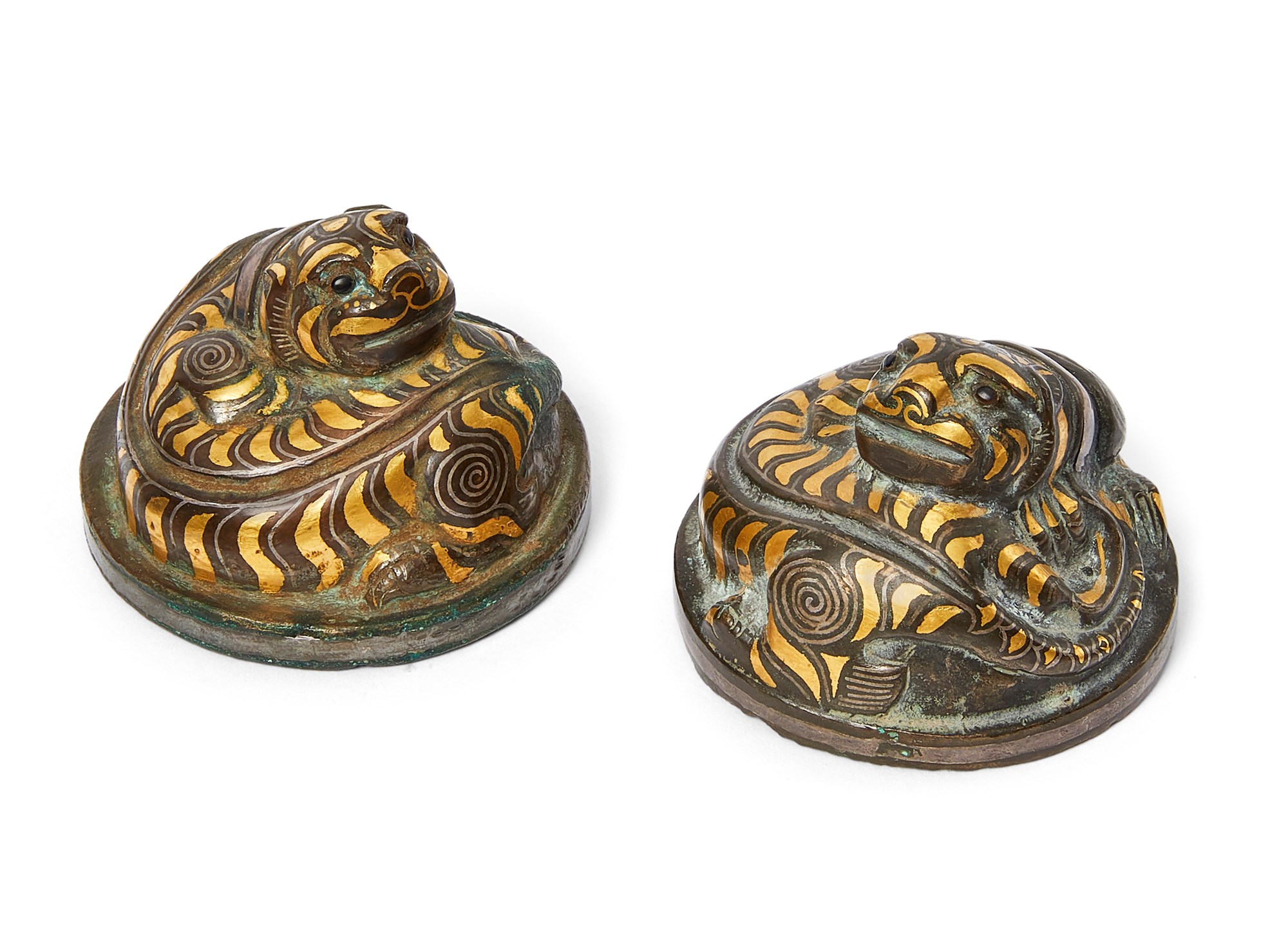 A pair of Chinese bronze and inlaid 'Tiger' weights, Western Han dynasty, Provenance: Ben Janssens Oriental Art, London, Est. £8,000-£12,000
Another highlight from the collection is a rare pair of Western Han dynasty silver and gold-inlaid bronze weights.  Whilst the original purpose of these is not entirely clear, scholars surmise that they were used in sets of four to hold down woven mats used for seating or to weigh down a funeral shroud.  Typical of Warring States period and Han dynasty these weights were, as with the present pair, often sumptuously inlaid with gold and silver to convey the high social status of the owner.  The tiger is one of the oldest and most revered animals in Chinese history. According to Han mythology, the tiger symbolised the Western cardinal point, and in conjunction with the Green Dragon of the West, Vermillion Bird of the South and Black Tortoise of the North, positioned the burial within the spatial-temporal features of the universe. It is possible that tigers were deemed to protect the tomb occupant against the malign influences they may encounter in their afterlife. A set of four comparable mat weights in the form of fighting animals is housed in the Met Museum, New York, on loan from Nanjing Museum.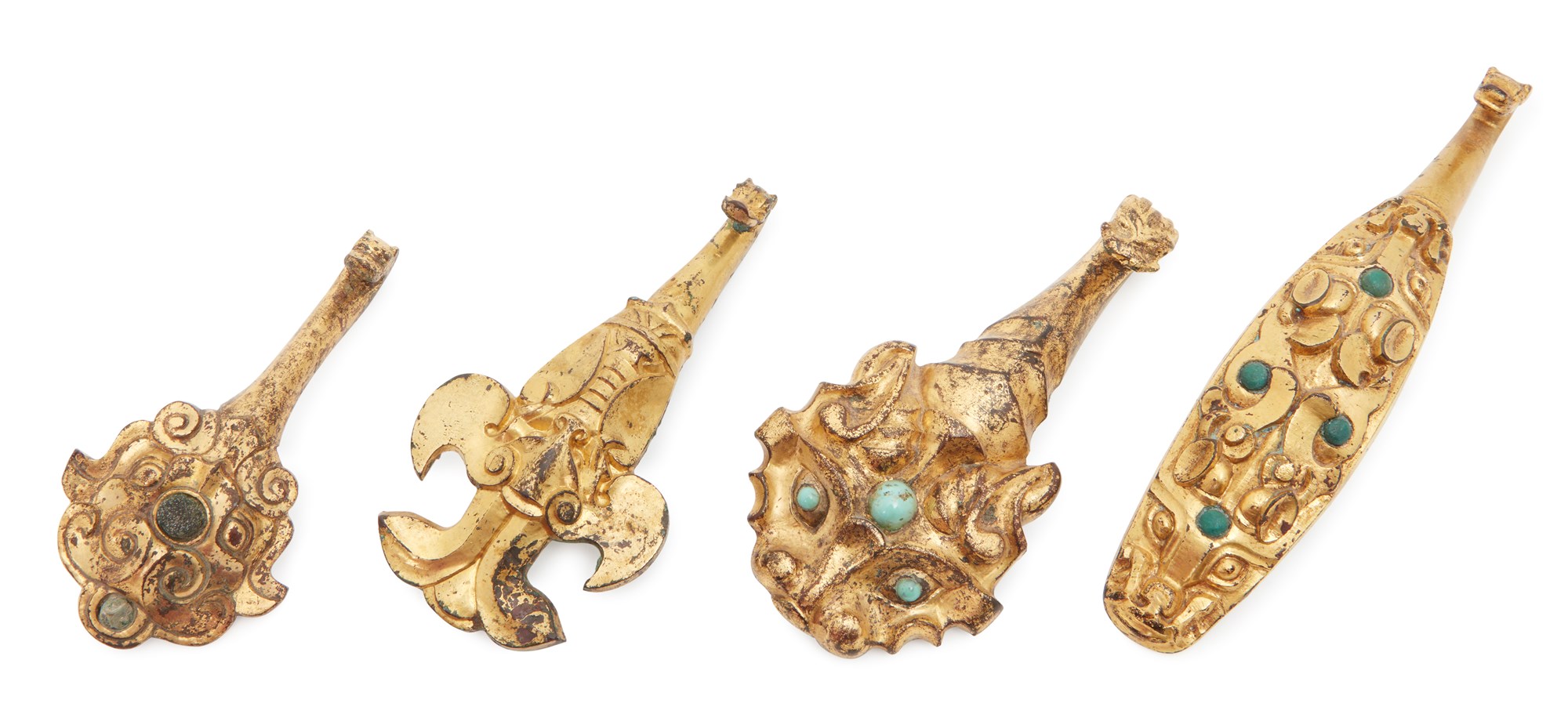 Four gilt bronze belt/garment hooks, Eastern Zhou & Warring States periods, estimates for each ranging from £4,000-£8,000
Ancient Chinese belt or garment hooks originate from Central Asian nomads from as early as the Warring States period.  The equestrian tradition in this region was tightly related to wearing belted pants, hence the need for such hooks.  They became an object of aesthetic contemplation and the four hooks included in this collection reflect the richness of fine materials available during these turbulent times.  All opulently gilded, three inlaid, and one silvered, these hooks once adorned the clothing of individuals of high social status and have survived in remarkable condition. 
The van Daalen Collection of Chinese Art will be offered as part of Roseberys Chinese, Japanese, & South East Asian Art auction on the 11th November.