Iconic Bally pinball machine & photographs from the lost Dr Who series
4/07/2019 News Stories & Press Release, Works of Art, Sculpture & Clocks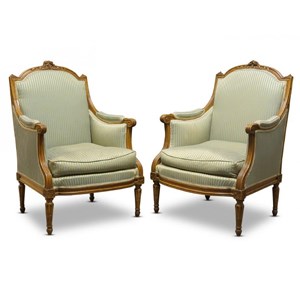 London: Roseberys London's Fine & Decorative sale does exactly what is says on the tin. Held three times a year, the auction contains an eclectic range of fine and decorative furnishings pitched at a variety of price points to entice both connoisseur collectors and interior decorators. The latest sale, to be held on July 18, is no different with 500 lots of antique and modern pieces ranging from a 17th century Spanish chest to a 1970s pinball machine. 

Two rare collections with exceptional provenance form the sale's core. They are a group of fine and highly decorative Continental oak carved elements from Rheola House in Wales and a selection of wine racks, flooring and lighting from the legendary Café Royal in central London (for more on these collections see separate press release). 

Anna Evans, Head of Department, comments: The latest Fine & Decorative sale at Roseberys offers a wonderful cross-section of pieces to suit all tastes and budgets from traditional items such as a pair of George III ormolu mounted blue-john cassolette attributed to Matthew Boulton and a Regency inlaid mahogany cabinet in the manner of George Bullock to popular memorabilia in a 1975 electro-mechanical pinball machine, a range of electric guitars and a collection of film posters.An additional highlight includes a collection of colour negatives and developed photographs from the lost Dr Who episode 'Power of the Daleks'.  The master tapes of all six episodes from the fourth season were erased in the late 1960s, while the copies kept for foreign sales on 16mm film were destroyed in 1974. Their destruction meant that the only information to survive on the series was limited to stills photography and films made by fans when the programmes were broadcast.
The rare pair of period George III ormolu and blue-john cassolettes, shown above, are attributed to the great industrial pioneer Matthew Boulton (1728-1809). Josiah Wedgwood described Boulton in 1767 as 'the most complete manufacturer in England in metal'.  The c.1770 cassolettes - each of urn shape with a pair of goat's masks holding laurel swags – combine Boulton's great skill in ormolu with his wonderful eye for elegant classical design. The 'goat's head vase' is derived from a sketch illustrated in Boulton and Fothergill's pattern books. The model was one of the most popular of the smaller vases and first appeared in 1769. The pair is estimated at £6,000-10,000. (Lot 105)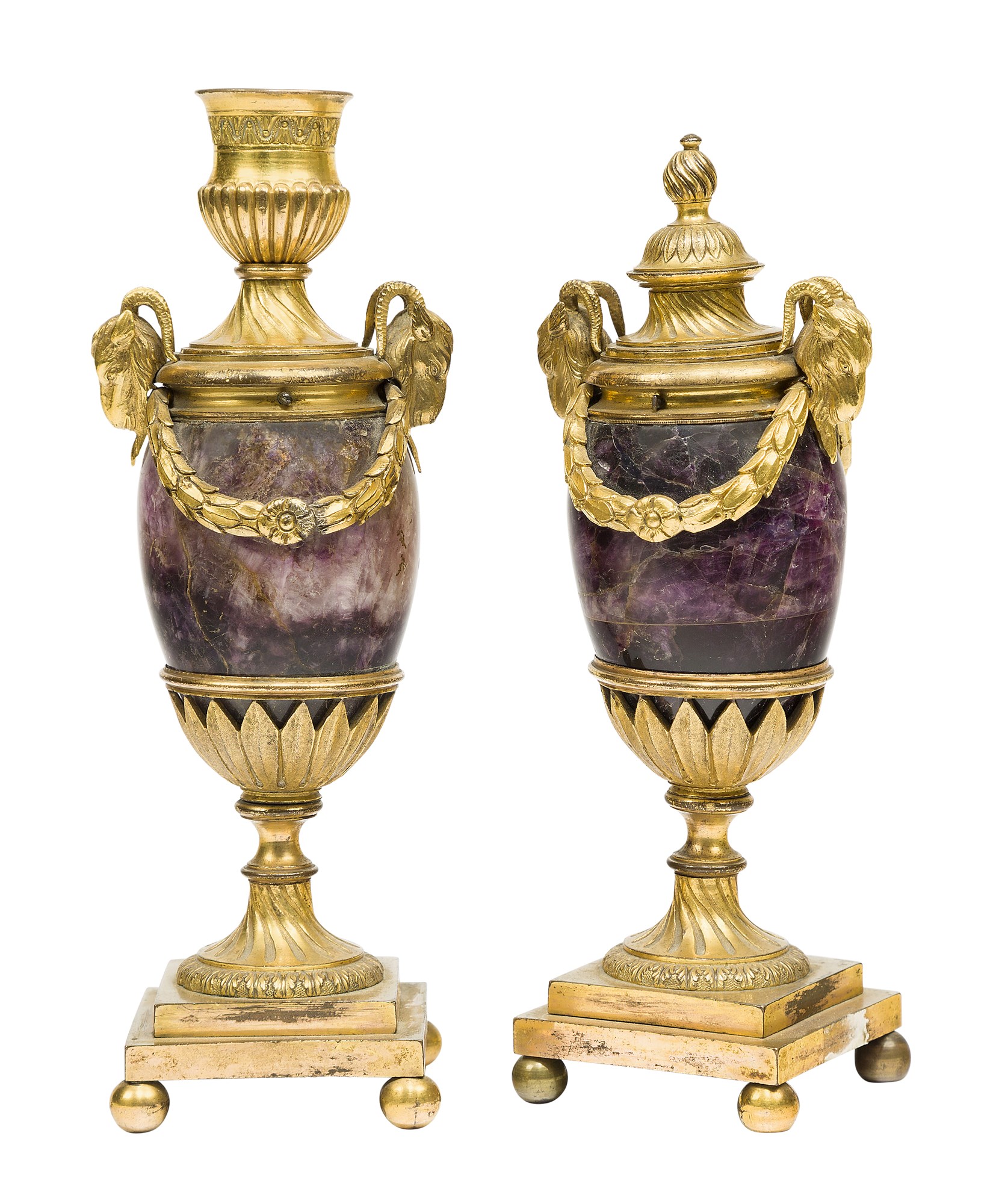 After Rodin, Aimé-Jules Dalou (1838-1902) was among the most important sculptors of his time and regarded as one of the principal exponents of naturalist sculpture in France in the late 19th century. Forced into exile in London after the Paris commune, the nine years that Dalou spent in England, between 1871-80, were his most creative, and the point at which his work was to take the naturalist direction for which he would become renowned. After Dalou's death, the executors of his will permitted the Parisian firm of A.A. Hébrard to cast certain bronze from plasters and terracotta pieces found in the sculptor's studio in limited editions.This bronze sculpture, pictured left, is after one of the figures of children represented in a terracotta monument dedicated to the memory of those grandchildren of Queen Victoria who died in infancy. The monument, completed by Dalou in 1878, was produced for the Private Royal Chapel at Windsor Castle.An example of the lot in terracotta is in the Petit Palais, Musée des Beaux-arts de la Ville de Paris. This bronze version, thought to date to c.1902-05, is estimated at £8,000-12,000. (Lot 113) Featuring a fine arrangement of gilded drawers with floral polychrome panels, this 17th century Spanish walnut vargueno chest, left, should attract plenty of interest being both highly decorative and of fine craftsmanship. Bids are invited in the region of £3,000-5,000. (Lot 241) 

Pictured
left and estimated at £2,000-3,000, is an elegant Regency bookcase with design elements to the influential furniture maker and sculptor, George Bullock (c.1777-1818).During his short life Bullock secured an illustrious clientele consisting of the Duke of Atholl at Blair Castle, the Earl of Mansfield at Scone Castle, Sir Walter Scot at Abbotsford and also supplied the furnishings for Napoleon's home on the Island of St. Helena. His career started in Liverpool and later took him to London where he was locally celebrated for his remarkable craftsmanship. He used exotic woods and designs influenced from the Neo-Classical, Gothic, Jacobean and Elizabethan styles.Similarities to the piece at Roseberys are displayed in two bookcases by Bullock illustrated in the 'Lowe Papers' on a sheet inscribed 'Breakfast Room for St Helena'. The pediments on these cabinets, to which the current lot is a variant, probably derives from a plate in Thomas Hope's 'Household Furniture' of 1807. (Lot 336) 

Another fine inclusion in the sale, estimated at £3,000-5,000, is this pair of Louis XVI walnut bergère armchairs by Georges Jacob, with foliate carved crests, scrolling arms and upholstered in blue and gold striped fabric. (Lot 383) 
Among the silver, an impressive c.2014 bowl by David Mellor (1930-2009) carries hopes of £1000-1500. The piece, cast to the interior with a striking three-dimensional diamond design, comes in its fitted wooden and burgundy suede lined box. Mellor (d. 2009) was a key figure in British design with an international reputation as a designer, manufacturer and retailer. Born in Sheffield and originally trained as a silversmith, Mellor specialised in metalwork. He is particularly famous for his cutlery, which won numerous design awards and can be found in many international collections. (Lot 89) 

The iconography on this stained-glass panel, pictured above tells the apocryphal story of Joachim and Anne. The parents of the Virgin Mary are depicted at the Golden Gate of Jerusalem upon learning Anne will bear a child. The scene is a popular subject in artistic renditions of the life of the Virgin and is identified here by the inscription Aurea Porta (Golden Gate) - even though Joachim is unusually depicted with wings. The wings, made from medieval pieces of glass, are likely to have been inserted later, perhaps by a restorer who thought the iconography to be of an Annunciation, a better-known scene. In style, the panel is similar to the stained glass of the great cathedrals of the early 13th century, and to a particular panel of Anne and Joachim at the Golden Gate in Chartres Cathedral, which shows a similar composition.The charming piece is estimated at £3,000-5,000. (Lot 223)

A highlight among the ceramics is this set of twelve 20th century Royal Copenhagen Flora Danica Fruit plates finely decorated with an abundance of fruit including plums, apples, gages, cherries, grapes, raspberries and blackberries. The set has been valued at £2,500-3,500. (Lot 184) The Wizard! – like the one pictured right - was Bally's first mega-hit pinball breaking the 10,000-production mark. In fact, 10,005 units were built with five units distributed to Bally's top executives. The striking artwork was franchised from the film Tommy, a rock musical fantasy based on The Who's 1969 rock opera about a "seemingly disabled" boy who becomes a pinball champion.  It had an important impact on pinball games as it was the first machine to use a popular theme to great success. Nearly every arcade had a Wizard! and most were placed next to the door to attract players. This example – offered with a 6-month warranty for parts – is guided at £4,500-5,000. (Lot 433) 
Set to attract the attention of Doctor Who fans is a rare archive of coloured photographs taken on set when the famous TV programme was broadcast in black and white. The archive, which is estimated at £800-1,200, contains vivid colour negatives and modern photographs of sets designed by Derek Dodd (1937-2018) for the Doctor Who series The Power of the Daleks, first broadcast by the BBC in six weekly parts from November to December 1966. Famously, the master tapes of all six episodes from the series were erased in the late 1960s, while the copies kept for foreign sales on 16mm film were destroyed in 1974. Their destruction meant that the only information to survive on the series was limited to stills photography and films made by fans when the programmes were broadcast. The group includes photos of the actors and a candid shot of the Doctor played by Patrick Troughton. (Lot 432) 
Fine & Decorative
Thursday 18 July, starting at 10.30am

Viewing
Friday 12 July 1 pm – 5pm
Sunday 14 July 10am – 2pm
Monday 15 July 9.30am – 5.30pm
Tuesday 16 July 9.30am – 5.30pm
Wednesday 17 July 9.30am – 5.30pm
Thursday 18 July n9.30am – 10.30am

Auction calendar online here 
For further information please contact Peigi Mackillop peigimackillop@roseberys.co.uk +44 (0) 20 8761 2522