Hugo Weber Collection
6/06/2018 News Stories & Press Release, Impressionist, Modern & Post War Art
(Interior images taken from the family archive, where the paintings were held)
Roseberys London are delighted to present a collection of four paintings from the artist Hugo Weber. Lots 435-438 have been in the private collection of one family for more than sixty years.
Swiss born artist Hugo Weber was a painter and sculptor born on 4 May, 1918. While attending the University of Basel in 1937 he was apprentice to the sculptor Ernst Suter. He then moved to Paris in 1939 to study painting with Marcel Gimond and later worked with Aristide Maillol and Alberto Giacometti.
In the early 1940s Weber immigrated to America, and in 1946 he was appointed Professor at the Institute of Design (Chicago Bauhaus). He was then later appointed professor at the Illinois institute of Technology; having also taught at the Pennsylvanian State University and also at the New York University.
Weber had three solo exhibitions with his representing gallery, The Betty Parsons Gallery in New York, in 1953, 1955 and 1959 – where the artist and his work were described by a Times critic at the time as having "vitality and an incessant search for fresh pictorial ideas." And as "an art of pure self-expression" that Weber is a "virtuoso with the brush and his colour sense is delicately exuberant."
Weber exhibited in the further exhibitions and group shows especially in the Chicago area. He had solo shows at the Colorado Springs Fine Art Center, Art Institute of Chicago, Chicago Institute of Design, Galerie 16 in Zurich, American University in Beirut, Galerie Hutter in Basel, and Finch College in Manhattan. As well as shows at the Corcoran Gallery, Guggenheim Museum, Pennsylvania Academy of Fine Arts, and Whitney Museum of American Art.
Weber also produced two art films, the first 'Vision in Flux' in 1951 and 'Process Documentation by the Painter" in 1954. The latter was explained by the artist as an attempt to show the developmental aspect and spontaneity of the artist's continuous search for symbolic meaning.
In later life Weber moved to Paris in 1955 and returned to New York in 1960, where he lived until the time of his death at the age of 53 on 15 August 1971.
The first lot in the collection (lot 435) is a large untitled abstract composition; oil on board – Signed and inscribed 'Chicago' – dated 1950/51 in paint verso. 61 x 244cm
£2000-3000
There are three further untitled abstract compositions (lots 436, 437 and 438)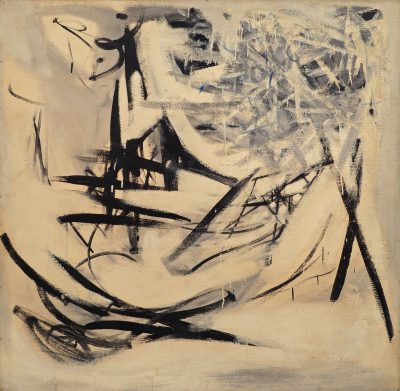 Lot 436 is a monochrome oil on board composition 122 x 122cm
£700-1000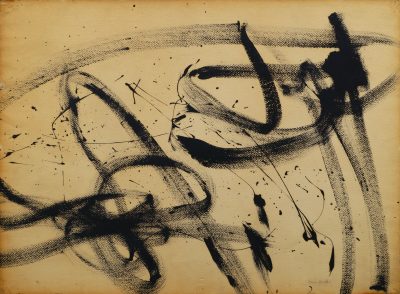 Lot 437 is an ink on paper abstract composition signed and dated 11/9/53, in pencil. Measuring 56 x 76cm
£180-220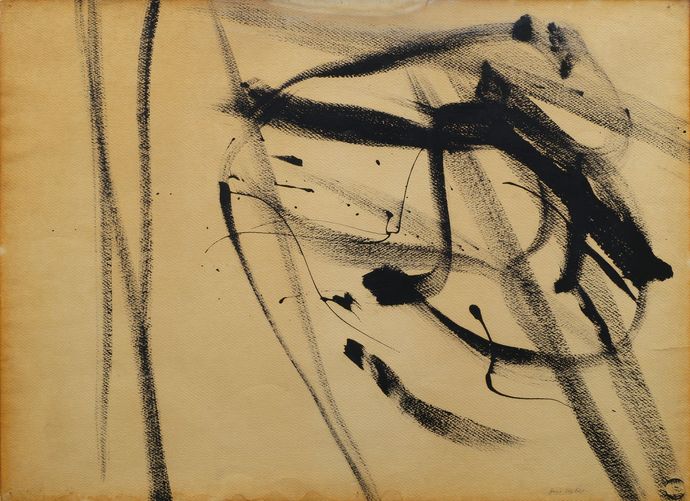 The final piece lot 438 is also an ink on paper composition signed and dated as above
£180-220
20th Century Art & Design takes place on Tuesday 26 June at 10am.
Viewing Times:
Friday 22 June 1-5pm
Sunday 24 June 10am-2pm
Monday 25 June 9.30am-5.30pm
Tuesday 26 June 9-9.45am
~Ends~
For further information please contact Charlotte Meddings charlottemeddings@roseberys.co.uk  +44 (0) 20 8761 2522
Roseberys is a privately owned auction house operating at the heart of the fine art market for 30 years.
With offices in London's Mayfair and Lambeth Roseberys offer a calendar of more than twelve specialist fine art, antiques and collectibles auctions each year.
Specialist sales include a wide range of Asian and Islamic Arts, Modern and Contemporary Art and Design, Decorative Art, Fine Silver and Jewellery, Ceramics, Paintings, Prints, Photography, Antique Textiles, Vintage Fashion and Fine Wine and Whisky.
Roseberys team of world-renowned specialists also provide a wide range of art market services to professional clients, including valuations for insurance and probate.
Roseberys is a member of SOFAA – The Society of Fine Art Auctioneers.