How to clean your rings at home
31/03/2020 News Stories & Press Release, Jewellery & Watches
Activities you can do from the comfort of your own home 
At home and wondering what to do to fill the time? How are about tending to some of your precious jewels.
There are few things more mesmerising than watching your diamond ring sparkle and dance in the light after it's been freshly polished and cleaned, and it's only natural to want to maintain that shine. And while you can always take it into a jeweller for a professional cleaning, it's nice to know how to clean your ring yourself from home, too.

You may wear your jewellery daily, especially your engagement ring, so it's important that you learn how to take good care of it and the easiest way to keep your ring sparkly and beautiful is to give it regular cleanings.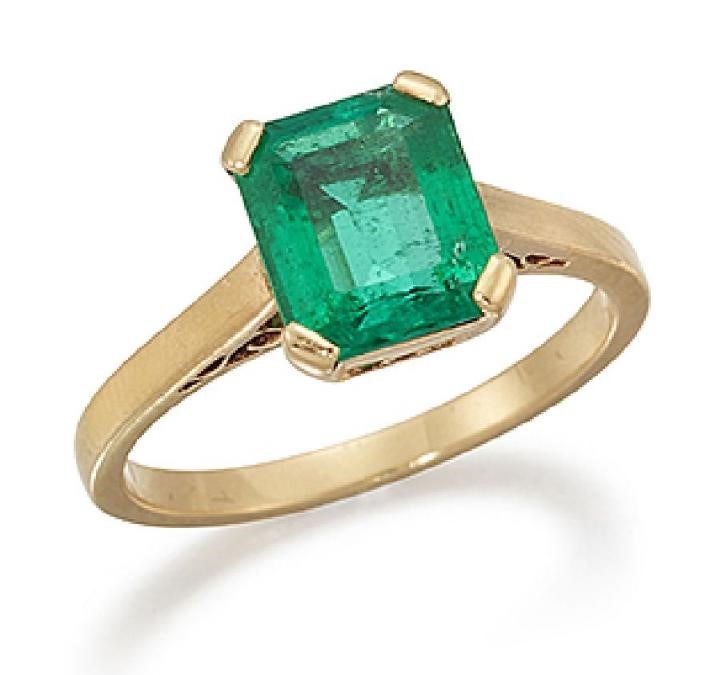 An emerald single stone ring, the rectangular-cut emerald, weighing approximately 1.70 carats, in four claw-set mount
How to clean and service your ring
Grime can build-up on a ring, either underneath the settings or around the stones which can cause the diamonds to look dull and loose their sparkle.

To clean your ring at home first soak it in warm (almost hot) water for about 20 - 40 minutes. Either use a bowl or the sink. Make sure the drain is covered first!  Use a soft toothbrush and dishwasher liquid or a jewellery specific cleaner solution and gently brush the ring to remove the grime. Repeat if necessary. Afterwards dry your ring and use a jewellery polishing cloth for a sparkle finish or let it air dry. Avoid paper towels; they can actually scratch the metal. Stay away from household cleaners with harsh chemicals as they could damage and discolour your ring or any abrasive cleaners which could scratch the metal. Also stay away from ultrasonic jewellery cleaners at home. While ultrasonic jewellery cleaners do produce a sparkling result, the machine works by sending vibrations through the water and cleaning solution in a matter of minutes. All that vigorous movement can cause stones to become lose or even fall out in the machine. Keep in mind to never use silver cleaner on anything that's not silver.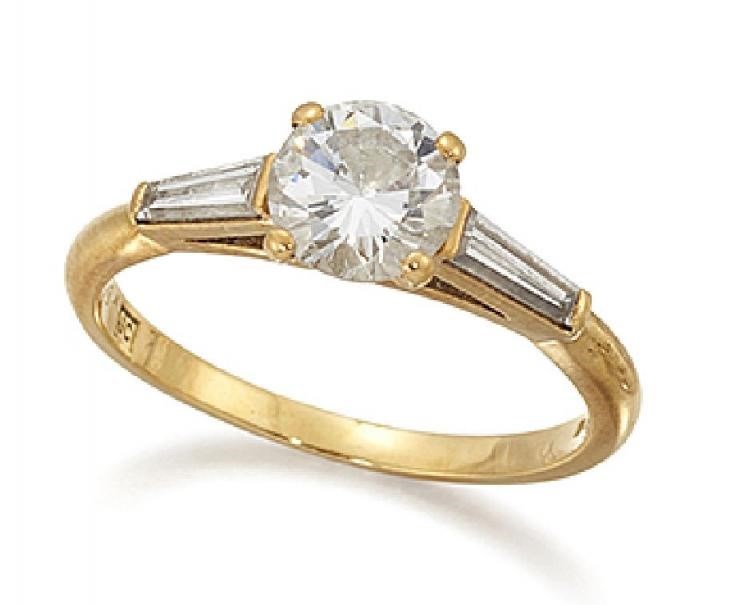 An 18ct gold, diamond single stone ring by Cartier, the brilliant-cut diamond, weighing approximately 1.00 carat, in claw mount to tapered baguette-cut diamond single stone shoulders, mounted in 18ct gold, London hallmarks, 1983

We also advise having your ring inspected by a jeweller every 6 months to a year or if it undergoes some trauma, such as being dropped or hit on a hard surface. A diamond is one of the world's hardest materials, but it can still be damaged by a hard blow. These inspections help prevent the loss of your stone in the event your ring has been unconsciously damaged. Once you have your engagement ring, chances are you will never want to take it off. However, to keep your ring looking its best and to protect it from damage it's important to take it off when you're busy doing certain activities, like cleaning, exercising or during your beauty regime. When you are not wearing it store it in a soft cloth pouch or in one of your boxes to avoid scratching the metal.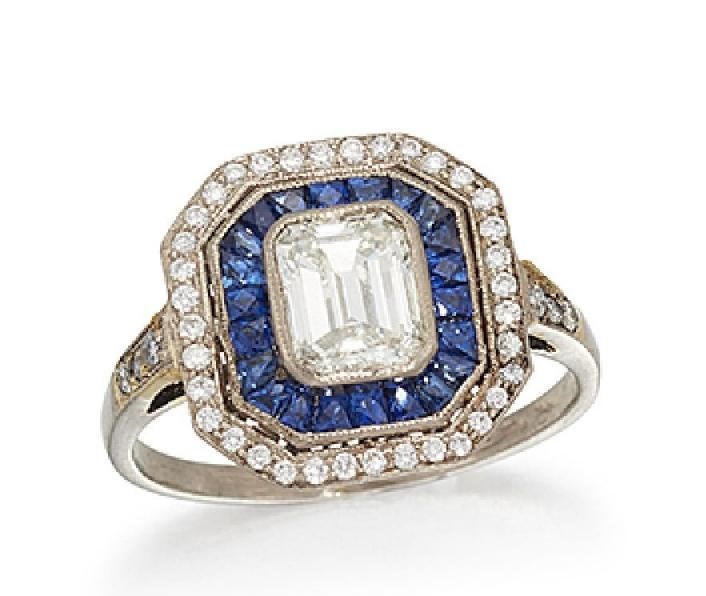 A diamond and sapphire cluster ring, the cut-cornered rectangular diamond centre to a calibre-cut sapphire border and brilliant-cut diamond surround, with brilliant-cut diamond three stone shoulders
Looking for an engagement ring or jewellery? Why not browse our current Jewellery & Watches catalogue.
Looking to sell Jewellery & Watches? You can request a complimentary valuation with us and our specialist will get back to you as soon as possible with their estimate and findings.