How the Olympics and Art are connected
12/08/2021 Modern & Contemporary British Art, Prints & Multiples , News Stories & Press Release, Impressionist, Modern & Post War Art, Works of Art, Sculpture & Clocks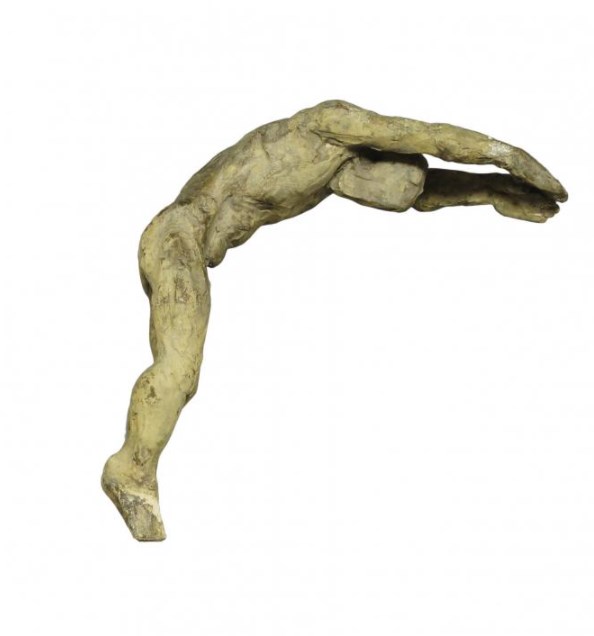 Sophie Dickens, British b.1966- Man diving into water in stages; bronzes and metal rods, five
With the closing of the Tokyo Olympics in mind on Sunday 8 August, 2021, we explore how art and sport have been deeply connected throughout history.
Art has been an important component of the Olympics throughout history, particularly championed by Pierre de Coubertin, the founder of the International Olympic Committee, and its second president. He is known as the father of the modern Olympic Games. On top of the Olympic games, such as fencing and athletics, Pierre de Coubertin also wanted to hold art competitions, which began in 1912 during the Stockholm Olympics. The subjects of these works were inspired by athletic endeavours, and countries could take home bronze, silver and gold medals. The competitions were divided into five categories - architecture, literature, music, painting, and sculpture, reflecting on the philosophy and values of Olympism, excellence, respect and friendship. From 1912 to 1952, juries awarded a total of 151 medals to original works in the fine arts.
Pierre de Coubertin saw art competitions as vital to his vision of the Olympics. He was brought up and educated classically, and was predominantly impressed with the idea of what it meant to be a true Olympian, someone who was not only athletic, but skilled in music and literature. Pierre de Coubertin felt that in order to recreate the events in modern times, it would be important to include art.
British artist Laura Knight won silver for her painting of boxers in 1928.  John Russell Pope, the architect of the Jefferson Memorial won a silver at the 1932 Los Angeles Games for his design of the Payne Whitney Gymnasium, constructed at Yale University. Italian sculptor Rembrandt Bugatti, American illustrator Percy Crosby, Irish author Oliver St. John Gogarty and Dutch painter Isaac Israëls were other prominent entrants. Alfred Thomson took home the gold for Britain in 1948, he was the last person to win a gold medal for painting. In 1940 and 1944, the Olympics were put on hold as nearly all participating countries became involved in World War II. After the war, the Olympics exploded into a premier international event and the fine arts competitions became more of an overlooked sideshow. The new IOC president during this time, Avery Brundage, put an end to the art competitions. Brundage took umbrage at the art competitions, insisting they represented an unwelcome intrusion to the sporting professionalism.
Grayson Perry CBE RA, British b.1960- Teddy Bear Necklace Medal, 2018; weathered Florentine bronze, with ribbon, pouch and presentation box sold for £400 in the Prints & Multiples
Today one of the biggest art connections to the Olympics are now the poster designs. The first games to get their own official poster was for the 1908 Summer Olympics in London, and the first to make a large impact was the 1912 Stockholm poster by the illustrator Olle Hjortzberg. The Organising Committees of the Olympic Games (OCOGs) today still invite internationally renowned artists to design posters. For the Tokyo Olympics posters were designed by artists including, manga artist - Naoki Urasawa, painter - Shinro Ohtake, graphic designer - Daijiro Ohara and calligrapher -Shoko Kanazawa, among others.
Here at Roseberys we have sold many works of art inspired by and connecting to the Olympic sporting events.
Here we explore some of those works.
David Hockney OM CH RA, British b.1937- ''Olympic Games, Munich''; lithograph printed in colours
David Hockney OM CH RA, British b.1937- ''Olympic Games, Munich''; lithograph printed in colours, signed and dated.

This iconic poster reproduction sold in Roseberys Modern & Contemporary Prints, Photography, Multiples & Editions sale, on the 21st November 2015 for £225.  In 1972 Hockney was commissioned to design one of the 15 official posters for the 1972 Olympic Games, which took place in Munich. The work shows the flashing colours and fragmented shapes, that call up the imagery of sound. Interestingly, Hockney was born with synaesthesia, meaning he sees colours when hearing sound, which may have inspired the design of this art work.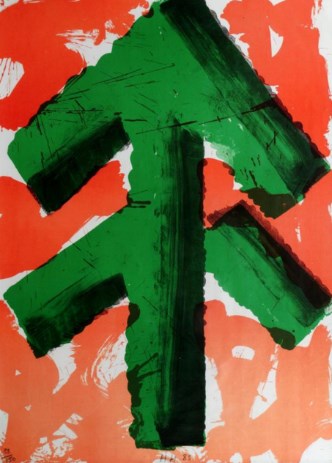 Howard Hodgkin, British 1932-2017- Welcome- Winter Sports, 1983; lithograph in colours on Rives BFK wove
Howard Hodgkin, British 1932-2017- Welcome- Winter Sports, 1983; lithograph in colours on Rives BFK wove from the series Art and Sport, printed at Petersburg Studios, published by Visconti Fine Art.
This poster series was commissioned as the official art portfolio for the 1984 Sarajevo Winter Olympics poster, sold in Roseberys Prints & Multiples auction on 14th October 2019 for £1,183. Hodgkin was asked by Andy Warhol to contribute to the official art portfolio of the Olympic Winter. He produced this striking print, with red and scarlet in the background, and a jungle green chevron in the centre. This arrow shape would become a repeated theme in Hodgkin's prints. A copy of this print is held in the Lausanne Olympic Museum.
A Minton pate sur pate vase by Alboin Birks, late 19th/early 20th century
Furthermore, Roseberys also includes diverse works of art under the sport theme, which are all included in the Olympic Games, such as archery, ice hockey, wrestling and diving.
A Minton pate sur pate vase by Alboin Birks was included in the 2015 European Ceramics, Books & Maps, Jewellery & Silver, Antique Frames, Paintings & Modern Sculpture sale. The elegant French vase decorated with a vignette depicting Venus and Cupid at an archery lesson, with a ribbon hung ivy strewn cluster of arrows, a bow and horn to verso, on a blue ground, gilded to the neck and rim with leaves. This vase was sold for £1,875.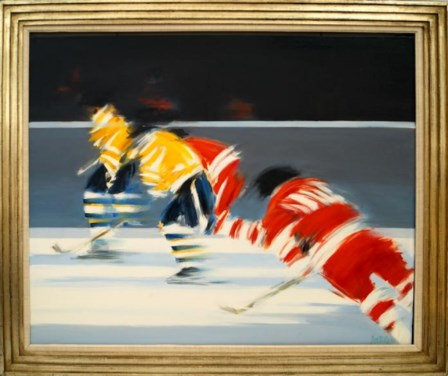 Pierre Doutreleau, French b.1938- Ice hockey players; oil on canvas


Ice hockey tournaments have been held at the Olympic Games since 1920. In 2014, the Canadian team won the gold-metal victory for the tournament. A year before that, within the Fine Art auction at Roseberys, an oil on canvas depicting Ice hockey players by Pierre Doutreleau sold for £875 in 2013.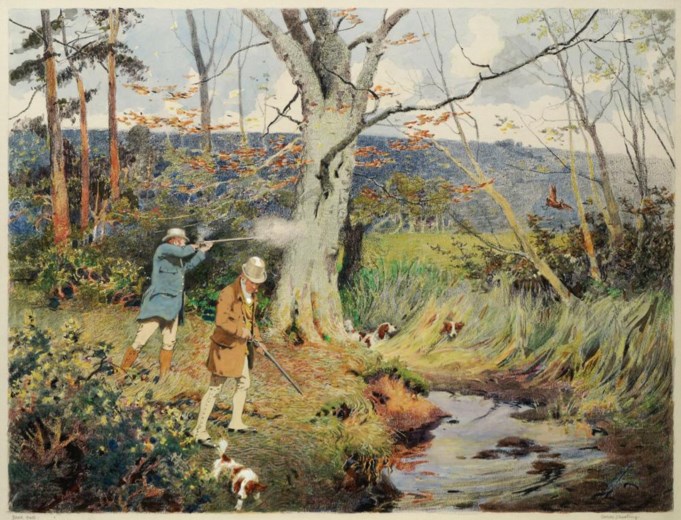 Frederick Hall, British 1860-1948- ''Preparing for Home'', ''Partridge Shooting'', ''Cock Shooting'' and ''Pheasant Shooting''; pen, ink, pastel, watercolour and gouache over traces of pencil
Shooting has staged on every Olympic tournament since 1896, the first Modern Games, and the women's events were added to the games in 1984. The work pictured above was sold within the
Fine Art auction featuring Modern & Contemporary Sculpture, Pictures, Works of Art & Clocks, Antique Furniture & Rugs in 2017. The work was successfully sold for £3,500.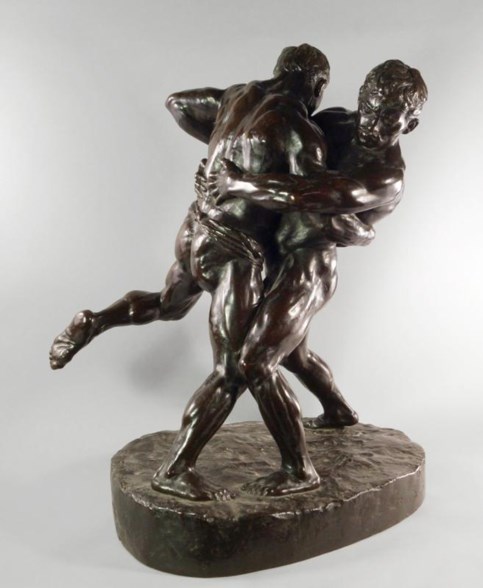 Hugo Kaufmann, German, 1868-1919, an electro-type model of two wrestlers, signed and dated to base, Hugo Kaufmann, Munchen 1891
This sculpture is depicting one of the sports included in Olympics, wrestling. This vivid electro-type model of two wrestlers was created by Hugo Kaufmann in 1891 and included within 2016 Fine Art Auction Featuring the Hans Schleger Tribal Art Collection & The Collection of the Late Robert Henry Hering.   By repute a number of these sculptures were given each year as prizes to the winners of bouts at an Anglo-German wrestling society which continued to exist until the outbreak of World War I. This lot was sold for £1,025 against an estimate of £500 - £800.
Find out more about our upcoming sales here - www.roseberys.co.uk