Highlights from the Arts of India Auction
29/05/2020 News Stories & Press Release, Islamic & Indian Art
LONDON: Roseberys is proud to present Arts of India on Wednesday 17 June, starting at 12 noon. The auction will celebrate the arts of India through an array of fine artefacts with an emphasis on private collections and provenance. Among the highlights is a section of the Adi Granth with a painted miniature of the Golden Temple, a portrait of Maharani Jind Kaur and a Mughal carved jade lidded bowl.
Alice Bailey, Head of the Islamic & Indian Art department comments : "The Arts of India June 17th sale features a wide selection of fine Indian miniatures from private collections, toy soldiers from Vizagapatam, jewellery, and works of Sikh interest amongst other items from the Indian subcontinent dating from the 2nd century up to the 20th century. A private collection of paintings of the Jagannath from Puri, Odisha purchased in the 1970s are of particular note, rarely coming to the market."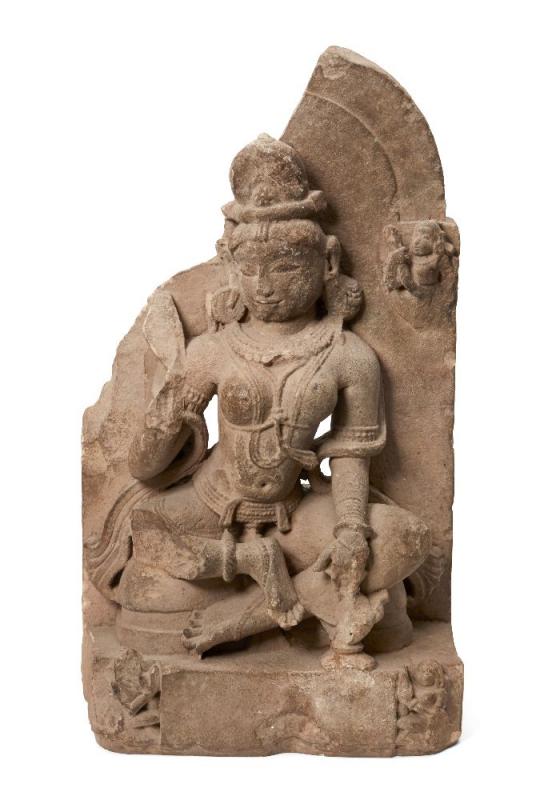 This Gandhara buff sandstone of a Bodhisattva, (Lot 8) 12th-13th century, wearing elaborate jewellery begins the highlights in the sale. The sandstone of Bodhisattva is estimated to sell for £2,000- £2,500.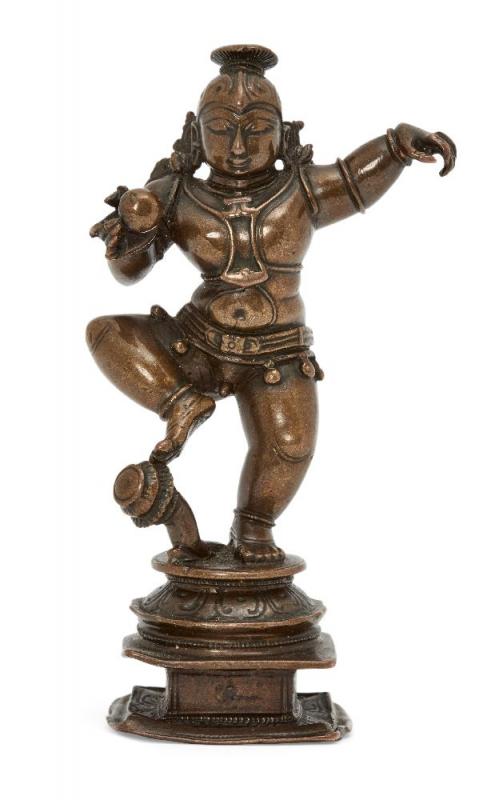 Among the small figures highlighted within the sale  is this finely cast bronze of Krishna (lot 25 ). The South Indian bronze, made circa 17th century, depicts the dancing Krishna on a lotus base above a waisted square plinth, his right foot raised atop a padma, holding a ball of butter in his right hand and with his left arm gracefully extended, wearing a waist-band with pendent jewels. The figure measuring 12cm. high is estimated to sell for £500- £800.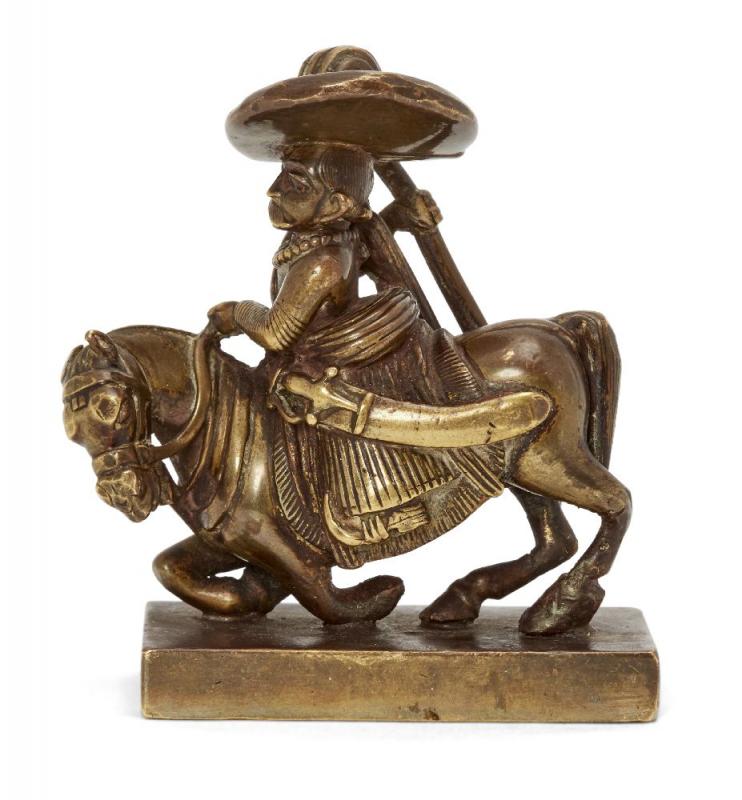 The brass statue of Vizagapatam soldier on horseback, circa 1795 ( lot 27 ) is a fine example of the statues including in the sale. The figure a top of a rectangular base was made using the cire perdue (lost wax) process. A similar group of toy soldiers can be seen in the collections of the Ashmolean Museum, Oxford, the Victoria and Albert Museum, London, the National Army Museum, London, the Madras Museum and the Madras School of Art and the Royal Collection at Sandringham. The set represents East India Company forces and those of an Indian ruler. It would have been made for a high-ranking Indian or British patron as it was made in Vizigapatam, a city famous for the quality of its works of art, including ivory, bronze and silver. This brass statue is estimated to sell for £400- £600.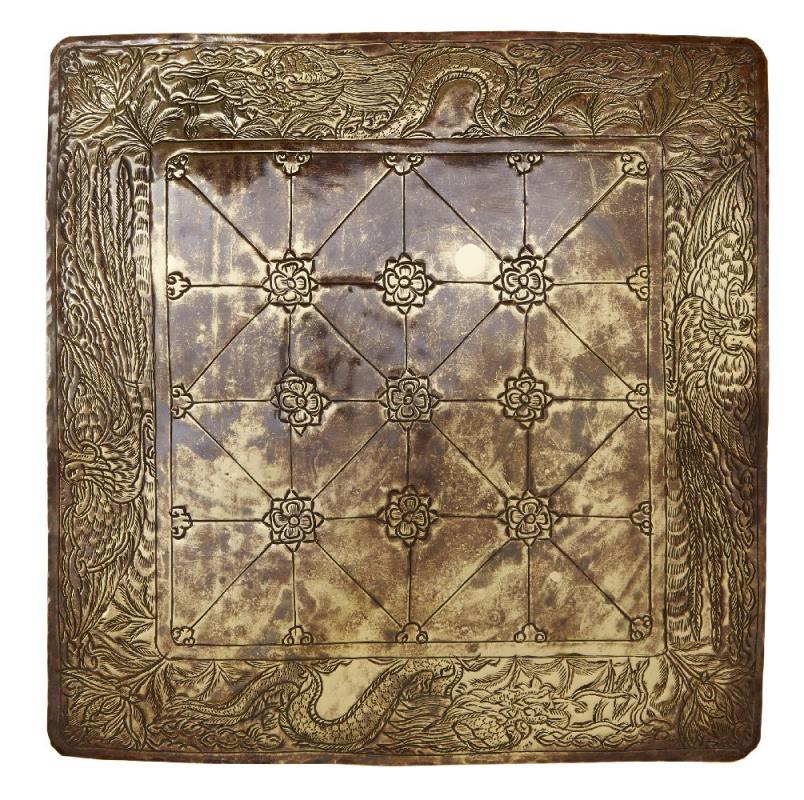 This Mughal engraved silver gilt plaque (Lot 58 ), possibly a playing board, dated 1100AH/1688AD is estimated to make between £800- £1,200. The plaque is decorated with a series of squares, divided into triangular sections with flower heads to interstices. It is beautifully bordered with birds, large flowers and dragons.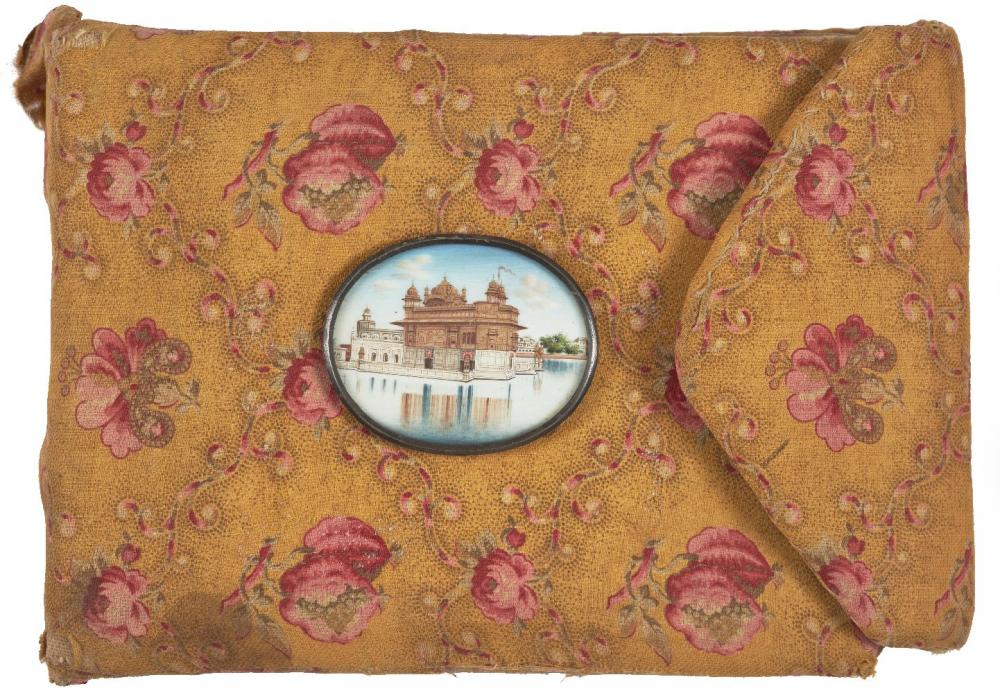 One of the leading lots is lot 78 . The highly unusual section of the Adi Granth, with a miniature of the Golden Temple in a silver frame to the front of the floral cloth cover made during the 19th century. Inside is a 464ff., with 11ll. of black Gurumukhi text per page, including an illustration of Guru Nanakji. This lot is estimated to sell for £10,000 - £15,000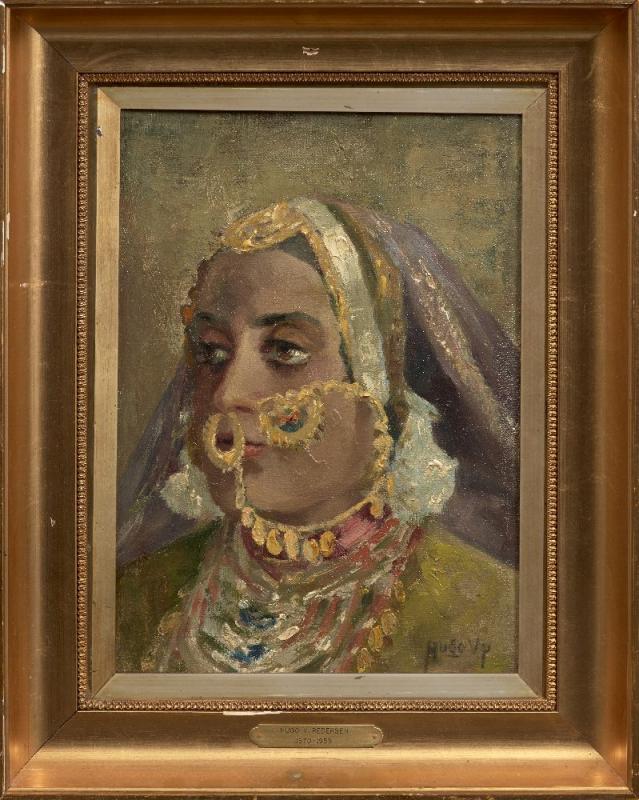 Lot 79 is a wonderful example of the paintings within the sale. This portrait of Maharani Jind Kaur, Maharaja Ranjit Singh's Last Queen, mother of Duleep Singh is by Danish arist Hugo Vilfred Pedersen and was painted circa 1905. Hugo Vilfred-Pedersen studied at the Academy of Fine Arts in Copenhagen between 1886-1892, and later studied under Henningsen at the School of Modeling. The oil on canvas is in its original frame with the artists label and comes with a strong provenance. Heralding from the private collection of Maharani Jind Kaur, also popularly known as Rani Jindan, in Copenhagen. This painting is estimated to sell for £3,000- £5,000.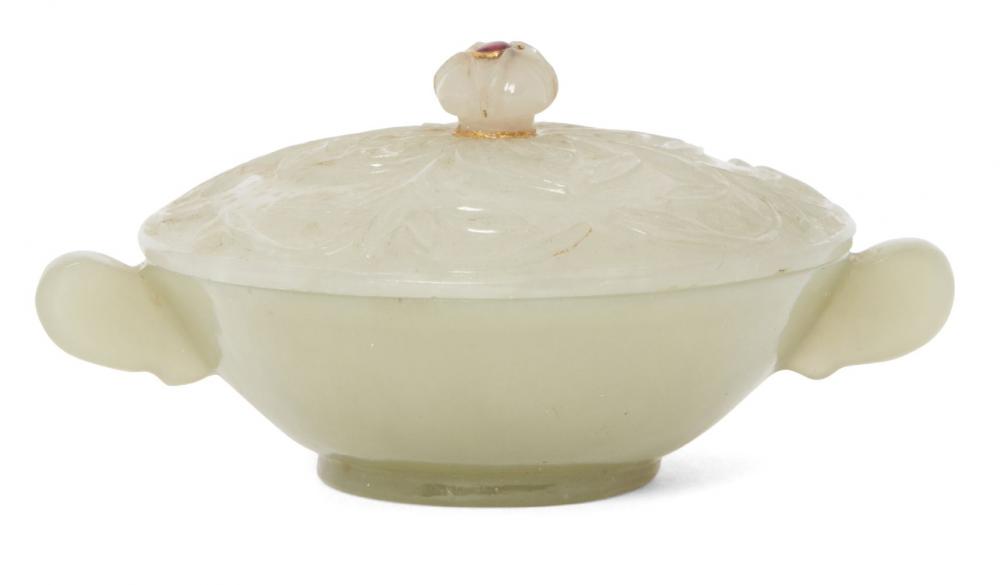 Another item in the sale with strong provenance is lot 94. The 17th century Mughal jade lidded bowl is carved to the lid with a four-petalled flower around a central ruby-set. It comes from a private collection in Germany, acquired in New Delhi in 1974. The bowl is estimated to sell for £3,000- £5,000.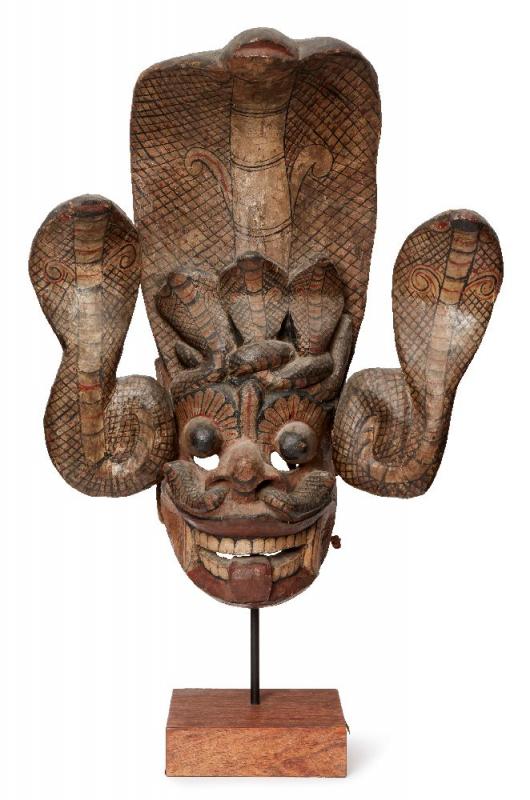 This 19th century wooden mask, from Ceylon in Sri Lanka also comes from a private collection in Germany. Lot 139 was acquired in 1990, formerly in the collection of the Museum Umlauff, Hamburg, Germany.  Sri Lanka wooden mask is estimated to sell for £1,000- £1,500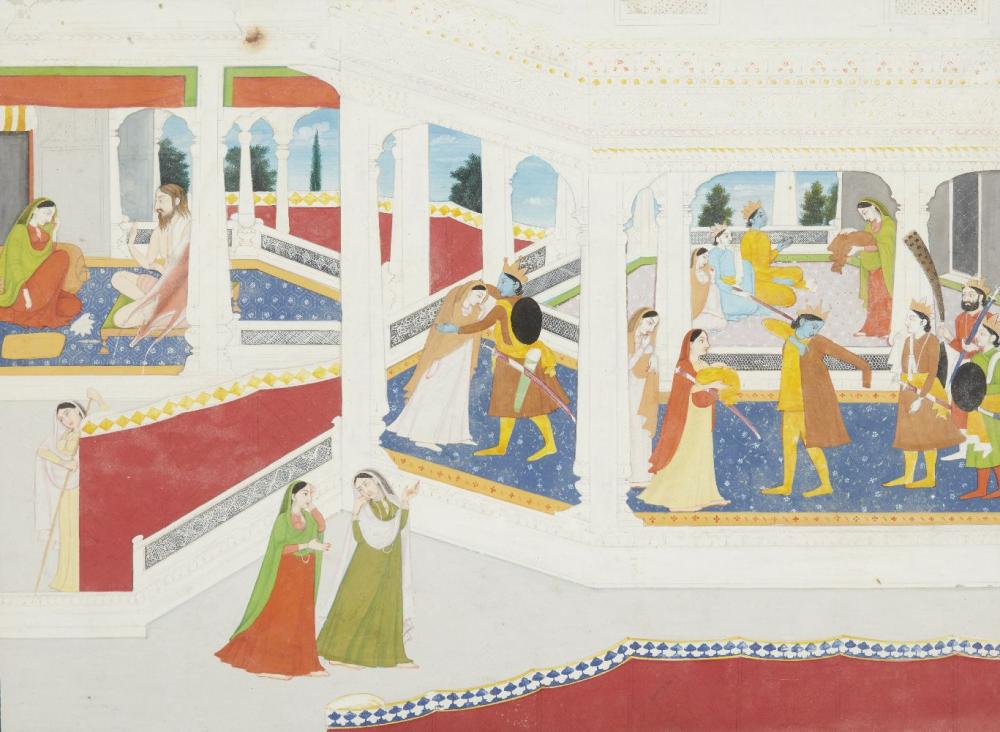 This illustration is one of 23 included in the Ramayana Series. The collection of illustrations created circa 1830 was acquired by Robert Henry Wallace Dunlop (1823-1887) and thence by descent. Wallace Dunlop was born in Madras and held the position of district officer of the Meerut District during the Indian Mutiny of 1857. The set of illustrations (lot 164 ) are estimated to make £2,500 - £3,000.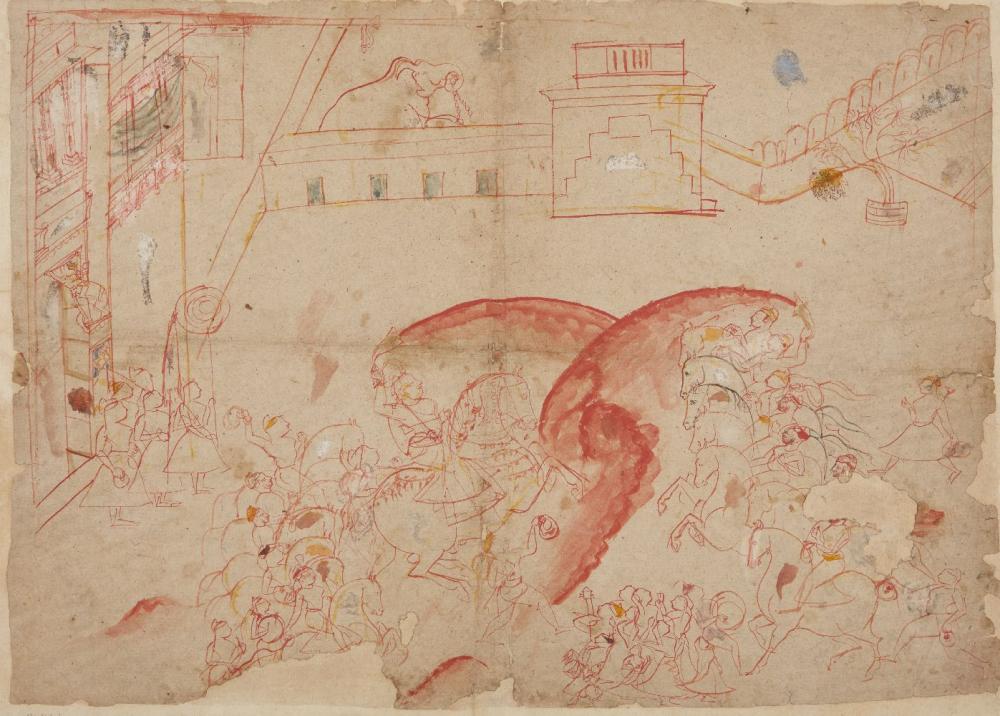 Estimated to sell for £1,200- £1,500, is this brush and red wash on paper, depicting a noblemen on horseback playing at Holi, Kotah, in a palace courtyard circa 1830 (lot 170).  As always in Kotah drawing, one can admire the lively and energetic line that informs every artist's work.
The final item in our round up of highlights is lot 173, an illustration to a Ragamala series. Chandra Ragaputra, son of Hindola by a Pahari artist, Chamba or Bilaspur from North India, created in early 18th century. The opaque watercolour and gold painting on paper comes from a private collection in Germany.  It is estimated to sell for £5,000- £8,000.
You can view the full catalogue here.
For further information please contact our Marketing & PR Project Manager.
Peigi Mackillop peigimackillop@roseberys.co.uk
For the Islamic & Indian Arts viewing we will be facilitating time slot appointments of one hour each.
The viewing will be:
Thursday 11 June 10am-4pm  (final time slot 4pm-5pm)
Friday 12 June 10am-4pm (final time slot 4pm-5pm)
Sunday 14 June 10am-2pm (final time slot 1pm-2pm)
Monday 15 June 10am-4pm (final time slot 4pm-5pm)
To make an appointment please email islamic@roseberys.co.uk
If you wish to view before these dates it will need to be by appointment and providing a list of lot numbers. Again, all enquires to islamic@roseberys.co.uk