Hans Schleger Zero – The Poster Boy
9/08/2016 News Stories & Press Release, Decorative Arts & Modern Design , Single Owner Collections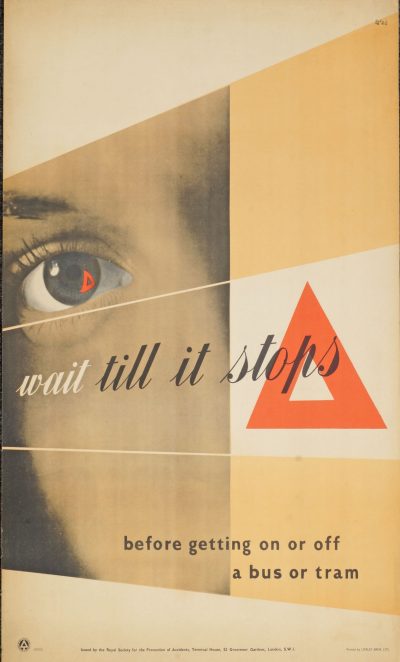 "Hans Schleger was a graphic designer before the concept of graphic designer was invented" (Paul Rand)
Roseberys London are delighted to offer the single owner collection sale from the estates of Hans and Pat Schleger. This two part sale will feature one part consisting of posters and artworks with the second part offering Schleger's fine collection of Tribal Art.
Hans Schleger, or Zero as he became known, was a key figure in the history of graphic design. He pioneer the concept of corporate identity, he worked on such brands and logos for John Lewis, Penguin Press and Finmar Furniture amongst others. His work in this field has remained hugely influential for subsequent generations of designers.
After leaving the army in 1919, Schleger enrolled at the Berlin Kunstgewerbeschule where he was taught by Emil Orlik. This same year Walter Gropius founded the Bauhaus at Weimar and the principles of the two organisations were similarly aligned urging the breakdown of boundaries between fine art, craft, design and architecture and to integrate the study of art with science. Schleger held a strictly moralistic view of the role of the artist in the spread of information and the perfecting of commodity. He also believed in the Bauhaus principle of adhering to simplicity of concept and reduction to essentials, something that is evident in his graphic design.
Starting his career in Berlin designing publicity material for some of the film sets of a company called Hagenbeck, Schleger moved to New York in 1924 taking his Modernist approach and applying it to American advertising with one of his earliest and most famous series being for men's outfitters Weber and Heilbroner. In 1929 upon returning to Berlin he started working for the British advertising agency Crawfords as an art director, and emigrated to London, England during the rise of Hitler, where he remained until his death in 1976.
It was during this time at Crawford's that he met the American born designer Edward McKnight Kauffer who worked at the advertising firm part time during 1927-1929 and was responsible for introducing Schleger to Jack Beddington, advertising manager of Shell Max and BP. He quickly commission a 48 sheet poster for BP Ethyl Petrol in 1934. Four years later he was involved in the famous 'These Men Use Shell' Shell-Mex campaign where his subject of Journalists was the most authoritative of the series commissioned.
From 1941 Schleger was relied on by the British government departments in spreading the messages of war, an irony that was not lost as this battle with his native homeland gave him scope to produce art with social purpose as his principles had taught him.
Postwar, in 1950 Schleger was invited to teach at the Chicago Institute of Design by Serge Chermeyeff. As it had been started by Moholy-Nagy Schleger felt it was like being asked to teach at the Bauhaus.
Upon his return Schleger concentrated on corporate identity and was a leading practitioner for co-ordinating visual images running through the whole range of a company's advertising from packaging to vans and advertising. A model which he practised for retail chain Mac Fisheries. He went on to design the trademarks of Finmar Furniture, Penguin Press, John Lewis Partnership, Deutsche Bank and the Edinburgh Festival.
Pat Schleger nee Maycock, married Hans in 1956, she studied at the Chelsea School of Art and was a graphic designer in her own right. From 1949 she worked with Hans and later the company Hans Schleger & Associates where her clients included the BBC Symphony Orchester, Lyric Theatre and the Royal Academy. She was a senior lecturer at Croydon School of Art & Design for fifteen years.
This sale presents some of the most recognisable images created by Hans Schleger during his career from the mid 1930's until his death in 1976.
Highlight Lots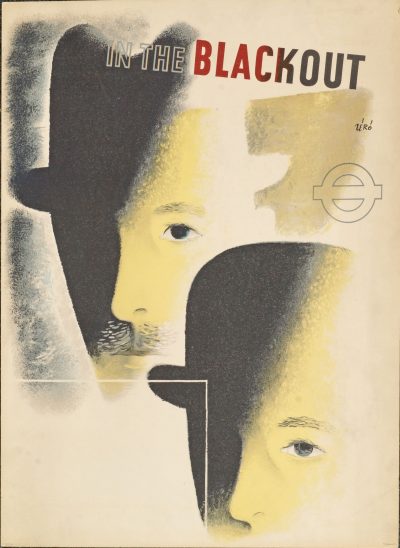 Lot 29 "In the Blackout, Pause as you leave the station's light", lithographic poster in colours, board, c.1941-43, published by London Transport, printed by The Baynard Press, 63.5×50.5cm
Estimate £400 – £600

"Stop for Super Shell and Go", lithographic poster in colours, 1938, 38.1×111.1cmEstimate £600 – £800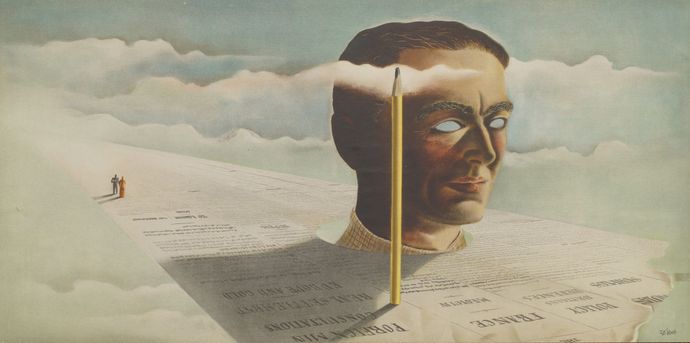 Lot 40 "These men use Shell, you can be sure of Shell", lithographic poster, laid on corrugated board, 1938, 54.4×95.7cm
Note: This Shell poster is one of the great applications of Surrealism to advertising art and is also one of the best in the extensive series of posters the company produced. Replete with strange and mysterious imagery, the head of an eye-less man emerges through a hole in a road of uncut newspaper, which recedes into the horizon. Next to the head an oversized pencil and behind him an undersized couple. The design is a tribute to the amount of artistic liberty that Jack Beddington, the publicity director at Shell, gave to the artists he commissioned. Shell 79, Games p. 49.
Estimate £600 -£800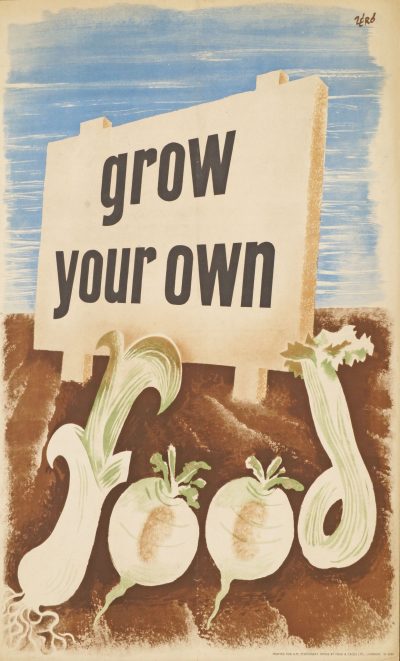 Lot 55 "Grow your own food", lithographic poster in colours, two copies, one on board, 1940's, printed for H.M Stationary Office by Fosh & Cross Ltd, London, ea. 75.8×50.4cm, (2)
Note: this WWII propaganda poster was designed by Hans Schleger at the Ministry of Food and formed part of the 'Dig for Victory' initiative. The government were trying to ensure nutrient distribution so it was important to increase food production and personal consumption. This poster associates growing food with food consumption. The style of this poster references key trends in inter-war design including the simplicity of style, use of metaphor and subdued colour palette. The earthy tones are resonate of the English landscape in which the food is grown.
Estimate £350 – £500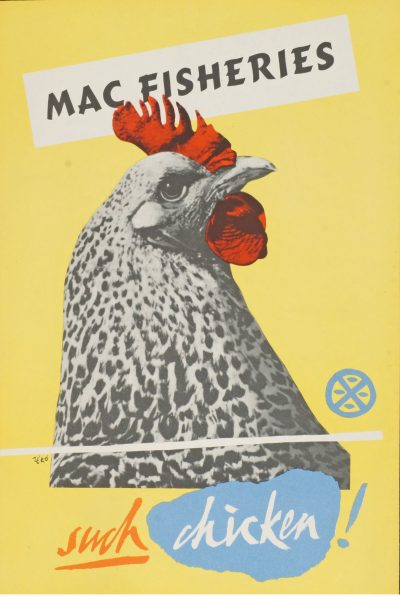 Lot 57 A collection of Mac Fisheries advertising lithographic posters in colours, to include, "Such Salmon", "Such Turkeys", "Such Chicken", "Such Lobster", "Such Hare", "Such Game", "Fresh Smoked Boned Kippers", "Mac Fish Fresh Fish", "Give them a Mac Fish Gift Token", "May we send it for you", "Why not telephone your order to us", "Delicious Yarmouth Kippers", c.1950's, published by Mac Fisheries Ltd, printed by Mather & Crowther Ltd, ea. 38.1×25.2cm, (12)
Estimate £150 – £200
Full catalogue will be available online from 18 August
Auction date: 6 September, 10am London
~Ends~
For further information please contact Charlotte Meddings charlottemeddings@roseberys.co.uk +44 (0) 20 8761 2522
Roseberys is a privately owned auction house operating at the heart of the fine art market for more than 25 years.
With offices in London's Mayfair and Lambeth Roseberys offer a calendar of more than twelve specialist fine art, antiques and collectibles auctions each year.
Specialist sales include a wide range of Asian and Islamic Arts, Modern and Contemporary Art and Design, Decorative Art, Fine Silver and Jewellery, Ceramics, Paintings, Prints, Photography, Antique Textiles, Vintage Fashion and Fine Wine and Whisky.
Roseberys team of world-renowned specialists also provide a wide range of art market services to professional clients, including valuations for insurance and probate.
Roseberys is a member of SOFAA – The Society of Fine Art Auctioneers.