Great selection from some of the biggest names in Greek art of the last century
11/05/2021 News Stories & Press Release, Impressionist, Modern & Post War Art
May's Post War and Contemporary Art auction on Wednesday 26 May has a great selection of works from some of the biggest names in Greek art of the last century.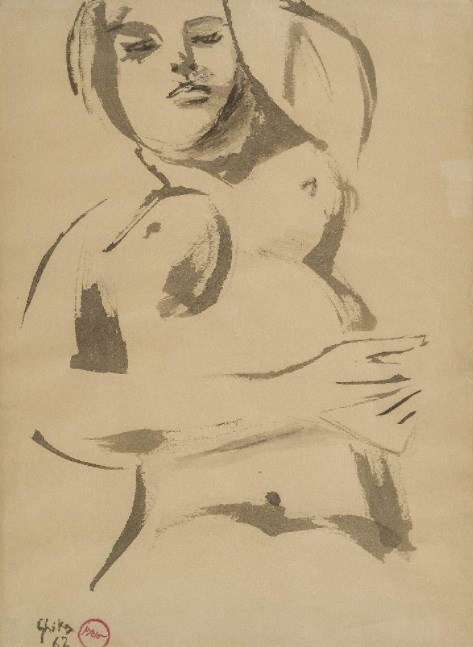 Nikos Hadjikyriakos-Ghikas, Greek 1906-1993- Woman, 1962; ink
A highlight of this sale is lot 216 with an estimate of £3,000-5,000, by Nikos Hadjikyriakos-Ghikas, also known as Niko Ghika, one of the most important figures in twentieth-century Greek art. Ghika studied under the painter Konstantinos Parthenis, before travelling to Paris in 1923. It was here that he encountered the artistic developments which were shaping European art, and the artists who expounded them. These included Pablo Picasso himself, who in turn noted the quality of Ghika's own work. This experience undoubtedly left an indelible mark on Ghika's style, with his subsequent output strongly influenced by the geometric angularity of Cubism. Ghika's art was celebrated throughout his lifetime and continues to be celebrated to this day. He became a member of the Athens Academy in 1973, and the Royal Academy in London in 1986. A retrospective of his work was held at the British Council in Athens in 1946, followed by a significant retrospective at the Whitechapel Gallery in 1968, and another at the National Gallery of Athens in 1973. Ghika's friendship with Patrick Leigh Fermor and John Craxton was the subject of British Museum exhibition in 2018. His works are currently held in the collections of the National Gallery of Athens, the Musee d'Art Moderne in Paris, the Metropolitan Museum of Art in New York, and the Tate Galleries in London. His house has been turned into a gallery which is run by the Benaki Museum.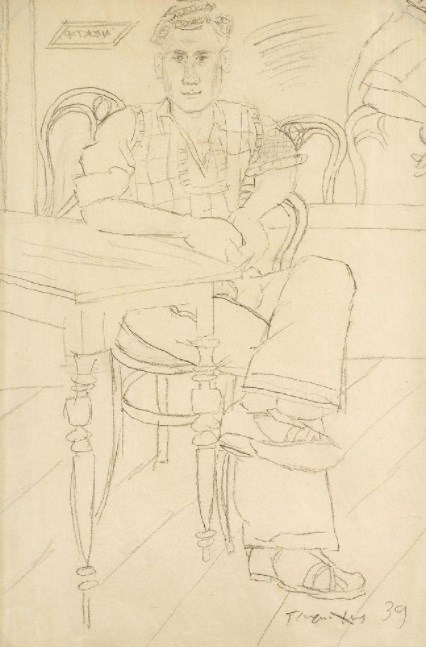 Yannis Tsarouchis, Greek 1910-1989- Portrait of a man, 1937; pencil
There are also three impressive examples of work by Ghika's contemporary Yannis Tsarouchis in this sale, as lots 213 to 215, with estimates of up to £6,000-8,000. Tsarouchis attended the Athens School of Fine Arts, and also studied under Photios Kontoglou. Like many of his contemporaries, Tsarouchis was involved in the theatre, and throughout his career worked not only as a painter, but also as a costume and stage designer. In the 1930s Tsarouchis travelled to Europe where he met artists including Alberto Giacometti and Henri Matisse. He was also a founding member of the Armos art group, established in 1949, along with Ghika and (among others) Yannis Moralis and Nikos Nikolaou. Tsachouris is often described as a central member of the influential 'Generation of the 30s', and was thus a notable force in the artistic landscape of twentieth-century Greece. These works are great examples of Tsarouchis's interest in representing the human form in all its variety. Lot 214, in particular, is a classic example of the artist's output, as a bold, confident depiction of a young, nude male figure. Tsachouris's first solo exhibition was held in Athens in 1938, and his work was included in the Venice Biennale twenty years later, in 1958. The Yannis Tsarouchis Foundation Museum was established in Tsarouchis's house in Athens in 1982.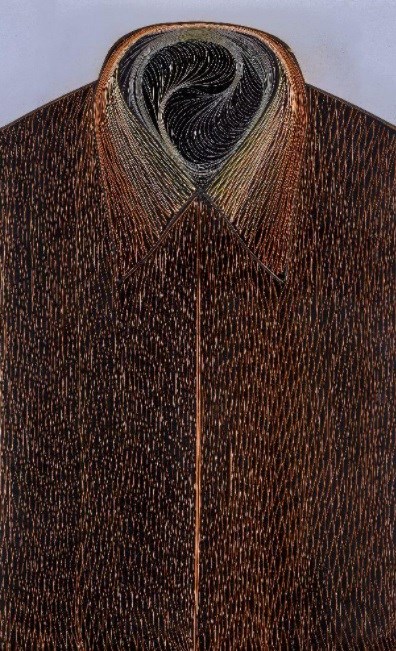 Pavlos Dionyssopoulos, Greek 1930-2019- Chemise, 1981; construction with poster paper in perspex
Also on offer in this sale is a work by Pavlos Dionyssopoulos, lot 220, with an estimate of £800-1,200. Dionyssopoulos studied at the Athens School of Fine Art under Yiannis Moralis, travelling to Paris in the 1950s and early 1960s, where he encountered Pierre Restany. The New Realist movement, which Restany spearheaded, had a strong effect on the development of Dionyssopoulos's instantly recognisable style. Indeed, this piece is a great example of the way in which Dionyssopoulos's work poses a challenge to the concept of 'high art'. Like all of his most famous artwork, this piece embraces the mundanity of modern life in both its materials and subject-matter, using strips of poster paper to depict a folded work shirt. Dionyssopolous represented Greece in the 1980 Venice Biennale, and a retrospective of his work was held at the Macedonian Museum of Contemporary Art in Thessaloniki in 1997. His works are currently held in a number of collections, including the Arts Council Collection in the Southbank Centre.

Alekos Fassianos, Greek b.1935- Horses; oil on canvas
Contemporary Greek art is further represented in this sale by lot 217, by Alekos Fassianos, with an estimate of £3,000-5,000. Fassianos studied at the Athens Academy of Fine Arts under Yiannis Moralis, and then at the Paris National School of Art. Like Ghika and Tsarouchis, Fassianos was involved in the world of theatre and set design. Fassianos's work clearly signals the Classical heritage of Greek art, recalling the decoration of Ancient pottery with its depiction of flat forms in profile. His work has been the subject of numerous exhibitions across Europe and further afield. Solo shows have been held at the Benaki Museum and National Art Gallery in Athens, the Hellenic Museum in Melbourne, and the Galerie Grafika in Tokyo, among many others. A retrospective of Fassianos's work was held at the Macedonian Museum of Modern Art in Thessaloniki in 1993, and work by the artist is held in a number of collections worldwide, including at the Musee d'Art Moderne and the Centre Pompidou, both in Paris.
Roseberys are proud to present the first Impressionist, Modern, Post War & Contemporary Art auction of the year on Wednesday 26 May. This sale will be the first auction to be split into two, Impressionist & Modern Art starting at 11am, and Post War & Contemporary Art starting at 2pm.
Tess O'Brien, Head of sale comments, 'This year we are delighted to divide the sale into two parts, firstly the Impressionist and Modern section will take place, then the Post War and Contemporary will follow, later in the afternoon. The two different sales have a wide selection of highlights from all genres. In the Impressionist and Modern section, we have a wonderful Private Collection, as well as a rare Lempicka. In the Post War and Contemporary section, we have works from Rotella to Ben Enwonwu; also included in this section is a wonderful Greek collection.'
Viewing by appointment only contact pictures@roseberys.co.uk to book a time slot.
We will be facilitating time slot appointments of one hour each.
When making your booking please provide a contact telephone number and the number in your party up to a maximum of 2 people.
Viewing Times
Sunday 23 May 10.00 am – 2.00 pm (Last appointment slot is 1.00 pm)
Monday 24 May 9.30 am – 5.00 pm (Last appointment slot is 4.00 pm)
Tuesday 25 May 10.00 am – 5.00 pm (Last appointment slot is 4.00 pm)
Please contact pictures@roseberys.co.uk for condition reports and further information.