Global artistic offering within the final specialist auction of the year
16/11/2020 News Stories & Press Release, Impressionist, Modern & Post War Art
Roseberys are proud to present the Impressionist, Modern, Post War & Contemporary Art auction, which will be the final specialist sale of the year for Roseberys, on Wednesday 9 December, starting at 1pm.
Tess O'Brien, Head of the department comments 'Within the highly anticipated sale we have a lot of very interesting contemporary pieces from all around the world, from South Korea including work by Michael Joo.  There are also some rare treasurers in the Post War section, including the Paul Jenkins and Claude Venard pieces. I am also pleased, being Australian, to once again have a lovely collection of Australian works of art with interesting provenance. The sale is small comprising of 170 lots in total, however it is full with good quality works of art by important artists.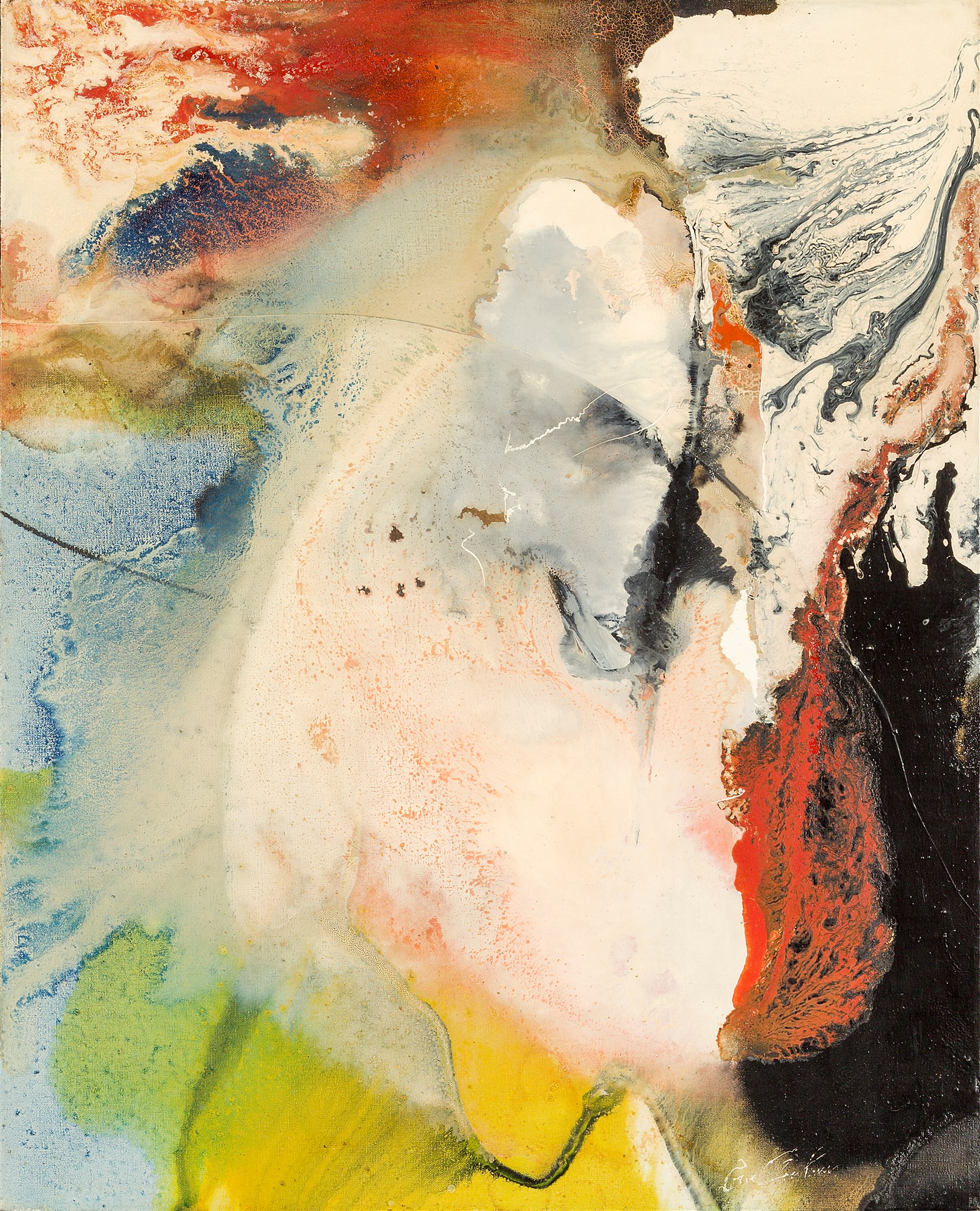 Paul Jenkins, American 1923-2012- Cape of Good Hope, New York, 1958; oil on canvas
Estimated to make £18,000- £22,000 is Lot 23 by American abstract expressionist painter Paul Jenkins, 1923-2012. Titled Cape of Good Hope created in 1958, the oil on canvas comes with an impressive provenance. This painting is a typical example of Jenkins's style, achieved through his eschewing of the paintbrush, which left the paint to seep, pool and drip across the canvas. Jenkins's work, inspired by artists such as Jackson Pollock and his close friend Mark Rothko, can be firmly located in the abstract impressionist movement which shaped subsequent American art. Jenkins's work is on display in locations throughout the USA and across the world, including in the Solomon R. Guggenheim Museum in New York, the Tate in London, and the Centre Georges Pompidou in Paris. Lot 22 in the sale is also an oil on canvas by Jenkins, titled Eye of the Doie, Paris, created a year later in1959. This lot has been estimated to make a lower price of £4,000- £6,000.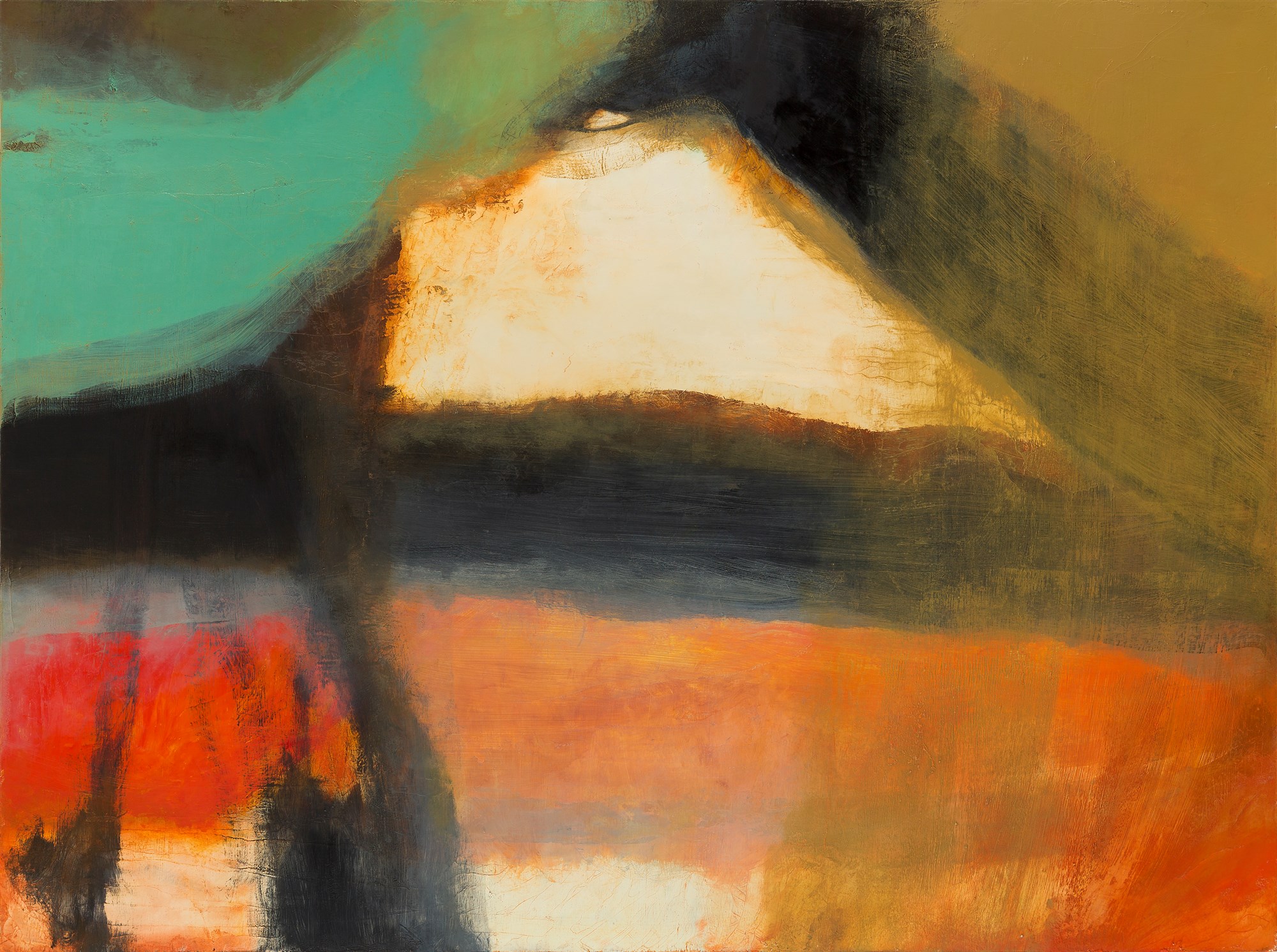 Hughie O'Donoghue, Irish/British b.1953- The Owl Run, 2013; oil on canvas
Following shortly after is the other leading highlight in the sale, an oil on canvas (Lot 24) by Irish / British artist Hughie O'Donoghue, b.1953. Titled The Owl Run, created in 2013, it has been entered into the auction at £25,000- £30,000. This work is part of a major series by the British artist Hughie O'Donoghue, 'Owl Run', which was exhibited at Marlborough Fine Arts in 2013 where the vendor bought it from. The exhibition and the works within were curated around the concept of place, time, and memory. The interconnectedness of the three has been a central theme of the artist throughout his career. In this series, O'Donoghue uses the painted image to explore the individual's connection with the past, and the places associated with it. He does this through his depictions of 'Owl Run', the place in Ireland where his mother grew up and which O'Donoghue himself visited regularly as a child. It is through the application of broad swathes of bold pigments that O'Donoghue seeks to convey the indelible impressions which familiar places make on an individual, particularly in childhood, and the powerful emotions which these remembered places continue to evoke throughout our lives.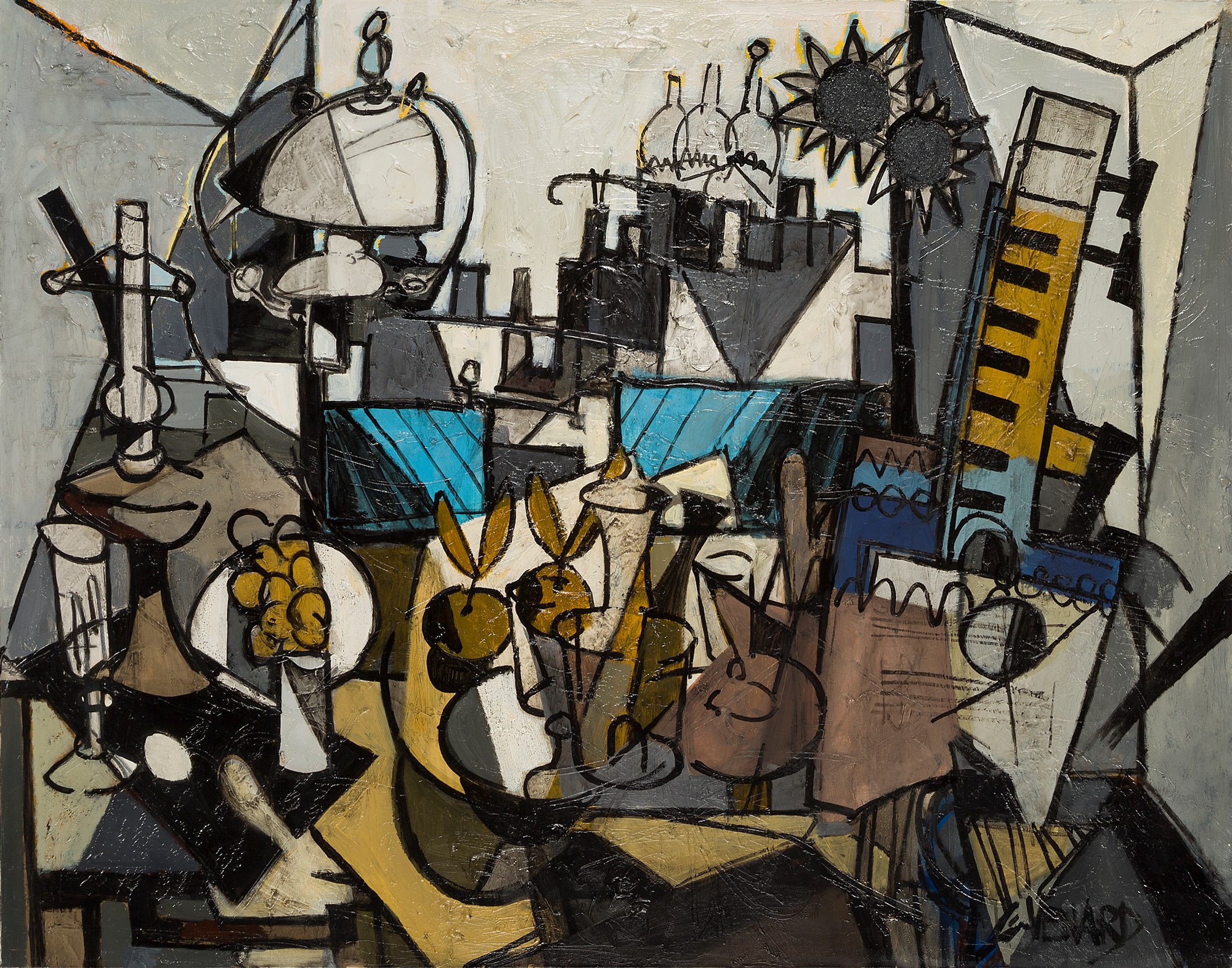 Claude Venard, French 1913 - 1999- Nature Morte au Sacré Coeur, 1991; oil on canvas
Lot 12, an oil on canvas by French post-Cubist and still life painter Claude Venard,1913 – 1999 titled Nature Morte au Sacré Coeur, executed in 1991, has been estimated at £18,000- £22,000 at auction. The artwork comes with provenance from The Estate of Madame Venard; Galerie Michel Perrier, Avignon; Alon Zakaim, London, where purchased by the present owner. Venard's thick impasto, which was achieved through the application of paint directly with a palette knife, is a typical feature of his paintings, and can be seen clearly in this piece. The substantial influence of Cubism on Venard's work is evident from his bold, abstract depiction of space, a flattening of objects, and a focus on the representation of contrasting and interconnected shapes. In this context, this piece is a classic example of Venard's style, including its still-life subject matter. Examples of Venard's work are held around the world in places such as the Metropolitan Museum of Art in New York, the Musee d'Art Moderne in Paris, the Tate in London, and the Tokyo Museum.
Lots 37 and 38 are by the Korean-American contemporary artist Michael Joo, b.1966. Lot 37 titled Divided/Echoed, is created using four shields, aluminized low-iron glass and estimated to make £5,000- £8,000. Lot 38 is titled Bodata, uses aluminized low-iron glass as the canvas also but with enamel paint applied to the surface. This artwork comes with a lower estimate of £2,000 - £4,000. Both artworks were created in the year of 2012. Joo's multidisciplinary approach is reflected in the unusual medium of these two artworks, which takes the form of riot shields constructed from glass. Like much of Joo's output, these works on offer engages with contemporary, social and political concerns. In this instance, Joo's provocative artworks are dealing with the issue of the strained and fragile relationship between the police and the civilian population in modern states. In considering the relationship between the authorities and the individual, these artworks express themes of identity within a wider cultural context which recur throughout the artist's work. His works are held globally in institutes such as the Museum of Modern Art, the Moderna Museet in Stockholm, and the Samsung Centre for Art and Culture in Seoul.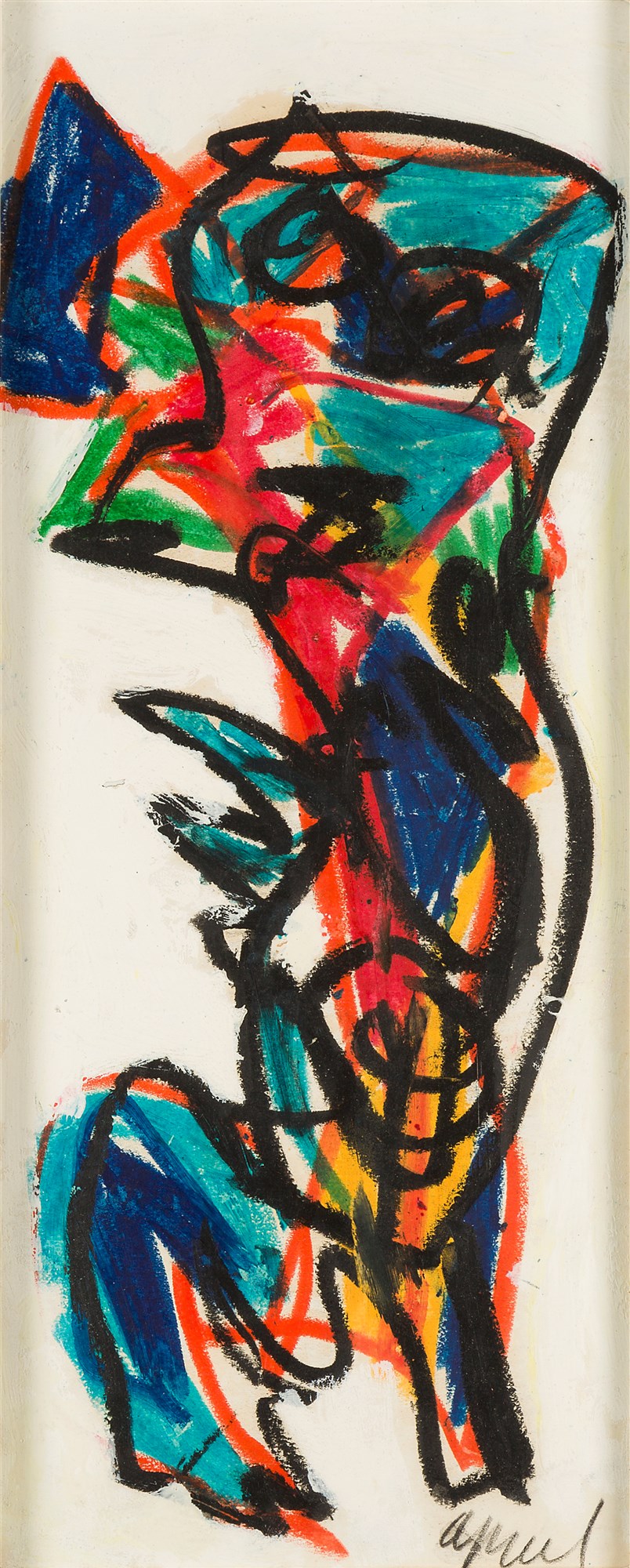 Karel Appel, Dutch 1921-2006- Single Figure, 11; mixed media on paper, laid down on canvas
Carrying an estimate of £4,000 - £6,000 is lot 17 by Dutch artist Karel Appel, 1921-2006. Titled Single Figure, 11; the mixed media on paper, laid down on canvas, comes with a respectable provenance, hailing from The Redfern Gallery, in London. This piece is a typical work by the Dutch-born artist Karel Appel (1921-2006), distinguished, among other things, by its bright primary colours, used alongside thick lines of black paint. This work resembles much of Appel's output through its depiction of abstract figurative forms through bold brushstrokes, which imbues the artwork with an arresting sense of energy and dynamism. This work demonstrates the freedom of expression which is a constant feature of Appel's practice, and which has seen the artist associated with the abstract expressionist group of contemporary New York. Mixed-media artworks, like this piece, form some of Appel's most recognisable images, and have been the subject of a number of exhibitions. They can be seen in an exhibition of Appel's works on paper at the Galerie Charles Lienhard in Zurich in 1962, and the Redfern Gallery where this painting came from.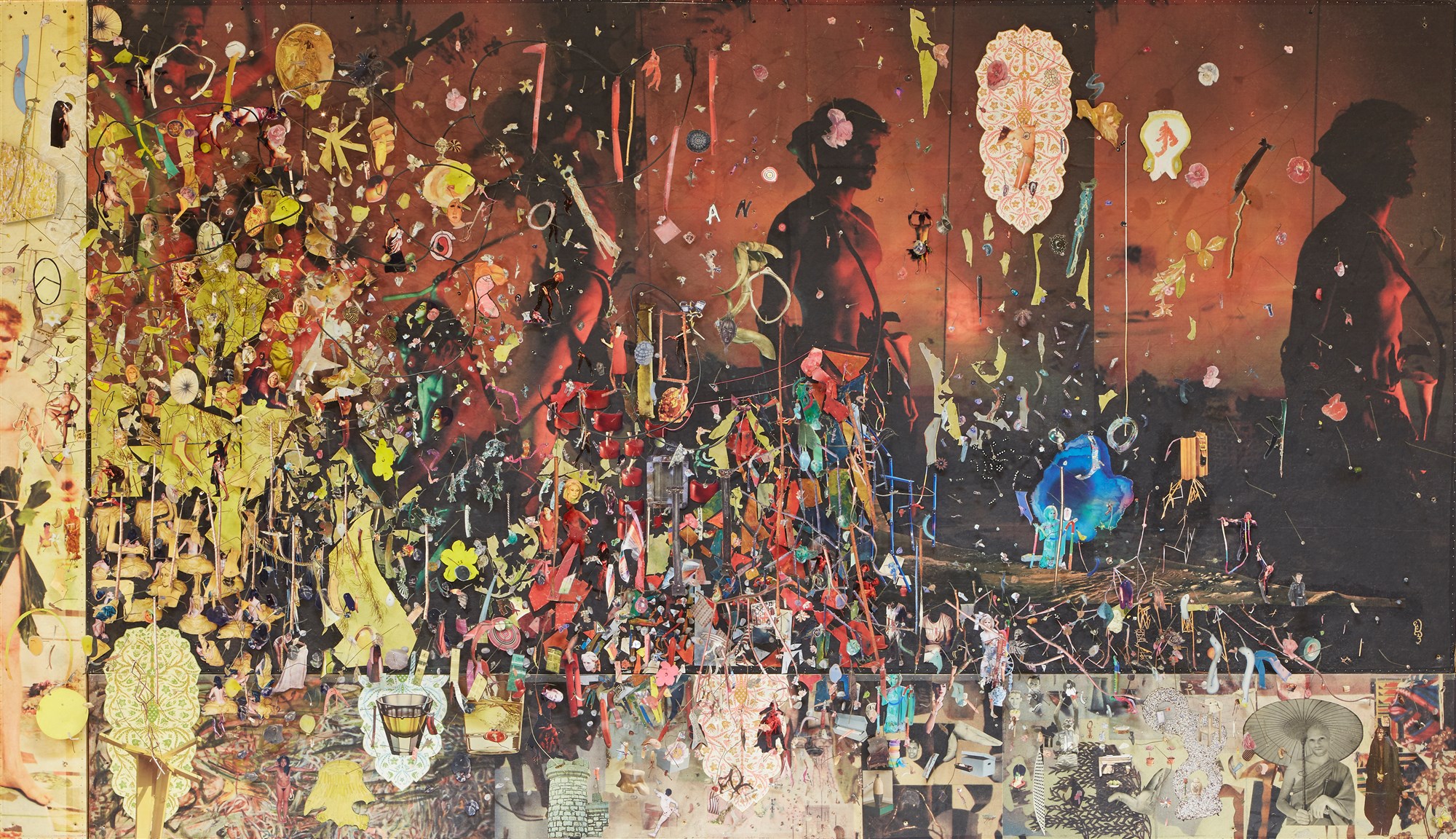 Elliott Hundley, American b.1975- Exit Dionysus, 2010; Soundboard, ink jet on kitikata, paper, photographs, pins, wire, found paintings
Lot 31 by contemporary American artist Elliott Hundley b.1975, titled Exit Dionysus is estimated to make £5,000- £8,000, which is an attractive price for this piece. This work on offer comes from a private collection in London and was created in 2010 using a range of mediums including soundboard, ink jet on kitikata, paper, photographs, pins, wire and found paintings, lending the work on offer an element of collage. The use of mix media, collage style painting is synonymous with Hundley's artistic output. The detailed construction within his works such as lot 31 on offer, show that his artworks continue to grow and change throughout their existence. Hundley's incongruous combination of materials and images adds an extra element of unreality to the dreamlike fantasy of their subject matter. His work is in collections around the USA, including the Museum of Modern Art, the Solomon R. Guggenheim Museum in New York, and the Museum of Contemporary Art in Los Angeles, and his works have been the subject of solo exhibitions at the Andrea Rosen Gallery in New York and at the UCLA Hammer Museum in Los Angeles, among others.
Lot 30 and 32 in the sale are both by American painter Julie Hefferman, whose work has been described by the writer Rebecca Solnit as "a new kind of history painting" and by The New Yorker as "ironic rococo surrealism with a social-satirical twist. Her pieces of artwork, like the works on offer at Roseberys have a fantasy like feeling but has a metephorical meaning behind them talking about issues that are happening around the world during her time she is creating the piece of artwork. Lot 30 an oil on canvas on offer is titled Study for Self Portrait as Fabulous Droppings V, 2008; with an estimate of £3,000 - £5,000. Lot 32 is also an oil on canvas, titled Study for Self-Portrait in Need of Perpetual Help and comes with a higher estimate of £4,000 - £6,000. Both artworks were painted in 2008 and were purchased by the current owner from the Pilkington Olsoff Fine Arts, in New York.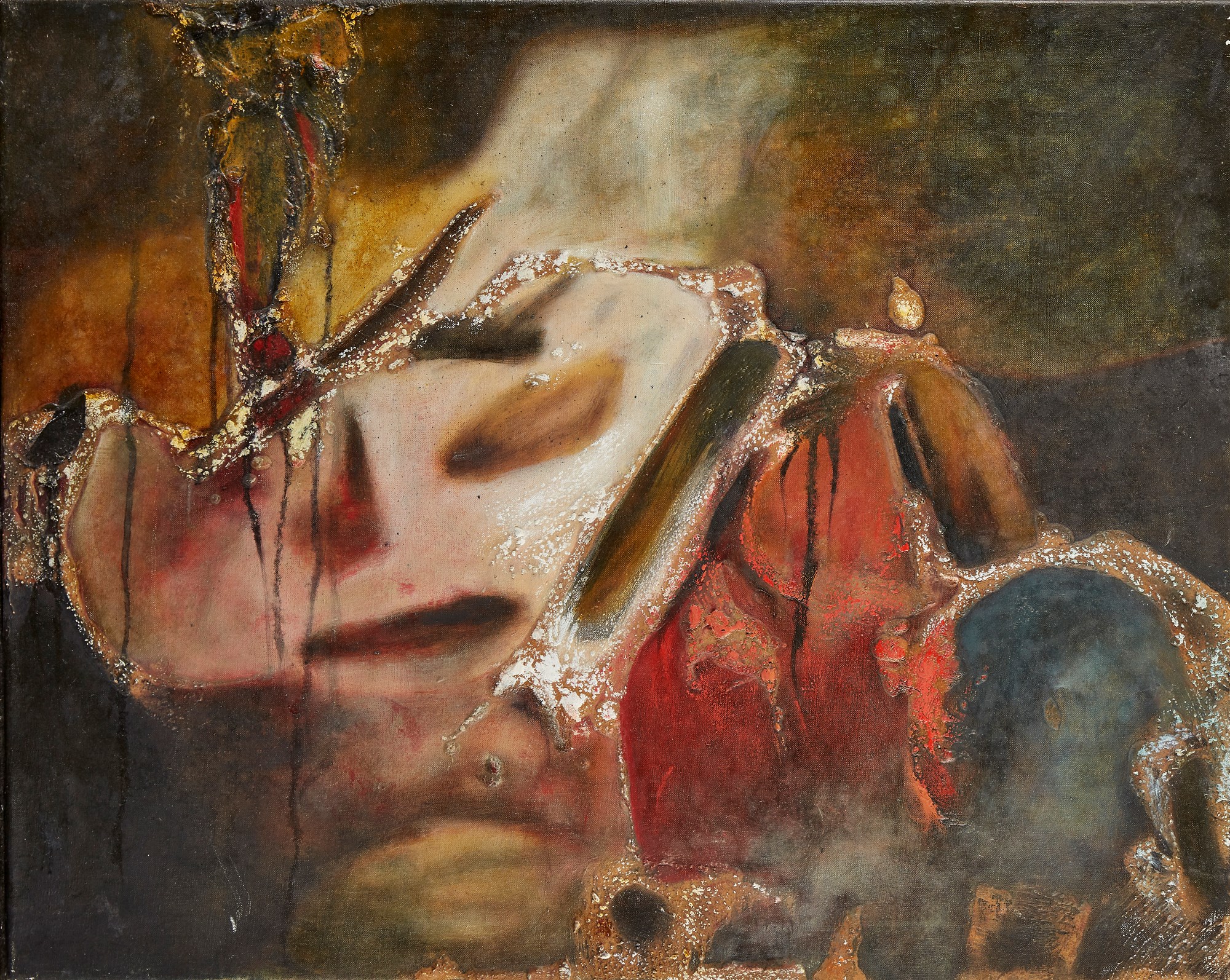 Aubrey Sendell Williams, Guyanese/British 1926-1990- Tacuma, 1964; oil on canvas
There are two pieces in the sale (lot 20 and 21) by Aubrey Williams, a twentieth-century British-Guyanan artist who was a major force in the post-war avant-garde movement in 1950s London. The highlight out of the two being lot 20, an oil on canvas titled Tacuma, painted in 1964 carrying an estimate of £3,000- £5,000. Along with his own paintings there are also a few works within the auction that are originally from his estate (lots 73- 76). This collection of work by Williams's contemporaries is a fantastic example of the connections and interactions between artists at the forefront of a new movement. The paintings by Hill and Spiess, in particular, demonstrate a mid-twentieth-century approach to art which pushed the limits of abstraction, whilst each piece serves as an exploration of the power and properties of the artist's materials. These pictures are of great significance, with the work of these artists undoubtedly shaping the approach of Williams himself in turn.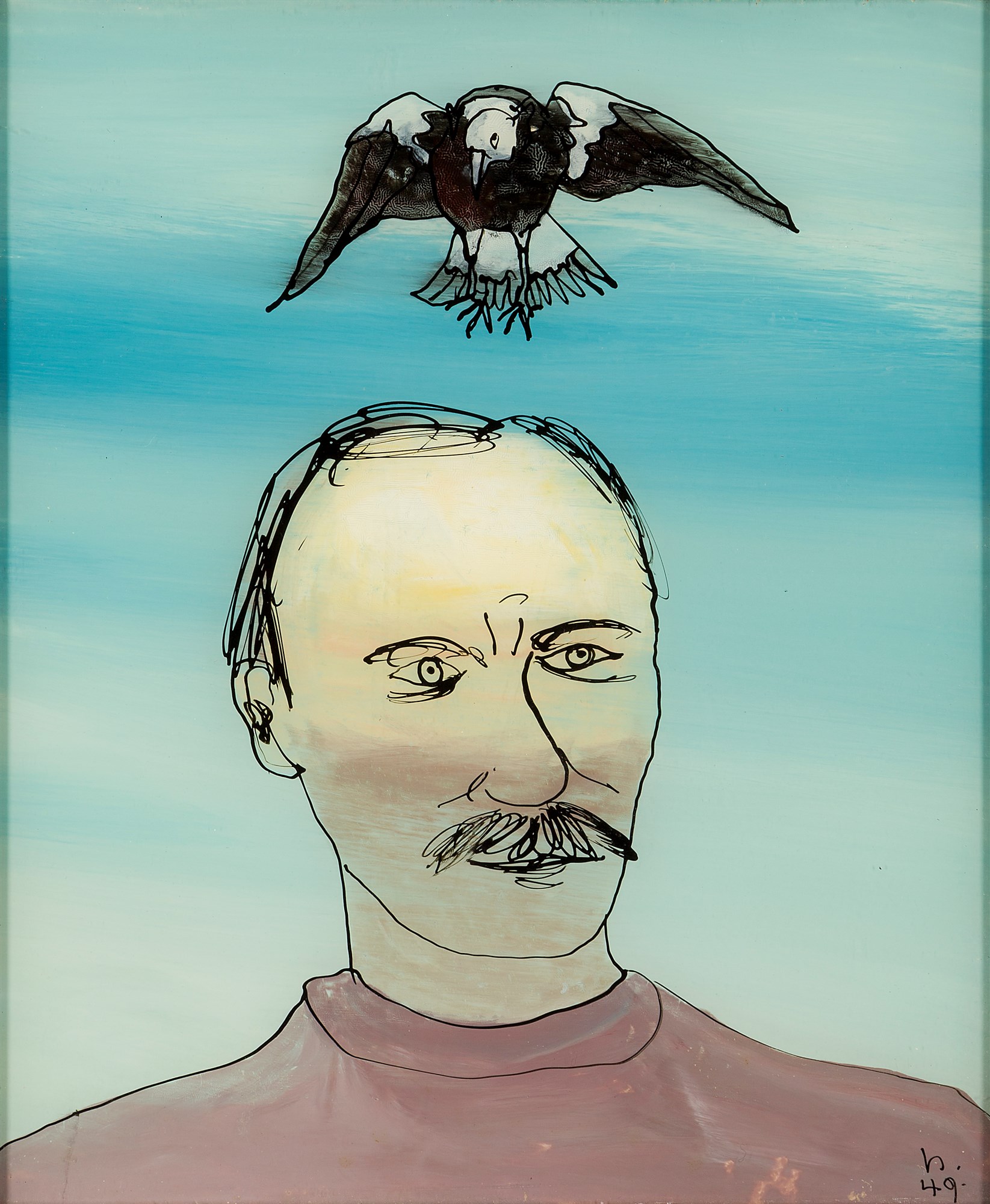 Sir Sidney Nolan OM AC RA, Australian/British 1917-1992- James Bentley, from the Eureka Stockade series, 1949; ink and ripolin on glass
Elsewhere within the sale we have an exciting collection of Australian artworks. These works all date from Post War Britain when the Australian artists emigrated to London. Included amongst the collection are works from the estate of Sidney Nolan, 1917-1992, lots 41-44. Lot 41 is the highlight, James Bentley, from the Eureka Stockade series, an ink and ripolin on glass created in 1949 which has been estimated to fetch £7,000 - £9,000. James Bentley, the subject of Nolans painting was an convicted forger, and was accused of murder, when the Eureka Hotel he built burnt down and killed a Scottish miner. Nolan often depicted key figures from Australian history, such as the work on offer. This artwork is an example of one of the many artworks which Nolan painted on glass, as part of his Eureka Stockade series, the most significant of these works being the Eureka Stockade mural which was commissioned by the Reserve Bank of Australia in 1962. This series further illustrates Nolan's preoccupation with Australian history, referring as it does to the Eureka Rebellion of 1854, which many regard as a crucial point in the establishment of democracy in Australia.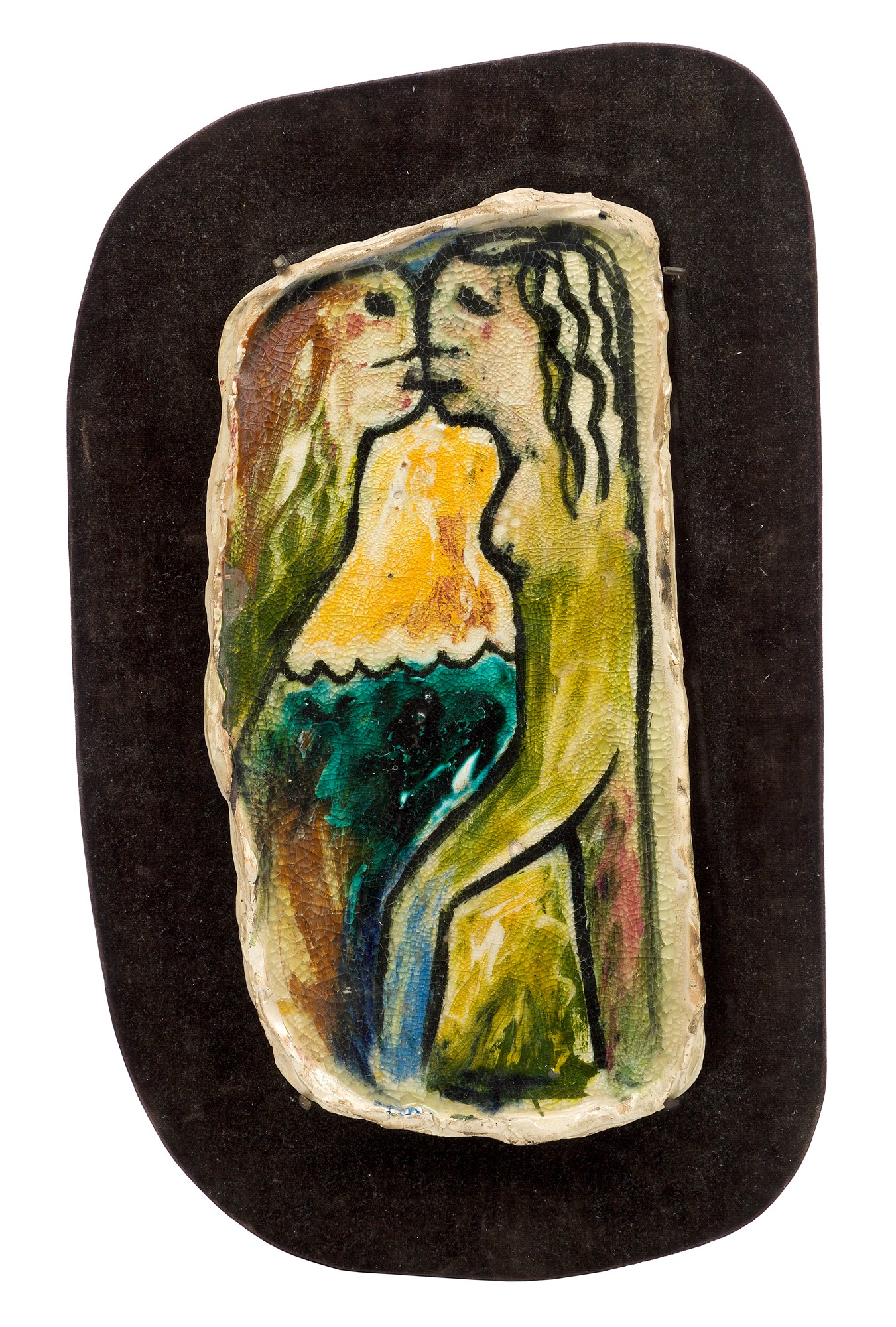 Arthur Boyd AC OBE, Australian 1920-1999- Lovers; glazed ceramic
Also on offer by an Australian artist are two pieces by Arthur Boyd (lots 44-45 )from the art historian and publisher Tom Rosenthal, thence by descent. Tom Rosenthal was one of the first critics to shed light on the Australian artists in London at the time. Arthur Merric Bloomfield Boyd AC OBE was a leading Australian painter of the middle to late 20th century. Boyd's work ranges from impressionist renderings of Australian landscape to starkly expressionist figuration reflected in the works on offer. Furthermore, there is also a collection of David and Hermia Boyd pottery - lots 47-48.  The Boyd name is synonymous with Australian art. The pottery of David and Hermia Boyd have made a major contribution to the world of ceramics. David and Hermia Boyd's works are often quirky and unusual and they were influenced by French provincial pottery and medieval imagery.
A private collection of Russian pieces within the sale include rare works on paper and small paintings from Sergej Aleksandrovic Luciskin, ranging in estimates starting at £200 up to £600.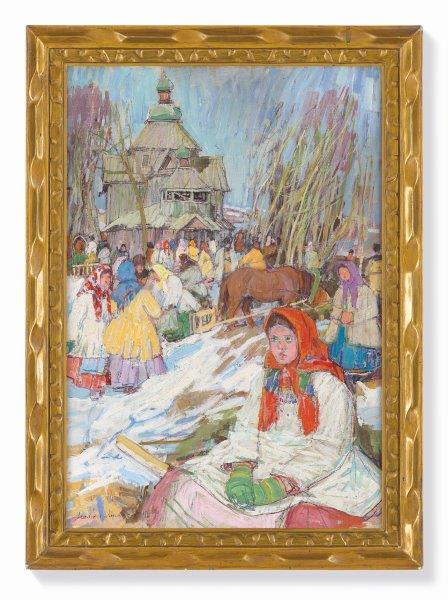 Leon Gaspard, Russian 1882-1964- Village church in early spring, 1911; pencil and oil on canvas board
Other outstanding works of art by Russian artists on offer within the sale also include an pencil and oil on canvas board, lot 2 by Leon Gaspard, 1882-1964, titled Village church in early spring, estimated to make  £8,000- £12,000. Gaspard was known for his paintings of indigenous cultures and folk traditions. He tended to paint scenes with throngs of people, and his favourite locations were in small towns, demonstrated beautifully in the work on offer. He spent his youth in Russia and later studied in Paris, where he became a well-respected painter.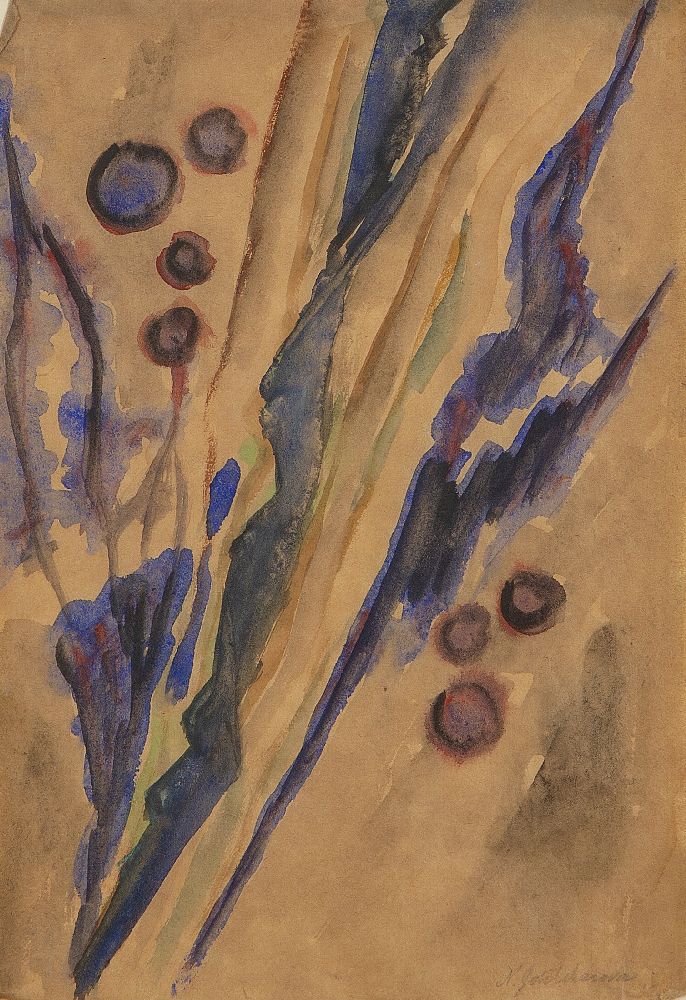 Natalie Gontcharova, Russian 1881-1962- Abstract composition, circa 1950; watercolour and pencil
Ending the highlights on offer in the sale is an abstract watercolour by Natalie Gontcharova, 1881-1962, estimated at  £4,000- £6,000. The abstract composition, created circa 1950 comes with an impressive history of provenance. This work is part of a series which deals with the concept of space and the cosmos, and was influenced by the launch of Sputnik and the development of the Space Race between the USSR and the USA in the 1950s. Gontcharova was interested not only in the mechanics of space exploration, but also in the consideration of the separation between the material and the spiritual which the idea of space encouraged.
-ENDS-
VIEW FULLY ILLUSTRATED CATALOGUE 


Please contact Peigi Mackillop for any further information about the sale related for press purposes. 
Impressionist, Modern, Post War & Contemporary Art : Live online only auction
Wednesday 9 December 1.00 pm  
We hope viewing will be able to take place following the easing of lockdown restrictions:
Viewing Strictly by Appointment Only
Friday 4 December 10am-5pm (last appointment 4pm)
Sunday 6 December 10am-2pm (last appointment 1pm)
Monday 7 December 10am-5pm (last appointment 4pm)
Tuesday 8 December 10am-5pm (last appointment 4pm)
Room bidding available strictly by appointment only
We are pleased to facilitate condition reports, extra images and video viewing.
Please contact tessobrien@roseberys.co.uk for more information