Getting to know British Artist Gillian Wise better
28/10/2020 Modern & Contemporary British Art, News Stories & Press Release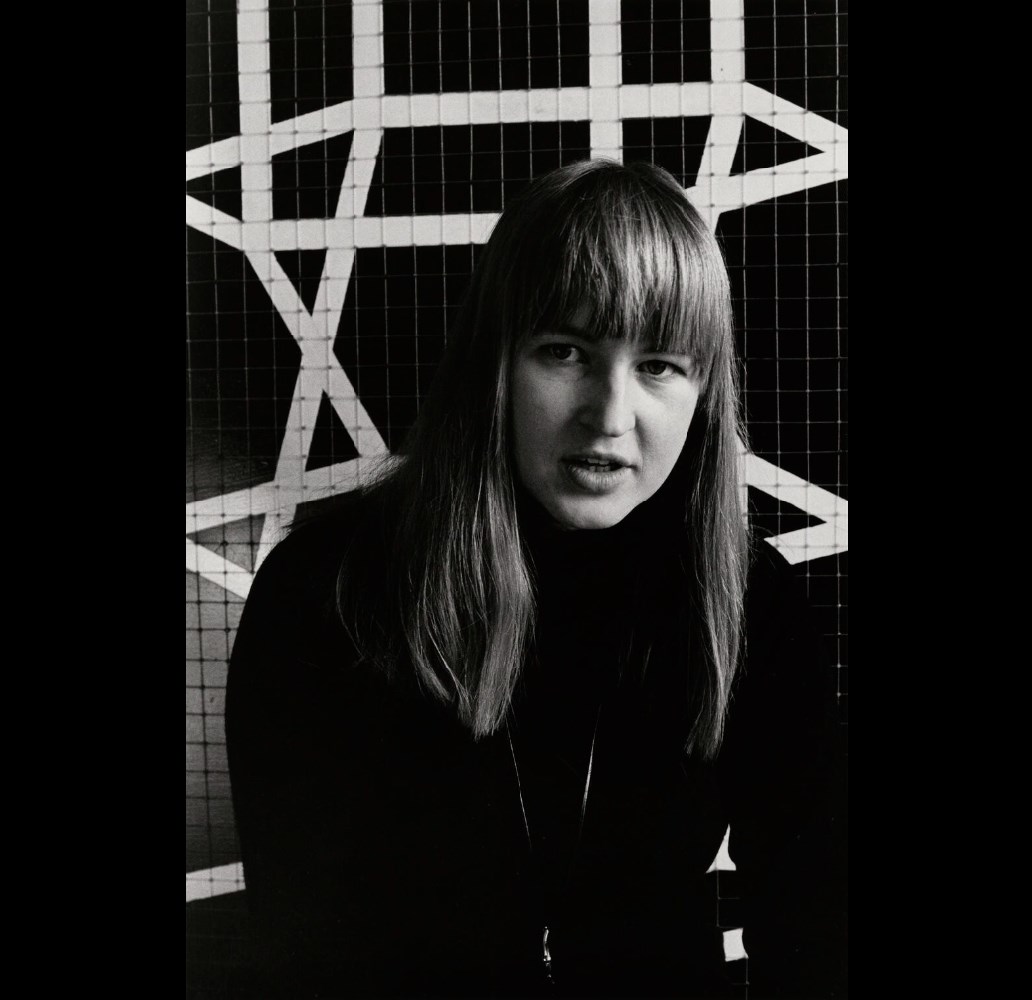 Gillian Wise,by Anthea Sieveking ,bromide print, 1960s,16 1/8 in. x 12 in. (408 mm x 304 mm) overall,Given by Anthea Sieveking, 2013, Photographs Collection, NPG x199125 via The National Portrait Gallery
English artist Gillian Wise was best known throughout her career for her work which was devoted to the application of concepts of rationality and aesthetic order to abstract paintings and reliefs. Born 16 February 1936, in Ilford, east London, to Arthur Wise, a Thames timber merchant, and his wife, Elsie, a milliner, Gillian Wise was educated locally then went to Wimbledon School of Art, from 1954 to 1957, and then to the Central School of Arts and Crafts in 1959.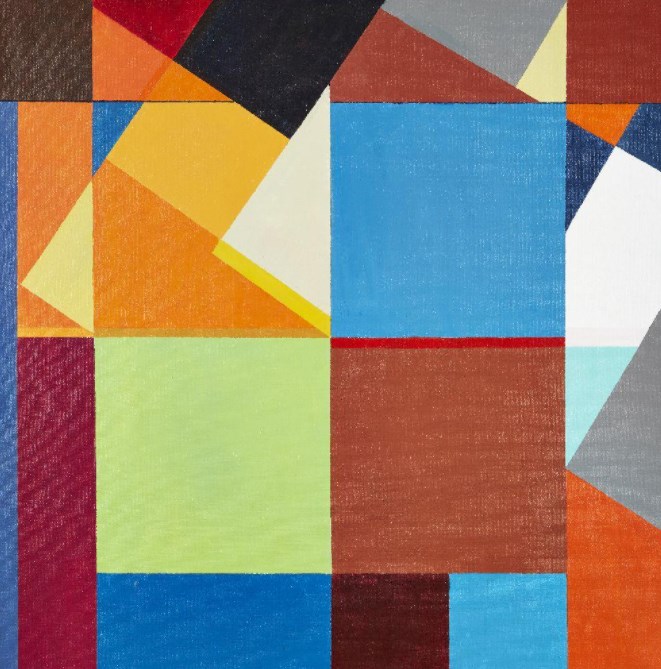 LOT 206 : Gillian Wise, British 1936-2020- Knight's Uncertainty: entanglement unfolds (in a square space), 2010; oil on linen for sale in the Modern & Contemporary British Art auction Wednesday 4 November
With a strong penchant for geometry, she works on reliefs, structures with volume, and painting in space with what she calls "a formalist sense of logic and sensitivity". Her work is often sculptural, sometimes constructed with industrial materials such as aluminium and Perspex, with the core idea of applying rationality and aesthetic order to compositions. Her work follows the principles of experimentation and reduction to elemental units (line, colour, and plane and her artworks play on the effects of the geometry of light as well as contrasts between transparency and the primary colours.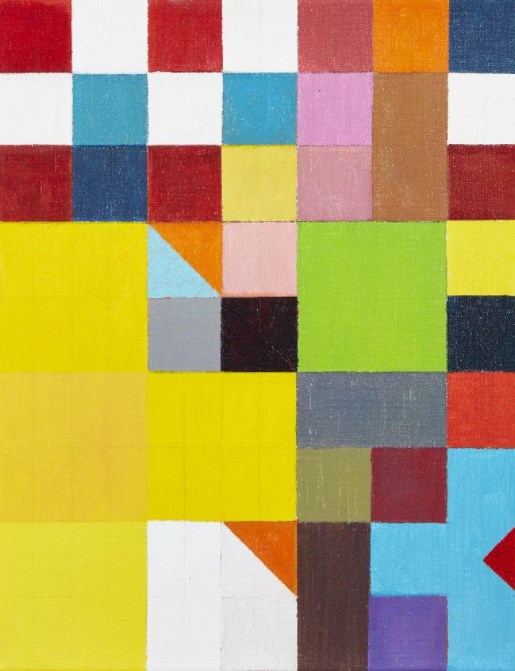 LOT 207 : Gillian Wise, British 1936-2020- Blue Crosses & Yellow and Yellow Crosses Falls, 2010; oil on canvas for sale at Roseberys Modern & Contemporary British Art auction Wednesday 4 November.

By graduation, she was already showing with the British constructivists, exhibiting at the 1957 Young Contemporaries exhibition at the Royal British Artists gallery and in the New Vision Centre's abstract show in 1958. Founded by Victor Pasmore and centred around artists such as Adrian Heath, John Ernest and Kenneth and Mary Martin in the early 1950s, the British constructivists challenged the dominance of American abstraction with a return to the rational geometry of pre-war Europe. In 1961 she became the group's youngest member.
Along with other members of the constructivists group, Wise was taken up by Drian, a gallery founded by a Lithuanian refugee, Halima Nalecz, to show her work. In 1959, she met fellow artist who also worked with the Drian Gallery, Anthony Hill whom she was romantically and professionally linked throughout the 60s. In 1963, they exhibited together in a show called Reliefs/Structures at the Institute of Contemporary Arts in London. In 1965, Howard Hodgkin painted the pair in a double portrait, titled Anthony Hill and Gillian Wise.
In the 1960s her work became much more widely shown with exhibitions in London in spaces including Axiom galleries, the Institute of Contemporary Arts and the Victoria and Albert Museum. Her work also began to be exhibited internationally in Chicago, and at the 1965 Tokyo Biennale and the 1969 Nuremberg Biennale. In 1968, she gained a UNESCO Fellowship award to study in Prague, followed in 1969 by a British Council scholarship to study Russian constructivism in Leningrad (now known as Saint Petersburg). While in Leningrad, in 1969, she met and married a Moldavian architect called Adrian Ciobotaru; (and until 1990 would be known as Gillian Wise Ciobotaru) they later had a son, Alexander. In the same year as her marriage Wise showed in an exhibition in Helsinki organised by the British abstractionist Jeffrey Steele. When Steele invited participants to form the Systems group that December, Wise quit the constructivists to join it. The years that followed were to be the most successful of her career.  Her fellow artists in the Systems group included Peter Lowe, Malcolm Hughes, Jean Spencer, Michael Kidner, John Ernest, and David Saunders. She exhibited with the group in Matrix at the Arnolfini Gallery in Bristol in 1970, and then in 1972, at the Whitechapel Gallery in the Arts Council's Systems exhibition. The group eventually fell apart in 1975, on disagreements over its position on Marxism.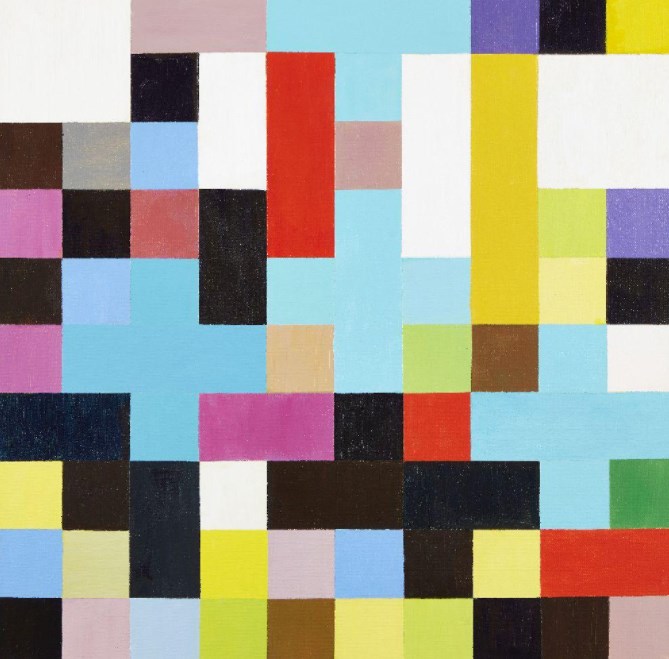 Gillian Wise, British 1936-2020- ZING go the strings: 3 blue crosses across an active field (100 grid), 2010; oil on canvas for sale at Roseberys Modern & Contemporary British Art auction on Wednesday 4 November 2020
In 1978 the arts council commissioned Wise to curate the Constructivist section of the 1978 Hayward Annual, followed in the same year by her inclusion in the Arts Council's Constructive Context show.Early in the 1980s, Wise was commissioned by Chamberlin, Powell and Bon, the architects of the Barbican Centre in London, to design the large-scale mural construction, known as The Alice Walls, in the stairwell to the main cinema.
Following her divorce from Ciobotaru, Wise went on to do a two-year fellowship at the Massachusetts Institute of Technology's Centre for Advanced Visual Studies (1982-84) and a spell teaching in Chicago, after which she moved permanently to Paris.
Living in France for much of her later career, Wise's exhibitions in the UK became infrequent in the 1990s, although she was shown several times in Paris during this decade and, in 1995, in Chicago. In the 2000s, her work has been included in group exhibitions in the Osborne Samuel and Poussin galleries in London, at the British Art Fair, and in two exhibitions of British abstract and systems-based art at the Southampton City Art Gallery. In 2010, Wise's work was included in the Tate Britain show Construction England; in 2017, in British Constructivism at Pallant House gallery, Chichester.
Throughout her lifetime Wise has also taught at the Chelsea College of Art and Central Saint Martins in London, and has been appointed to various fellowship and scholar positions at American universities including Massachusetts Institute of Technology and Harvard University.
Wise died in April 2020 aged 84, of COVID-19 while living in the Paris care home to which she had moved following the deterioration of her health in 2018.
Roseberys are fortunate enough to have five works of art by Gillian Wise in our upcoming Modern & Contemporary British Art auction on Wednesday 4 November 2020. You can view all the works up for auction here.
If you would like to find out about more works of art coming up for auction by Gillian Wise register an account to sign-up to our key-word alert here.
If you would like to consign a work of art by Gillian Wise please email pictures@roseberys.co.uk with the details of your picture for a complimentary valuation