Get to know award-winning British jewellery designer Elizabeth Gage better
28/02/2020 News Stories & Press Release, Jewellery & Watches , Artists & Makers
Elizabeth Gage MBE is an award-winning British jewellery designer and trained master goldsmith who has been creating collectable jewellery for over 50 years.
Full of heritage, all the jewels containing the Elizabeth Gage insignia are handmade in Great Britain at the hands of skilled goldsmiths. Her pieces are collected and worn people around the world, and are admired for their creative use of colour and gemstones.
Elizabeth's pieces regularly attract the attention of top fashion magazines and celebrities due to their unique quality. Some of her designs are included in the permanent jewellery collection of the V&A, London. 
The 2015 auction at Bonhams New York of jewels belonging to the Hollywood legend Lauren Bacall featured one of Elizabeth Gage's pieces; an enamel, cultured pearl and diamond "Camel" brooch. The brooch sold for $23,750, well above its $7,000 high estimate.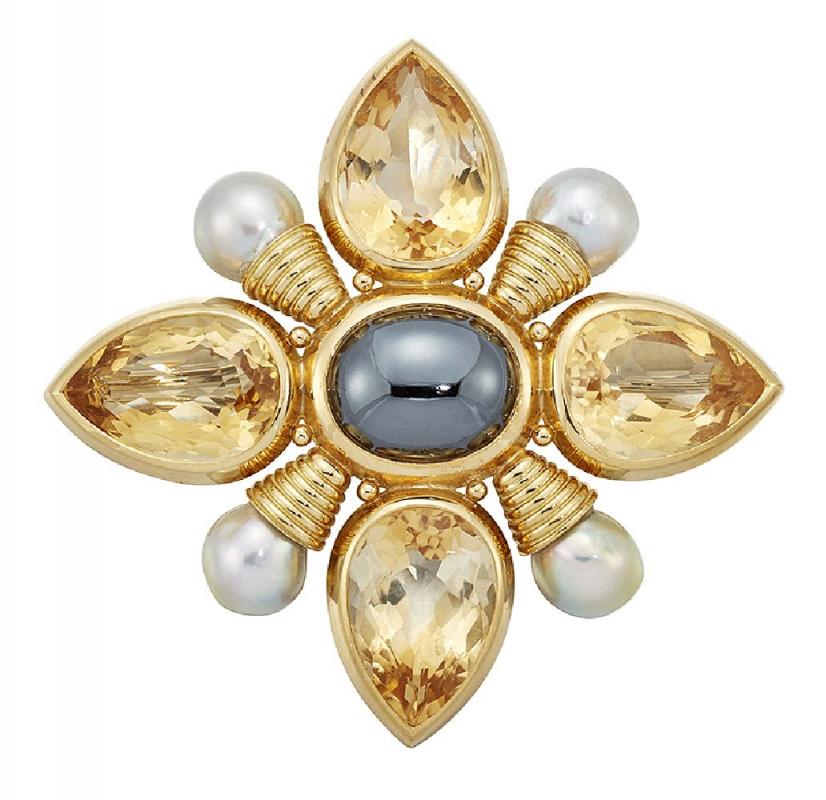 Roseberys have an Elizabeth Gage brooch for sale in the Jewellery & Watches auction, Tuesday 24 March 2020, starting at 1 pm. The piece in question is a 18ct gold and gem 'Kiss Pin' brooch. The central oval cabochon hematite surrounded by four cultured pearls in fluted mounts with pear shaped citrine collets between, signed GAGE with maker's mark EG, London hallmarks, 1999, width 6.1cm, in maker's case.
Her close attention to detail together with her highly skilled goldsmiths are what bring Elizabeth's extraordinary designs to life. She combines different elements throughout her work which she chooses for their individual beauty; exquisite stones, ancient bronzes, beautiful carvings, baroque pearls, anything where the shape and colour inspire her.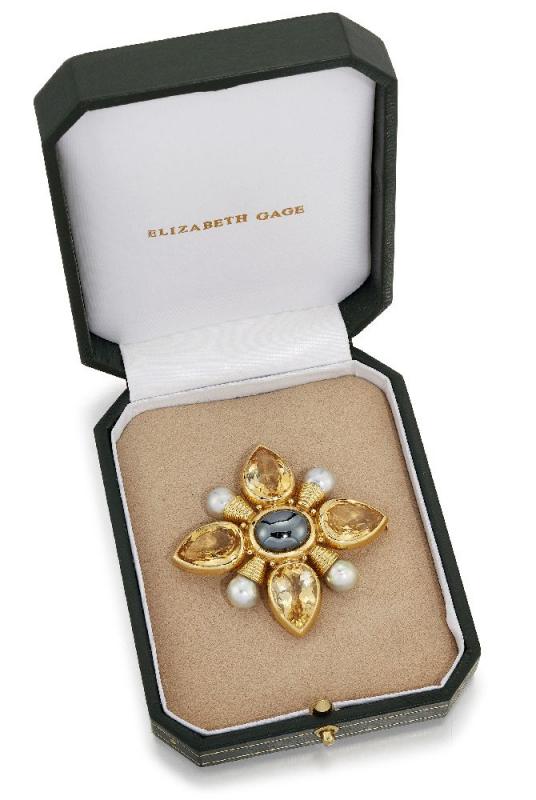 Elizabeth was creative since a young age, she trained for six years as a goldsmith and her first major commission was for Cartier in 1968. A great success, Elizabeth has won many awards for her craft including the respected Queens Award for Export, British Jewellery Designer of the Year and the desirable De Beers Diamond Award for her Agincourt ring, described as an engineering masterpiece. In 2017, Elizabeth was named in the Queen's Birthday Honours List to receive an MBE.
Today, Elizabeth no longer works at the bench, instead employing goldsmiths to execute her exclusive designs. Elizabeth however still dedicates herself to her design work and to her business and still designs every piece that bears her name.
She has recently published a book about her jewellery and her inspirations called The Unconventional Gage.
Read more about the sale which includes Elizabeth Gage here. 
CONSIGN ELIZABETH GAGE JEWELLERY