Forthcoming Fine Art Auction Highlights
16/06/2016 Modern & Contemporary British Art, Ceramics & Glass, News Stories & Press Release, Impressionist, Modern & Post War Art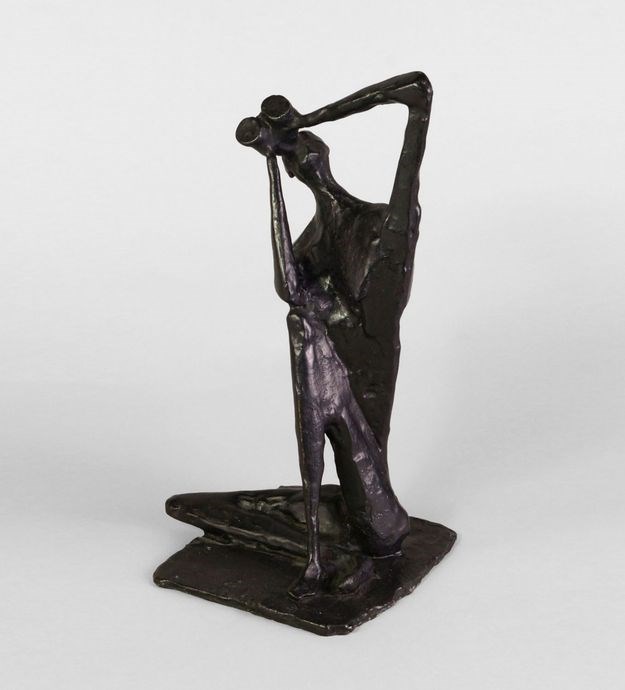 Roseberys London Fine Art Auctioneers are continuing to develop their programme of specialist auctions throughout 2016; this June will see their inaugural dedicated Modern & Contemporary Sculpture section and a key curated Asian Arts section titled, The Art of Symbolism, as part of their two day June Fine Art Auction.
The auction comprises 1500 lots across multiple disciplines with further specialist sections including; Tribal Arts and Antique Picture Frames which feature on Day Two.
Vicki Wonfor, Roseberys Director has been key in the implementing of the Modern & Contemporary Sculpture section in a continued effort to develop and deliver new specialist curated sections to Roseberys' clientele.
A highlight of the auction includes "Bird Watcher I" a bronze and black patina sculpture by British artist Frederick Edward McWilliam RA which was included in the Arts Council Retrospective F E McWilliam touring Ireland in 1981.
F E McWilliam spent his early childhood in Banbridge, County Down. His cherished memories of the local craftsmen moulded his appreciation for making and led him to continue his studies at Belfast School of Art and later Slade School of Art.
He was awarded the Robert Ross Scholarship on completing his studies at Slade, which enabled him and his future wife, the painter; Beth Crowther to visit Paris. On their travels they visit the studio of celebrated sculptor Brancusi, and were inspired by the works of Swiss sculptor Giacometti. These influences continued to encourage and inspire his work as he moved away from semi-abstract forms and into surrealism. He held his first one-man exhibition of sculptures and drawing in March 1939 at the London Gallery, Lot 478 offered at £8,000 – £12,000.
From Germany, an unusual and rare offering from Heinz Mack, the co-founder of the Zero Art Movement. The untitled Light Relief embossed aluminium panel is signed and dated '59 and bears inscriptions indicating it was exhibited in the New Vision Centre Exhibition: Heinz Mack, Paintings & Light-Reliefs June 20 – July 9 1960, or the New Vision Centre Exhibition: Gruppe Zero June 15 – July 4 1964. It comes from the collection of the artist and art collector, the Late Michael Michaeledes.
Mack's work has been extensively exhibited across the globe, including the Tate Modern, The Guggenheim in New York and in early 2015 was subject to a large scale retrospective at the Ben Brown Fine Arts Gallery in London spanning over five decades of work including paintings and sculptures produced in the last six years.
Mack along with the late Otto Piene was one of the founding members of 'Group Zero' which sought to explore the kinetic nature of art. Piene defined the term 'zero' in the name as a reference to the zone of silence in which one state can become another and there are multitudes of possibilities. The group aimed to reject the traditional viewer-object relationship in art and explore the dynamism of painting and sculpture primarily through light and motion.
Mack coined the term 'light relief' to describe pieces such as this one. He believed the phrase demonstrated the way in which the light and the material worked together to create a finished product. These 'light reliefs' were wall mounted and largely made of aluminium. Mack described these reliefs as being "brought into vibration" by the undulating planes. Lot 465 is estimated at £8,000-12,000.
Following on from Modern Sculpture is the painting section and it is a return to a traditional style that leads the way.
Lot 582, 'The Flower Seller' by Belgium Post-Impressionist painter Fernand Toussaint. Toussaint is best known for his rich and elegant paintings of female portraits. Having studied under Jean-Francois Portaels and Alfred Stevens, Stevens was a friend of fellow artists Charles Baudelaire, Edouard Manet and Edgar Degas and painted commonplace female portraiture, being the first painter of his time to incorporate Japanese elements into his work, His work had an obvious impression on the work of Toussaint, which can be seen in his sumptuous portraits, such as 'The Flower Seller', the work dates from 1917 and is included at £6,000-8,000.
Lot 572 sees a classic example of the equestrian work of John Frederick Herring Snr in the form of Jonathan Wild, a dark bay race horse, dated 1846.
From a strong artistic family specialised in sporting and animal subject matter. He spent the first 18 years of his life in London eventually settling in Doncaster, where in 1845, Herring was appointed Animal Painter to HRH Duchess of Kent, followed by the subsequent commission from the ruling Queen Victoria, who would remain a patron for the rest of his life. This work is offered at £8,000-12,000.
Amongst the highlights on the first day of the sale is the bi-annual Fine European Ceramics specialist section, featuring amongst others over thirty lots from an impressive private collection of British and Continental porcelain.
Part of this collection is Lot 30, a large and impressive Dresden porcelain Schneeballen vase and cover, late 19th/20th century, the lid with a perching parrot finial, the vase with twin branch handles hung with blue and white mayflower encrusted spheres and applied with perching and flying birds, on white floral grounds, bears Meissen marks to base.
Schneeballen refers to the textured and individually moulded 'schneeballen' blossom that decorate the exterior of the vase, so difficult were these blossom to create that the vases adorned with these were never produced for the stock, and never became part of the general sales in Meissen. There were however incredibly popular with those that could obtain them that, in 1741, a "Scheeballen" vase became the centrepiece of the gift to Louis XV and Frederick the Great praised the "synthesis of art and nature". Lot 30 is on offer here with an estimate of £800-1200.
Also on offers is a superb multitude of Antique Picture Frames in the bi-annual section which features European frames from the 16th century onwards, including exceptional ebonised, carved and gilded examples.
A particular highlight is Lot 827, a fine example of an Italian parcel gilded and ebonised Cassetta frame, late 16th century, with cavetto sight, knull, hollow, ovolo, the frieze with hand-tooled foliate centres and scrollwork corners, torus and reverse cavetto back edge, 82.8x47cm
Combining art and history is Lot 653 the sword of Sir Francis Grant PRA which is part of five lots 651-655 that come from the collection of Sir Francis Grant PRA (1803- 1878) and have been passed down in the family to the present owner who is a descendant of the artist. His court sword is by Skinner & Co, Jermyn St, St James's , London and is decorated with scroll etched triform blade, gilt handle and knucklebow and shell guard bearing cypher 'RA',
Sir Francis Richard Charles Grant, one of seven children, attended Trinity College Cambridge at the age of 16, before joining the army and fighting in India and China. Having spent the inheritance from his aristocratic family in Scotland, Grant took up painting in his mid 20's and largely taught himself. He began by painting sporting scenes but became better known for his fashionable portraiture, drawing on his upper class connections. Grant was elected as president of the Royal Academy in 1866, earning him a knighthood. He had a good relationship with Queen Victoria as she had sat for many of his portraits from a young age. Her influence led Grant to move the Royal Academy to Burlington house rather than Kew which was initially planned.
A collection of ephemera and militaria including medallions awarded to the artist are also offered here.
The June Fine Art Auction featuring Fine European Ceramics, Modern & Contemporary Sculpture, Antique Picture Frames & Asian Arts takes place on Tuesday 28 and Wednesday 29 June 2016 from 10am. The fully illustrated catalogue is now online.
~Ends~
For further information please contact Charlotte Meddings charlottemeddings@roseberys.co.uk +44 (0) 20 8761 2522
Roseberys is a privately owned auction house operating at the heart of the fine art market for more than 25 years.
With offices in London's Mayfair and Lambeth Roseberys offer a calendar of more than twelve specialist fine art, antiques and collectibles auctions each year.
Specialist sales include a wide range of Asian and Islamic Arts, Modern and Contemporary Art and Design, Decorative Art, Fine Silver and Jewellery, Ceramics, Paintings, Prints, Photography, Antique Textiles, Vintage Fashion and Fine Wine and Whisky.
Roseberys team of world-renowned specialists also provide a wide range of art market services to professional clients, including valuations for insurance and probate.
Roseberys is a member of SOFAA – The Society of Fine Art Auctioneers.