Fornasetti to Crash
7/06/2018 News Stories & Press Release, Decorative Arts & Modern Design , Impressionist, Modern & Post War Art
From Fornasetti to graffiti artist Crash the 20th Century Art & Design auction from Roseberys is a collection of carefully hand selected objects and art; highlighting the greatest movements of the time, from Art Deco and Art Nouveau, Modernism, the Cold War period and more.
Art Deco spanning the decade from 1920s boom to 1930s bust is the era that carries exuberance, decadence – a time of craft and tradition seamlessly blended with a celebration of modernism.
This lead into Modernism, emerging in the early days after the first world war and Russian Revolution, it was a time for experimenting when the greatest artistic dreamers of the time lead us into a new way of seeing the world.
During the Cold War the design and artworks that were produced were done so in heightened political tensions and exceptional creativity.
The 20th Century provided not only uncertain times for many but all a rich playground of ideas and inspiration. This auction is an acknowledgement of the sheer breadth and variety of beauty and design.
Lots 60-120 Art Deco – Decorative Arts
This exceptional collection of 60 Art Deco sculptures from the estate of a private UK collector is not only rare because of its size, it also holds names including Dimitri Chiparus, Ferdinand Preiss, Professor Otto Poertzel, Josef Lorenzl and Paul Philippe.
Dimitri Chiparus, was a Romanian sculptor who studied in Italy and Paris, his works were first exhibited in 1914 – combining bronze and ivory in a process called Chryselephantine where the ivory depicts the flesh of the figure and the bronze the garments.
Chiparus was inspired by great ballet dancers of the day, and he enjoyed great acclaim for his work which continues today. He is one of the most important sculptors of the Art Deco era.
A peer of Chiparus was Ferdinand Preiss, a German sculptor of equal importance during the Art Deco period. Orphaned at an early age he began an apprenticeship with to the ivory carver Philipp Willmann and lived with his family. In 1901 he travelled to Rome and Paris. He became a friend and acquaintance of Arthur Kassler in Baden-Baden, which led to the founding of the company Preiss & Kassler operating from Berlin. Kassler became the business-minded partner and Preiss controlled artistic production.
The lots range in estimate from £100-£5000
Lot 312 Modern Design – Furniture
From a Private Collection of Tom Dixon furniture (lots 312-314)
Tom Dixon (b. 1959) – Award winning contemporary, Industrial Design, Dixon has been a house hold name since the mid 80s. Known for his iconic chairs, unusual lighting, collaborations with Cappellini and as recently as last year launching a new Textiles range.
A rare prototype chair c. early 1990s in papier mache and steel rod construction, covered in red tissue. 122cm high x 72cm deep x 59cm wide. For a near identical example see Christie's, Contemporary Design, New York, 8 September 2008, Lot 30.
Provenance is by repute from the workshop of Tom Dixon at 'Space' in Vauxhall in the early 1990s.
£2000-3000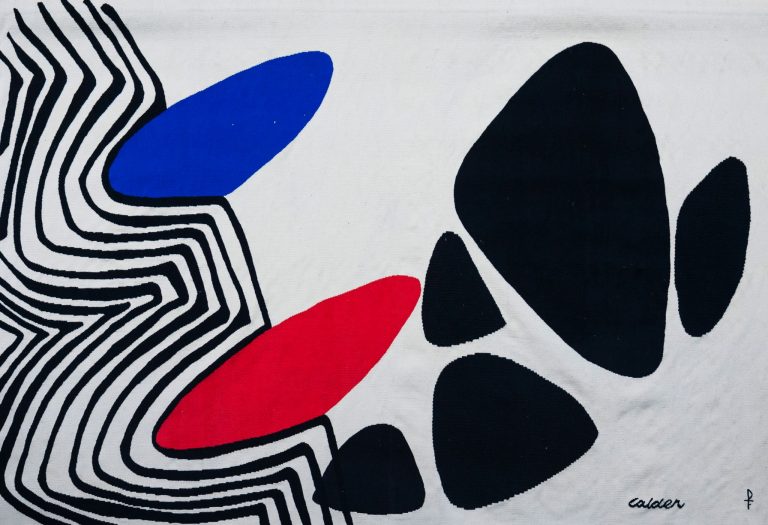 Lot 274 Modern Design – Textiles
Alexander Calder (1898-1976), a large wall hanging.
Calder is widely regarded as one of the most important American Sculptors of the 20th century. But, he wasn't always destined for art – He originally trained in Mechanical engineering on a whim but, this technical ability definitely played a part in what he would be most famous for – The mobile. A delicate play of painted metal that dance before you.
Calder was also an avid fan of the circus early on in his career to the extent of creating his own miniature circus – Cirque Calder, from found materials. He would give performances in the street and to friends and make a modest earnings from this.
It is clear to see the playfulness, excitement and colour was a great source of inspiration for him as he finally found his feet as an artist.
Alexander Calder, American 1898 – 1976 "Blue and Red Nails" c.1975; handwoven wool tapestry, with woven signature and Pinton tapestry mark, inscribed, titled and numbered 6/6 on Tapisserie d'Aubusson label attached to the reverse, executed by Ateliers Pinton, France, 160 cm high x 230 cm wide Provenance: Private Collection, London
£10,000-15,000
Lot 277 Modern Design – Ceramics
John Piper (1903-1992), English romantic painter, designer and collaborative potter; rubbed shoulders with the avant-garde befriending Alexander Calder whilst visiting the studios of Arp, Brancusi and Jean Helion in Paris. He also exhibited in London with Ben Nicholson, Barbara Hepworth, Ivor Hitchens and Henry Moore. His style shifted from abstract to landscape as he was appointed an official war artist, dedicating his work to ruin lust, depicting the bombed sites across the country. His work was laced with loss and nostalgia, and received huge acclaim making him a household name from the 1930s.
A large butterfly vase c.1971, painted JP and IX/71 to base A large earthenware vase of cylindrical form with slightly flared neck. Decorated in bright yellow enamels, thickly applied, with a butterfly to each side. The matt body with brushed white glaze and repeat motifs. Together with a flared stoneware bowl with speckled lustrous green glaze believed to be by the same artist but unsigned Vase 33.5 cm high, bowl 19 cm diameter (ARR) Provenance: Private Collection, London
£800-1200
Lot 190 Modern Design – A four-fold screen
Piero Fornasetti was an Italian designer that turned his hand to painting, Sculpture and Interior Design. At the height of his fame in the 60-70s, his mad monochrome designs could be seen everywhere from coasters to curtains.
His rebellious streak saw him expelled from Berera Art Academy – for insubordination, but his career flourished and His designs were the subject of a post humus retrospective at the V&A. He also embarked on a lifelong obsession with the operatic soprano, Lina Cavalieri who face appears repeatedly on his graphic black and white designs.
Piero Fornasetti (1913-1988), a four-fold screen c.1954, unsigned A lithographic transfer printed and lacquered four fold screen on casters Printed to one side with 'Battaglia Navale' pattern and to the other side with 'Lesene' pattern These screens were produced in two sizes; a 200x200cm size of which there were 15 made and a smaller version of which only 10 were made (of which this is one) 137cm high x 145 cm wide x 3 cm deep Literature: For a similar example see Fornasetti, the complete universe (Rizzoli, New York, 2010), page 429 Provenance: Private Collection, London We are extremely grateful to Barnaba Fornasetti for his help in cataloguing this screen. For a similar example see Fornasetti, the complete universe (Rizzoli, New York, 2010), page 429
Provenance is with a Private Collection, London
£2000-3000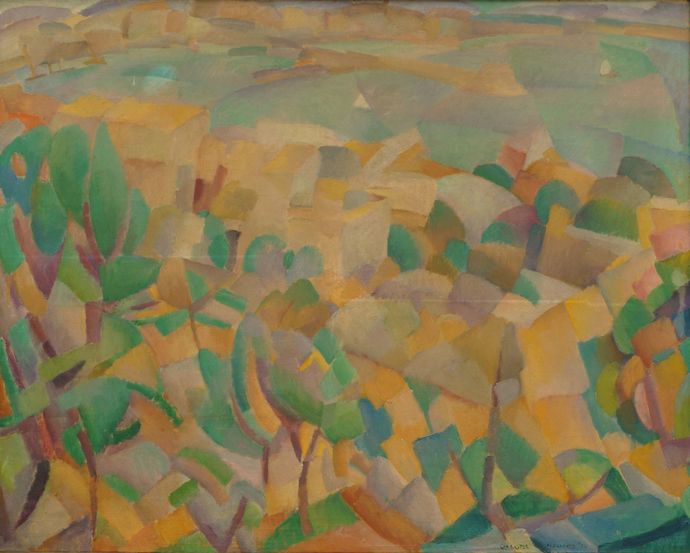 Lot 334 20th Century Painting
Leo Gestel was a Dutch painter. His work carries through cubism, expressionism, futurism and postimpressionism. Along with fellow Dutch artist – Piet Mondrian he was among the leading artists of Dutch modernism.
Like many of the artists at the time he flocked to Paris to be part of the avant-garde movement and exhibited his works, however a fire in his studio in 1929 meant the majority of his work was lost.
Leo Gestel, Dutch 1881-1941- Gezicht op een baai, Mallorca, 1914; oil on canvas, signed, inscribed and dated '14, 74.2×90.8cm (VAT charged on hammer price)
This piece was originally in the collection of Dr. J.F.S Esser, the renowned plastic surgeon and collector whom was responsible for supporting the Luminist art of young artist such as Gestel, Pier Mondrian and Piet van Der Hem, when their pieces were regularly rejected by museums and galleries and criticised by the press. In 1919 Esser sold off a large portion of his collection, and it is most likely the artist himself purchased the piece back and that is how it came into the position of his wife Mrs Gestel-Overtoom. In January 1914 Leo Gestel went, together with his wife and the artists Else Berg and Mommie Schwarz to Mallorca with the intention of painting en plein air.
Exhibited: Frans Hals Museum/Haarlem, Leo Gestel a/s Modernist, 4 June – 30 July 1983, according to label attached to the stretcher, no. 45, illustrated p. 73, entitled Gezicht op een baai, Mallorca. The Hague 1955/56 no.25 The Hague 1981 no.22 Literature: J. Slagter, 1946, fig.4 Loosjes-Terpstra 1983, fig.129 p.149 Provenance: Private collection, London Collection of Mr S. Josefowitz Mrs A. Gestel-Overtoom, Blaricum (the artist's wife); Collection of Dr J.F.S. Esser, Amsterdam Note: Ivo Bouwman, on behalf of the Comité Leo Gestel, The Hague, Netherlands, has kindly confirmed the authenticity of this piece.
£15,000-20,000
20th Century Art & Design takes place on Tuesday 26 June at 10am.
Viewing Times:
Friday 22 June 1-5pm
Sunday 24 June 10am-2pm
Monday 25 June 9.30am-5.30pm
Tuesday 26 June 9-9.45am
~Ends~
For further information please contact Charlotte Meddings charlottemeddings@roseberys.co.uk  +44 (0) 20 8761 2522
Roseberys is a privately owned auction house operating at the heart of the fine art market for 30 years.
With offices in London's Mayfair and Lambeth Roseberys offer a calendar of more than twelve specialist fine art, antiques and collectibles auctions each year.
Specialist sales include a wide range of Asian and Islamic Arts, Modern and Contemporary Art and Design, Decorative Art, Fine Silver and Jewellery, Ceramics, Paintings, Prints, Photography, Antique Textiles, Vintage Fashion and Fine Wine and Whisky.
Roseberys team of world-renowned specialists also provide a wide range of art market services to professional clients, including valuations for insurance and probate.
Roseberys is a member of SOFAA – The Society of Fine Art Auctioneers.