Fine artefacts with an emphasis on private collections & provenance
27/04/2020 News Stories & Press Release, Antiquities, Islamic & Indian Art
LONDON: Roseberys is proud to offer Islamic Art & Manuscripts on April 3, an auction celebrating the Islamic world through an array of fine artefacts with an emphasis on private collections and provenance. Among the highlights from a private collection in London is a rare Timurid copy of the Mathnawi, poet Rumi's seminal text, and a fine 19th century Ottoman Qu'ran estimated at £4,000-6,000. 
Alice Bailey Head of Islamic & Manuscripts Department at Roseberys, comments: This April 3rd, we are delighted to present the Islamic Art and Manuscripts sale which will also feature three private collections of Antiquities.
On offer this sale are over 100 lots of manuscripts, including a Timurid copy of Rumi's Mathnawi, Ottoman qur'ans, Maghrebi texts and early Qur'an folios. Ceramics and tiles also feature strongly with a group of fine Qajar moulded tiles and Damascus tiles of the 17th century. A lovely signed celestial globe and stand and a damascened Safavid helmet are also of note among the metalwork items. A wonderful group of contemporary Lebanese paintings, including a dyptich by Georges Mehreb (b. 1960) round off the sale of over 320 lots. The sale is heavily focused on private collections and provenance.
Islamic Manuscripts                   
A fine and rare Timurid copy of Jala al-din Rumi (d.1273 AD) Mathnawi Ma'nawi, Iran, circa 1480AD, 335ff., Persian manuscript on paper, 19ll. of black nasta'liq arranged in four columns within gold and blue rule
Rumi's Mathnawi Ma'navi was composed in the 13th century and is a monumental work of poetry in the Sufi tradition of Islamic mysticism and moral philosophy. Divided into six books and containing 27,000 lines of mystical poetry, it has served as an inspiration for Sufis and others worldwide and is today perhaps the best-known work of Persian literature. The sale includes a fine and rare Timurid copy of Rumi's Mathnawi dating to c.1480AD from a private collection in London. [Lot 134]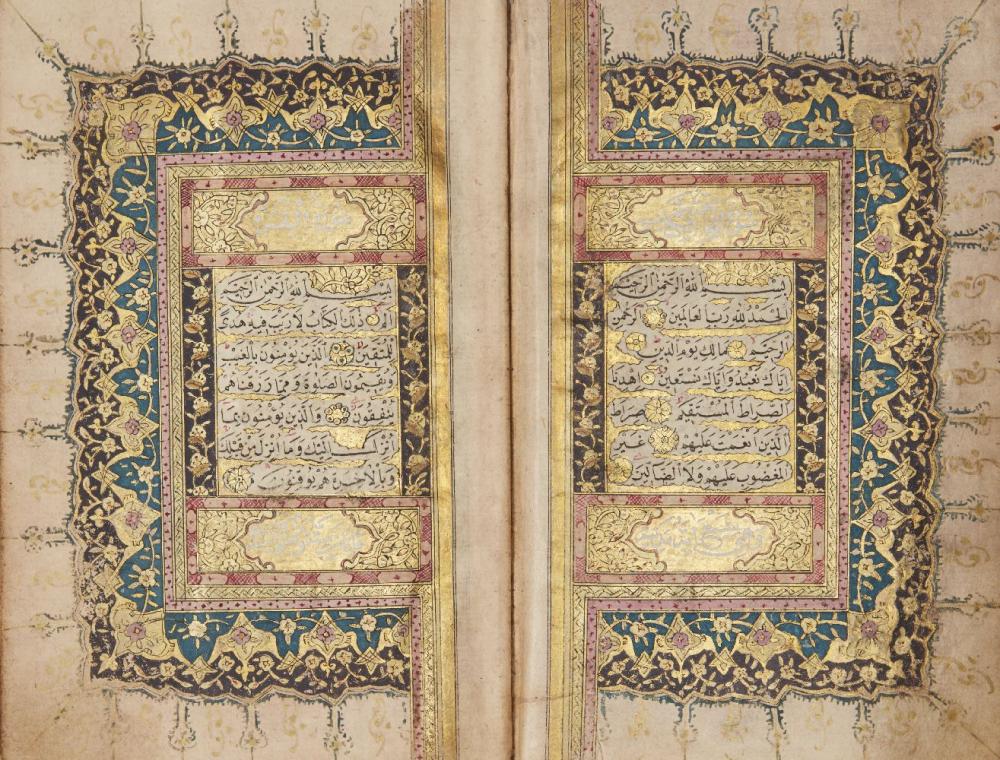 Several Ottoman Qur'ans are included in the sale with the finest example dating to the early 19th century and signed by the scribe Qaysariuni, a student of the calligrapher Ibrahim al-'Afif. It comes from a private collection in London. Calligraphy art and writing Qur'an copies flourished in the 19th century especially in Ottoman Turkey where this was produced. [Lot 115]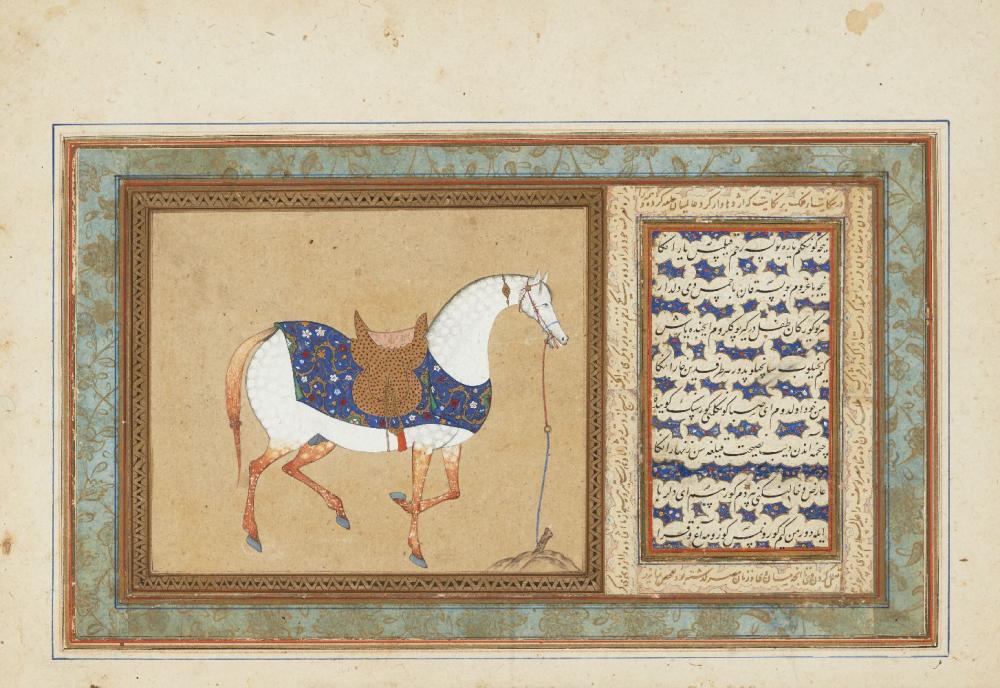 A calligraphic page from an Aq Qoyunlu divan of 'Ali Shir Nava'i, from a manuscript signed by the court calligrapher 'Abd al-Rahim al-Ya'qubi, probably Tabriz, Iran, AH 881/1480 AD

Another highlight in the section is a calligraphic page from the earliest dated manuscript containing the poems of Ali Shir Nava'i, the great master of early Turkic literature. It was produced under the royal patronage of the Aq Qoyunlu Sultan Ya'qub and copied and signed by the court calligrapher 'Abd al-Rahim al-Ya'qubi. The bulk of the manuscript was sold at auction in 2015. Other loose pages have been preserved in public and private collections. [Lot 41]
Textiles & Pottery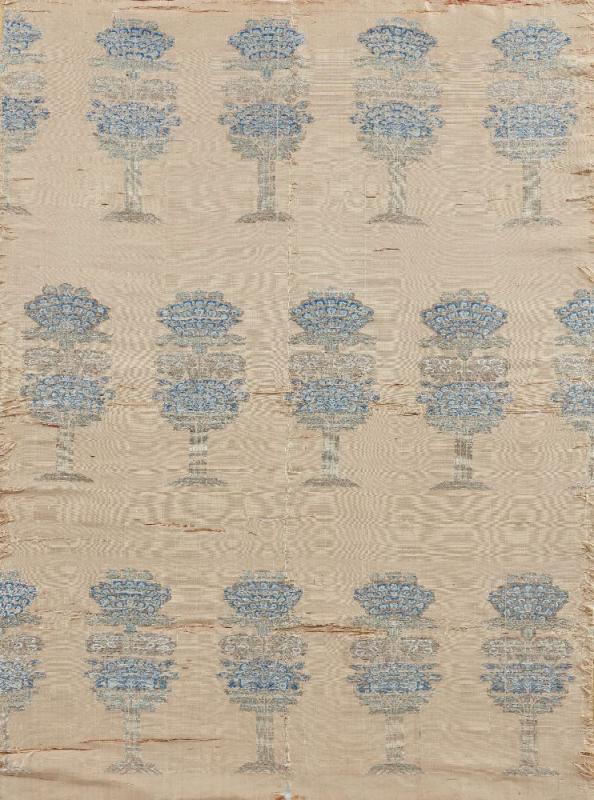 A Safavid silk and metal thread brocade panel, possibly by the weaver "Raisul", Iran, early 17th century                                                     
A stand-out entry among the textiles is an early 17th century Safavid silk and metal thread brocade panel that was possibly made by the weaver 'Raisul'. The repeating design of large two-tiered trees found on this piece became so well-known and associated with Raisul's name that a whole class of silks with large flowering trees became known as 'Rassuly'. Safavid textiles are praised as the pinnacle of Iranian loom weaving. [Lot 214]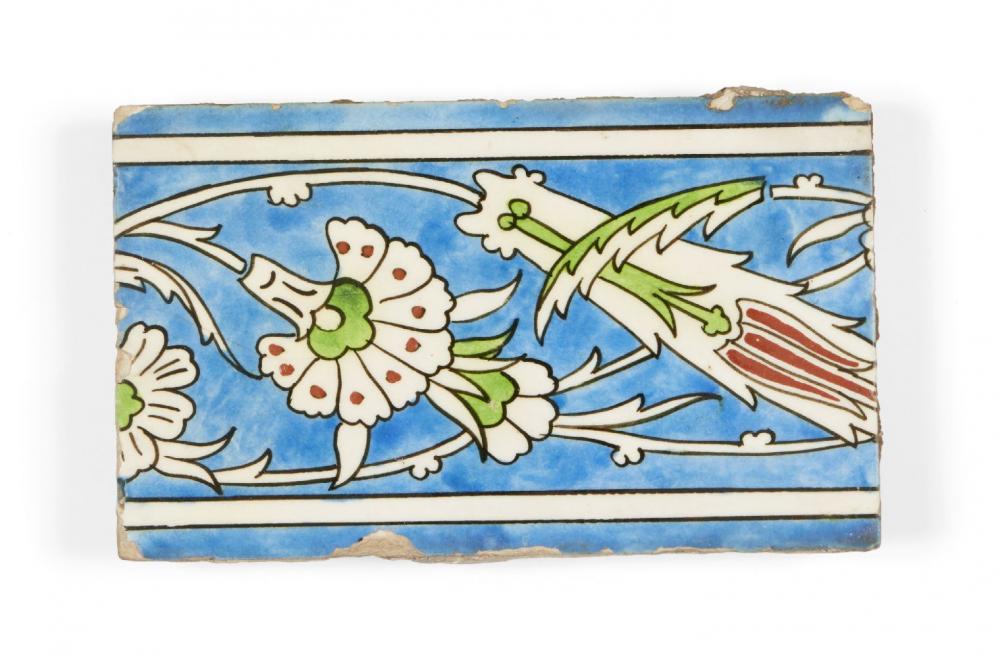 A Kutahya tile, Turkey, 18th century, of rectangular form
Acquired in Istanbul in 1966, this 18th century tile with a design of carnation and tulip flowers was made in Kütahya - Ottoman Turkey's most important centre of ceramic production after Iznik. The potters of Kütahya produced a wide range of tiles for architectural decoration and household pottery that was sold widely throughout the country. [Lot 207]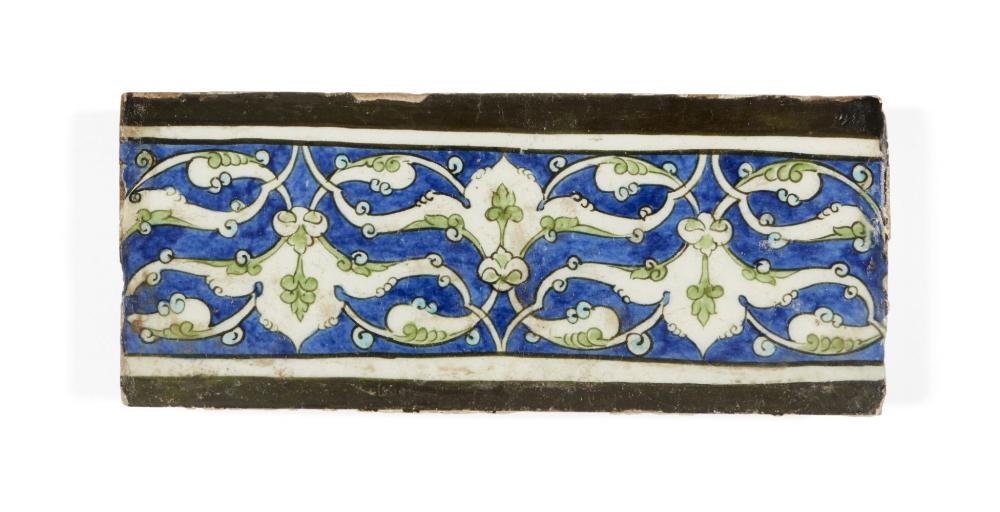 A Damascus Iznik border tile, 16th century
Another piece of pottery included in the highlights of the sale is this Damascus Iznik border tile, created in the 16th century. The cobalt ground decorated in white, green and black with a reciprocal design of white and green trefoil palmettes each filled with smaller palmettes with emerging leafy arabesques is estimated to sell for £1,500- £2,000. [Lot 209]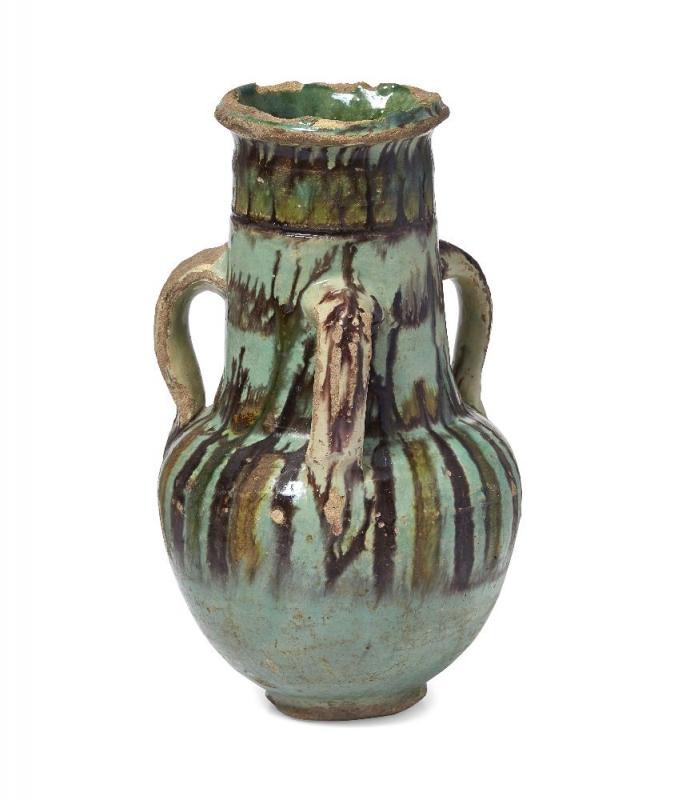 A Fatimid Fayyoum ware glazed pottery handled jar, Egypt, 11th century
Originating from Egypt is a well-preserved Fatimid Fayyoum ware glazed pottery three-handled jar from the 11th century with alternating splashes of light green and manganese decoration. It was formerly part of the Adda Family collection formed in Alexandria in the first half of the 20th century. [Lot 247]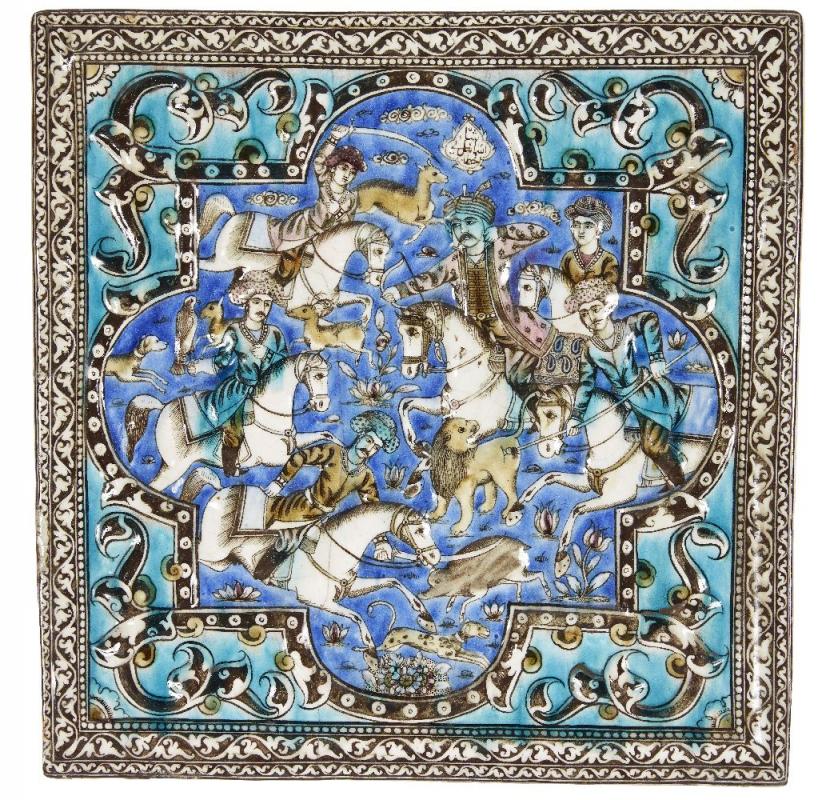 A fine Qajar moulded pottery tile depicting Shah Ismail hunting, Iran, circa 1880, of square form
A fine example of how Qajar artists in late 19th century Iran imitated the work of the earlier Safavid period is found in lot 249. The c.1880 moulded tile in turquoise and cobalt blue depicts the founder of the Safavid dynasty Shah Ismail and his courtiers on horseback herding wild boar, lion, deer and antelope. [Lot 249]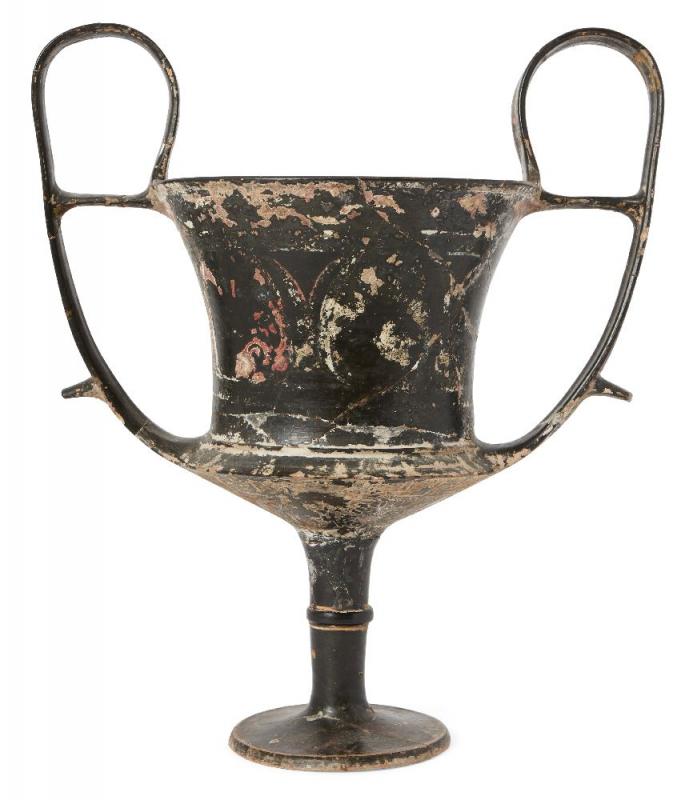 A large Boeotian black glazed kantharos, circa 5th Century B.C.
Antiquities from a property of a deceased Belgian estate includes a large and impressive Boeotian black glazed kantharos made in ancient Greece around 2,500 years old. The striking high looped strap handles and traces of original decoration add to its appeal. [Lot 22]

An Etruscan terracotta cinerary urn and lid, circa 3rd-1st Century B.C


An Etruscan terracotta cinerary urn and lid, circa 3rd-1st Century B.C. is also included in the highlights of the sale. The lid is in the form of the figure of the deceased, reclining and draped in a himation, resting a phiale on the right bent knee. The provenance, being from a private collection of the Count Aluffi-Piccolomini-Pentini in Siena. This lot is estimated to sell for £1,500- £2,500. [Lot 10]
Further Highlights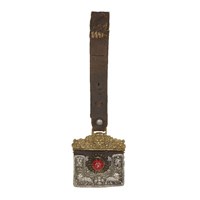 A silver and brass set leather pouch, Tibet, early 20th century
                                    
From the property of a lady is an early 20th century Tibetan leather pouch set with silver and brass, a large circular coral and flower, tiger and dragon decoration. These ornate leather pouches or purses would have been worn by Tibetans on their belts as a sign of wealth and prestige. [Lot 306]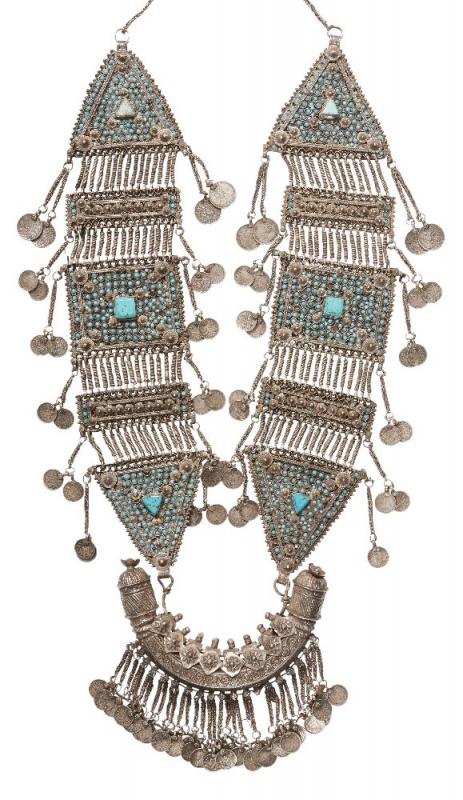 An impressive Bukhara turquoise-set silver necklace, Uzbekistan, 20th century
The pick among a small selection of jewellery from the Islamic world is an impressive 20th century Bukhara turquoise-set silver necklace from Uzbekistan. The piece is formed of large triangular and rectangular turquoise-set panels linked together by a series of wrapped wire attachments terminating in Indian rupee coins dating from the late 1930s and early 1940s. [Lot 315]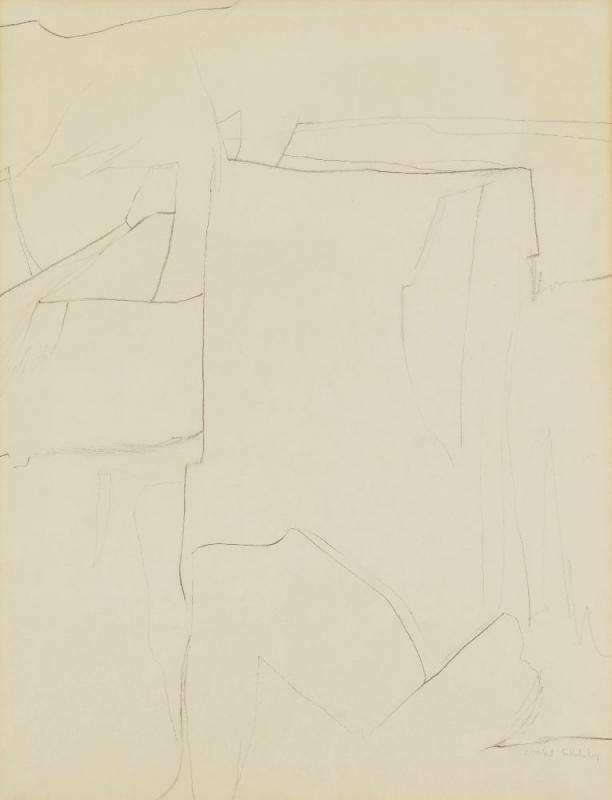 Samia Halaby, Palestinian b.1936, Untitled, 1963, pencil on paper
Among the works of art on offer is this Untitled, pencil on paper, created in 1963 by Palestinian artist and scholar who lives and works in New York, Samia Halaby. Today she is recognised as one of the Arab world's leading contemporary painters.The work of art was acquired directly from the artist by the present owner's father in the late 1960s. This lot is estimated to sell for  £1,000- £1,500. [Lot 319] 
For further information please contact Peigi Mackillop peigimackillop@roseberys.co.uk +44 (0) 20 8761 2522