Fine Art Preview
20/06/2017 News Stories & Press Release, Silver, Works of Art, Sculpture & Clocks
Roseberys London, presents its June Fine Art sale next week. The sale comprises of over 900 lots featuring Fine European Ceramics, Jewellery & Silver, Paintings, Tribal Art, Works of Art and Furniture.
Highlighted lots are featured below: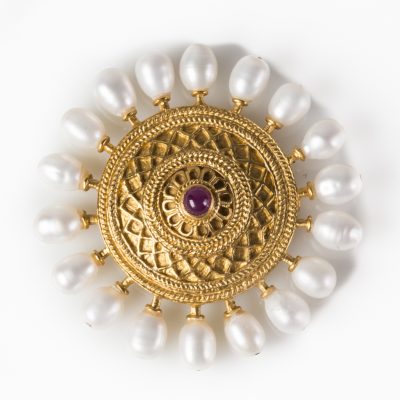 Lot 668 – Ilias Lalaounis, Greek 1920 – 2013
An 18ct gold, pearl and ruby set brooch, of circular Grecian shield form, with central set cabochon ruby, the perimeter with post set oval pearls, 4.8cm diameter.
Lalaounis was a Greek goldsmith, Jeweller and jewellery designer. The renowned designer was fourth generation jeweller. Between 1957 until 2001, he counted more than 18.000 jewelry and micro-sculptures from 50 collections. Over the years, he opened more than 30 shops around the whole world. In 1986, he became the only jeweller ever to be inducted into the Académie des Beaux-Arts.
His work was heavily influenced and inspired by anticent Greece and in 1994, he opened the Ilias Lalaounis jewellery museum in Athens, housing over 4000 exhibits. After his death in 2013, his four daughters took over the administration of his business.
(LOT 668)
Estimate £1200 -£1500 (+27.6% BP*)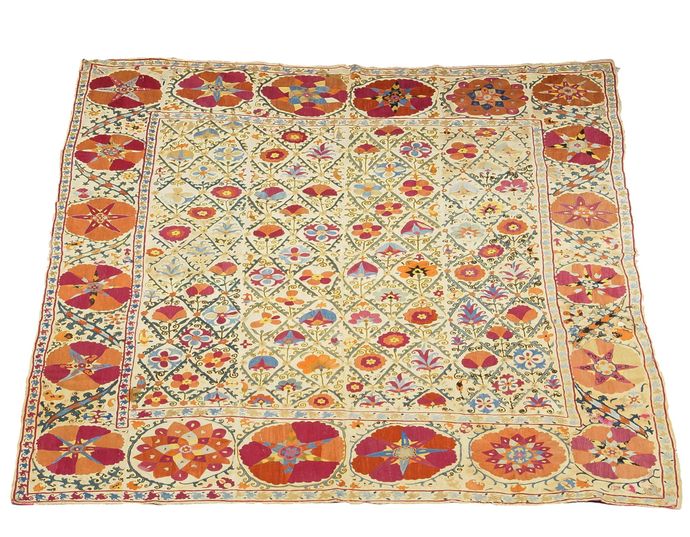 1437 – A Susani embroidery, Bukhara, early 20th century, formed of panels stitched together, the central area with flower filled lattice design, large flower heads to border, reverse lined with pink silk to borders, 235 x 175cm. Provenance: Private collection formed in the 1970s and 1980s
Suzani is a style of embroidered and decorative tribal textile made in Tajikistan, Uzbekistan, Kazakhstan and other Central Asian countries. Suzani is from the Persian سوزن Suzan which means needle. The art of making such textiles in Iran is called سوزن‌دوزی Suzandozi (needlework).
(LOT 1437)
Estimate: £1000-£1500 (+27.6% BP*)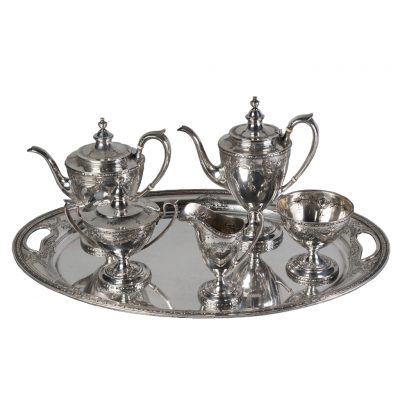 974 – An American Sterling silver five piece tea and coffee service, Wilcox & Wagoner/Watson & Newell Co., Attleboro MA, in the Neo-Classical style.
(LOT 974)
Estimate: £800-£1200 (+27.6% BP*)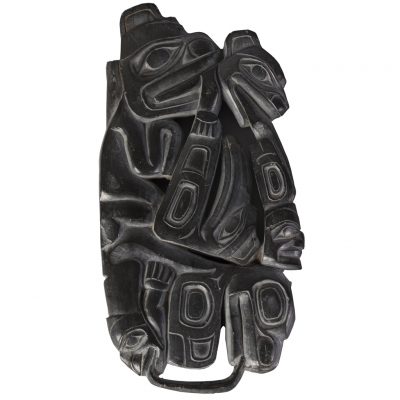 Lot 1447 – A Haida Argillite pipe, North West Coast , British Columbia, carved with stylised totem figures and birds, 18cm wide.
Haida argillite carvings are a sculptural tradition among the Haida indigenous nation of the Northwest Coast of North America. It first became a widespread art form in the early 19th century, and continues today.
(LOT 1447)
Estimate: £500-£800 (+27.6% BP*)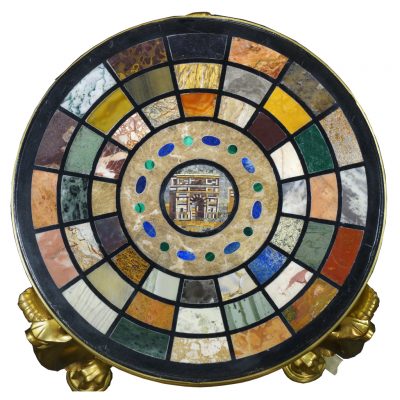 Lot 1744 – A pair of Continental gilt metal and specimen marble gueridon tables, 20th century, the circular tops inlaid with segmented marble specimens, with central scenes of Roman arches in micro-mosaic, raised on lion's monopodia feet, joined by X stretchers, 68cm high x 32cm diameter
(LOT 1744)
Estimate: £3000 – £5000 (+27.6% BP*)
June Fine Art
Wednesday 28 June from 9am
Follow the sale live on RosebersyLive
~Ends~
Prices include Buyers Premium of 23%.
For further information please contact Charlotte Meddings charlottemeddings@roseberys.co.uk +44 (0) 20 8761 2522
Roseberys is a privately owned auction house operating at the heart of the fine art market for more than 25 years.
With offices in London's Mayfair and Lambeth Roseberys offer a calendar of more than twelve specialist fine art, antiques and collectibles auctions each year.
Specialist sales include a wide range of Asian and Islamic Arts, Modern and Contemporary Art and Design, Decorative Art, Fine Silver and Jewellery, Ceramics, Paintings, Prints, Photography, Antique Textiles, Vintage Fashion and Fine Wine and Whisky.
Roseberys team of world-renowned specialists also provide a wide range of art market services to professional clients, including valuations for insurance and probate.
Roseberys is a member of SOFAA – The Society of Fine Art Auctioneers.