Fine Art 6 & 7 December
30/11/2017 News Stories & Press Release, Furniture & Rugs , Old Master & 19th Century Pictures, Works of Art, Sculpture & Clocks
Fine Art 6 & 7 December Auction
This December sees an impressive array of works on offer, from the seasonal "Winter" by Dora Batty in the painting section to the intriguing Grand Tour white marble and specimen marble table top from the 19th century offered in the works of art category.
The two day sale on Wednesday 6 & Thursday 7 December promises something for everyone. Highlights from the sale include:
Painting Section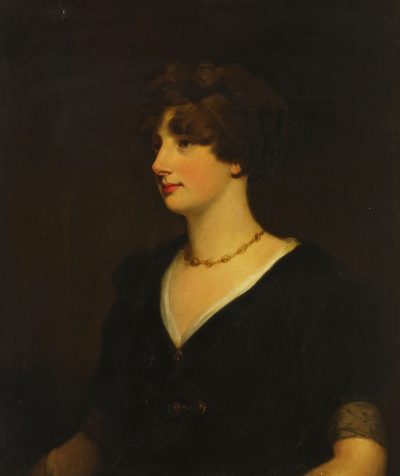 (lot 521) – Attributed to John Hoppner RA, British artist 1758-1810 – Portrait of Jane, daughter of Lt. Gen. Sir Thomas Spencer Wilson Bt., half length, in a black lace dress; oil on canvas, bears inscription Mrs Spencer Perceval on the stretcher, 76.5×63.2cm
The first version of this painting known to be by John Hoppner, originally came from the collection of D. Perceval, and is documented in the Witt Library. This portrait of Jane Spencer Wilson is marginally smaller than the original version, and is lacking the arms in the lap of sitter in the foreground.
In a letter from Jill Springhill, archive assistant at the National Portrait Gallery, on 13th January 1995 to the current owner, it was suggested that the portrait of Mrs Spencer Perceval as on file in the Witt Library at the Courtauld Institute of Art "clearly closely relates to this, although is a trimmed composition…I suspect your portrait may be a copy after the original." In additional correspondence to the owner in June 2015 relating to this work from J R Richards BA Pg Dip. The hypothesis was made "that this is the original painting," or at least a second owned by the family, but due to fire damage noted on the surface of the painting "they released it to a dealer or restorer who was able to repair it and bring it to marketable condition." However neither claim is conclusive nor corroborated by historical evidence.
Estimate £4000-6000 (+27.6% BP*)
(Lot 707) Fausto Pirandello, Italian 1899-1975- "Nudo Lunatico", 1954; oil on cardboard, signed, 102x70cm – For a related work see Tate Gallery, London, Fausto Pirandello, "The Awakening", 1948, ref T05707
Estimate £8000-12000 (+27.6% BP*)
(lot 622) Jeanne Spiteris-Veropoulou, Greek 1920-2000- Untitled, 1968; a painted wood and painted metal sculpture, This is one of four works from the collection of the late Michael Michaeledes.
Estimate £1200-1800 (+27.6% BP*)
A seasonal favourite (lot 624) by Dora Batty, British 1891-1966- "Winter"; pencil, watercolour and gouache, 20.5×24.8cm – Batty was an important British designer who worked across pottery, textile, Illustration and poster design. She designed posters for the Underground Group and for London Transport between 1921 and 1938, producing over fifty different designs. Although this one was never published.
Estimate £600-800 (+27.6% BP*)
(Lot 637) Pablo Picasso, Spanish 1881-1973- Design for the book cover of 'Le Peintre et son Modèle' , 1965; pastel, numbered 'VIII' in pencil, 26.5x21cm.
This work was a model for the book cover Le Peintre et son Modèle (1965), which was one of many publications from the Editions du Cercle d'Art, Paris. These books were devoted to contemporary artists such as Calder, Tapies and many of them to Picasso.
Estimate £9000-12000 (+27.6% BP*)
(lot 470) John Speede, British map maker 1552-1629 "The Countie of Leinster with the Citie Dublin described", map of Dublin and surrounding parts,1610; copper engraving with hand-colouring, publ. by John Sudbury and George Humble, Popes Head Alley, London, 38.5x52cm
This is beautifully hand-coloured and depicts the ever-popular Dublin. Part of the private estate of a gentleman, to include an extensive collection of maps depicting Britain, Europe, Asia and the Americas.
Estimate £280-320 (+27.6% BP*)
Ceramics, Works of Art and Collectibles section:
An English porcelain bodkin case (lot 391), probably Chelsea, 18 century, moulded with a harlequin's head, brightly coloured with enamels, with gold mounts, 13cm long
This bodkin case has similarities to one found in the Victoria and Albert Museum from the Chelsea factory. It would have been a luxury item in the period, made from soft paste porcelain in the 1760-1775 period, for holding tooth picks or embroidery needles. The harlequin head on the lid would have been influenced from works by the Meissen factory. The Meissen factory produced models of Commedia dell' Arte actors who were present in the court of Augustus the Strong, one of the characters being Harlequin.
Estimate £300-500 (+27.6% BP*) 
(lot 858) A pair of life saving medals to Bedroom Steward Dan Pearce, comprising: Sea Gallantry medal, Edward VII, 'Dan Pearce S.S. Rumitaka, 16th April 1905' with brooch bar suspension in fitted presentation case (confirmed on Board of Trade roll); and Royal Human Society silver medal, small (successful) 'Dan Pearce April 16th 1905, with silver brooch suspension in fitted presentation case; together with a sailors small silk bag painted with a life belt with the legend S.S. Rimutaka, April 16th 1905 with central initials D.P., a small cotton bag and contemporary photograph of Dan Pearce on board the S.S. Rimitaka.
Medals are always fascinating as they are very personal objects which tell human interest stories. The Sea Gallantry Medal is an award for civil gallantry at sea in Great Britain and the Commonwealth. The Merchant Shipping Act 1854 permitted the issue of this award and SGMs were first struck in 1855. They were first awarded either for 'humanity' (where there was little risk to the life of the recipient), or for gallantry (where there was significant risk to the recipient).
Estimate £700-1000 (+27.6% BP*)
A Grand Tour white marble and specimen marble table top (lot 870), 19th century, inset to the centre with a micro-mosaic plaque of Pliny's Doves, within a circular frame of malachite, with a concentric band of green marble to the exterior, 70cm diameter
This table top is a typical example of the type of specimen marble work that was produced for the English nobility to bring back from their travels to Italy, centred with Pliny's doves. These doves, known as the Capitoline Doves or Doves of Pliny, were frequently copied by micro-mosaicists.
The image comes from a Roman floor mosaic discovered in 1737 at Hadrian's Villa in Tivoli.
Estimate £1500-2000 (+27.6% BP*)
Finally (lot 905) A pair of Regency black patinated plaster and marble lamp bases, in the form of Egyptian mummy sarcophagus, standing on gilt stepped bases with marble plinths, moulded to the sides, published Nov 20th 1802 by J Deville Great Newport St, later converted to electricity, 62cm high including fittings
James De Ville (1777-1846), or Deville, was a plaster figure maker, lamp manufacturer, publisher of marked-up phrenological busts and owner of a museum of phrenological casts. Much of the knowledge of his life comes from a lengthy obituary by Dr James P. Browne in the Phrenological Journal in October 1846.
These quirky lamp bases show the influence of the discoveries being made in Egypt during the early 19 century. Napoleonic France and Britain were fighting battles in Egypt as important discoveries were being made, including that of the Rosetta Stone, which is now in the British Museum, and its translation led to our understanding of Hieroglyphics.
Estimate £300-500 (+27.6% BP*)
A fully illustrated catalogue is available online at roseberys.co.uk and in house viewing takes place from Friday 1 December, until the mornings of the sales.
Viewing Times
Friday 1 December1-5pm
Sunday 3 December 10am-2pm
Monday 4 December 9.30am-5.30pm
Tuesday 5 December 9-9.45am
Wednesday 6 December 9-9.45am
Thursday 7 December 9-9.45am
~Ends~
Prices include Buyers Premium of 23%.
For further information please contact Charlotte Meddings charlottemeddings@roseberys.co.uk +44 (0) 20 8761 2522
Roseberys is a privately owned auction house operating at the heart of the fine art market for 30 years.
With offices in London's Mayfair and Lambeth Roseberys offer a calendar of more than twelve specialist fine art, antiques and collectibles auctions each year.
Specialist sales include a wide range of Asian and Islamic Arts, Modern and Contemporary Art and Design, Decorative Art, Fine Silver and Jewellery, Ceramics, Paintings, Prints, Photography, Antique Textiles, Vintage Fashion and Fine Wine and Whisky.
Roseberys team of world-renowned specialists also provide a wide range of art market services to professional clients, including valuations for insurance and probate.
Roseberys is a member of SOFAA – The Society of Fine Art Auctioneers.