Fine & Decorative
9/03/2018 Ceramics & Glass, News Stories & Press Release, Furniture & Rugs , Works of Art, Sculpture & Clocks
The tri-annual Fine & Decorative sale is a hand-picked selection of fine pieces for the connoisseur and collector, many with academic interest and importance together with desirable decorative items from the late Renaissance to the 20th Century.
Highlights from the forthcoming March sale include: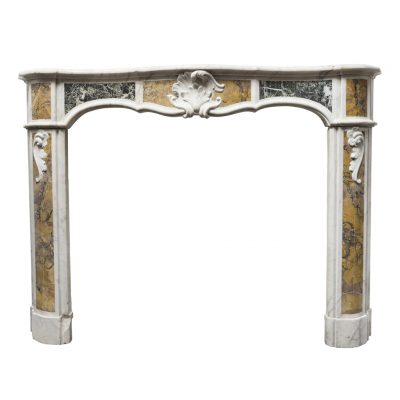 A collection of 30 fireplaces 3 large and impressive places in carved oak and many in a selection of marbles.
Most notably (Lot 744) A Louis XV fireplace, circa 1770, the serpentine frieze with a central white marble foliate cartouche and floral scrolls to the jambs, on inlaid specimen Brocatelle di Siena and Maurine Green marble panels, 114cm high x 153cm wide x 21cm deep
Estimate £1500-2500 (+27.6% BP*)
(Lot 444) – An oval shell encrusted mirror by Anthony Redmile, 20th century, with an abalone and coral cresting, the frame applied with large cowries and other shells, in dispersed with agate plaques and feldspar specimens, the ring to back signed Redmile London, 86 cm high x 63cm wide
A typical work by an unusual designer working in the 1970-1980's, Antony Redmile's designs feature a mixture of materials sourced from the natural world, turtle shell, shell, ostrich eggs and minerals combined with metal ware to produce a diverse range of spectacular and quirky sculptural pieces to include tables, chairs, mirrors and decorative features for the home. At his height of fame he had showrooms in the Kings Road and New York.
Estimate £1200-1800 (+27.6% BP*)
Continuing with the shell theme is a pair of Sevres shell shaped dishes (lot 55), Compotier Coquille, 18th century, decorated with bands of flowers within gilt line frames on blue grounds, with a conforming circular design to the centre, blue interlaced L's containing the date letter for 1791, painters mark P7 for Jean Jacques Pierre, 23cm wide (2)
This is a unique opportunity to buy a pair of French porcelain plates from one of the finest of all French porcelain factories, started under the influence of Louis XV and Madame de Pompadour, these plates were decorated during the French Revolution in the year that Louis XVI was attempting to leave Paris in order to meet troops loyal to the King to start a Royalist lead counter revolution. Sevres porcelain services are found in a number of notable English properties including Goodwood house and Apsley House.
Estimate £800-1200 (+27.6% BP*)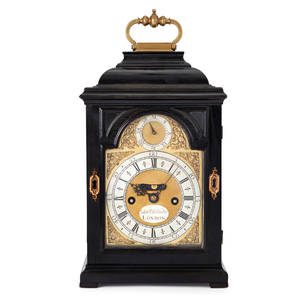 The highlight of the clock section is lot 540, An 18th century ebony table clock by Daniel Delander, the inverted bell top with knopped brass carrying handle, the case with glazed doors to front and back and with break arch glazed side panels, the 5 inch brass dial signed Dan Delander London to the oval plaque on the matted centre and with curved false pendulum aperture, the silvered chapter ring with mask centred spandrels , the subsidiary calendar dial in the arch with foliate scroll spandrels ,the five pillar eight day fusee movement with verge escapement, the backplate inscribed Delander London within a plain oval panel set amidst foliate scrollwork, birds, a basket of flowers and a sun. 37cm to top of upright handle.
Daniel Delander was born 1678 and at the age of fourteen was apprenticed in 1692 to Charles Halstead and freed in 1699 he later became assistant in the workshop of Thomas Tompion and in 1712 he moved from Devereux Court to a house between the two Temple Gates in Fleet Street and within two years was within Temple Bar.
Daniel Delander was one of the finest makers of clocks and watches from the 18th century and some of his work is found in highly notable museums such as the Metropolitan museum of Art in New York and the Victoria and Albert Museum, London.
Estimate £8,000-12,000 (+27.6% BP*)
~Ends~
*Prices include Buyers Premium of 23%.
For further information please contact Marketing Executive Charlotte Meddings charlottemeddings@roseberys.co.uk +44 (0) 20 8761 2522
Roseberys is a privately owned auction house operating at the heart of the fine art market for 30 years.
With offices in London's Mayfair and Lambeth Roseberys offer a calendar of more than twelve specialist fine art, antiques and collectibles auctions each year.
Specialist sales include a wide range of Asian and Islamic Arts, Modern and Contemporary Art and Design, Decorative Art, Fine Silver and Jewellery, Ceramics, Paintings, Prints, Photography, Antique Textiles, Vintage Fashion and Fine Wine and Whisky.
Roseberys team of world-renowned specialists also provide a wide range of art market services to professional clients, including valuations for insurance and probate.
Roseberys is a member of SOFAA – The Society of Fine Art Auctioneers.