Fine & Decorative
13/07/2018 News Stories & Press Release, Furniture & Rugs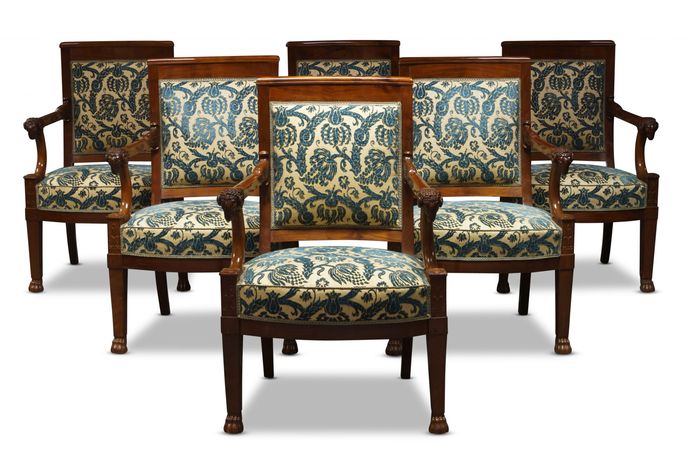 For Roseberys, summer is a traditionally busy period and this year is no exception. With four auctions spanning over jewellery, furniture, works of art and art, the Fine & Decorative auction completes the set of sales on Thursday 19 July.
The Fine & Decorative sale features Silver, Works of Art, a large collection of Bohemian Glass, Furniture and Rugs.
A hand-picked selection of fine pieces for the connoisseur and collector, many items featured in the sale hold academic interest and importance; as well as desirable decorative items from the late Renaissance period to the 20thCentury.
Further details of highlight lots from the sale are below:
Lot 717
A beautiful pair of Regency painted and gilded adjustable music stands by Sébastien Erard, Circa 1810, with brass column modelled as an arrow on tri-form cast metal base, painted to simulate grained wood and with gilt line decoration, 122cm un-extended high x 49cm wide Note – A similar model in Victoria and Albert Museum collection, attributed to Sébastien Erard
Estimate £800-1200*
Continuing the sale is an impressive Empire style malachite, patinated bronze and gilt bronze centre table, (lot 543) late 20th century, the circular top with stiff leaf and scroll edge, the under tier with a frieze of scrolling branches, supported on three female classically draped terminal legs, on a circular plinth base, with classical vase centre, 82cm high x 130cm in diameter.
Estimate £8000-12000
Lot 560, is a set of six Empire mahogany fauteuils, attributed to Francois-Honoré-Georges Jacob Desmalter, circa 1810, the curved top rail above a padded back, the armrests with stylised laurel terminating in rams heads, on square section legs, with paw feet (6)
Estimate £8000-12000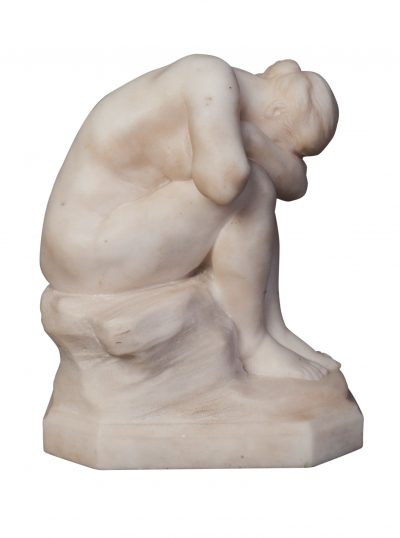 lot 330, Aime-Jules Dalou, French, 1838-1902, La Vérité Méconnue (Truth Unacknowledged), white marble, 24cm high
This lot belongs to a series of female nudes that Dalou produced between 1890 and 1900. Dalou sculpted two versions of the composition. In the first version, the sitter's hair is tied in a chignon and the mirror at her feet faces towards the front of the sculpture. In the second version the sitter's hair is not tied and the mirror faces towards the back of the work. The present lot is the second version and was also cast in bronze after Dalou's death in 1902 when the rights to the models were acquired by the Susse foundry. Henriette Caillaux suggested the symbolism of the work is connected to the Dreyfus Affair in France at the end of the 19th century. The figure hanging her head in shame represents France having falsely imprisoned the young, talented and innocent Alfred Dreyfus.
Finally, lot 458 A pair of Bohemian glass vases and covers, probably for the Turkish market, 19th century (from a private collection of 79 lots of Bohemian glass, lots 422-501)
the covers with facetted baluster spire finials and white leaf form overlay decoration on green grounds highlighted with seaweed and foliate gilding, the bodies decorated with raised portraits of a Turkish lady wearing a feathered hat and green dress and a European lady wearing a pink dress, on raised opaline foliate cartouches with gilt heightening, emitting lilies and foliage, with a spray of lilies to the reverse, on green glass grounds, 35.5cm high
Estimate £500-800
Viewing for the Fine & Decorative auction opens on Friday 13 July 1-5pm and continues:
Sunday 15 July 10am-2pm
Monday 16 July 9.30am-5.30pm
Tuesday 17 July 9.30am-5.30pm
Wednesday 18 July 9.30am-5.30pm
Thursday 19 July 9am-9.45am
AUCTION THURSDAY 19 JULY 12.30PM
~Ends~
*Prices include Buyers Premium of 23%.
For further information please contact Charlotte Meddings charlottemeddings@roseberys.co.uk  +44 (0) 20 8761 2522
Roseberys is a privately owned auction house operating at the heart of the fine art market for 30 years.
With offices in London's Mayfair and Lambeth Roseberys offer a calendar of more than twelve specialist fine art, antiques and collectibles auctions each year.
Specialist sales include a wide range of Asian and Islamic Arts, Modern and Contemporary Art and Design, Decorative Art, Fine Silver and Jewellery, Ceramics, Paintings, Prints, Photography, Antique Textiles, Vintage Fashion and Fine Wine and Whisky.
Roseberys team of world-renowned specialists also provide a wide range of art market services to professional clients, including valuations for insurance and probate.
Roseberys is a member of SOFAA – The Society of Fine Art Auctioneers.