Fine & Decorative auction to include works of art, furniture and more
6/03/2020 News Stories & Press Release, Furniture & Rugs , Works of Art, Sculpture & Clocks
LONDON: Roseberys Fine & Decorative sale on Friday 5 June 2020, 11am will include nearly a dozen lots recently restituted to the heirs of Lucy Sophie Yvonne de Jonquet, an English woman who rose from humble beginnings to marry into European royalty in the early 1900s. A pair of 18th century Sevres porcelain plates with possible links to the Duke and Duchess of Parma lead the group. Further highlights will include rare Russian silver, handsome 18th century English and French furniture and fine continental works of art.
Mark Longley, specialist at Roseberys, comments: Our sale on the 26th March presents the usual eclectic mix of silver, ceramics, works of art and furniture. There is an interesting collection of porcelains belonging to the late Lucy Sophie Yvonne de Jonquet, a collection of Grand Tour objects and sculpture from various properties to include a micromosaic panel, a representation of the Dancing faun of Pompeii and models of the Vatican wrestlers.
In a section devoted to vernacular art there is a pair of painted wood dummy boards and later in the sale a large Austrian strong box with a makers plaque to the interior, a varied collection of lighting, a broad selection of British and Continental furniture and clocks to include a desk by Pierre Francois Guignard and a clock from the Regence period by DeLorme of Paris.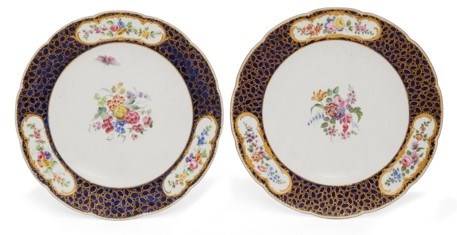 Porcelain from the collection of Lucy Sophie Yvonne de Jonquet         
Lucy Sophie Yvonne de Jonquet's story starts in Peckham, South London, where she was born in 1878, the middle child of a French Huguenot father and an English mother. Through a providential connection with a French aristocrat, Countess d'Etchegoyen, Lucy was introduced to London society and is was here where she met John Graham, a wealthy industrialist whom she married in 1895. The union was brief however - Graham died four years later leaving Lucy a wealthy widow at the age of 20.
In early 1900 she travelled to Paris where she met and married Prince Josef Colloredo-Mannsfeld, a hereditary prince of Austro-Hungarian origin. It was a remarkable rise into the upper echelons of European society, but her humble beginnings were to be her downfall. In 1925 her 'inferior lineage' was discovered and as only women of noble birth could marry into the Colloredo-Mannsfield family, Josef divorced her.
The porcelain offered in lots 148-158 were part of Lucy's collection looted from the Chenue depositary in Paris in 1942 by the Einsatzstab Reichsleiter Rosenberg (ERR), the Nazi military group charged with the seizure of works of art from Jewish owners. Lucy had died in Rome two years earlier.
As there was no justification for the assets of an Anglo-French citizen to be looted, it is probable that the ERR mistook 'Princess Colloredo-Mannsfeld' for Berthie, the Jewish wife of Josef's younger brother. After war ended, the collection was laid in the storerooms of the Sevres Museum in Paris before finally being traced to the heirs of Lucy's estate and released in February 2020. Most items of the collection have registration marks for the Sevres archives and some pieces bear labels from the ERR.
Among the highlights is a pair of Sevres porcelain plates that come from one of two possible services produced in 1761 by the Sèvres factory. Both services were decorated with the same floral decorations found on these plates and were delivered to Florent-Louis-Marie, Comte du Châtelet-Lomont (Commander of the elite Guards unit of the Royal Military Household) and Claude Bonnet, the Paris agent/dealer for the Duke and Duchess of Parma.
Works of Art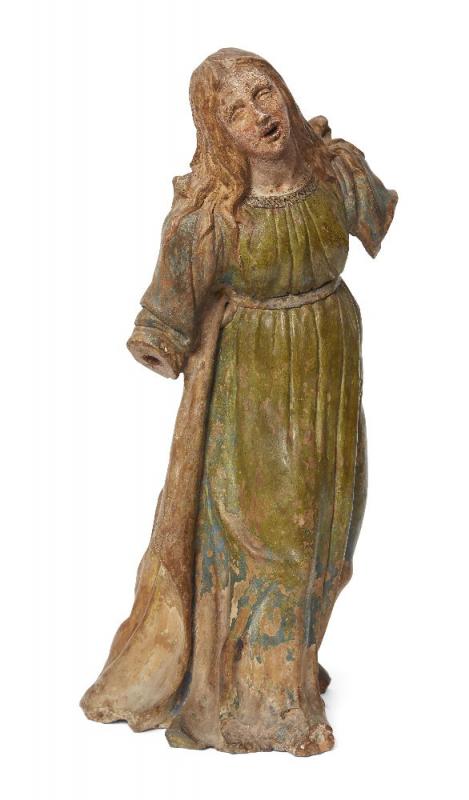 A painted terracotta figure of Mary Magdalene, Bolognese School, late 15th /early 16th Century
This painted terracotta figure depicts Mary Magdalene and was made by the Bolognese School in the late 15th or early 16th century. Probably from a Lamentation figure group, it bears a similarity to the work of the Renaissance Italian sculptor Guido Mazzoni (circa 1445-1518) in particular the Mary Magdalene figure from the group at the church of S. Anna dei Lombardi in Naples. [Lot 276]
Painted with enamels on a steel panel, this is a copy of Robert Dodd's (1748-1815) dramatic oil painting The Quebec and Surveillante in Action in the National Maritime Museum in Greenwich. The action depicted was a minor but famous and furious naval engagement between the frigates HMS Quebec and Surveillante that took part in the early stages of the war between Britain and France in the American Revolutionary War. [Lot 282]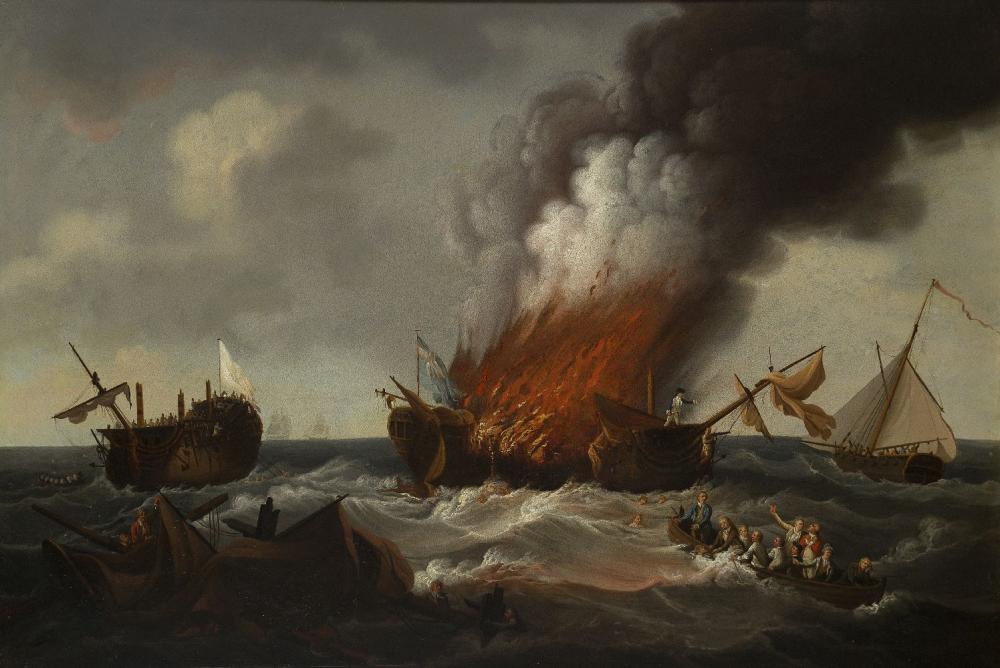 Follower of Robert Dodd, British 1748-1815- The Quebec and Surveillante in Action, 6 October 1779; enamel on steel panel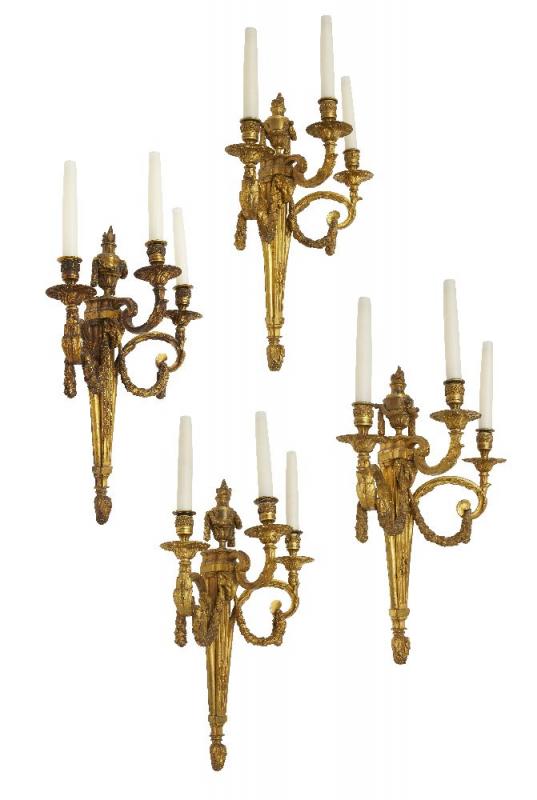 A set of four Louis XVI style three branch wall lights, 20th century, each with urn form finial to a tapering fluted back plate 
With urn form finials, neoclassical ram heads and acorn leaf swags, these four 20th century wall lights encapsulate the opulence and elegance of the Louis XVI style. [Lot 309]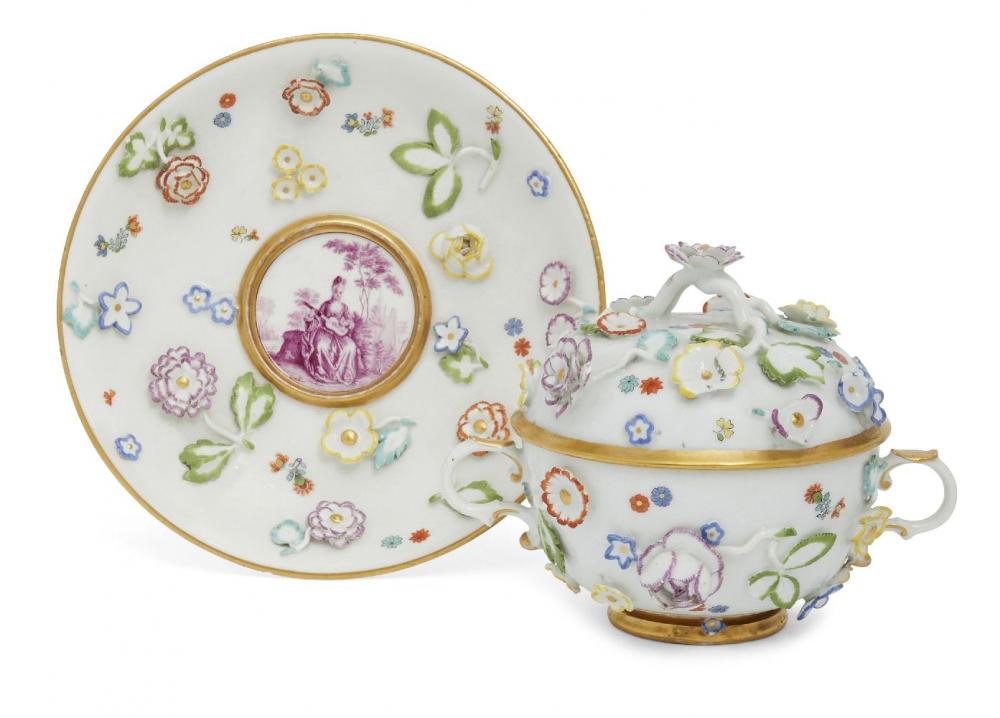 A Meissen florally encrusted and painted porcelain ecuelle, cover and stand, 18th century 
Delicate floral encrusted and painted decoration feature on this 18th century porcelain two-handled ecuelle, cover and stand by Meissen. Circular vignettes of figures in classical and natural landscapes also appear. [Lot 154]
Silver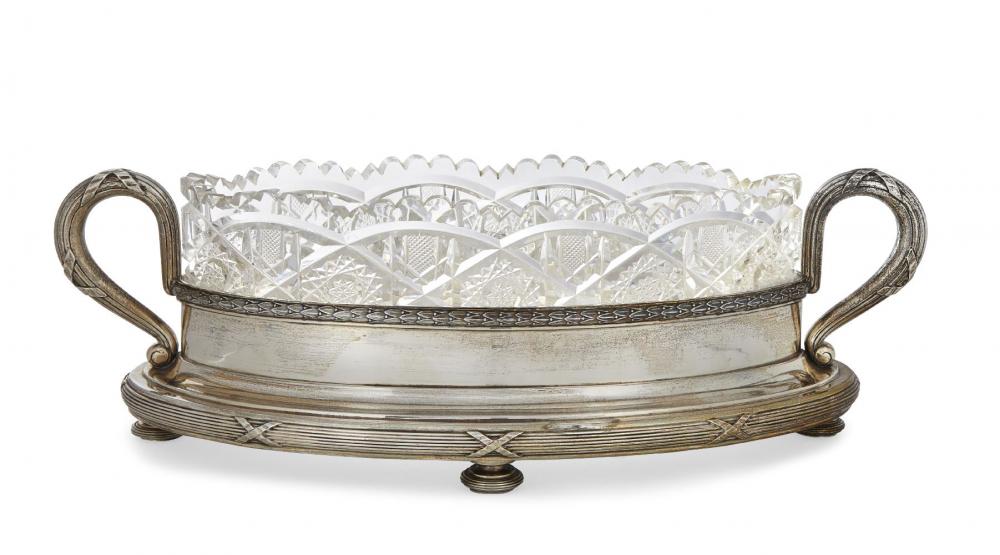 A Russian cut glass dish raised on a silver stand, by Faberge, the navette-shaped cut glass dish
Fabergé are the creators of this fine Russian cut glass dish and silver stand. Scalloped edges and sides decorated with stars are etched into the glass while the 42oz base is decorated with a reed and cross-ribbon pattern and a band of laurel. [Lot 103]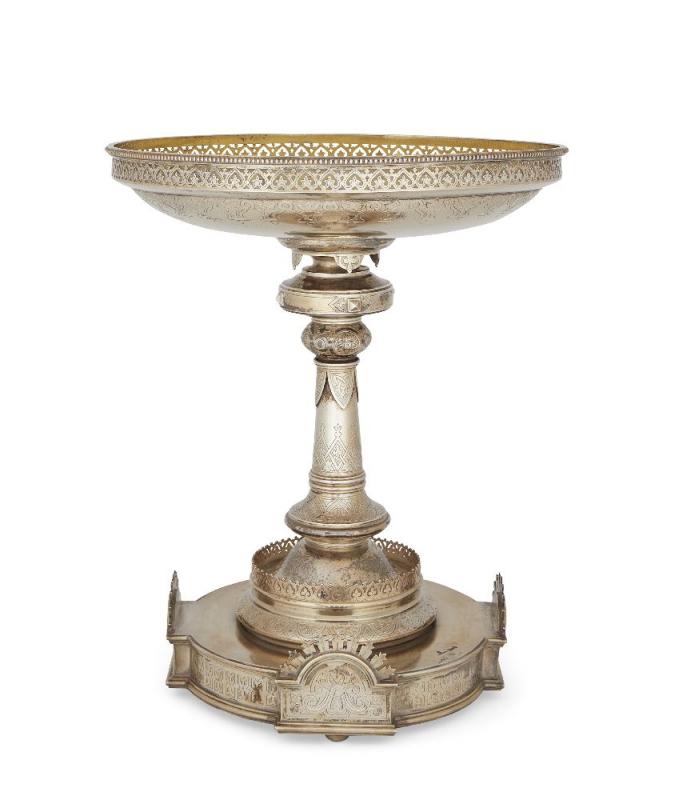 An impressive Russian silver tazza, by Ivan Khlebnikov, Moscow c.1888

This impressive Russian silver tazza is by the Russian jeweller and silversmith Ivan Khlebnikov. It was made in Khlebnikov's Moscow factory where he employed around 200 artisans and dates to c.1888 a decade or so after he was awarded the title of official supplier to the Imperial court of Russia. It has an assay mark for master Anatoly Artsybashev. [Lot 104]
A boxed canteen of silver-gilt cutlery by Carrington & Co., London, the spoons hallmarked London, c.1920
Made by the London silversmiths Carrington & Co, this classic canteen service consists of 24 spoons hallmarked London c.1920 and 24 knives and forks hallmarked for Francis Higgins & Son. The firm of Carrington was named after its founder John Bodman Carrington who established his manufacturing business on London's Regent Street in 1873.  Francis Higgins & Co produced some exquisite patterns and are notable for their designs for small serving items. [Lot 87]
Furniture & Clocks          

A Regence ormolu and boulle cased bracket clock by De Lorme of Paris, circa. 1735
This exquisite Regence ormolu and boulle cased bracket clock characterises the French Rococo style. It features a square brass five pillar twin barrel movement and is lavishly decorated with floral and foliate swags, a figure of a winged trumpeter riding a hippocampus to the finial and a frieze of two cherubs representing astronomy. It was made in c.1735 by De Lorme of Paris. The workshop produced some fine clocks for such prestigious figures as the Duchesses du Maine and d'Halincourt, the Prince de Ligne and Président Joly de Fleury. [Lot 161]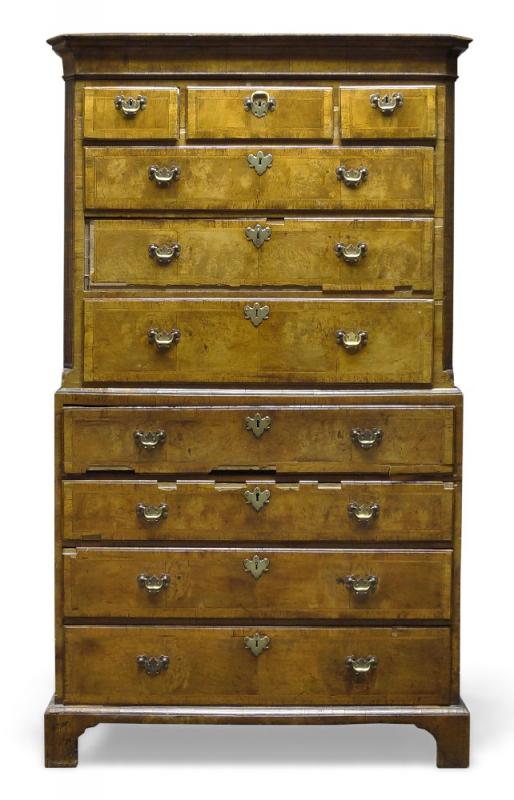 A George I walnut secretaire chest on chest, the moulded cornice above three short and three long graduated drawers
This handsome George I period walnut secretaire chest on chest comprises an upper section of three short and three long graduated drawers and a lower section of four long graduated drawers raised on shaped bracket feet. As is typical of the design, the top drawer of the lower section is a pull out secretaire drawer which encloses an arrangement of smaller drawers and pigeonholes. [Lot 332]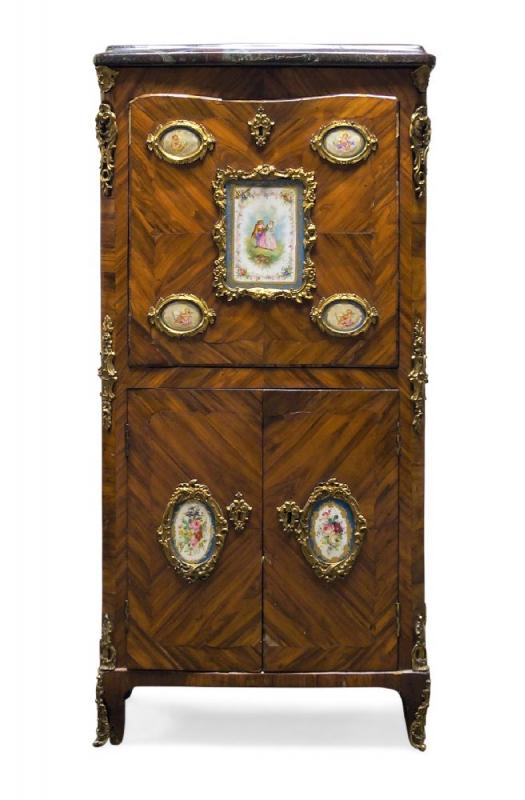 A Louis XV tulipwood and gilt metal mounted secretaire by Pierre-Francois Guignard
This Louis XV tulipwood and gilt metal mounted secretaire bears the signature of the major Parisian cabinetmaker Pierre François Guignard. Guignard received mastership as a Menusier in 1767 and is known for the elegant shapes and perfect proportions of his furniture.
This secretaire is mounted with Sevres-style porcelain plaques and opens to feature a green velvet inset writing surface, pigeonholes and drawers. [Lot 424]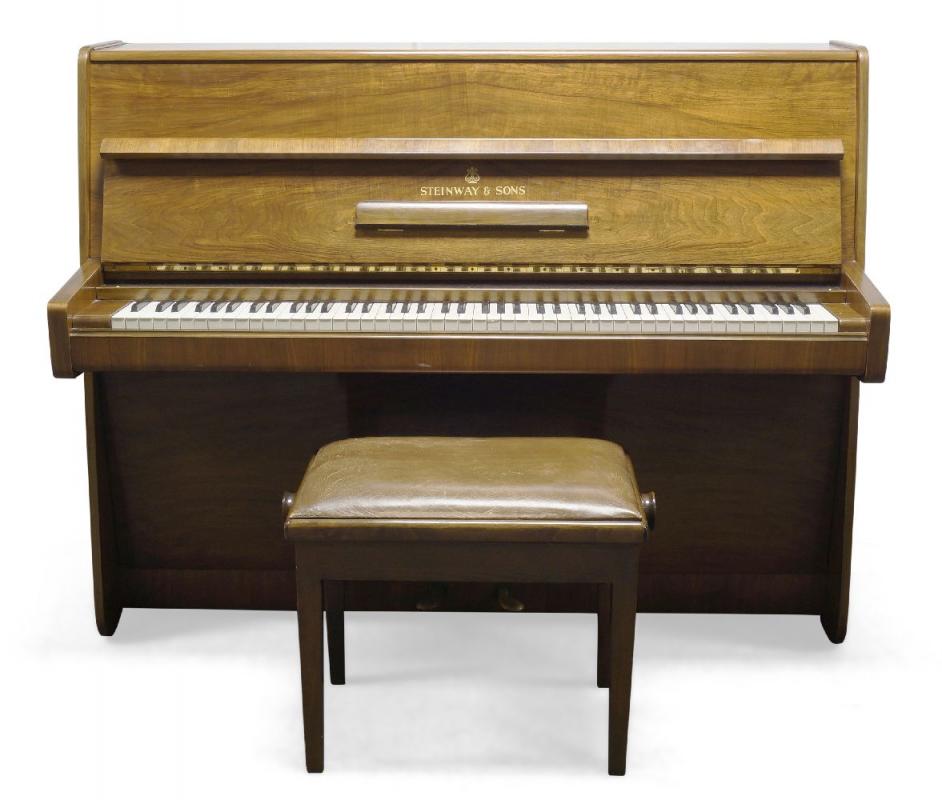 Steinway & Sons, a model 'Z' upright walnut piano, c.1958, serial no. 359711
Steinway & Sons are known as perhaps the most well-respected piano makers in the world. Since the founding of the company in 1853, Steinway pianos have been used by a prestigious range of professional musicians in recording studios and concert halls worldwide. In 2015, Steinway unveiled the company's 600,000th piano, The Fibonacci, at Masterpiece London in 2015.  This model 'Z' upright walnut piano dates to c.1958 and is offered together with a piano stool. [Lot 399]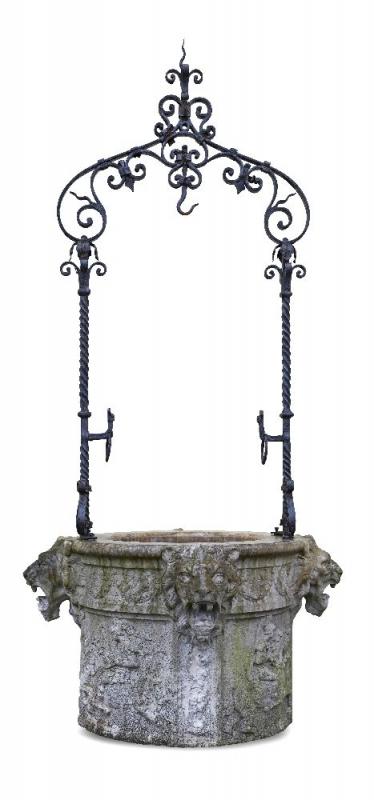 A white marble well ,19th century, the body carved with four open mouthed lions masks, with swag form friezes running between each mask
A rarity in the garden furniture section is this impressive 19th century white marble well. Roaring lion heads, swagging and classical equestrian figures in relief have been skilfully carved into the marble base. Secured to the top is an ornate black painted wrought iron superstructure and hanging bucket. [Lot 440]
Specalists 
Peter Greenway : petergreenway@roseberys.co.uk
Mark Longley : marklongley@roseberys.co.uk
Nigel Dawson-Ellis : nigeldawsonellis@roseberys.co.uk 
For further information please contact Peigi Mackillop peigimackillop@roseberys.co.uk +44 (0) 20 8761 2522