Fine & Decorative Preview Highlights November 22
12/11/2018 News Stories & Press Release, Furniture & Rugs , Silver, Works of Art, Sculpture & Clocks
LONDON: A Regency bust of a British War General who served under the Duke of Wellington is heading to auction alongside nearly 400 lots of furniture, works of art ceramics, silver and glass at Roseberys London on November 22.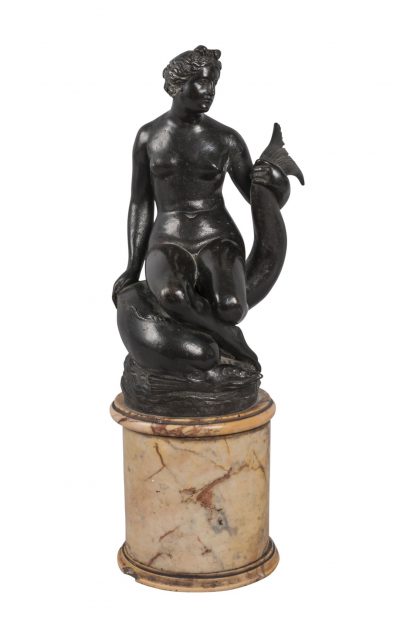 The Viscount William Carr Beresford (1768-1854) served in the Peninsula War of 1808-14 and was responsible for reorganising the Portuguese as an effective fighting force.

The 73cm high painted plaster bust (lot 159) was made by Humphrey Hopper (1765-1844) at the height of Beresford's career in 1812 and shows the decorated general wearing the Army Gold Cross and Collar of Honour, the Most Honourable Order of the Bath and the Portuguese Order of the Tower and Sword.

Hopper exhibited at the Royal Academy between 1799 and 1834, and together with busts, statues and other figures in marble, produced a wide range of ornamental figures in plaster and terracotta. His most famous work is the marble monument to General Hay in St Paul's Cathedral commissioned by the House of Commons in 1814.

Further sculpture in the sale comes in the form of a 19th century Italian bronze model of Venus seated on a dolphin (lot 140), estimated at £800-1200. The 38cm high piece has passed by descent through the aristocratic Howard De Walden family.
The clock section is led by a fine George III mahogany longcase regulator (lot 244) by John Holmes, regarded as one of the finest clockmakers of his time.

Guided at £15,000-20,000, the 181cm high clock has an eight pillar eight-day movement, veneered trunk door and a silvered dial engraved with the maker's name.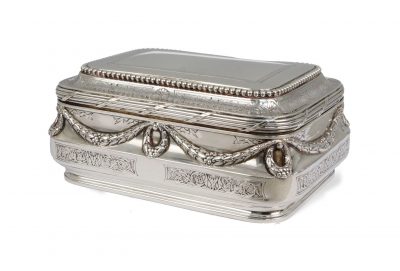 Based on the Strand in London, Holmes was described by the preeminent horologist F. J. Britten as "among the leading mechanicians and when the turret clock at Greenwich Hospital was destroyed by fire in 1779, was given the order for a new one… the Wetherfield Collection contains two long mahogany case clocks of his manufacture, one a particularly choice example of Chippendale dating from about 1770…"

Among the furniture highlights is a Regency rosewood centre table (lot 284) that resembles those produced in the workshops of Messrs Morel and Seddon (1796-1857). They were best known for the furniture supplied to George IV in the refurbishment of Windsor Castle between 1827 and 1830.
The 75cm high piece dates to c.1815 and features a circular top with a brass edge and brass reed stringing, an ebonised lappet carved parcel gilt column attached to a brass strung quatrefoil base with gilt paw feet.

From the same period is a stylish Empire mahogany window seat (lot 340), guided at £300-500.

The c.1810 piece of Egyptian influence has an x-frame, stiff leaf carved frieze and hide stuff over seat.

Silver offerings include a fine quality French silver sugar box (lot 65) by Andre Aucoc (1887-1911). The ornate 6 x 14cm piece, engraved with floral and foliate garlands and wreaths and bearing the maker's mark to the base, is estimated at £400-600.

Other works of art include a pair of Regency hexagonal tortoiseshell tea caddies (lot 290) made by Lund of Cornhill in c. 1825.

Each 13.5cm high mother-of-pearl finial topped piece opens to reveal an ivory and felt lined interior. It carries hopes of £500-800.

For enthusiasts of KPM porcelain from The Royal Porcelain Factory in Berlin the sale includes this decorative painted plaque (lot 177) of a young girl at a well. The 24 x 16.5cm piece dates to the 19th century and indistinctly titled to the verso with Expectation after Coomans. It is estimated at £500-1000.
Fine & Decorative Roseberys London
Thursday 22nd November 2018
Starting at 11am
Preview Event – join us to view a selection of highlights from the auction at: 70/76 Knights Hill, London, SE27 0JD
+44(0)2087612522
auctions@roseberys.co.uk
www.rosebery.co.uk
Viewing
Friday 16th November 1pm-5pm
Sunday 18th November 10am – 2pm
Monday 19 November 9.30am – 5.30pm
Tuesday 20th November 9.30am – 5.30pm
Wednesday 21st November 9.30am – 5.30pm
Thursday 22nd November 9.30am – 10.30am
~Ends~
For further information please contact Peigi Mackillop peigimackillop@roseberys.co.uk +44 (0) 20 8761 2522
Roseberys is a privately owned auction house operating at the heart of the fine art market for 30 years.
With offices in London's Mayfair and Lambeth Roseberys offer a calendar of more than twelve specialist fine art, antiques and collectibles auctions each year.
Specialist sales include a wide range of Asian and Islamic Arts, Modern and Contemporary Art and Design, Decorative Art, Fine Silver and Jewellery, Ceramics, Paintings, Prints, Photography, Antique Textiles, Vintage Fashion and Fine Wine and Whisky.
Roseberys team of world-renowned specialists also provide a wide range of art market services to professional clients, including valuations for insurance and probate.
Roseberys is a member of SOFAA – The Society of Fine Art Auctioneers.