Fine & Decorative July Auction Results
2/08/2022 Silver, Works of Art, Sculpture & Clocks
On Thursday 21st of July, Roseberys were pleased to present the Fine & Decorative auction, which achieved over £300,000 hammer price and was 82% sold by lot. The sale saw competitive bidding across the board (by many international bidders across all bidding platforms), with particularly strong prices realised for ceramics, silver, furniture, and fine art.
A particular highlight from the sale was Lot 348, a rare hand-written account by the French soldier Claude Bonnaure, documenting his experiences in the American Revolution. 'Journal Abrégé De Mon Voyage' covered the years 1780 to 1784 and to have a first-hand account in such good condition is particularly rare. Against a £500 - £800 estimate, the journal achieved £22,500 to an online bidder in the US, where the lot garnered much of its attention.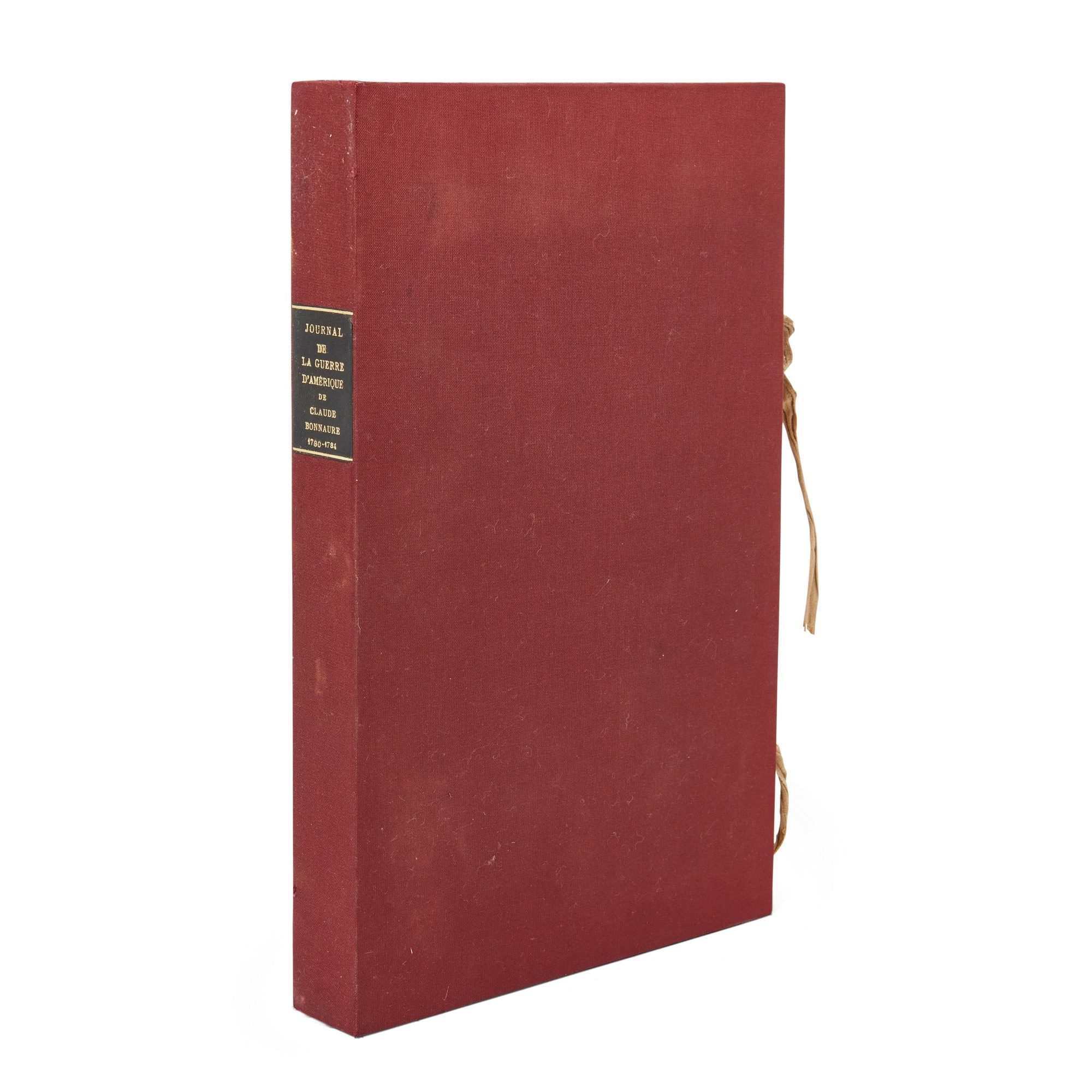 Lot 348: Bonnaure, Claude; Journal Abrégé De Mon Voyage
Lot 262 also outdid its estimate. The Sèvres pink-ground broth-bowl, with cover and stand, is dated to around 1760 and realised £11,875 against a £3,000 - £5,000 estimate. Each piece had two cartouches edged with gilt scrolls and foliage, painted with pastoral scenes and objects. The style of these pastoral elements is typically associated with the factory artist André-Vincent Vielliard père, who was active at Vincennes and Sèvres between 1752 and 1790. The Lot was won by a UK telephone bidder following competitive bidding.
Lot 262: A Sèvres pink-ground broth-bowl, cover and stand (écuelle ronde tournée et plateau ovale), c.176
A highlight in the furniture category was Lot 445, a pair of George III-style carved giltwood console tables. Realising £11,250, the elegant form of the tables and their beautiful Sicilian jasper marble tops made them particularly desirable. Another star of the furniture category was Lot 573, a William and Mary burr walnut cushion-framed mirror dating to around 1690. The frame was beautifully decorated with foliage marquetry inlay, and was in very good condition, influencing its sale at £3,750 against a £400 - £600 estimate.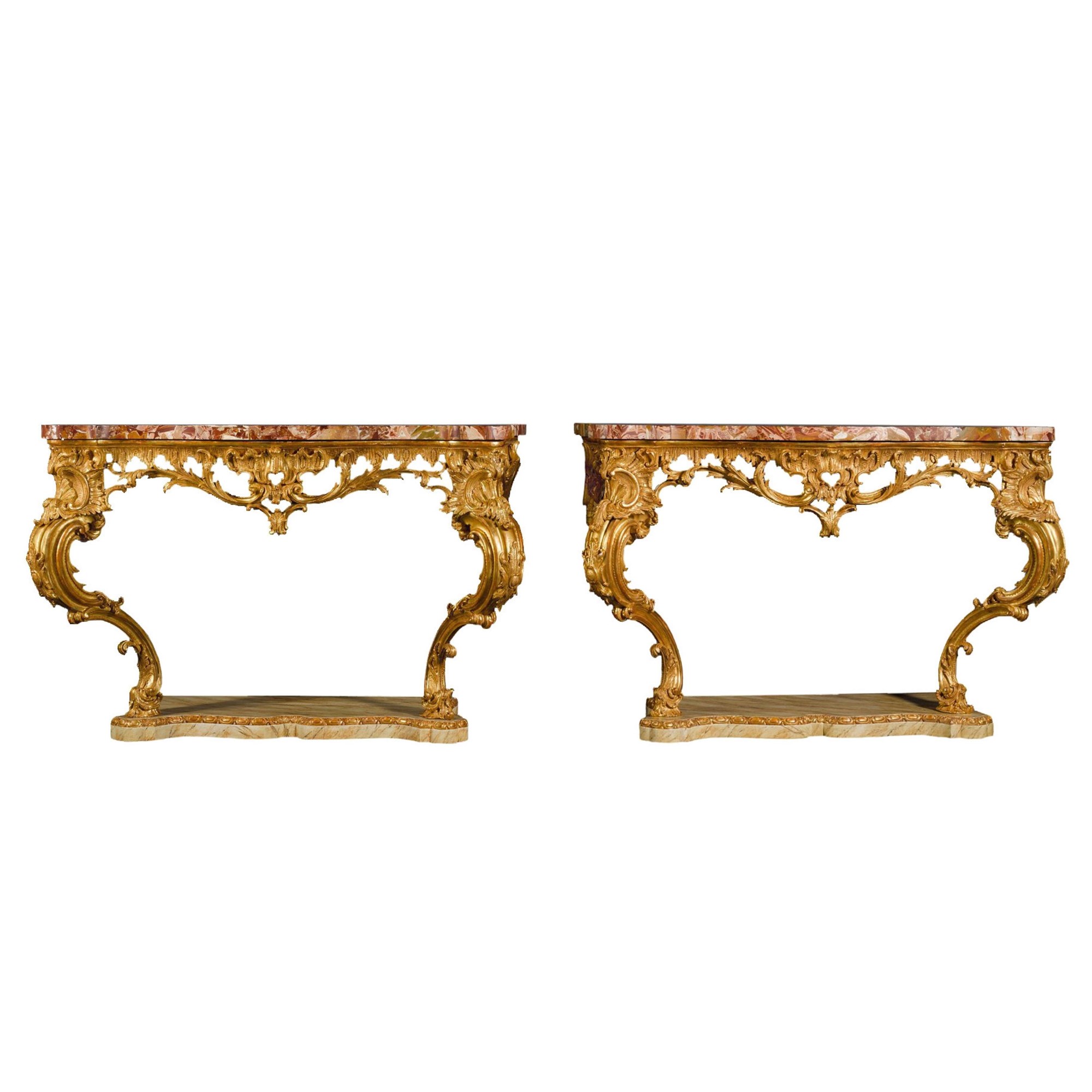 Lot 445: A pair of George III-style carved giltwood console tables
Lot 143 was a pair of large continental silver pheasants, which are regular highlights in Roseberys Fine & Decorative auctions. The pair were particularly large and in excellent condition, and in much more dynamic poses than some examples. They came with import marks from Israel Freeman & Son (London, 1962) and outdid their estimate – selling for £4,000 against the £1,200 - £1,800 estimate.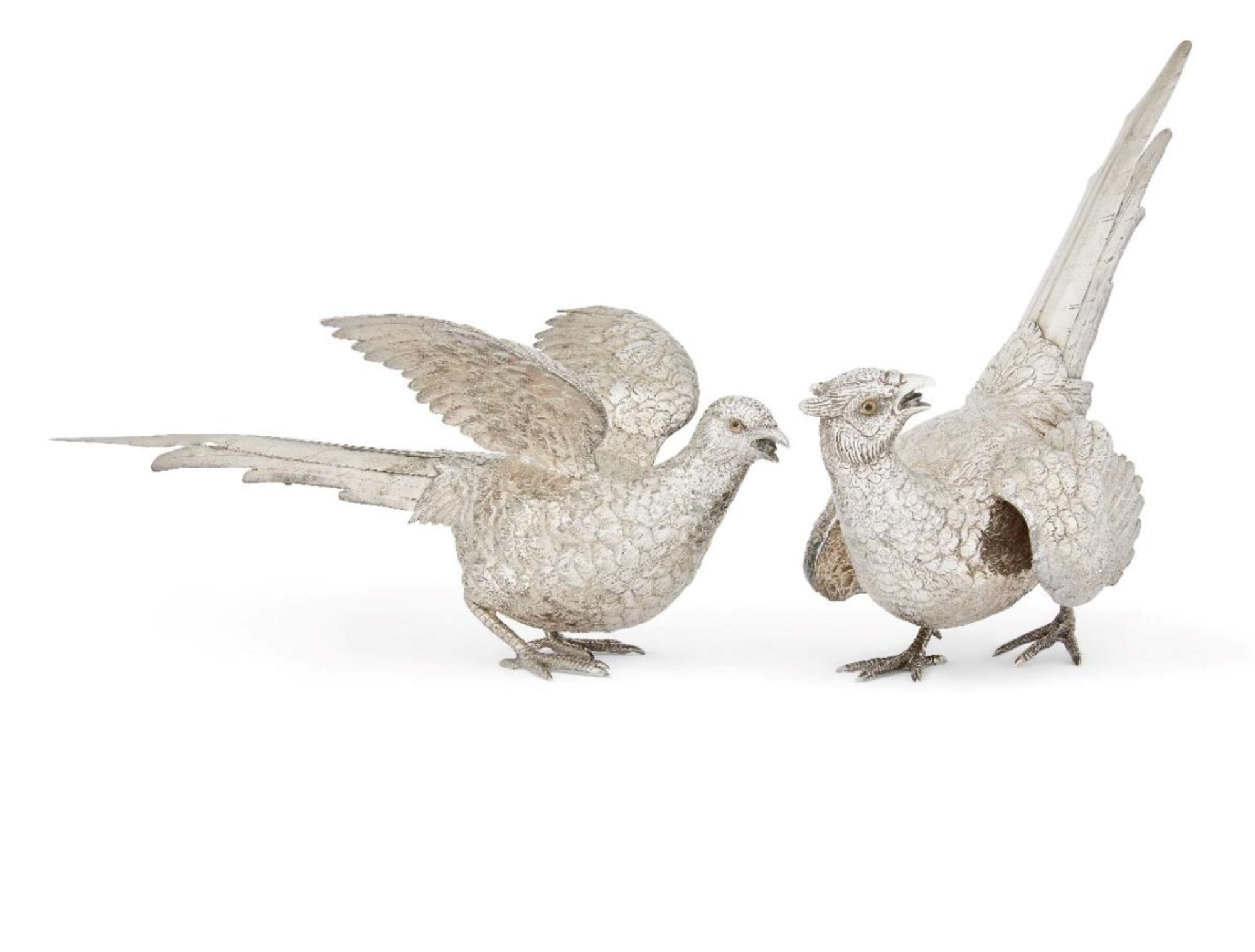 Lot 143: A pair of large Continental silver pheasants, with import marks for London, 1962
An unusually large collection of 19th-century jelly moulds was also well-received in this Fine & Decorative auction. The group of thirty-eight realised £3,250 against an £800 - £1,200 estimate. The collection was mostly of English origin and had various impressed numbers and letters, and was sold along with a brass coffee pot, a copper coffee pot, and a brass and copper warming pan.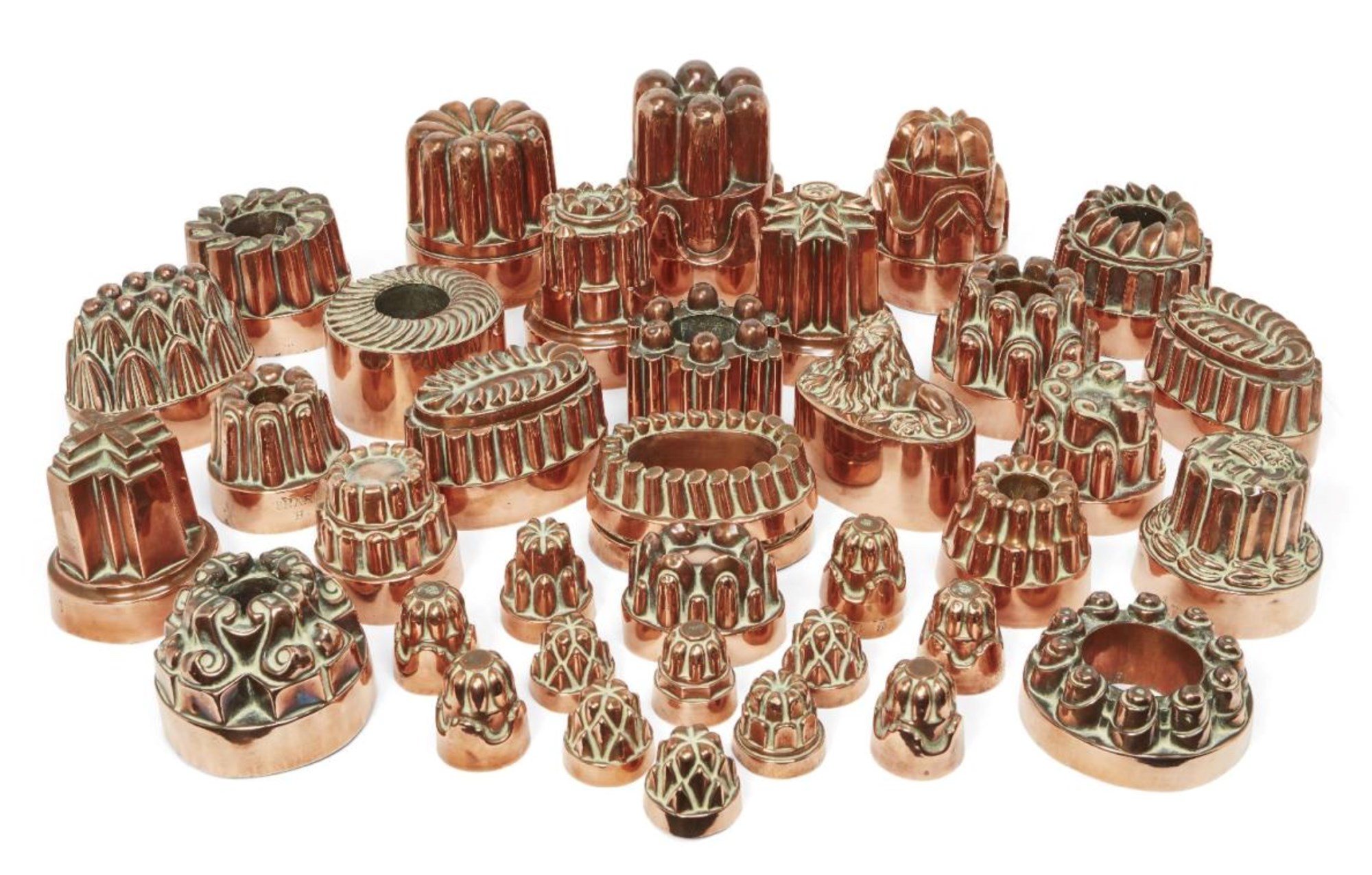 Lot 317: A collection of thirty-eight copper jelly moulds, 19th century
Our final highlight was Lot 319, a Regency mahogany boxed set of powders for tool sharpening. Made by Holtzapffel & Deyerlein in the first quarter of the 19th Century, the fitted interior of the box contained fifteen pots of various powders including emery, oil-stone, pumice stone, chalk, crocus, putty, rouge, and Tripoli – each with their own printed label on the lid. Realising several times over its estimate, the Lot achieved £1,375.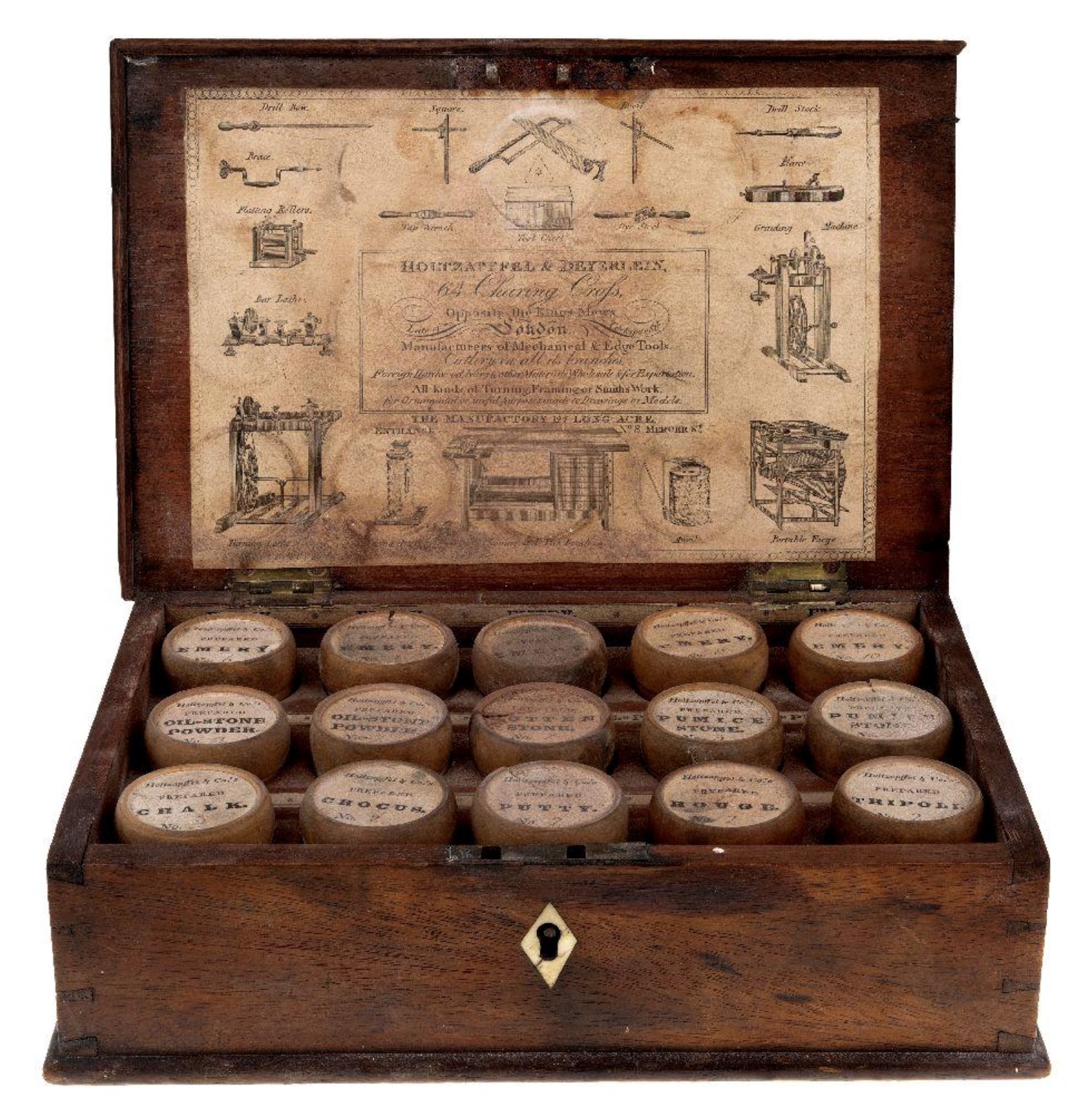 Lot 319: A Regency mahogany boxed set of powders for tool sharpening, by Holtzapffel & Deyerlein, first quarter 19th century
Roseberys look forward to and welcomes consignments for our next Fine & Decorative auction on the 17th of November 2022.