Famous Design Icon Duos
16/08/2021 News Stories & Press Release, Decorative Arts & Modern Design , Furniture & Rugs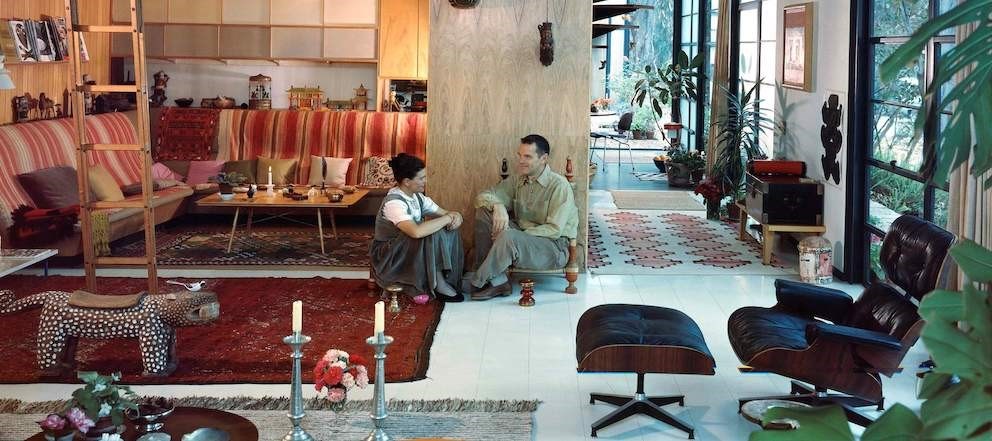 Photo by Julius Shulman. © J. Paul Getty Trust. Getty Research Institute, Los Angeles (2004.R.10).
There are many design icons that have triumphed individually in the field of architecture and furniture design, such as Marcel Breuer, Philippe Starck, Vico Magistretti, Arne Jacobson and Ludwig Mies van der Rohe, among many others. This article however will focus on the design duos that were successful because of their collaboration and partnership. Roseberys are grateful to have been able to sell works by many design icons.

Here we look closely as some the famous design duos who collaborated to make iconic furniture, that have featured in our sale rooms.
Charles Rennie Mackintosh (1868-1928) and Margaret Macdonald (1864-1933)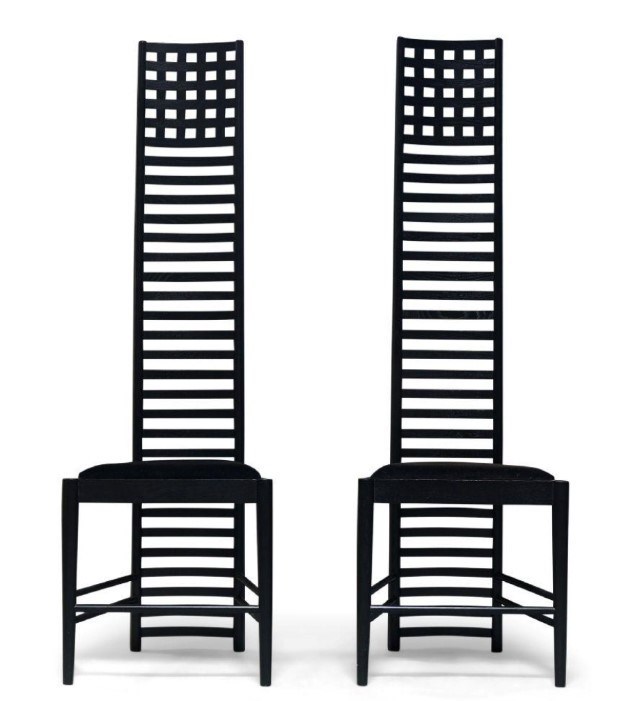 A pair of ebonised hall chairs, after a design by Charles Rennie Mackintosh for Hill House sold for £450 at Roseberys in our Design: Decorative Arts 1860 To The Present Day on the 27/04/2021.
Charles Rennie mackintosh was an acclaimed Scottish designer, architect and artist who was born in1868. He was born in Glasgow and resided there for most of his life. Glasgow influenced a lot of his work, as it had become a powerhouse city during the industrial revolution. Mackintosh was influenced by the industrial revolution and the new modernist ideologies that were emerging at the time, interestingly Japanese design had found itself a part of Mackintosh's influence due to the Japanese navy and engineers that worked on the river Clyde in Scotland. 
He is tipped as one of the initial founders of the Modernist movement, but his work was not as dreary and utilitarian as some modernism designs were at the time. His goal was to create functional art for the people who he was designing for, designs that could be enjoyed. His work has flourishes of Art Nouveau with Japanese symbolism. One of his most famous Designs is Hill House, an architectural as well as interior work for Mackintosh.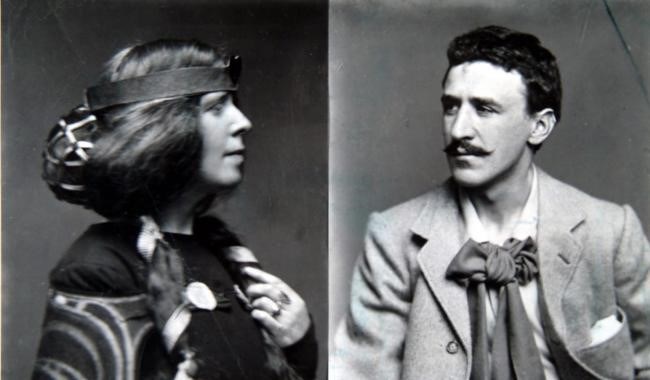 Image of Charles Rennie Mackintosh Margaret Macdonald via the Glasgow Times
Mackintosh and Margaret Macdonald, a painter and glass artist, met at night classes at the Glasgow School of Art. The Glasgow School was a circle of influential artists and designers that began to coalesce in Glasgow, Scotland in the 1870s, and flourished from the 1890s to around 1910. Representative groups included The Four, which included MacDonald, Mackintosh, MacDonald's sister Frances and Herbert MacNair. Together, The Four defined the Glasgow Style's fusion of influences including the Celtic Revival, the Arts and Crafts Movement, and Japonisme, which found favour throughout the modern art world of continental Europe. 

Margaret and Charles were later married in 1900. Margaret was originally from Birmingham but enrolled at Glasgow School of Art, studying design in multiple medias such as metal work and embroidery. She worked with her sister Frances, who was also in Glasgow creating innovative work inspired by Celtic symbolism and folklore. Margaret often collaborated with her husband Charles Mackintosh. Unfortunately, like many women of the time, her work is often marginalised against that of her husbands, despite of this it is well known that she was a brilliant artist and designer who was highly regarded by her contemporaries. Her husband who once wrote in a letter to her quoted: - "Remember, you are half if not three-quarters in all my architectural work ..."; and reportedly: - "Margaret has genius, I have only talent.".
Martin Eisler (1927-1997) & Carlo Hauner (1913-1977)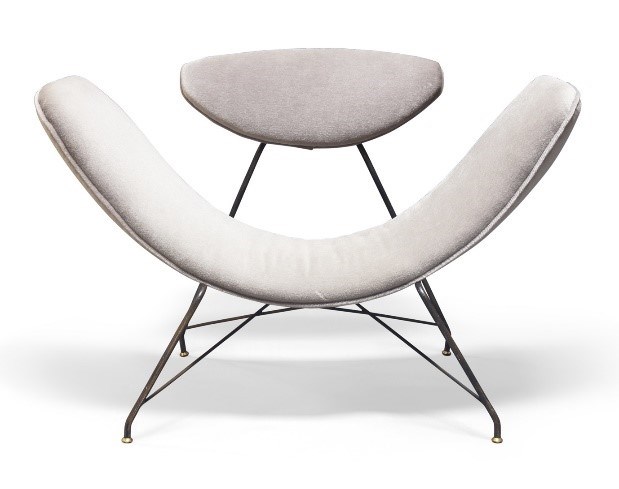 Martin Eisler a "Reversivel' lounge chair for Forma S.A Brazil, c.1955 for sale at Roseberys with an estimate of £6,500-£7,500 within the Design: Decorative Arts 1860 to the Present-Day sale taking place on the 12/10/21
Martin Eisler and Carlo Hauner are most well known as the main designers within the Brazilian furniture company Forma. Since their collaboration they have worked in many European countries such as Italy and Austria. Hauner was born in Italy but emigrated to brazil after World War II.e studied art and design in Milan. He started out as a painter but then decided to found his own furniture company called Moevis Artesnal. He also was a partner in a ceramics company called H. Cerâmica.  
Martin Eisler was born in Vienna and was brought up in a design focused and artistic environment. His father was a famous art historian called Max Eisler, who was also the founder of the Austrian Werkbund, which was an association of modernist architects, designers and engineers. Eisler was an Austrian Jew who fled to Argentina in 1938, as Hitler began his brutal treatment of the European Jewish Communities. He came to Buenos Aries where he began exhibiting some of his furniture designs. Eisler travelled to São Paulo to design an apartment, where he had furniture designs created by him produced by at Artesnal. After Eisler's success in São Paulo moved to the city permanently. 
In 1953 Hauner met Martin Eisler, who was looking for help to produce furniture for the home of his brother-in-law, Ernesto Wolf. Eisler reached out to Hauner and the rest is history. The two men connected and Eisler became a partner in the Galeria Artesanal. 
Hauner eventually moved back to Italy to open a branch of Forma but was unsuccessful. Eisler remained in South America and the company was prosperous and successful. Forma signed a production contract with Knoll and in turn, names like Ero Saarinen, Florence Knoll and Marcel Breuer were brought to Brazil. The company is still in operation today under the name Interiuer Forma. Hauner and Eisler's designs are still widely sought after and renowned within the design world.
Hans (1914–1955) & Florence Knoll (1917-2019)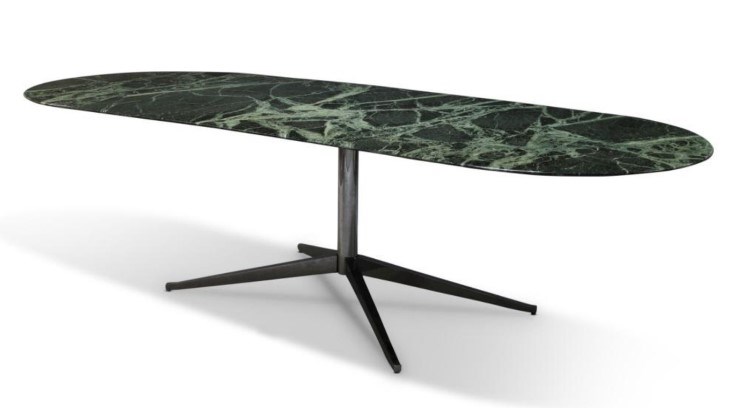 Florence Knoll, American, a 'model 2480' dining table c.1960s -1970s sold for £2,000 at Roseberys in our 20th Century Art & Design on the 26/06/2018.
Knoll is the most well-known producers of modern furniture today. It was created by German born Hans Knoll in New York in 1938. Hans initially began his career in England in 1937, where he started his own interior design company called Plan ltd. Shortly after founding Plan Ltd., he moved to New York and founded the Hans G Knoll furniture company. He had initially planned to import European designs and bring them to America, however he found this difficult and began focusing on domestic product. 
The company grew quickly and was a great success, however it was not until its association with Florence Schust ( later to be Knoll ) in 1943 that the company really took off. Florence was from Michigan. She studied at Cranbrook Academy of Art, where she developed the skills and connections that made her a successful furniture designer. Florence went on to study at Cambridge under some of the greatest names in modern design, such as Walter Gropius and Marcel Breuer. After Cambridge, she then went to study at the Illinois Institute of Technology, where she was taught by the iconic Ludwig Mies van der Rhoe.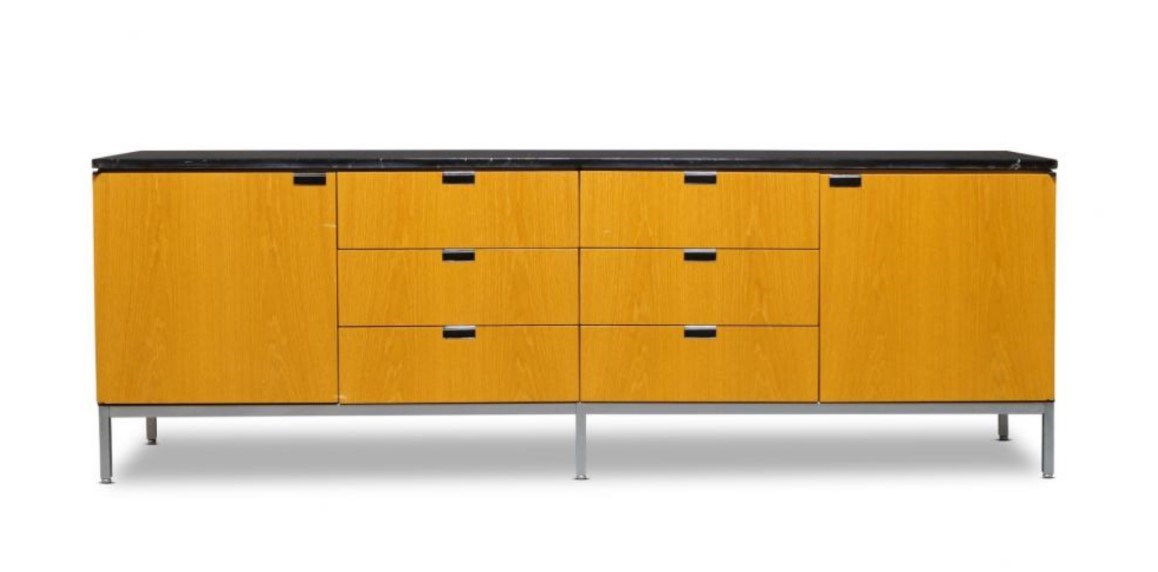 After Florence Knoll, a walnut credenza for Knoll sold for £1,250 at Roseberys in the 20th Century Art & Design sale which took place on the 04/12/2018.
She met Hans Knoll in 1941 and the combination of her design skills and his head for business allowed Knoll to flourish. The pair got married in 1946, after which the company grew into the international standard for style and design. Unfortunately, in 1955 Hans was killed in an automobile accident, leaving Florence to take over the company completely. The company expanded even more under Florence, with Knoll showrooms spreading nationwide. She brought on board her teachers and friends to create pieces of furniture and to this day the company has many collections designed by and licenced by these great designers. After Hans Knoll death, Florence continued to run the company and its daily endeavours, sealing its success as a leading company that pioneered popular and iconic furniture from the 1950s-1960s.
 Charles (1907–1978) & Ray Eames (1912–1988)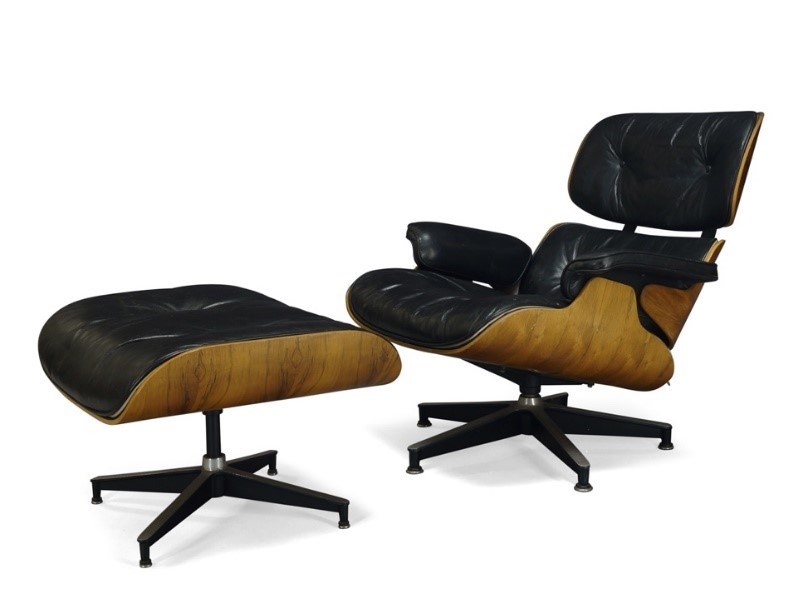 Charles and Ray Eames (American), a '670' lounge chair and '671' ottoman for Herman Miller
c.1970, chair and ottoman sold for £5,000 at Roseberys in the Design : Decorative Arts 1860 To The Present Day which took place on the 27/04/2021
American design duo, Charles and Ray Eames collectively made-up the Eames Office. They are praised for their vast number of contributions to modern design and architecture. Ray Kaiser Eames studied at Cranbrook Academy, where she met and assisted Charles Eames and Eero Saarinen in preparing designs for the Museum of Modern Art's Organic Furniture Competition. Charles and Ray married in 1941 and moved to California, where they began to work together. During this period of their careers, they collectively spent time perfecting their furniture design work by moulding plywood – which they would later become renown for.  The design office of Charles and Ray Eames functioned for more than four decades (1943–1988) creating architecture, furniture and film, along with other forms art. Charles introduced modernist design to middle America, but it was Ray who softened its hard edges, and gave it mass appeal. Charles understood that Ray was an equal partner in their creations, and he was always eager to acknowledge her integral role. "Anything I can do, Ray can do better," he once said.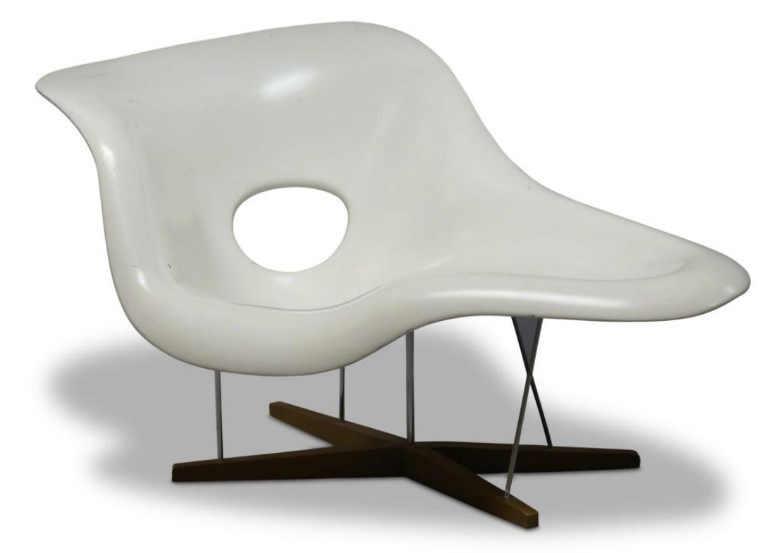 After Charles and Ray Eames, 'La Chaise' for Vitra c.1970-80 sold within the 20th Century Art & Design auction at Roseberys on 26/06/2018 for £2,125

In 1949, Charles and Ray's complementary talents came together in their home they designed and built together in Pacific Palisades, California, as part of the Case Study House Program. Their design and innovative use of materials made the house a mecca for architects and designers from both near and far. Today, it is considered one of the most important post-war residences anywhere in the world. The Eames Office is most well-known for creating the Eames Lounge chair one of the most well renowned pieces of modern furniture design ever. Their design philosophy was "to make the best for the most for the least". They created many pieces of furniture in their time as designers and the pieces they designed are still produced today under license by Vitra & Herman Miller, after Eames. The design duo left a vital legacy that millions still cherish.
 Charlotte Perriand (1903-1999) & Le Corbusier (1887-1965)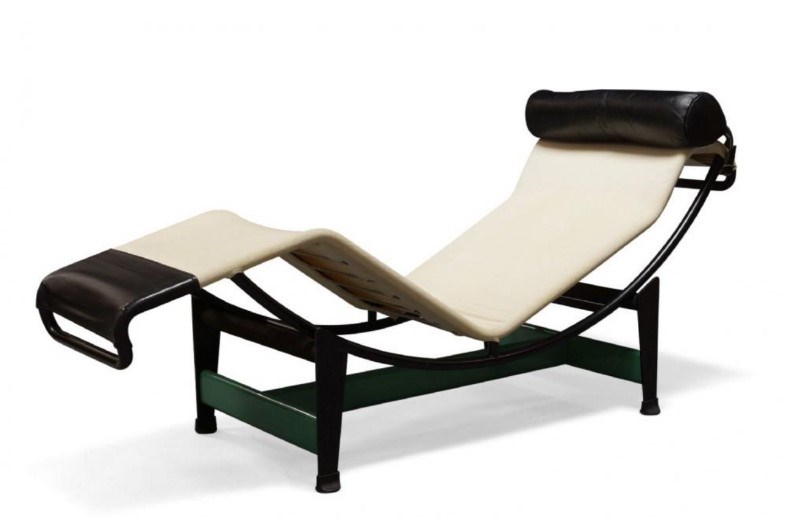 After Le Corbusier, Pierre Jeanneret & Charlotte Perriand, a limited edition LC4 chaise produced by Cassina c.1980, stamped to frame 'LC/4 12413' sold at Roseberys for £1,437 in the Design: Decorative Arts 1860 To The Present Day on the 03/03/2020.
Charles-Édouard Jeanneret-Gris better known as Le Corbusier was a famous Swiss French architect known for his Modernist urban planning projects such as Unité d'Habitation in France & the redesign of Chandigarh, the capital for the Indian state of Punjab and Haryana. Le Corbusier's career was filled with many innovative and culturally significant design projects in both architecture and furniture. In 1928 he formed his own furniture company and created a significant collection which included a series of lounge chairs, created in a collaborative partnership with Charlotte Perriand and Pierre Jeanerette. Charlotte Perriand at first was denied the opportunity to assist Corbusier with his collection; however, her perseverance and tenacity gained her a well-deserved spot within the design studio where she was an important and influential partner in developing Corbusiers chair collection. The collection included standout pieces such as the Grand Comfort.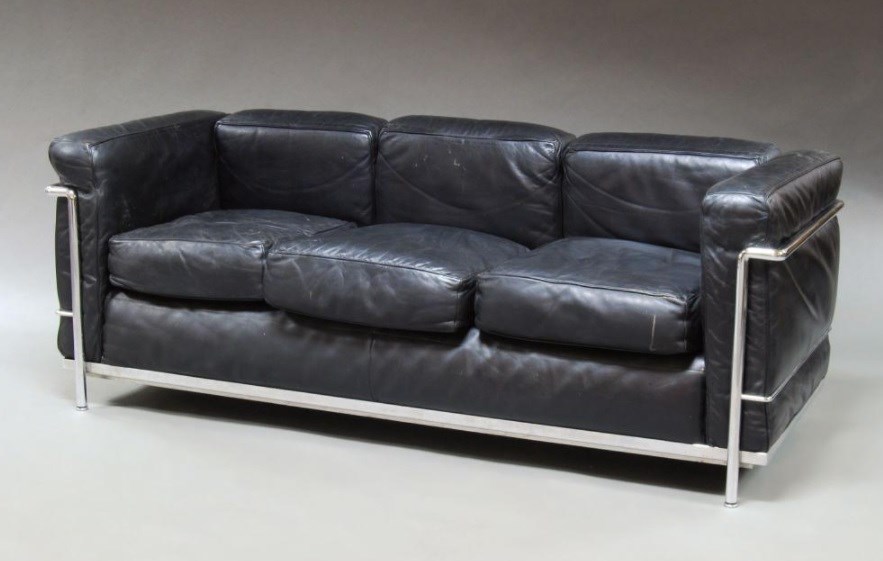 A black leather and chrome framed sofa, 20th century, after a design for the LC/2 sofa by Le Corbusier, Pierre Jeanneret and Charlotte Perriand sold for £688  in the Fine Art auction at Roseberys on 22/03/2016
Perriand left Corbusier's studio in 1937, the French Designer continued to develop her designs with a specific aesthetic and practice. Charlotte Perriand, pioneering designs went on to shape the 20th century. Her modern ideas can be found in the way we live today, from the use of materials to her belief that good design is for everyone. Like many women at the time, her work was often overshadowed by her famous male collaborators.  Today, there is an exhibition at The Design Museum in London – (Charlotte Perriand: The Modern Life), curated in collaboration with the Perriand family and archive and marks the 25th anniversary of the first Charlotte Perriand exhibition at the Design Museum in 1996. The exhibition showcases the work and life of the fiercely independent woman - a pioneer, a sportswoman and a global traveller who helped define the modern interior.


-Ends-
You can find out more about our Decorative Arts & Modern Design department here.
If you have any works by the artists above or would like any of your design or decorative arts pieces valued, we offer a complimentary valuation service here.