Extremely rich sale of Modern British and Irish works
20/09/2021 Modern & Contemporary British Art, News Stories & Press Release
The final Modern & Contemporary British & Irish Art auction of the year will take place on Wednesday 13 October, starting at 10am. Running themes within the auction includes a collection of varied and interesting British Surrealist art works, lots 16-21. This collection comprises artworks by Ithell Colquhuon, John Melville, Grace Pailthorpe and Reuben Mendikoff. Each work shows the artists' unique and varied approach to the concepts of the movement.  St. Ives is also very strongly represented, from an early watercolour made by Dame Laura Knight in an Impressionist style, to Modernist masterpieces by Patrick Heron, Denis Mithcell, John Milne, Wilhelmina Barns-Graham, and a rare watercolour by ceramicist Bernard Leach. Elsewhere in the sale is fourteen works by the much-loved artist, Fred Yates, all from the same collection. The previous owner knew the artist well and so in each of these paintings he depicted the owner's Siamese cat.

Head of Sale and Specialist, William Summerfield commented: 'This is an extremely rich sale of works, demonstrating quality at every price level. I am extremely fortunate to have Bomberg's Bomb Store 1942, as this was such a small body of work, yet considered amongst the greatest the artist produced. We have works from all the majors styles and movements of the 20th century, with a particularly strong showing of Surrealist artists and those artists associated with St. Ives. I am delighted to bring large groups of work to the market by Fred Yates, Louis Wain (who is the subject of a recently released film starring Benedict Cumberbatch) and Jack Smith, as well as re-introducing two very different artists, Blair Hughes-Stanton and James Collins, to the auction market.'

David Bomberg, British 1890-1957 - The Bomb Store, 1942; oil on board, 76 x 57 cm
Leading the sale with an estimate of £45,000- £50,000 is lot 25, by British artist David Bomberg, 1890-1957. The work titled 'The Bomb Store' is an oil on board measuring 76 x 57 cm. In 1942 Bomberg received a commission from the War Artists Advisory Committee to paint an underground bomb store at RAF Fauld in Tutbury, creating a small body of works that were highly abstracted and almost geometric in form, reminiscent of his early works such as 'The Mud Bath'. The works are now accepted to be some of the greatest of the artist's career, with two works in the Tate Collection and drawings in the Imperial War Museum.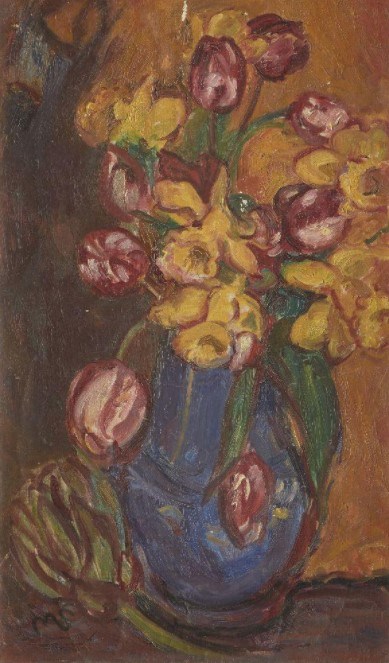 Sir Matthew Smith CBE, British 1879–1959 - Tulips, c. late 1930s; oil on canvas
Entered onto the market with a pre-sale guided price of £15,000- £25,000 is lot 4, by Sir Matthew Smith CBE, 1879–1959. Titled 'Tulips', the oil on canvas measuring 55 x 33 cm was executed in late 1930s. The painting was most likely gifted to Judge Henry Mahout as thanks for letting Smith stay with him during the late 1930s when he was homeless in Provence. The artist would often give gifts of paintings to such acquaintances, and he mentions Mahout in his letters to friends in Aix from England during the War. As an avid collector of old vases, Smith would revisit the same objects again and again in his paintings, in this case the blue jug that appears in several paintings from the era.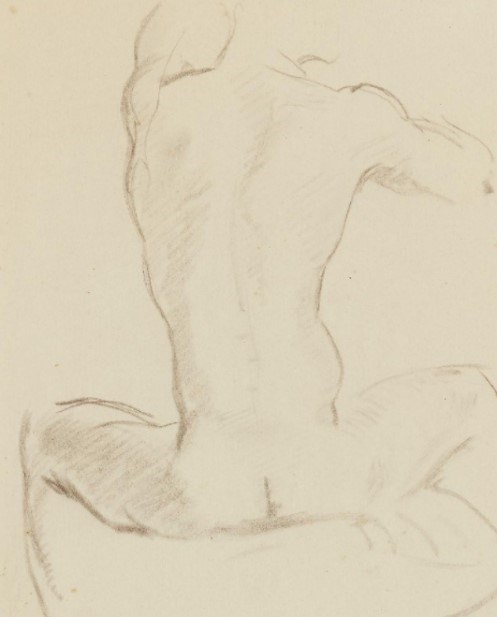 Glyn Philpot RA, British 1884–1937 - Study for 'Henry Thomas Sitting - Back View', 1937; black chalk on paper
Lots 5, a black chalk on paper by Glyn Philpot RA, 1884–1937, is one of three known studies for the painting 'Henry Thomas Sitting - Back View, 1937'. This work created in 1937 has been described by Robin Gibson in his catalogue for Philpot's exhibition at the National Portrait Gallery in 1984 as 'perhaps the most brilliant of the three, sinuous and rhythmic, demonstrating once again [his] ability to find great beauty in the human back'. The other studies are now in the British Museum and V&A collection. The work has also been described as 'perhaps the best of a Philpot's pure figure paintings.' Jamaican born Henry Thomas was the artist's servant and companion, and a favourite model, appearing in numerous works, including 'Portrait of Henry Thomas, 1934-35' (Pallant House Gallery) and 'Melancholy Man, 1936' (Royal Pavilion & Museums Trust, Brighton & Hove). These works are often considered the most innovative and experimental of Philpot's career. This black chalk on paper that measures 29 x 23.5 cm on offer at Roseberys, comes with an estimate of £6,000- £8,000.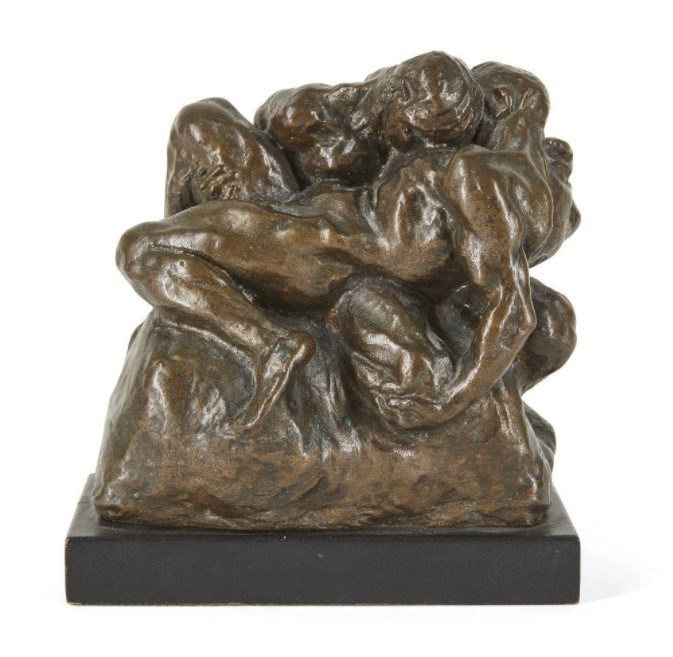 Glyn Philpot RA, British 1884–1937 - The Wrestlers, c.1905-10; bronze on a wooden base, marked 'P' on the bronze, cast c.1968 
Within the sale is also a sculpture by the same artist, Glyn Philpot, lot 6, from the same collection. 'The Wrestlers' created in 1905-10, is a bronze on a wooden base, marked 'P' on the bronze, cast later from the original plaster in collaboration with Gabrielle Cross, the artist's niece. Although the work was never cast in the artist's lifetime, the artist's niece, Gabrielle Cross, created an edition of 8 bronzes from the plaster in 1968. Cross would always cast an additional bronze for her own collection. There is a photograph from 1906 which depicts Philpot holding the work in his studio and this is likely to be the first piece of sculpture the artist made. 'The Wrestlers' sculpture on offer that measures 16 cm high, comes with an estimate of £3,000- £4,000.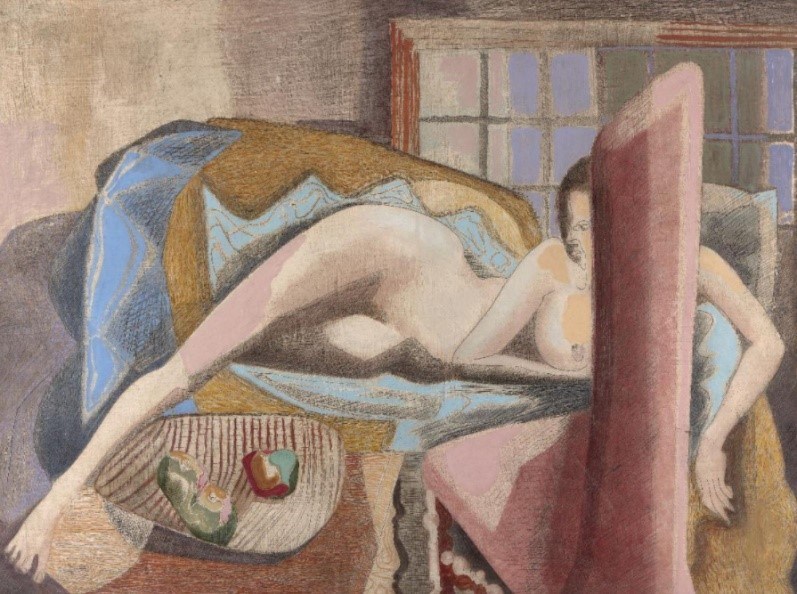 Blair Hughes-Stanton, British 1902-1981 - Reclining Nude , c.1936; ink and tempera on canvas
Elsewhere in the sale is a wonderful collection of eight works by Blair Hughes-Stanton from every stage of his career, lots 14 -16 and lots 106-110. This includes a Cubist-inspired painting of a Reclining Nude from the 1930s (pictured above), a watercolour made in Cassis while the artist was on holiday with Mark Gertler and an ink drawing 'Pub Scene' made during World World II, demonstrating the camaraderie of the time.  Blair Hughes Stanton (1902 – 1981) was one of the most notorious and acclaimed artists in Britain during the interwar era, known for his role in the revival of wood engraving in Modern art. He studied under Leon Underwood at his Brook Green School alongside Henry Moore and Eileen Agar, where he developed a unique visual language, creating works that were a celebration of love and physicality. Alongside his first wife, Gertrude Hermes, Hughes-Stanton became a much sought-after book illustrator, his wood engravings feature in books by his friend D.H. Lawrence and T.E. Lawrence's Seven Pillars of Wisdom.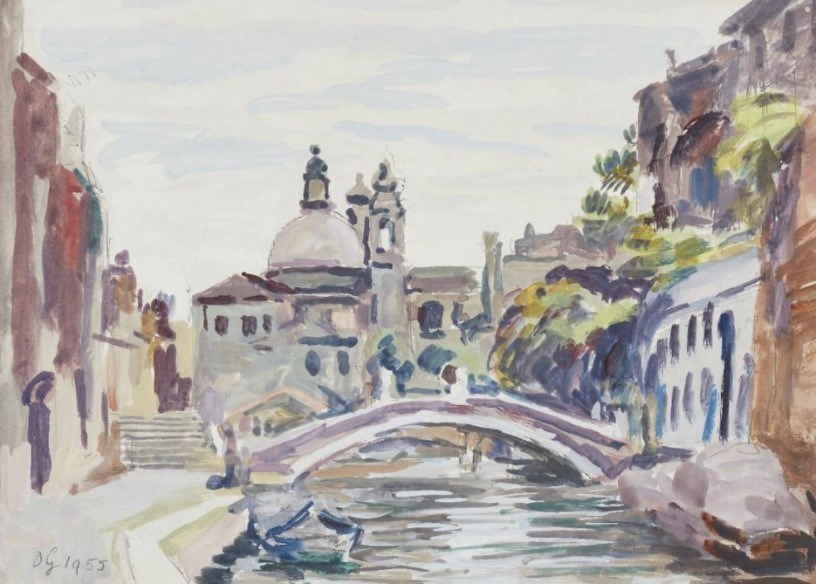 Duncan Grant, British 1885-1978 - Bridge over Canal, Venice, 1955; gouache on paper
Coming with an estimate of £3,000- £4,000 is lot 7 by Duncan Grant, 1885-1978.  'Bridge over Canal, Venice', 1955; gouache on paper, is one of the artist's celebrated depictions of Venice, a city to which he made multiple visits throughout the first half of the twentieth century, including when representing Britain at the Biennales of 1926 and 1932. The present piece recalls a number of Grant's works, with its composition particularly reminiscent of a 1948 painting which is currently in the Government Art Collection. The work offered at Roseberys is signed with initials and dated lower left 'DG 1955', measuring 24.5 x 33.5 cm.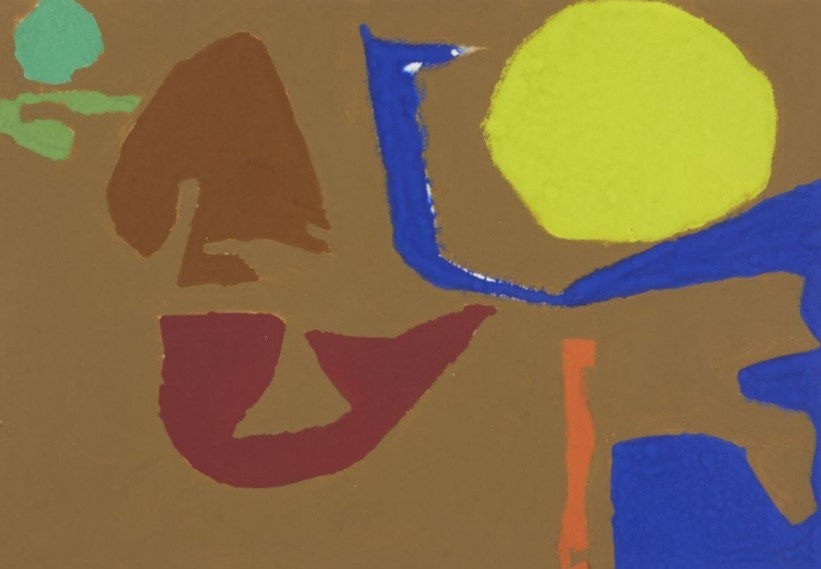 Patrick Heron, British 1920–1999 - December 31: 1982: I, 1982; gouache on paper
Titled 'December 31: 1982: I' is lot 37 by Patrick Heron, 1920–1999. This work is a highly characteristic example of the artist's mature style, demonstrating his exploration of the depiction of light, space, and colour. Living and working largely in Cornwall, Heron was closely connected to figures such as Ben Nicholson and Barbara Hepworth, and worked for Bernard Leach at the Leach Pottery. As such, Heron was very much a part of the St Ives School which shaped the landscape of 20th-century British art to follow. The gouache on paper offered, measuring 50 x 35 cm, comes with an estimate of £10,000- £15,000.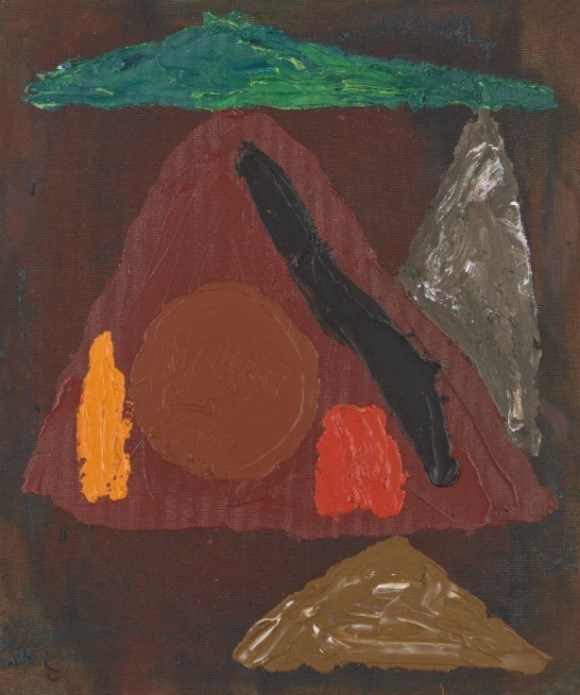 John Hoyland RA, British 1934-2011 - Caprice, 1983; acrylic on canvas
Estimated to make £5,000- £8,000 is lot 51 by John Hoyland RA,1934-2011. Titled 'Caprice', the acrylic on canvas measuring 60.5 x 51 cm was painted in 1983. The work is signed, titled and dated on the reverse 'John Hoyland Caprice 1.4.83', with artist's label affixed to the back of the frame (no.T246).  This is a classic example of Hoyland's unique painterly language, and demonstrates why he is regarded one of the greatest British painters of the late 20th century. Despite his rejection of 'abstraction' as too formal and restrictive a label, Hoyland was a central force in the development of abstract art in mid-20th-century Britain. He was closely connected to the Abstract Expressionist movement which was burgeoning in America at the time, with his travels to New York in the 1960s leading to his association with figures such as Robert Motherwell, Barnett Newman and Mark Rothko.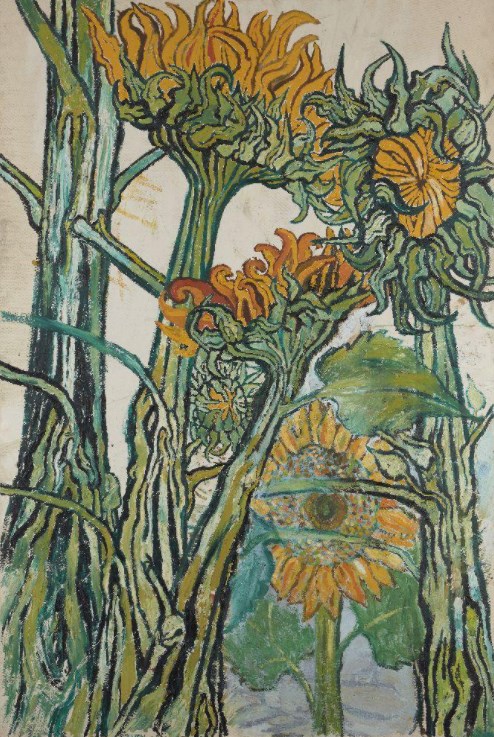 John Bratby RA, British 1928-1992 - Sunflowers; oil on canvas
Lot 71, an oil on canvas, measuring 152.5 x 101.5 cm, by John Bratby RA,1928-1992, titled 'Sunflowers' comes with an estimate of £6,000- £8,000. Bratby is known for his central role in the Kitchen Sink movement, depicting the mundane and everyday surroundings of a contemporary domestic interior and was therefore connected to contemporaries such as Jack Smith, Derrick Greaves and Edward Middleditch, exhibiting alongside them when representing Britain at the Venice Biennale of 1956. Bratby's use of heightened and somewhat clashing colours and his flattening of the visual plane are typical features which define the artist's work, revealing the influence of Fauvism, and also Van Gogh, in particular in the Sunflower paintings such as this. The mother of the present owner of this work was painted by the artist in 1985. She purchased the work from the artist during the sitting and gifted it to her son.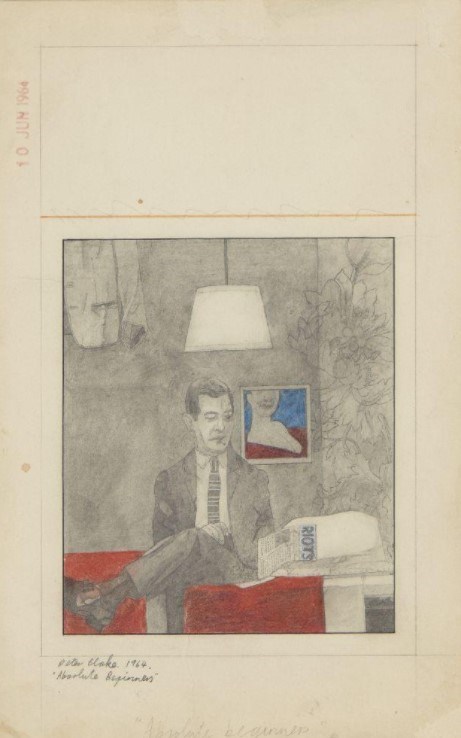 Sir Peter Blake CBE RDI RA, British b.1932 - Absolute Beginners, 1964; crayon and pencil on paper
Lot 82, a crayon and pencil on paper executed by the iconic British artist Sir Peter Blake CBE RDI RA, in 1964, titled 'Absolute Beginners' has been entered onto the market with an estimate of £6,000- £8,000. This work was illustrated on the front cover of Colin MacInnes 'Absolute Beginners' (included on the back), the inspiration for the 1986 film by Julien Temple, staring David Bowie, Eddie O'Connel and Patsy Kensit. Peter Blake was a central figure in the British Pop Art scene of the 1960s, best-known for co-creating the cover artwork for The Beatles' Sgt. Pepper's Lonely Hearts Club Band.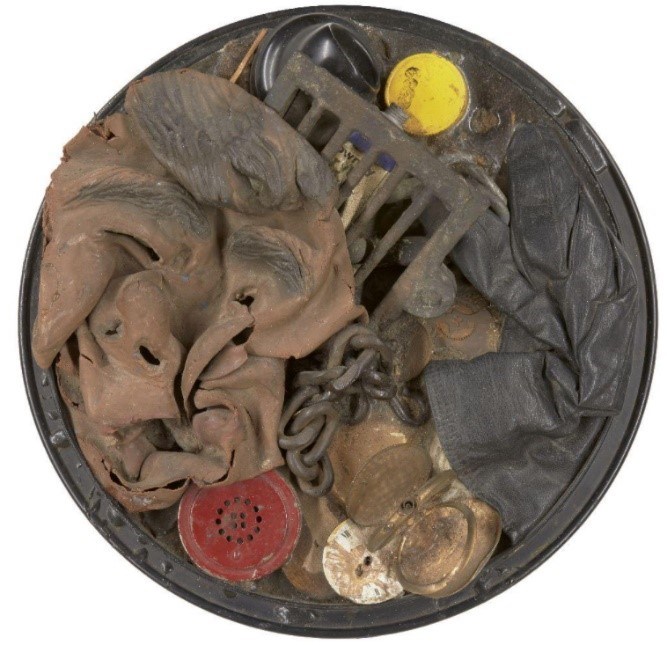 Mark Boyle, Scottish 1934–2005 - Untitled, c.1964; mixed media on metal disc
 Coming with an estimate of £4,000- £6,000 is lot 80, by Scottish artists Mark Boyle, 1934-2005. 'Untitled', is a work was created 1964 using mixed media on metal disc and measures a diameter of 30.5 cm. This is an early assemblage by the artist, demonstrating his exploration of objects, their meaning and physical space. Boyle is best known as best known as one of the Boyle Family, the name under which he exhibited work collaboratively with Joan Hills and their children Sebastian and Georgina. They are known for their exacting earth studies, whereby the artist pick at random a spot on the globe and meticulously replicate it, creating a representation of the earth within the clean space of the gallery.
-Ends-
Modern & Contemporary British & Irish Art:

including works donated to the Royal Society of Sculptors, all proceeds supporting the Saving Dora House campaign to repair and restore Dora House – the Society's HQ in South Kensington
Wednesday 13 October, 10am


View the fully illustrated catalogue here.
Viewing by appointment only contact williamsummerfield@roseberys.co.uk to book a time slot 
We will be facilitating time slot appointments of one hour each.
When making your booking please provide a contact telephone number and the number in your party up to a maximum of 2 people.
Viewing Times
Friday 8th October 1pm – 5pm
Sunday 10th October 10am – 2pm
Monday 11th October 9.30am – 5pm
Tuesday 12th October 9.30am – 5pm
Please contact williamsummerfield@roseberys.co.uk for condition reports and further information.