Exceptional cabinet by Italian designer Carlo Bugatti leads sale
3/06/2019 News Stories & Press Release, Decorative Arts & Modern Design
LONDON: Roseberys London's Design: Decorative Arts 1860 To The Present Day auction this June contains pieces by a roster of famous pioneers of design active from the mid 19th century through to the present day. The sale encompasses a diverse field of privately-sourced decorative arts, including Gothic Revival, Aesthetic and Arts & Crafts movements, Art Nouveau and Art Deco periods, in addition to studio ceramics and modern design of the post-war decades.
Fiona Baker Head of Department comments: We are delighted that our sale Design: Decorative Arts 1860 to the Present Day represents so much of our date line.  We have Gallé, Majorelle and Carlo Bugatti for Art Nouveau, Edgar Brandt, Lalique and Alvar Aalto for Art Deco, and Eames, Quinet, Fornasetti, Max Ingrand for Fontana Arte and Parisi for Post-war design.  The Studio ceramics offers bowls and vases from potters, such as Charles Vyse, Bernard Leach and Staite Murray from the 1920s and 30s, Katherine Pleydell-Bouverie and Lucie Rie from the 1940s, 50s and 60s, Bill Marshall and Janet Leach from the 1970s and 80s and Edmund de Waal from the 1990s, so something for everyone.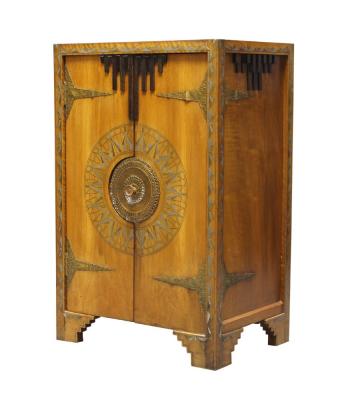 Carlo Bugatti (1856-1940), a walnut, ebonized wood, pewter and brass inlaid and hammered brass cabinetc.1900
The star piece from a private collection majoring on Art Nouveau and Art Deco creations is a fine cabinet by the influential Italian artist and designer Carlo Bugatti (1856-1940) (Lot 54). Born in Milan, Bugatti trained in the Italian city at the Brera Academy of Fine Arts and was greatly influenced by the early exponents of the 'New Art' and their reaction against the heavy, ornate Baroque and Rococo styles fashionable in the mid 19th century. As a stylist, Bugatti was highly individualistic, although he drew inspiration from Gothic, Moorish and Oriental influences and particularly the work of Eugene Viollet-le-Duc, the French architect who dramatically reshaped Notre Dame in the 1860s. The walnut, ebonized wood, pewter and brass inlaid and hammered brass cabinet offered here dates to c.1900 – a period of great success for Bugatti when his furniture designs were triumphing at European decorative arts exhibitions. Many of Bugatti's works are still extant (some in museums but primarily in private collections) and are eagerly contested whenever they come to market. This piece carries hopes of £8,000-12,000. 
Elsewhere, there is an extremely rare and sought-after piece from the Finnish architect and designer Alvar Aalto (1898-1976) (Lot 294). This early model of an 'A803' birch cabinet, made for Finmar in c.1935, seldom comes up for auction. Furthermore, it is fresh to the market and in completely original condition. It carries a guide of £4,000-6,000. Aalto's work includes architecture, furniture, textiles and glassware, as well as sculptures and paintings, though he never regarded himself as an artist - seeing painting and sculpture as "branches of the tree whose trunk is architecture."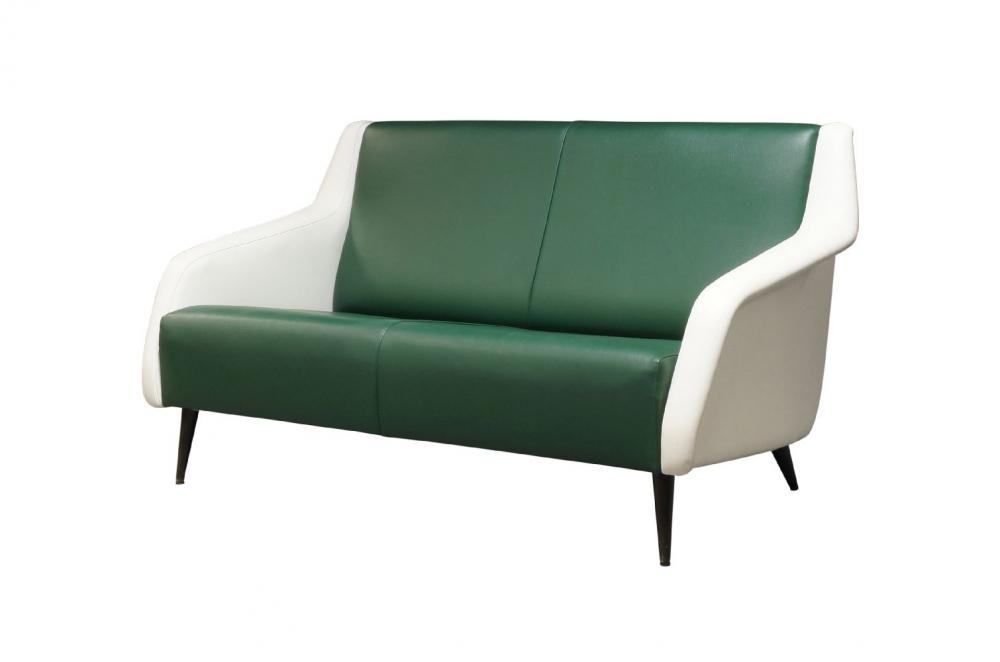 Gio Ponti and Carlo de Carli, a two seater sofa, designed for the Hotel Parco dei Principi, Sorrento, produced by Cassina, Milano, c.1960-62
 More rare furniture comes in the form of a three-piece suite designed by Carlo de Carli (1910-1999) and Gio Ponti (1891-1979). The set, which forms part of a 30-lot private collection of mostly post-war designed furniture and lighting, was originally created in c.1960 for the Hotel Parco dei Principi in Sorrento. Engineer Roberto Fernandez purchased the site in 1959, commissioning architect Gio Ponti to create a modern luxury hotel there. Gio Ponti collaborated with several major architects and designers of the day to furnish and decorate the hotel interior. This included Carlo de Carli, Ico Parisi, Fausto Melotti and Max Ingrand, to name but a few. This rare suite created by two of the most sought-after names in Italian post-war design is estimated at £3,000-5,000 for the sofa (Lot 249) and £4,000-6,000 for the armchairs (Lot 250).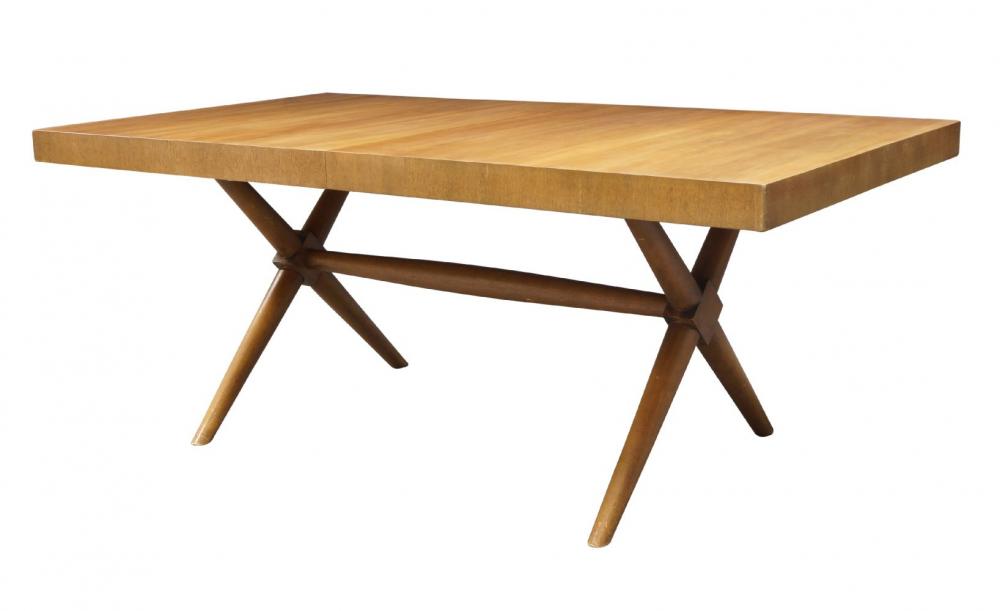 Terence Harold Robsjohn-Gibbings (1905-1976), a walnut dining table, for Widdicomb, USA, c.1950, stamped to underside - '1625 12/51'
From Italian to English design there are two lots comprising a scarce dining table and a set of eight chairs by 20th century architect, designer and tastemaker Terence Harold Robsjohn-Gibbings (1905-1976). This particular group was designed in the 1950s and produced by American company Widdicomb. These American made pieces seldom come up for auction this side of the Atlantic. This offering follows Roseberys' recent sale of a Greek-inspired 'Affecter Stool' by Robsjohn-Gibbings, which made £5,200 (lot 199) in March. The striking walnut and gilt bronze piece, with woven leather cord seat, x-shaped frame and terminating animal paw feet, was made in c.1960 as part of the Klismos line for Saridis of Athens. The company was run by the Greek furniture makers Susan and Eleftherios Saridis who commissioned Robsjohn-Gibbings and his collaborator, Carlton Pullin, to design the Klismos line in 1960. The set of eight 1950s walnut dining chairs are guided together at £3,000-5,000 (Lot 290) while the walnut dining table, also for Widdicomb, is estimated at £2,000-3,000 (Lot 289).
From the same fine collection comes a set of four Art Deco wrought-iron and Daum glass wall appliques designed by Edgar Brandt (1880-1960). It is one of three lots by the French ironworker in the sale, all of which testify to his status in the Art Deco period (Lot 51). Dating to c.1925 and decorated with elaborate openwork flowers and branches, the quartet carry an estimate of £7,000-9,000. An impressive c.1925 Art Deco wrought-iron and alabaster six branch chandelier, also by Brandt, is estimated £6,000-8,000 (Lot 53).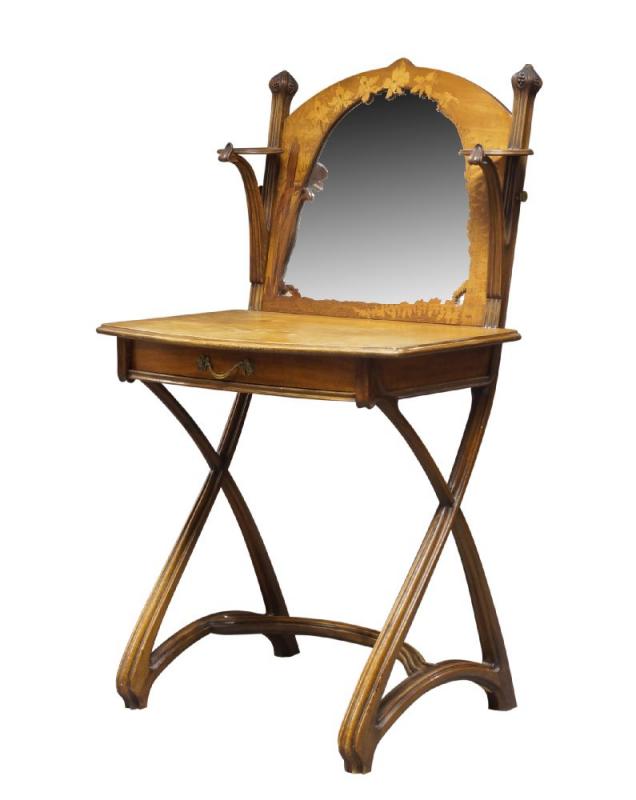 Louis Majorelle (1859-1926), an Art Nouveau marquetry and carved Coiffeuse c.1900
A first-rate Art Nouveau marquetry and carved Coiffeuse by Louis Majorelle (1859-1926) is estimated at £3,000-5,000 (Lot 55). The piece is beautifully inlaid with narcissi, ferns and bees (see detail left). Majorelle began his career in his father's furniture making company. Under the influence of the French glass maker Emile Gallé, he oriented his work on new shapes of furniture and a natural decor often underlined by fine marquetry. Around the time this piece was made, the pair had helped co-found the Ecole de Nancy - the movement in the riverfront city of Nancy that spearheaded Art Nouveau in France. 
A stellar entry among the silver is a Georg Jensen cruet set designed by Jensen's son Jørgen Jensen (1895-1966) and estimated at £1,000-2,000 (Lot 40). Jørgen worked at the Georg Jensen silver smithy from 1917 to 1923, when he left to open his own workshops in Sweden. Jørgen re-joined Jensen's in 1936 – a year before this set was made – continuing to work there until 1962. The cruet comprises salt and pepper pots and a mustard pot with glass liner and spoon, each base embellished with a zig-zag border and bearing London import marks for 1937.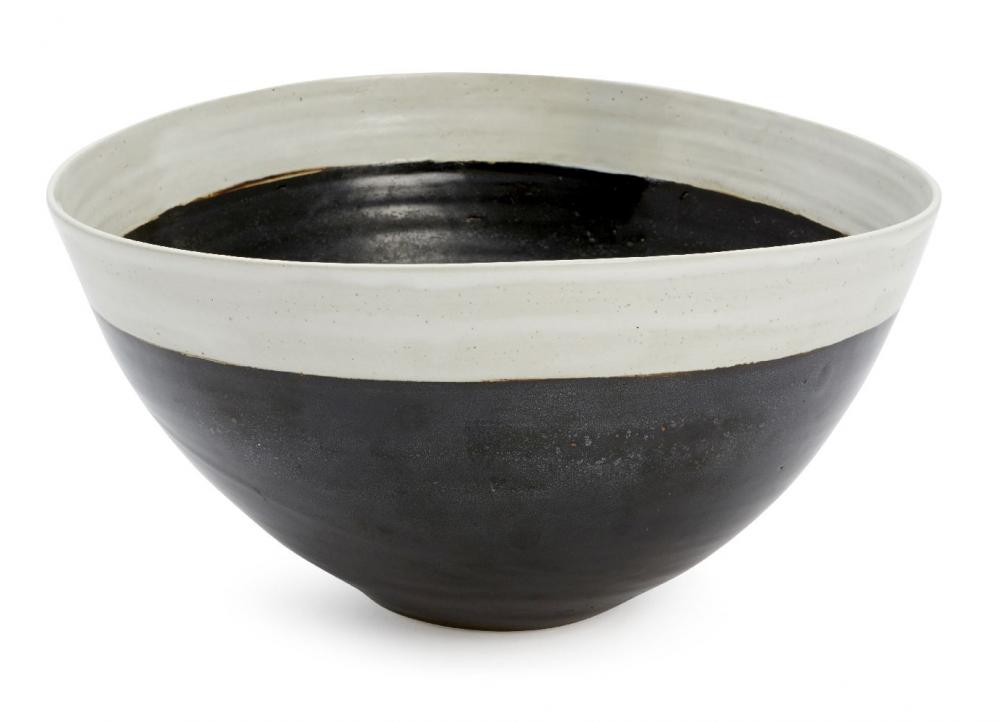 Dame Lucie Rie (1902-95), a large stoneware bowl c. 1950-60, impressed seal to base
A sizable private collection of studio ceramics will include a large stoneware bowl by leading 20th century potter Dame Lucie Rie (1902-95) (Lot 180). Dating to c.1950-60, it was reputedly acquired from the Berkeley Galleries in London where Rie held several important exhibitions. It is estimated here at £700-900. 
A 'Pulcino' Murano glass bird – one of Alessandro Pianon's (1931-1984) trademark creations for the leading Venetian glass-making firm Vistosi in the c.1960s – is included in the sale estimated at £600-1,000 (Lot 260). It comes in textured dark orange with applied glass eyes and copper legs. 
Please click here to view the full catalogue. 
Design: Decorative Arts 1860 To The Present Day
Auction: Tuesday 25 June, 12 noon

Viewing Times
Friday 21 June - 1.00pm - 5.00pm
Sunday 23 June - 10.00am - 2.00pm
Monday 24 June - 9.30am - 5.30am
Tuesday 25 June - 9.30am - 11.30am
Head of Department: Fiona Baker
For further information please contact Peigi Mackillop peigimackillop@roseberys.co.uk +44 (0) 20 8761 2522