Emperor Yongzheng porcelain leads Asian Art Auction
30/11/2017 News Stories & Press Release, Chinese, Japanese & South East Asian Art
Emperor Yongzheng porcelain leads Asian Art Auction.
"Chinese porcelain arguably reached its zenith during the reign of Emperor Yongzheng (1723-1735). Innovations in coloured enamels meant that skilled porcelain artists could experiment with new, vibrant colours and striking designs", remarks Bill Forrest Head of the Asian Art Department for Roseberys London.
In Roseberys auction of Asian Art on 5 December, three exceptional examples of Yongzheng period porcelain will be offered for sale.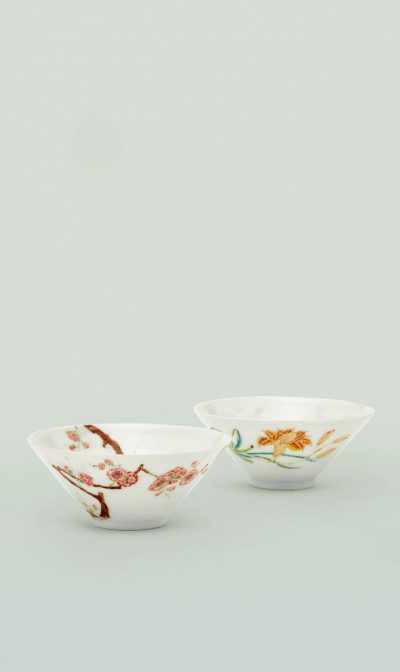 (lot 106) Two wine cups forming a pair, are exquisitely painted in famille rose enamels with blossoming prunus and a lily, cherry blossom, peony and orchid. The suggestion here is that these were a gift to a retiring court official, bestowing upon him a long, happy, and restful retirement from court life. But, these have a hidden secret too, as each are incised to the sides with two dragons revealed only when light is passed through them. This might suggest an imperial connection as the dragon has long been associated with the Emperor of China. These wine cups carry and estimate of £6000-10000. (pictured left)
The third wine cup (lot 107) offered as a single lot, is delicately painted with a lingzhi fungus, orchid, and chrysanthemum. The appearance of purple lingzhi fungus is significant in itself as it appears on only a small number of other Yongzheng porcelain objects. Lingzhi is symbolic for immortality and longevity, whilst the orchid represents love and beauty and the chrysanthemum here represents a life of ease. The appearance of these three plants on this cup suggests that this was a gift and meant to bestow sentiments of a long and happy marriage upon the drinker. The estimate for this cup is £5000-10000
Produced during the reign of the following Emperor Qianlong (1735-1796), a porcelain 'landscape' brush pot (lot 105) is another highlight from Roseberys Asian Art sale. Finely painted in famille rose enamels, it epitomises the 'scholar's object'. The 18th century Chinese scholar could store his calligraphy brushes inside, whilst drawing inspiration from the extensive continuous landscape painted around the pot. This carries an estimate of £10000-20000.
Further highlights of items from the sale include: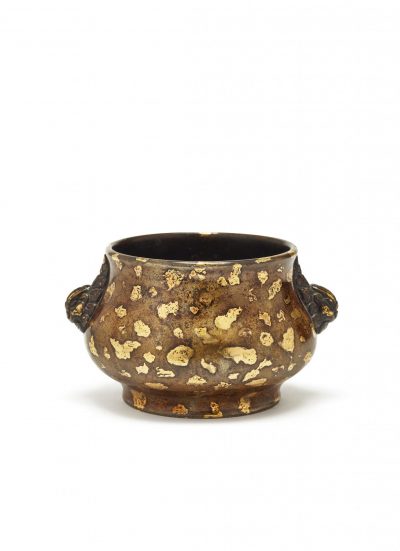 (lot 158) A Chinese bronze gold splash censer, bearing Xuande mark but, 18 century of bombe form with lion mask handles, recessed base and cast with six chacter mark; From a Private Swedish Collection.
This carries an estimate of £6000-8000 (pictured left).
(lot 101) A rare Chinese belt hook of Qianlong period, terminating in a dragons head, finely painted in famille rose enamels on a line green ground with a bat and scrolling lotus blooms. Estimates at £3000-5000.
A fully illustrated catalogue is available online at Roseberys.co.uk and in house viewing takes place from Friday 1 December, until the afternoon of the sale on Tuesday 5 December at 1pm.
Viewing Times
Friday 1 December1-5pm
Sunday 3 December 10am-2pm
Monday 4 December 9.30am-5.30pm
Tuesday 5 December 9-9.45am
~Ends~
Prices include Buyers Premium of 23%.
For further information please contact Charlotte Meddings charlottemeddings@roseberys.co.uk  +44 (0) 20 8761 2522
Roseberys is a privately owned auction house operating at the heart of the fine art market for 30 years.
With offices in London's Mayfair and Lambeth Roseberys offer a calendar of more than twelve specialist fine art, antiques and collectibles auctions each year.
Specialist sales include a wide range of Asian and Islamic Arts, Modern and Contemporary Art and Design, Decorative Art, Fine Silver and Jewellery, Ceramics, Paintings, Prints, Photography, Antique Textiles, Vintage Fashion and Fine Wine and Whisky.
Roseberys team of world-renowned specialists also provide a wide range of art market services to professional clients, including valuations for insurance and probate.
Roseberys is a member of SOFAA – The Society of Fine Art Auctioneers.