Elizabeth Tyler #Takes5
21/05/2022 Modern & Contemporary British Art, News Stories & Press Release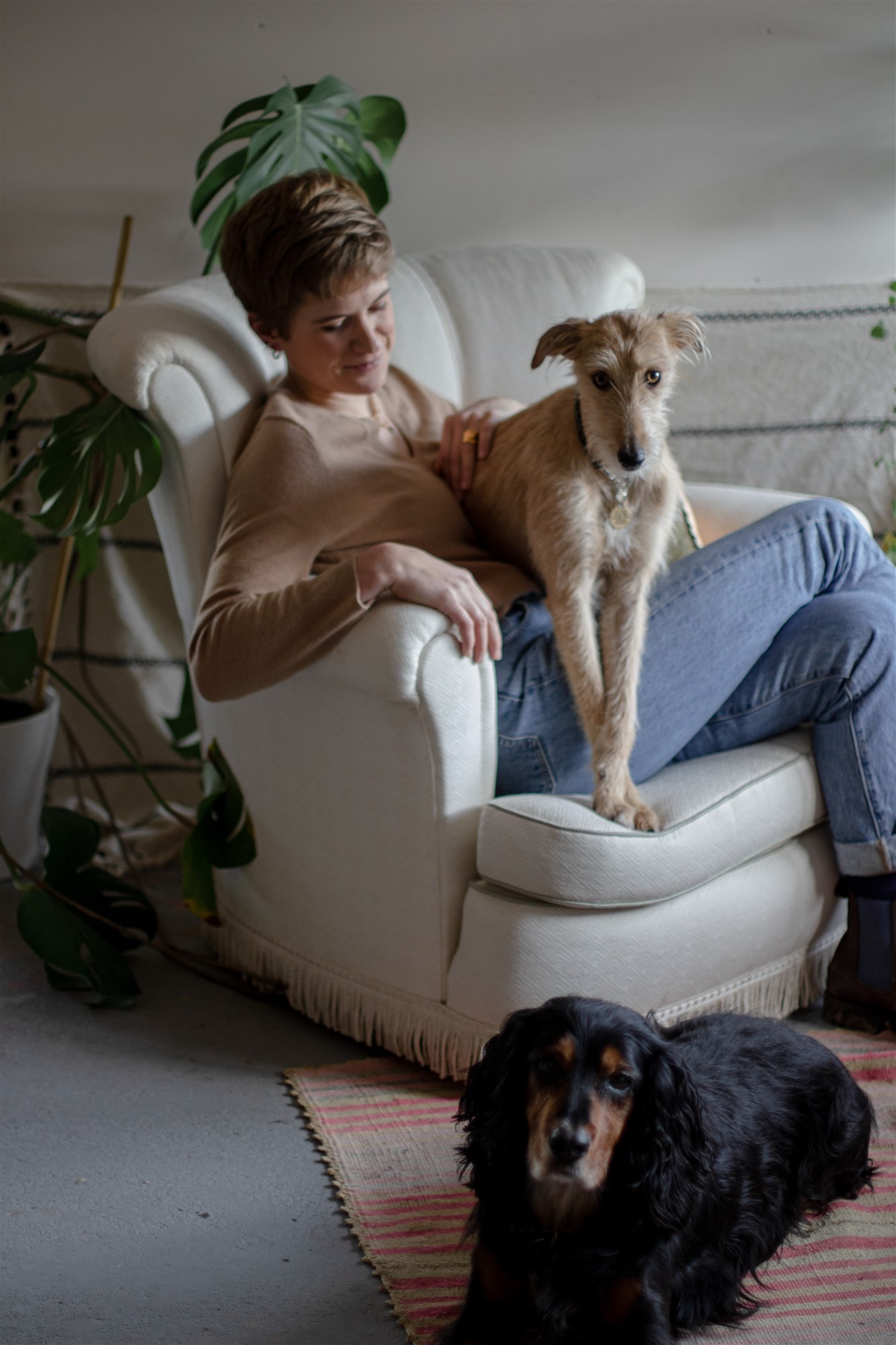 Elizabeth Tyler is a Landscape Designer and writer based in Wiltshire. With an academic background in the social sciences, she is interested in how humans interact with, respond to, and are shaped by the natural spaces around them. Her formal schooling in Landscape Design started at KLC School of Design but began much earlier in the garden of her family home in Norfolk. Current projects include rural gardens and landscapes in Northamptonshire, Hampshire, Cheshire and Wiltshire. Her written work has been published in the FT Weekend, Vogue, T Magazine and House & Garden.
Ahead of the Modern & Contemporary British & Irish Art auction on Wednesday 25 May, Elizabeth #took5 with us, to pick five of her favourite lots in the sale.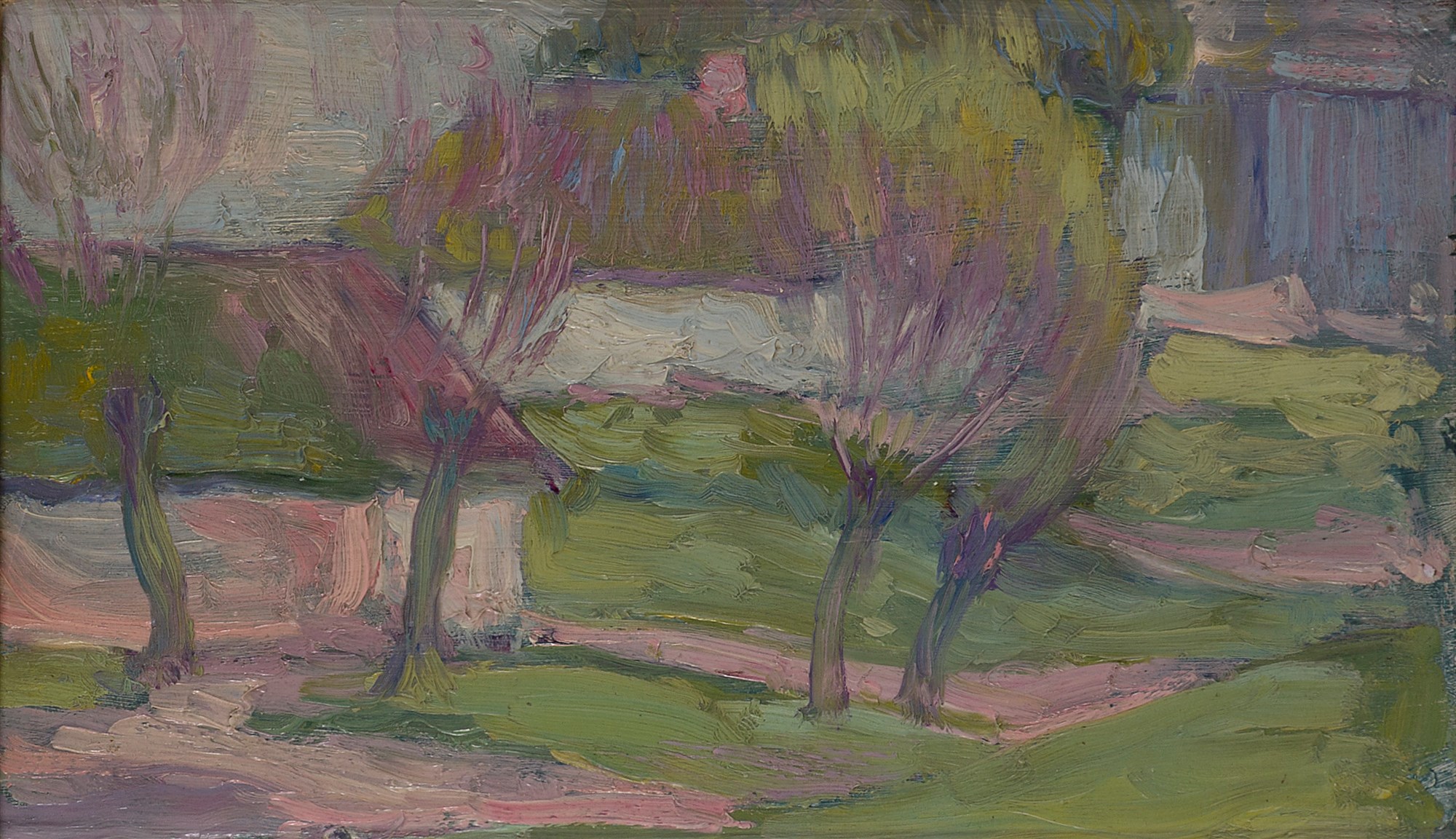 Lot 10: Robert Polhill Bevan, British 1865–1925 - Willows in Spring, Mydlow, 1907; oil on panel, 11.7 x 20.7 cm Provenance: with P. & D. Colnaghi & Co. Ltd. (according to the label attached to the reverse of the frame); private collection Note: Bevan spent much of his early career living and studying in Pont-Aven in northern France, where his work was influenced by the symbolism and simplified forms of the Synthesism of Maurice Denis, Emile Bernard and his friend Paul Gauguin. This rustic scene demonstrates the careful composition of colour and effortless naturalism that Bevan achieved in his early work, the cool pink delicately offsetting the green of the grass. The artist travelled to Poland in 1901-04, suggesting the influence on this scene. Bevan would go on to be a founding member of the short-lived but highly influential Camden Town Group in 1911, alongside Walter Sickert, Harold Gilman, Spencer Gore and Lucien Pissarro, championing Post-Impressionism early in Britain.
Estimate:  £4,000- £6,000

View lot here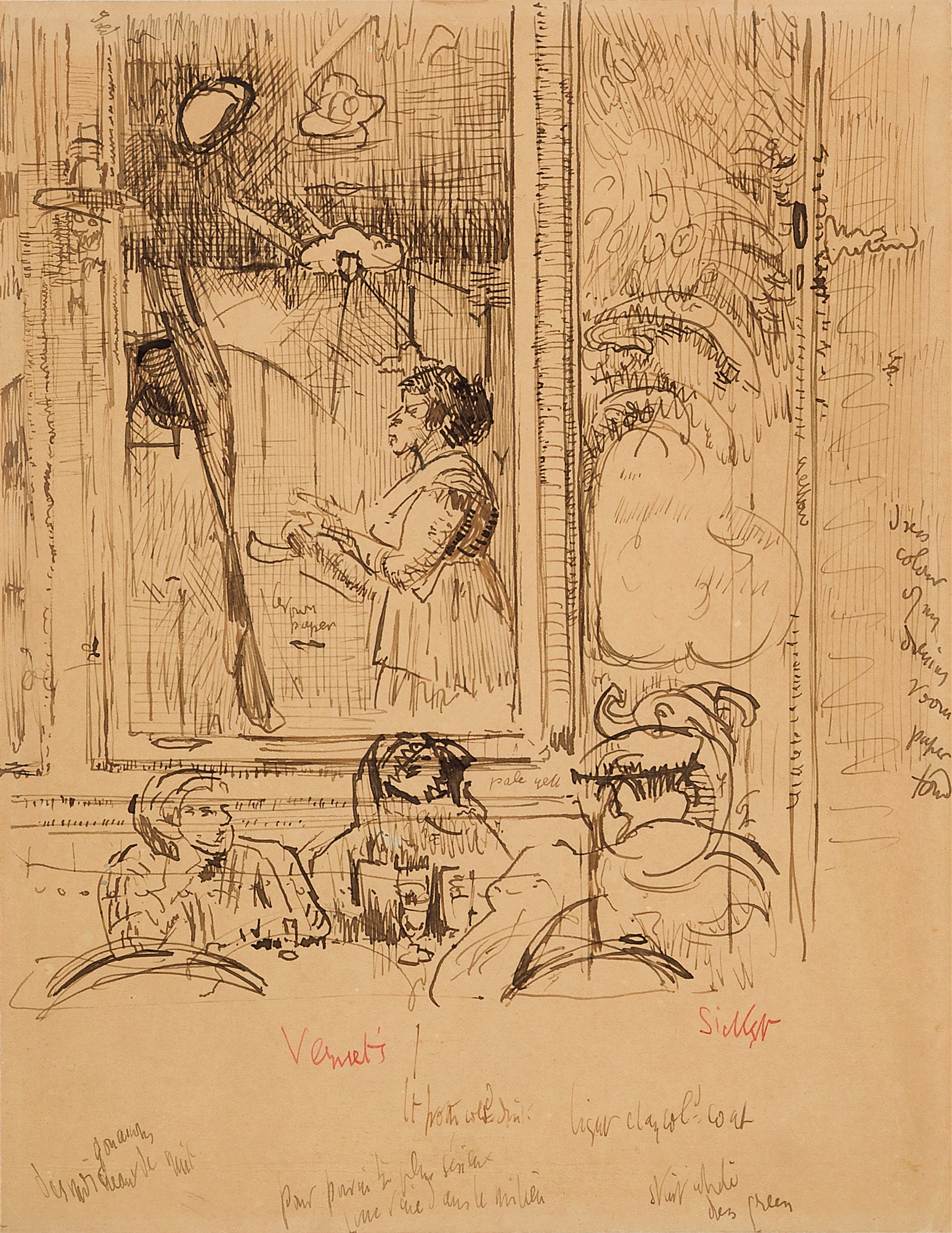 Lot 13: Walter Sickert ARA, British 1860-1942 - Café Vernet, Dieppe, c.1920; pen and ink on paper, signed lower left and inscribed lower centre 'Sickert Vernet's' and extensively annotated in English and French across sheet, 26.8 x 20.8 cm Provenance: with Browse and Darby, London, 1980 (according to the label attached to the reverse of the frame); private collection, UK; Christie's, London, British Art on Paper, 21st November 2007, lot 14; Lowell Libson, London (according to the label attached to the reverse of the frame); private collection, UK Note: After the Great War, Sickert and his wife made their home in France and by the spring of 1919 they had moved to Envermeu, a village within striking distance of Dieppe. After Christine Sickert's death in October 1920, he moved back into Dieppe and remained there for two years. At this time most of his energies appear to have been concentrated on interiors at either the Café Vernet or the Casino. Vernet's, on the quai Henri IV was what was known as a caboulot or café-chantant, a small café and bar where dancing and singing would form part of the evening's entertainment. Richard Shone has pointed out (Wendy Baron and Richard Shone, Sickert Paintings, exhibition catalogue, 1992, p.274) that when Sickert was making studies at the Casino where play opened at midnight, he would spend the previous part of the evening at Vernet's. The present drawing is one Sickert's most elaborate and complex drawings from the series of studies connected with the café. In it, we see the singer's image reflected in one of the large mirrors that lined the room. A similar scene is depicted in Au Caboulot au bout du Quai (The Montreal Museum of Fine Arts) which shows the singer seen from the behind and to the side of the small proscenium stage, giving an oblique view of the room and diners seated at a table. Another painting, O Nuit d'Amour (Manchester City Art Gallery) depicts the café from the exterior at night and shows the busy, bright interior, lined with mirrors and lit by chandeliers. This drawing is extensively annotated in English and French with colour notes and comments including 'light froth cold drink' with a line pointing to a glass and 'colour of my drawing room walls'.
Estimate: £3,500 - £4,500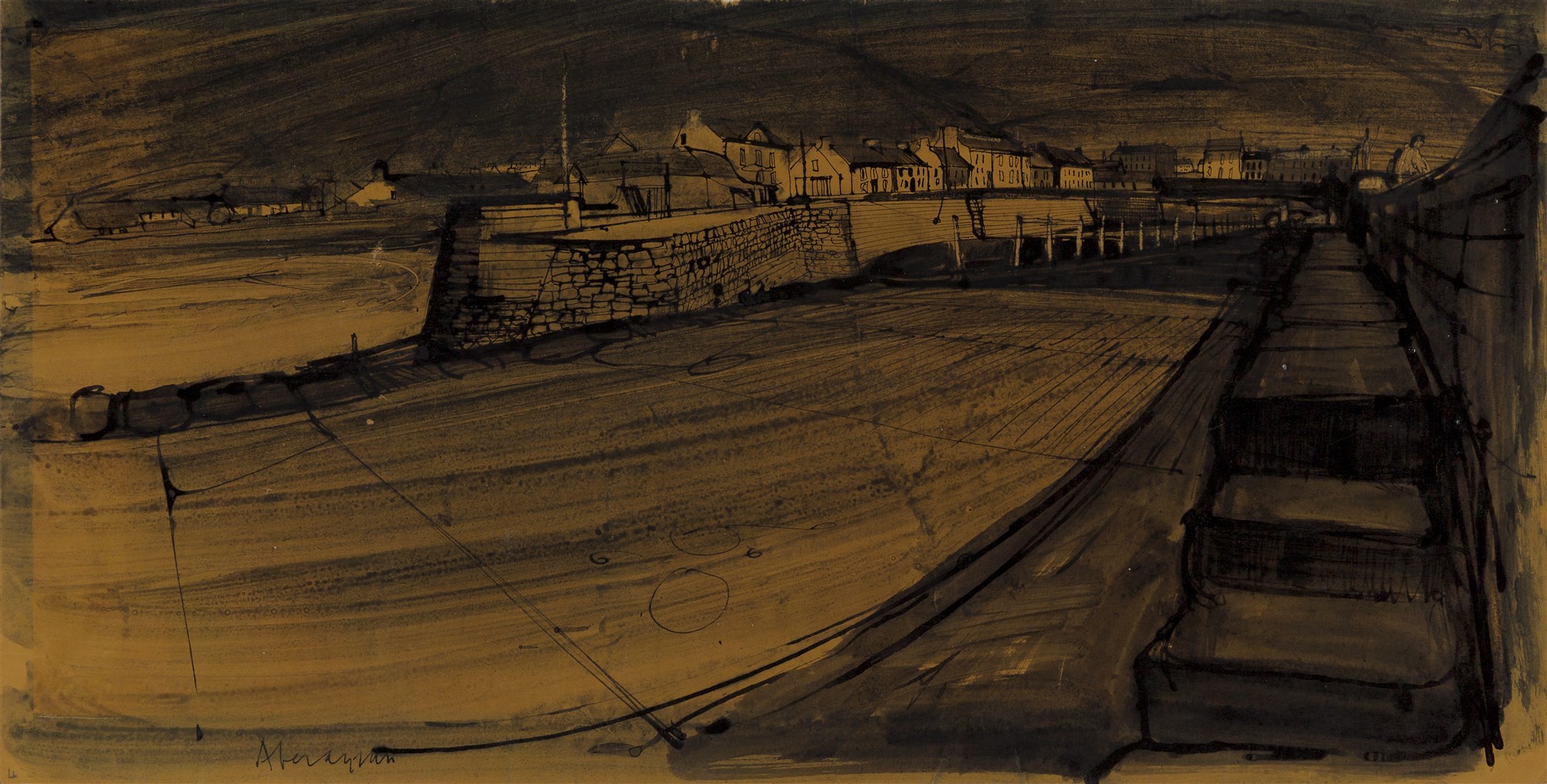 Lot 51: John Piper CH, British 1903-1992 - Aberaeron, 1939; ink on paper, titled lower left 'Aberaeron', 27.7 x 55.3 cm (unframed) (ARR) Note: with thanks to Professor Frances Spalding for her assistance in the cataloguing of this lot Piper travelled in 1939 with his Welsh wife Myfanwy Piper to Wales to see Hafod House. This was an important trip for the artist, as he moved away from his purely abstract works of the 1930s, into more intense and atmospheric images based on the British landscape. These works would become hugely influential on the Neo-Romantic movement during and after the Second World War. During the trip, they visited other parts of Wales, including the West coast where the present work was made.
Estimate: £4,000 - £6,000

View lot here
Lot 87: Albert Houthuesen, British/Dutch 1903-1979- Melon; oil on board, signed and dated upper right 'Albert Houthuesen, 1946', inscribed to the reverse, 44.5 x 59 cm (ARR) Provenance: Purchased by Martin Shannon from the artist: thence by descent to the present owner

Estimate: £300 - £500
Lot 137: Christopher Bramham, British b.1952 - Late Summer, Richmond, 1986-88; oil on canvas, signed and dated lower left 'Bramham 86-88', 49.5 x 28 cm (ARR) Provenance: Lady Amabel Lindsay Note: this is a highly typical example of the artist's bright, fresh palette and densely layered use of paint, inspired by his friend and mentor Lucien Freud. The artist has repeatedly returned to depictions of his home-district of Richmond. The artist has exhibited with Agnews, the Fine Art Society and Marlborough Gallery.

Estimate: £1,800 - £2,200

View lot here
Ends
The Modern & Contemporary British & Irish Art auction is taking place across two days on Wednesday 25th and Thursday 26th May. The second day of the sale will include the Estate of Agi Katz Founder and Director of Boundary Gallery, London. Highlights on offer from the first day of the sale include Camden Town Group artworks. Lots 299-329 are from the collection of important political cartoon editors, including Sir William Orpen, Leslie Illingworth and Sidney Herbert Sime. From the Estate of Agi Katz, a wonderful group of works by David Bomberg, Mark Gertler, Henryk Gotlib, Josef Harman and Bernard Meninsk are offered– lots 330-488.
Contact Head of sale williamsummerfield@roseberys.co.uk for further information