East meets West at Roseberys Asian Art sale
22/10/2019 News Stories & Press Release, Chinese, Japanese & South East Asian Art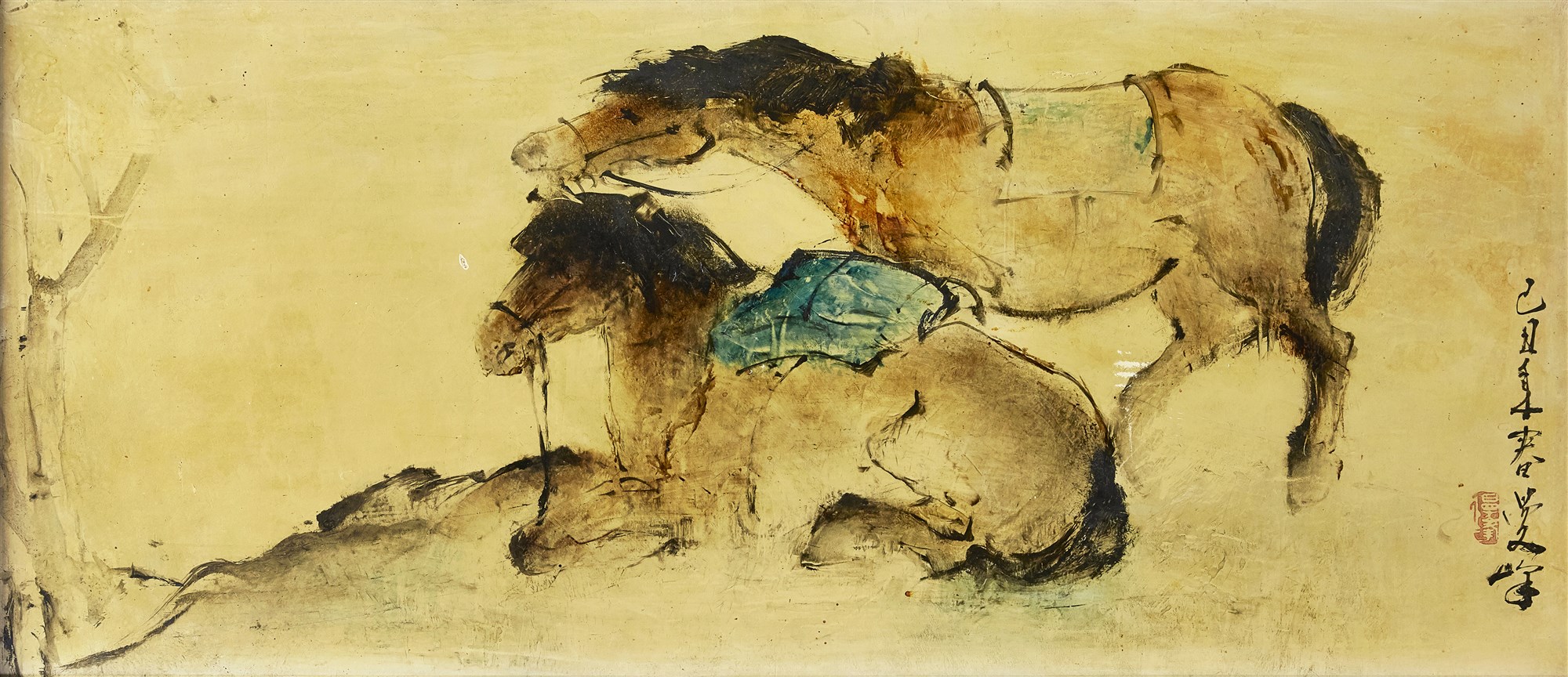 LONDON: As part of its Chinese, Japanese & South East Asian Art sale this autumn, Roseberys London is delighted to offer a painting of two horses by Lee Man Fong (1913-1988), the major Indonesian Chinese artist renowned for his skilful interweaving of Eastern and Western aesthetics. The painting was purchased along with other 18th and 19th century Chinese works of art offered in the sale by Justus Blank, a collector who worked for the Dutch East India Company in Jakarta, Indonesia, in the late 19th and early 20th centuries. He is believed to have purchased Man Fong's painting, a 40 x 90cm oil on masonite board, from the artist's exhibition in The Hague in 1950. The picture, which has been shortlisted for 'Best Object' at the prestigious event Asian Art in London, is valued at £30,000-50,000 and has never been offered at auction before having passed by direct descent through Blank's family. Classically trained in Chinese ink painting whilst embracing the style of the Dutch Impressionists, Man Fong is renowned for moving fluidly between Eastern and Western aesthetics. Combining airy brushstrokes with a keen sense of light and shade, Man Fong's depiction of two horses sits proudly among his own developed vernacular. Horses were the favourite subject of Xu Bei Hong (1895-1953), a Chinese artist greatly admired by Man Fong and renowned for blending Western and Eastern aesthetics in his oil works. Xu's poetic depictions of horses, with vivid contrast between airy and dark, heavy brushstrokes, provided Man Fong with an expansive resource from which to draw inspiration, instilling a sense of subdued theatricality in his work. Born in the Chinese province of Guangzhou in 1913, Man Fong migrated to Singapore and eventually settled in Jakarta in 1930, where he secured a job at the Dutch printing company Kolff. He moved to the Netherlands in 1946 after he was awarded a Malino scholarship and stayed for six years, holding four solo exhibitions in Amsterdam and The Hague and participating in an international salon in Paris. [Lot 364]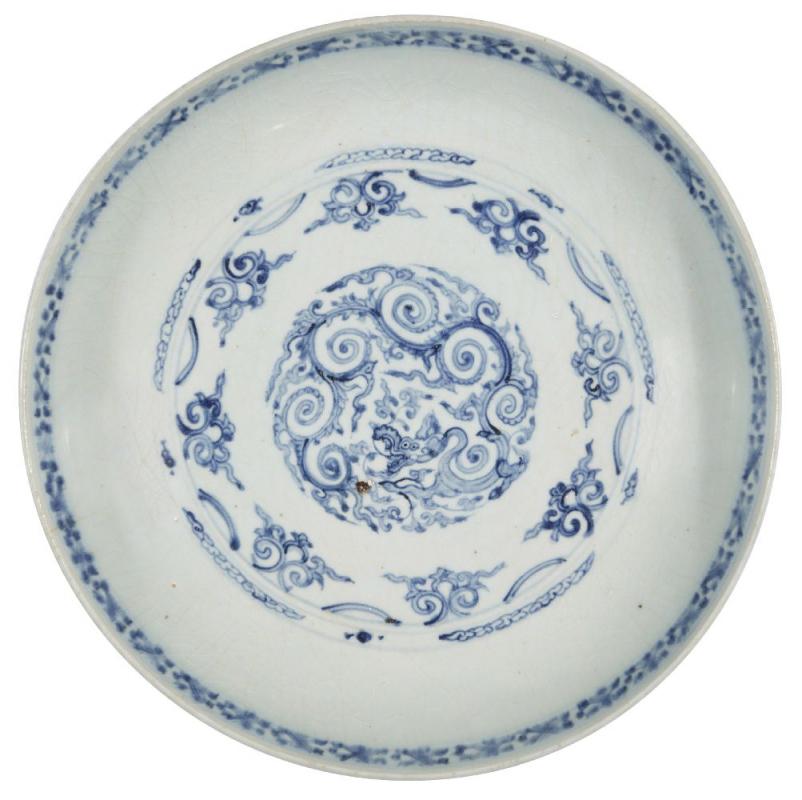 Bill Forrest, Head of department, comments: We are absolutely delighted to be participating in the prestigious international event Asian Art in London for the second year in a row and are immensely looking forward to exhibiting highlights from our sale on the 2nd and 3rd November on Bury Street, St James's.  One of our stand-out objects, a painting by the important Indonesian-Chinese artist Lee Man Fong, is on the shortlist for 'best object' from Asian Art in London 2019 participants.  This painting comes from a private Dutch East India Company collection assembled in the first half of the 20th century. Undoubtedly the Chinese art market is becoming increasingly selective, with buyers seeking previously unseen objects, and objects with interesting, relevant provenance.  We are delighted to be able to offer to the market for the first time this varied Dutch East India Company collection, and to satiate the appetite of those galleries and collectors from across the world who will descend on London this November.
Quality long-standing private assemblages like the Dutch East India Company collection rarely appear on the market these days. In addition to the Man Fong picture, the collection includes an exquisite example of an 18th century Chinese marriage bowl from the Qianlong period. Fashioned from a large lump of spinach jade, it would have been given to a couple after their nuptials to bestow sentiments of a long and happy marriage. It carries hopes of £10,000-15,000. [Lot 271]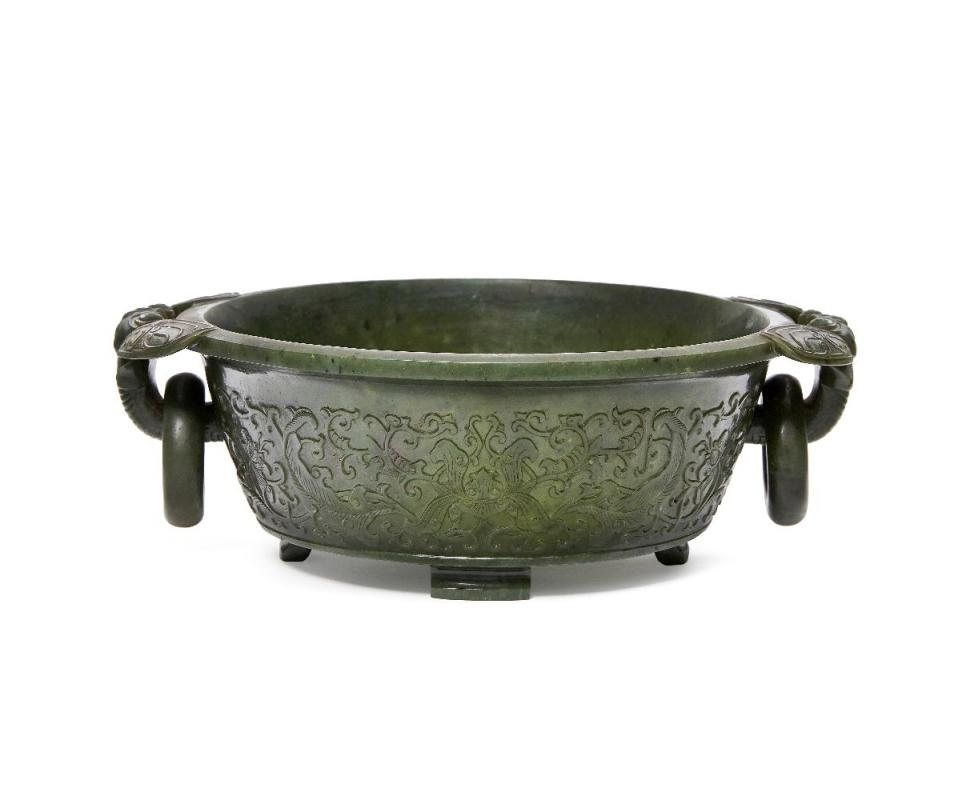 There is also a Qianlong white jade brush washer carved in low relief with butterflies and a flowering begonia branch. In China, the combination of the pair of butterflies hovering around the begonia blooms expresses the wish for heightened honour and distinction for the family. Owing to the fact that they play an important part in many traditional Chinese stories, butterflies are also symbolic of love and everlasting happiness in marriage. The brush washer is estimated at £5,000-10,000. [Lot 272]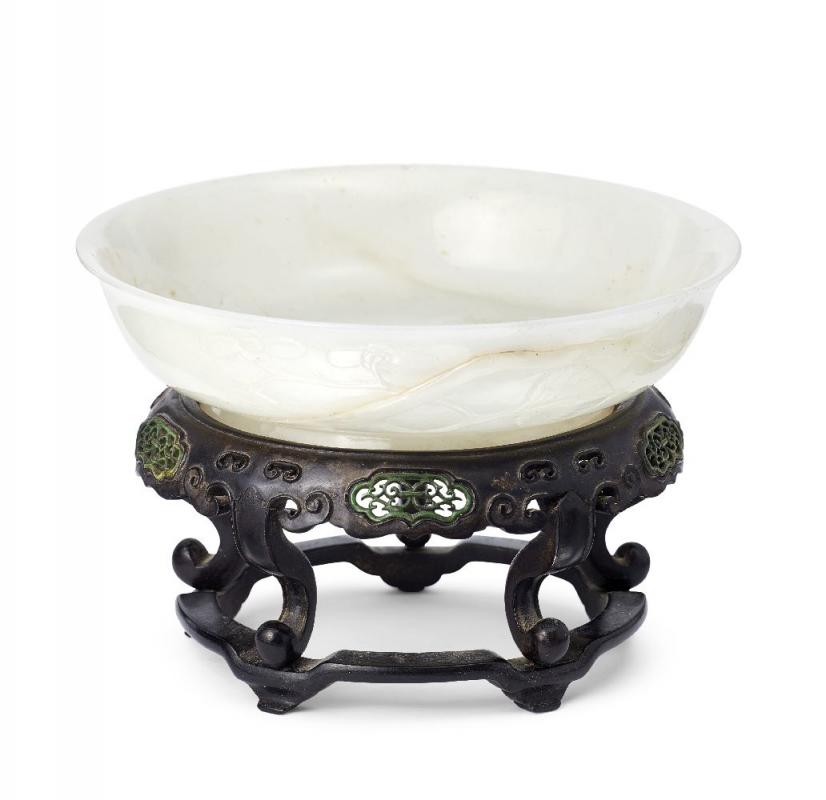 Great provenance is also the hallmark of this Chinese porcelain Ming-style facetted vase, possibly Qianlong, which was formerly acquired in 1930 as a wedding gift.
This form of vase first appeared in porcelain in China in the 15th century. It was a form much admired by the Yongzheng Emperor, and several examples are known to exist which bear his reign mark. With a comparable Qianlong version of this example in the Shanghai Museum, bids are expected in the region of £30,000-50,000 for this vase. [Lot 88]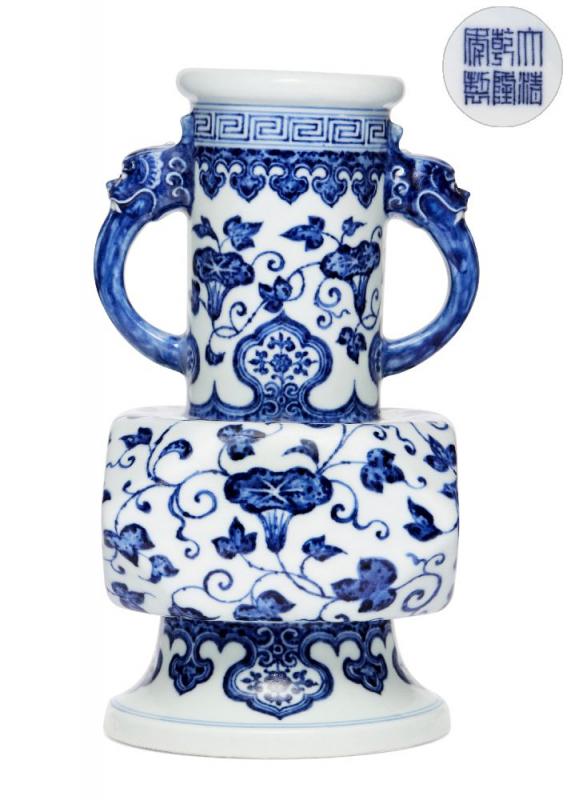 Also estimated at £30,000-50,000 is an extremely rare dish from a small group of pieces that together form the first commission of Oriental porcelain for the Portuguese market. The dish is characterised by the simultaneous presence of occidental and Oriental motifs and bears the IHS insignia and the Edfera Armilar Royal insignia of D. Manuel I of Portugal (1495-1521) and his son D. João III of Portugal (1521-1557). The illegible inscriptions - crossing the Esfera Armilar in this case - and the mistakes representing the Portuguese Royal Arms in other cases are a clear sign of the lack of knowledge of western symbols by the Chinese artists. [Lot 31]

Another rarity is this Qianlong period porcelain monochrome meiping. This monochrome work with its fine blue and gilt heightened porcelain is scarce to find on pieces dating from Qianlong period. Sporting a band of flowering lotus scrolls, with stiff leaves, a Greek key and ruyi lappets to the neck and shoulder, it carries hopes of £20,000-30,000. [Lot 109]
Chinese, Japanese & South East Asian Art
Monday 11 November 2019
Starting at 11am
Preview Event at The Nine British Art,9 Bury Street, SW1Y 6AB
Saturday 2 November 12 noon-5pm
Sunday 3 November 10am-9pm
VIEWING at Roseberys 
Thursday 7 November 1pm-5pm
Friday 8 November 9.30am-5.30pm
Sunday 10 November 10am-2pm
Monday 11 November 9am-10.30am
For further information please contact Peigi Mackillop peigimackillop@roseberys.co.uk +44 (0) 20 8761 2522