Discovery of lost Constable
22/03/2018 News Stories & Press Release, Old Master & 19th Century Pictures
Roseberys discovery of lost Constable sketch
fetches £375,000 at auction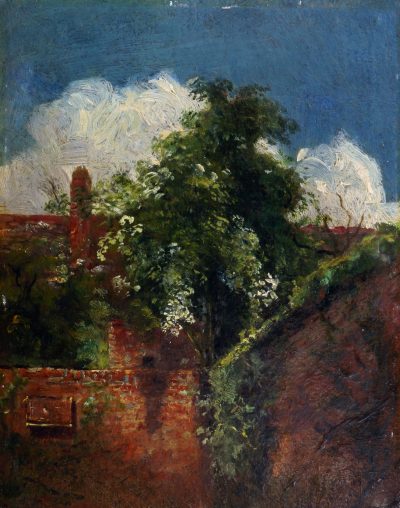 After four months of vigorous research by the Roseberys Picture department and a foreword written by Constable expert and former curator for Tate Britain – Anne Lyles, the auction house in West Norwood were excited to present the 18 x 14cm oil on board sketch – View from the back of a terrace of houses, with elder tree, dating from 1821-2.
The previously unpublished piece by John Constable RA is a superb study and relates closely to a number of similar sketches which Constable made in Hampstead during two consecutive summers.
As lot 148 opened for bidding the anticipation in the room was palpable. With an estimate of £20,000-30,000 there was much speculation as to what the final hammer figure would be for such a rare piece. Bidding opened at £20,000 and rose steadily with competition in the room and on the phones.
After several minutes of battling it out the hammer finally came down to an anonymous bidder in the room, smashing ten times over the top estimate for £375,000 *(inc BP 27.6%).
Marcus Grey, Director and Head of Roseberys Picture Department commented: 'This is an exquisite example of Constable's work that reveals an intimate view into his life at that time. The combination of rarity, execution, background and provenance of this sketch ticks all the boxes, making it not only important historically but, also extremely desirable to any serious collector of Constable, Roseberys are delighted to have been able to handle such a piece.'
In an extract from the catalogue Anne Lyles explains: 'For two consecutive summers in 1821 and 1822, he rented a house at 2, Lower Terrace, which was close to the western edge of the Heath, and it seems most likely that it was around this time that he painted View towards the back of a Terrace of Houses.
It is particularly notable that this study is painted in oils on board. Constable first started using millboard as a support when engaged in a campaign of outdoor oil sketching in Suffolk, Surrey and the Midlands between about 1808 and 1810. Thenceforward he used millboard more infrequently but one of the occasions when he did take it up again for open air work was in Hampstead around 1821-2. Several Hampstead sketches dating from these years are on millboard, including two examples which are especially close in style to View towards the back of a Terrace of Houses: one, A house in the Trees at Hampstead, is in a private collection; and the other, An elder tree in blossom over a Garden Wall is in the Hugh Lane Municipal Gallery of Modern Art, Dublin (G. Reynolds, The Later Paintings and Drawings of John Constable, 1984, nos 21.102 and 21.115).
The elder bush, also seen in View towards the back of a Terrace of Houses, was one of Constable's favourite trees though he regarded it as possessing overtones of melancholy. These two comparable Hampstead sketches were both once owned by Isabel Constable (1822-1888), the last of Constable's seven sons and daughters to survive'.
While the exact location of the view is not determined, it could be taken that it is from the back of 2, Lower Terrace, or else close by.
This is the location where it is assumed he also painted the two well-known oil sketches, now in the Victoria and Albert Museum, London, showing views from the back of a house – one looking over a garden shed, the other over tops of trees towards the roof-line of a neighbouring house, the family washing hanging out to dry in the foreground (Reynolds, op.cit 1984, nos 21.103 and 21.104).
With provenance from John Hay Whitney and Betsey Cushing Whitney (Wentworth Estate); by descent and the fact that this piece is in keeping with two other works formerly owned by Constable's daughter – Isabel (whom was born at 2, Lower Terrace, Hampstead in 1822) it is highly probably that this sketch came from the same collection.
~Ends~
*Prices include Buyers Premium of 23%.
For further information please contact Marketing Executive Charlotte Meddings charlottemeddings@roseberys.co.uk +44 (0) 20 8761 2522
Roseberys is a privately owned auction house operating at the heart of the fine art market for 30 years.
With offices in London's Mayfair and Lambeth Roseberys offer a calendar of more than twelve specialist fine art, antiques and collectibles auctions each year.
Specialist sales include a wide range of Asian and Islamic Arts, Modern and Contemporary Art and Design, Decorative Art, Fine Silver and Jewellery, Ceramics, Paintings, Prints, Photography, Antique Textiles, Vintage Fashion and Fine Wine and Whisky.
Roseberys team of world-renowned specialists also provide a wide range of art market services to professional clients, including valuations for insurance and probate.
Roseberys is a member of SOFAA – The Society of Fine Art Auctioneers.