Diego Rivera's Other Woman
7/11/2018 News Stories & Press Release, Impressionist, Modern & Post War Art
*VIDEO*
The Studio Collection of Marie Vorobieff Marevna. Narrated by Head of Sales Tess O'Brien
On December 5, Roseberys London will offer the studio contents of Marie 'Marevna' Vorobieff (1892-1984), the Russian-born painter known for her work with Cubism and Pointillism.
A rare opportunity to acquire art produced during the Cubist period, the single-owner sale comprises over 300 lots of paintings, drawings, photographs and letters, with estimates from £80 to £12,000.
Marevna, reputedly the nickname given to her by the Soviet writer Maxim Gorky, worked closely with Pablo Picasso, Georges Braque and her lover Diego Rivera. Regarded as the first female Cubist painter, she played a significant role in the movement's discourse – a legacy that has sadly been much overlooked on account of her gender.
This collection, which has been consigned to auction at a time when the market is showing increasing interest in female painters, comes with impeccable provenance from the estate of David Ellie Phillips, the grandson of Marevna and Rivera.
Marevna moved to Paris in 1912 where she became acquainted with some of the greatest artists and writers of the early 20th century, then resident in Montparnasse and especially at La Ruche. Picasso, Braque, Chagall, Modigliani and Matisse were just a handful of the famous names she knew.
It was here where she also met Mexican muralist Diego Rivera, with whom she began a tempestuous and complicated relationship that produced a daughter and continued until Rivera abandoned Paris for Mexico in 1921.
The sale at Roseberys London is a comprehensive archive of the lives of these La Ruche artists. While Marevna sat for many painters based in La Ruche, including Modigliani, Rivera and Picasso, she was also busy painting them, and the sale includes a number of these sketches and paintings.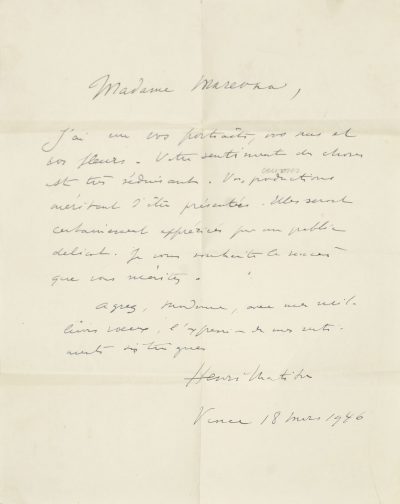 Works depicting Picasso and Rivera together are among the highlights, including 'Rivera and Picasso, 1916' priced at £1000-1500 (lot 68), while a portrait of a youthful Moïse Kisling, dated 1922, is guided at £100-150 (lot 39).
Multiple Cubist sketches and paintings from this period will also be offered, including a charming oil of a man that shows Marevna's development from synthetic Cubism into a more realist style of Cubism. It is estimated at £8,000-12,000 (lot 142).
A section of photographs and letters feature correspondence written by Matisse, in which he discusses how Marevna's works deserve to be shown, estimate £3000-5000 (lot 79), and a letter from Russian sculptor Ossip Zadkine, which carries hopes of £100-150 (lot 51).
The collection also incorporates a fascinating section of ephemera and material relating to Diego Rivera and Frida Kahlo, whom he married in 1929.
Marevna created a series of pictures of Rivera and Kahlo in her later years, many of which are on offer in the sale.
They include an exquisite pointillist work of Kahlo priced at £400-600 (lot 108), an oil of Rivera painted in Marevna's later years at £3,000-5,000 (lot 75) and touching drawings of Rivera dancing with his young daughter, such as (lot 101), a black ink and pencil sketch estimated at £200-300.
Marevna continued her work in France after 1921 but moved to England in 1948 where she resided with her daughter, actress and dancer Marika Rivera, in the fine English manor house Athelhampton in Dorset.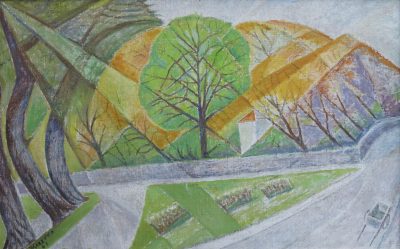 Depictions from this period include a charming postcard of Athelhampton illustrated with 'spirits' Marevna believed danced around the house, estimate £80-120 (lot 211).
Marevna kept painting, including portraits, and later moved with her daughter and her children to Ealing in London. Here she created many images of her garden as well as the suburb of Ealing, including a lovely depiction of 'Castlebar Road, Ealing,' from 1976 priced at £3,000-5,000 (lot 234).
* Featured image – Lot 12. Marie Vorobieff Marevna, Russian, L'Homme aux boules de Pétanque á Juan-les-Pins, 1892 – 1984. £8,000 – 1984
In addition to Marevna's own work, the sale will feature art by her daughter Marika Rivera, Angus McBean, Annette Rowdon and other artists.
For further information or enquires please contact Head of Sale Tess O'Brien tessobrien@roseberys.co.uk
Preview Event – join us to view a selection of highlights from the auction at:
Shapero Rare Books, 32 St. George Street, Mayfair, London, W1S 2EA from Friday 23 – Monday 27 November.
Viewing Times at Roseberys London:
Friday 30 November: 1pm-5pm
Sunday 2 December: 10am-2pm
Monday 3 December: 9.30am-5.30pm
Tuesday 4 December: 9.30am-5.30pm
~Ends~
*plus Buyer's Premium 25% + VAT (30% inclusive of VAT)
For further information please contact Peigi Mackillop
peigimackillop@roseberys.co.uk +44 (0) 20 8761 2522
Roseberys is a privately owned auction house operating at the heart of the fine art market for 30 years.
With offices in London's Mayfair and Lambeth Roseberys offer a calendar of more than twelve specialist fine art, antiques and collectibles auctions each year.
Specialist sales include a wide range of Asian and Islamic Arts, Modern and Contemporary Art and Design, Decorative Art, Fine Silver and Jewellery, Ceramics, Paintings, Prints, Photography, Antique Textiles, Vintage Fashion and Fine Wine and Whisky.
Roseberys team of world-renowned specialists also provide a wide range of art market services to professional clients, including valuations for insurance and probate.
Roseberys is a member of SOFAA – The Society of Fine Art Auctioneers.