Diamond is a Dazzling Success at Auction
30/09/2021 News Stories & Press Release, Jewellery & Watches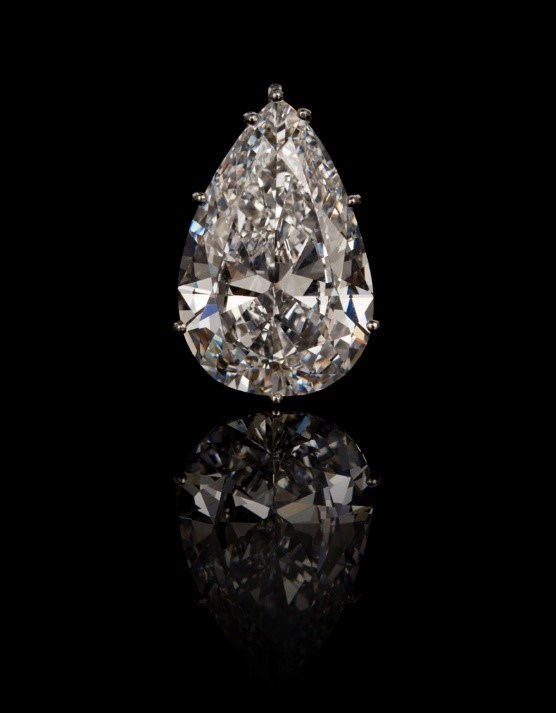 The Jewellery & Watches auction that took place on Tuesday 14 September, was a dazzling success.
Mark Bowis, Head of the Jewellery & Watches department commented: 'We were extremely pleased with the sale overall but particularly delighted with the sale of the 7.50 carat pear-cut diamond. As usual bidders as well as being based in the UK were also international. The high percentage sold - 87% - proved that the market is very solid and that both Antique as well as vintage and modern jewellery is in high demand. Watches were also in demand, a lady's Carter Baignoire wristwatch fetched £4,250, a lady's Rolex Rolex ref. 178274 sold for £3,750 and a Rolex gold 'bubble back' sold for £3,125.'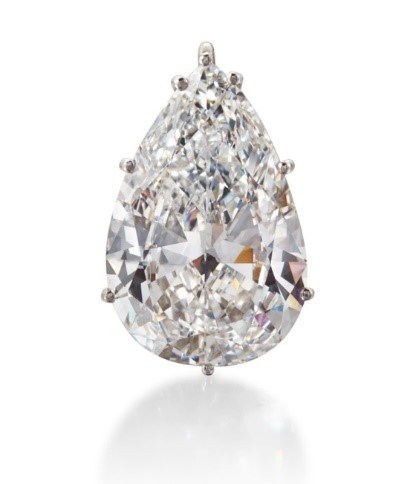 Lot 206: An important diamond single stone pendant, the pear-cut diamond, weighing 7.50 carats
The premium lot of the sale was a 7.50 carat pear shaped diamond described by the lab report as D colour, VVS2 clarity and type IIa. This lot sailed past the £80,000 low estimate to achieve a final bid of £175,000. Type IIa diamonds are very rare with and make up approximately 1–2% of the world's natural diamonds and 1.8% of gem diamonds. These diamonds are almost or entirely devoid of impurities, and consequently are usually colourless and have the highest thermal conductivity.  D is the highest colour grade for diamonds. The rarity of this stunning diamond was the main contributing factor in achieving such a competitive result. Mark Bowis commented: 'This diamond was utterly hypnotising when seen!'.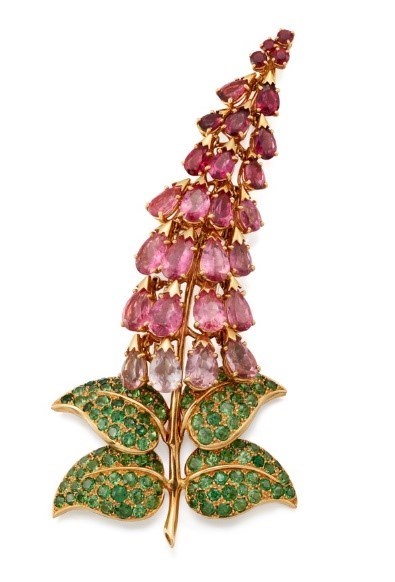 Lot 210: A tourmaline and garnet brooch by René Boivin
Perhaps the most interesting piece and the last lot in the sale was a classic brooch by René Boivin.  The brooch was modeled as a foxglove with pear shaped shaded pink tourmaline articulated flowers, circular pink tourmaline detail and circular-cut tsavorite garnet leaves and signed R. Boivin. This design was in fact a later version by Boivin of a jewel originally produced in the 1940s, first designed by Juliette Moutarde in 1944. This example having the leaves set with tsavorite garnets as opposed the emeralds in the original gave the jewel additional vibrance. The estimate was £8,000-£12,000, and after generating a lot of interest the lot finally sold for £18,750.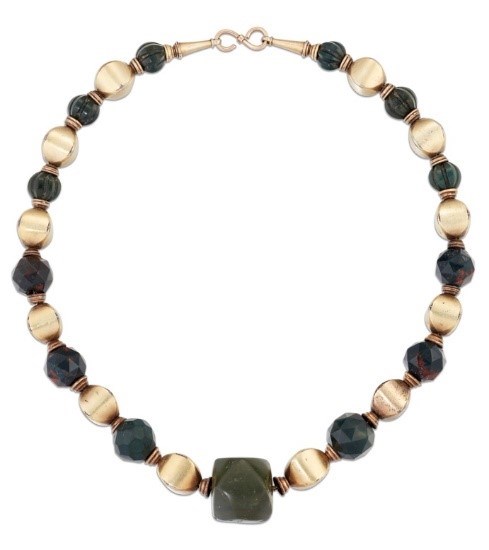 Lot 81: A 19th century archaeological revival, silver-gilt and bloodstone necklace by Carlo Giuliano

A bloodstone and gilt necklace by Carlo Giuliano was another highlight lot within the sale. The original would have had the familiar Giuliano maker's plaque but due to the replaced clasp the lot was modestly estimated at £600-£800. The necklace however was in its original fitted case by Kitts, and another added bonus to this lot was that it was an early academic piece which made it highly desirable. This necklace realised the price of £2,250.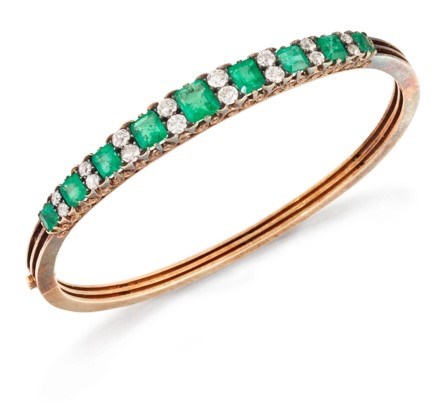 Lot 163: A late 19th century emerald and diamond bangle, of hinged half-hoop design
A very nice late 19th century, Edwardian emerald and diamond bangle, in its original case, far exceed expectations. Of hinged half-hoop design, the bangle was composed of a line of graduated cut-cornered rectangular emeralds with old-cut diamond two spacers, mounted in gold, c. 1890. With an original estimate of £600-£800, the final realised price was £5,000.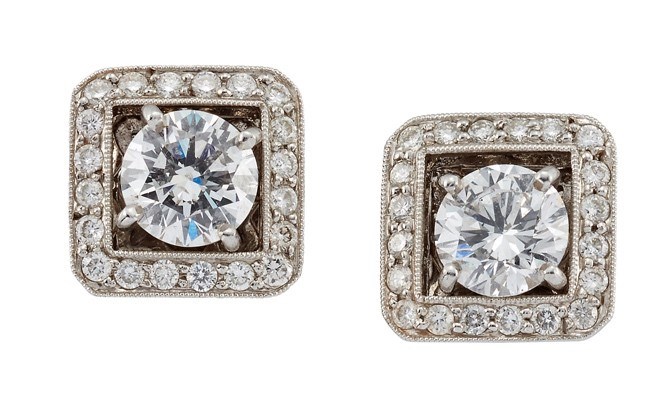 Lot 202: A pair of diamond earstuds
A pair of diamond single stone earstuds that had good clarity and colour did very well. Diamond earstuds are always popular but these were also interesting as they had a detachable diamond-set square shaped surround. With an estimate £2,500-£3,000 the earstuds realised the price of £5,000.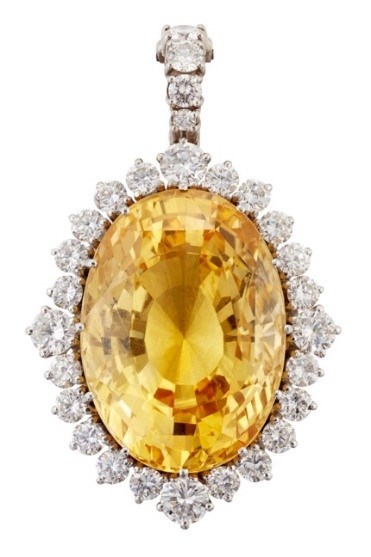 Lot 209: A yellow sapphire and diamond pendant
Another important lot that sold well was a rare 70 carat oval unheated yellow sapphire and diamond pendant. The impressive sapphire was a magnificent colour and saturation and sold for £80,000.
-ENDS-

You can view all the results from the auction here

The next Jewellery & Watches auction will take place on Tuesday 30 November
To request a complimentary valuation please email jewellery@roseberys.co.uk

For further information on this sale please email Marketing & PR Manager Peigi Mackillop : peigimackillop@roseberys.co.uk