Diamond Dazzles in upcoming Auction
20/08/2021 News Stories & Press Release, Jewellery & Watches
Roseberys are pleased to present the third Jewellery & Watches auction of the year, that will take place on Tuesday 14 September, starting at 11am.
Mark Bowis, Head of the Jewellery & Watches department comments, 'The sale comprises of 210 lots and includes a varied selection of antique and modern jewellery. There is a wide selection of rings and possible diamond engagement rings, featuring a 3.67 solitaire, lot 207, that comes with an estimate of £35,000-£40,000. Perhaps more affordable is a square modified brilliant-cut diamond ring, with report from the GIA, lot 192, coming with an estimate of £700-£1,000. There is also a neat group of 1960's diamond and gem bombe rings individually estimated from £300-£500. Watches in the sale include examples by Rolex, IWC and Omega.'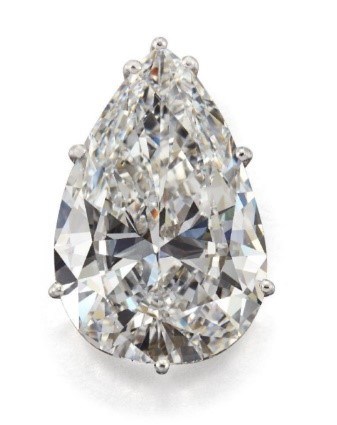 Lot 206 : An important diamond single stone pendant
The outstanding highlight of the sale is lot 206, an important pear-cut diamond pendant of 7.50 carats, which is accompanied by a report from the Gemmological Certification Services, GCS stating that the diamond is D colour VVS2 clarity, no fluorescence and type IIa. Type IIa diamonds are very rare and make up approximately 1–2% of the world's natural diamonds and 1.8% of gem diamonds. These diamonds are almost or entirely devoid of impurities, and consequently are usually colourless and have the highest thermal conductivity. D is the highest colour grade for diamonds. The pear-cut diamond pendant comes with the pre-sale guided price of £80,000 – £120,000. Other highlight diamonds on offer is lot 205, a pair of diamond single stone earstuds, the brilliant-cut diamonds each weighing approximately 1.1 carats in claw mounts. This pair of dazzling earrings have been entered onto the market with an estimate of £4,000 - £6,000.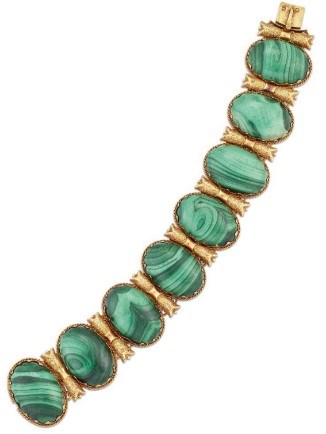 Lot 79 : A 19th century Russian gold and malachite bracelet
The sale also includes a very nice example of Russian jewellery. Lot 79 is a 19th century gold bracelet set with cabochon malachite panels. The malachite is probably from the quarries of Yekatarinburg (Sverdlovsk) in the Urals and was very popular with the Imperial Tsars for decorating their palaces. The bracelet has Russian gold 56 guarantee mark and town mark for St Petersburg. It comes with a pre-sale estimated price of £1,000-£1,500.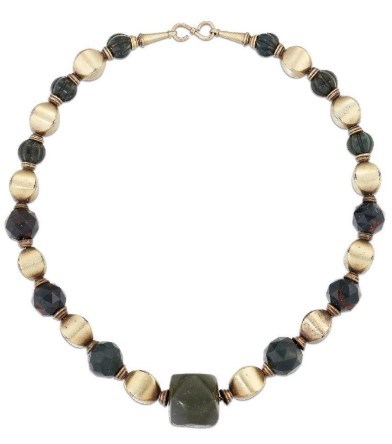 Lot 81 : A 19th century archaeological revival, silver-gilt and bloodstone necklace by Carlo Giuliano
(lot 81) Another interesting antique item included in the sale is a 19th century archaeological revival, silver-gilt and bloodstone necklace by Carlo Giuliano, which comes with an estimate of £600-£800. The necklace is composed of faceted bloodstone graduated beads, with shaped gilt bead dividing links and reeded pyramidal shaped spacers to a later S shaped clasp, unsigned due to later clasp, however the necklace is housed in original maker's octagonal fitted case stamped K for C.J. Kitts. c. 1870. Referring to himself as an artist jeweler, Giuliano's clients included a number of famous Pre-Raphaelite artists of the day. The most famous set of jewels was commissioned by Sir Edward Poynter for his famous depiction of Helen of Troy. Although the fabled jewels of Helen were believed to have been discovered by Heinrich Schliemann in 1873 and were well known to Giuliano who had catalogued the collection for the archaeologist, Poynter preferred to commission a suite of silver-gilt archaeological inspired jewels as more befitting the Heroic personification of Helen. The necklace in the sale can be compared to the bloodstone and gilt featured on page 82 of Artists' Jewellery, Pre-Raphaelite to Arts and Crafts. Charlotte Gere and Geoffrey Munn, Woodbridge, Suffolk, 1989.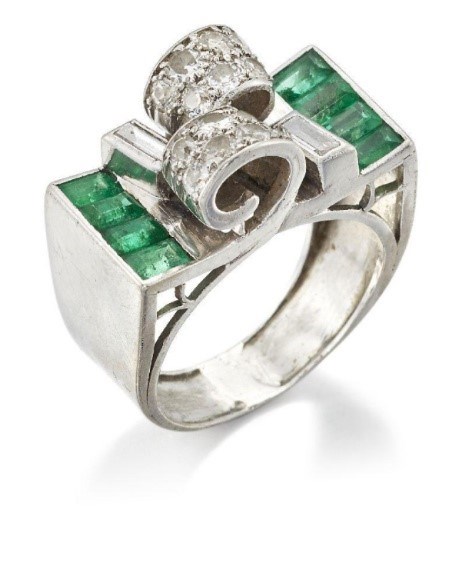 Lot 169 : An Art Deco emerald and diamond ring, of Odeonesque design
Representing the Art Deco period is a nice diamond and emerald ring of classic odeonesque design, the centre with pave diamond twin crossover scrolls with baguette diamond single stone detail and calibre emerald three stone shoulders. The art deco ring, lot 169, comes with an estimate of £800-£1,200. Other Art Deco design rings on offer are 167, another emerald and diamond ring, of Odeonesque design, coming with the same estimate. Furthermore, lot 181, a diamond and emerald ring, the pave diamond half hoop with two central claw-set rectangular-cut emeralds, to a tapering hoop, c. 1935 is estimated to make £400- £600. An Art Deco platinum and diamond clip brooch also features (lot 168) with an estimate of £800 - £1,200 and a necklace with a diamond set heart pendant clasp is estimated to make £350 - £450.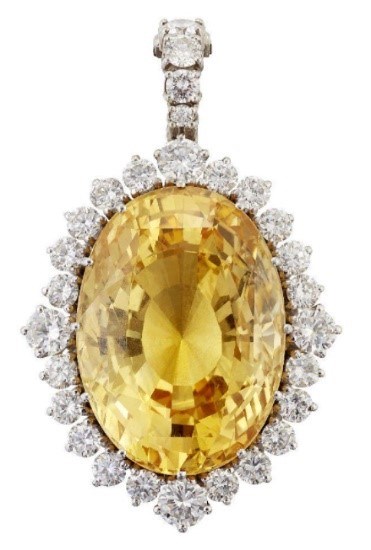 Lot 209 : A yellow sapphire and diamond pendant
Lot 209 is one of the more important jewels of the sale, a rare and impressive 70 carat natural yellow sapphire pendant with diamond border and suspension loop diamond. The sapphire is of a deep and well saturated yellow colour, beautifully mounted in 18ct white gold. This pendant is accompanied by a report, number 020437, dated 31st January 2012 from the Deutsche Stiftung Edelsteinforschung, DSEF (German Foundation for Gemstone Research), Idar-Oberstein stating that the yellow sapphire was natural and showed no indications of thermal enhancement. The outstanding highlight within the sale comes with an estimate of £70,000- £90,000.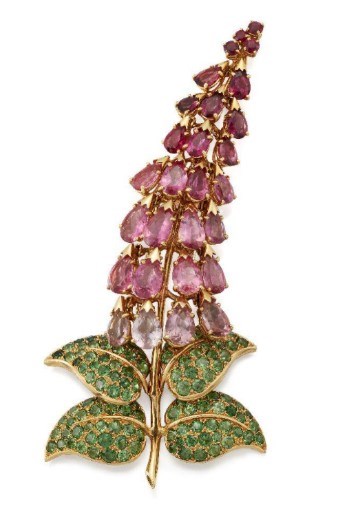 Lot 210 : A tourmaline and garnet brooch by René Boivin
(Lot 210) Also featured at the end of the sale is a stunning brooch by René Boivin, modelled as a foxglove with pear shaped shaded pink tourmaline articulated flowers, circular pink tourmaline detail and circular-cut tsavorite garnet leaves, signed R. Boivin, maker's mark, French assay marks, c. 1980. René Boivin founded the firm, Boivin, bearing his name in Paris during the 1890s. This period was hugely important for jewellery design, and the Boivin name quickly gained a reputation for high-quality, unconventional pieces that showcased sculptural naturalism, such as the lot on offer. This brooch by the iconic jeweller is being offered onto the marker with an estimate price of £8,000-£12,000.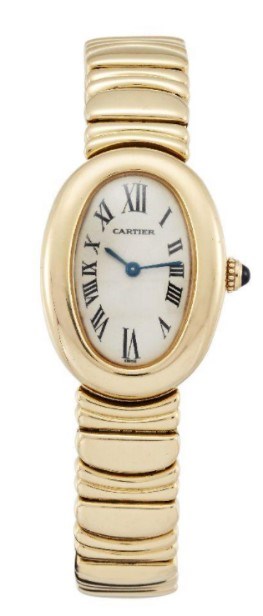 Lot 128 : An 18ct gold 'baignoire' quartz wristwatch by Cartier
Included in the section of wristwatches is a lady's Cartier Baignoire watch (lot 128). First designed in 1957, the Baignoire model has proved to be one of the most popular designs by Cartier, demonstrating the Maison's inherent prowess in watchmaking. Defined by an elegant ellipse, forged as a single line, the elegance of the design encapsulates the essence of the Cartier style. Re-launched by Cartier in 1990, this version is all in 18ct gold, and estimated to make £2,000-£3,000 at auction. Other watches on offer include a rose gold 'Oyster Perpetual' 'Bubble back' wristwatch by Rolex Ref. 3372 (lot 124) estimated to make £2,000 - £3,000, an 18ct white gold and diamond 'Your Hour' quartz wristwatch by Chopard (lot 129) estimated to make £4,000- £6,000 and a lady's diamond-set stainless steel automatic wristwatch with jubilee dial, Datejust 31, by Rolex Ref. 178274 (lot 126) estimated to make £1,000- £1,500.
-Ends-
Jewellery & Watches
Tuesday 14 September, 11am
View the fully illustrated catalogue here 
Viewing by appointment only contact jewellery@roseberys.co.uk to book a time slot 
We will be facilitating time slot appointments of one hour each.
When making your booking please provide a contact telephone number and the number in your party up to a maximum of 2 people.
Viewing Times

Friday 10 September 9.30am – 5pm (Last appointment slot is 4.30 pm)
Sunday 12 September 10am – 2pm (Last appointment slot is 1.30 pm)
Monday 13 September 9.30am – 5pm (Last appointment slot is 4.30 pm)
Please contact jewellery@roseberys.co.uk for condition reports and further information.