Creations by pioneering designers from the late 19th and 20th centuries
13/02/2020 News Stories & Press Release, Decorative Arts & Modern Design , Furniture & Rugs
LONDON: On March 2 2020 Roseberys London will present Design: Decorative Arts 1860, a sale focussed on the creations of pioneering designers from the late 19th and 20th centuries. Among the lots to be auctioned are several pieces of coveted Martinware pottery from a single-owner collection, a cross-section of British studio ceramics and prime examples of designer furniture from Europe and America.
Fiona Baker, Head of Department, said: We are pleased to include four lots of Martin Brothers ceramics, including two characterful double-sided pieces and an engaging small bird by Robert Wallace Martin, dated 25.5.1904. The sale opens with a collection of thirty lots of William Moorcroft, delicately tube-lined with his distinctive and colourful patterns. From the 1920s there is a lovely René Lalique blue glass Gui vase and from the 1930s there is an Edward McKnight Kauffer Shell poster. Also offered is a group of Georg Jensen jewellery including a silver and rutilated quartz ring by Vivianna Torun Bülow-Hübe. From Danish design master Kaare Klint, we are delighted to offer an iconic 'Faaborg' chair, originally designed in 1914, this example was produced circa 1950 by Rud. Rasmussen. From America we have a selection of varied and interesting metalwork pieces by design duo Curtis Jeré, as well as a rare PE24 dining table designed by Paul Evans and produced in 1969. Other notable lots include a large and impressive desk attributed to Osvaldo Borsani and a striking pair of modernist rugs designed by renowned British textile designer Peter Collingwood.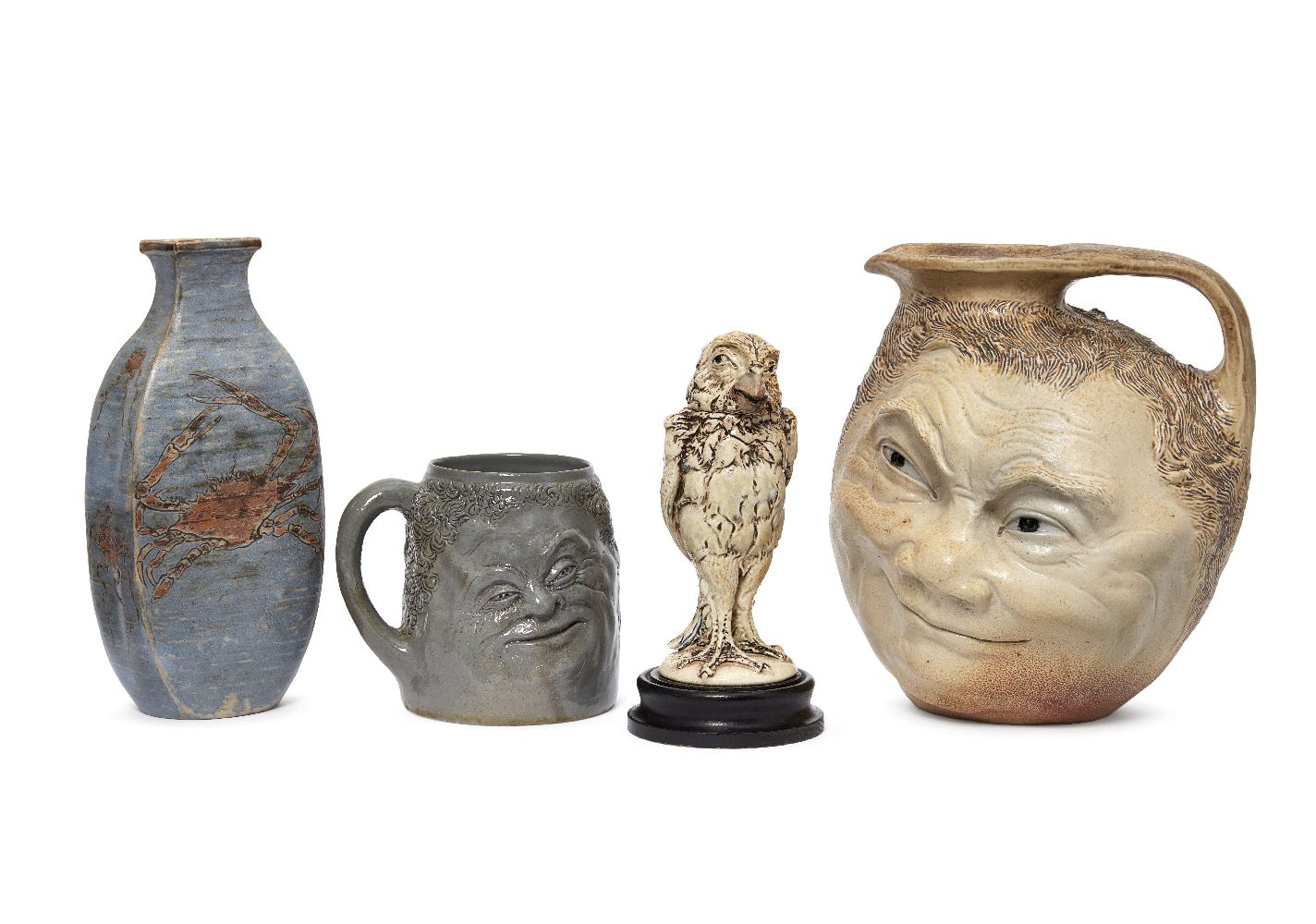 Eccentric founder Robert Wallace Martin (1843–1923) and his siblings Charles, Walter and Edwin epitomised the energy and experimentation of the 19th century art pottery movement. Eminently collectable on today's market, Martinware is known for its vast range of skilfully formed and decorated domestic and decorative wares. Often grotesque and eccentric, these distinctive creations demonstrate the brothers' unique blend of fantasy and imagination. A sculptor by training, Robert was generally responsible for throwing and modelling and is most commonly associated with the pottery's fantastical sculptural bird models. These anthropomorphic lidded wares were produced in many different shapes and sizes.
The jar for sale at Roseberys, estimated at £5,000-7,000, measures 18.5cm high and depicts the bird's face in a thoughtful expression. The rest of the single-owner collection comprises a double 'Face' vessel jug (estimate £1,500-2,500), a double 'Face' vessel mug (estimate £500-800), both dated c.1890, and a stoneware 'Aquatic' vase from 1903 of flattened form incised and decorated with a crab and jelly fish on a watery blue ground (estimate £1,200-1,800).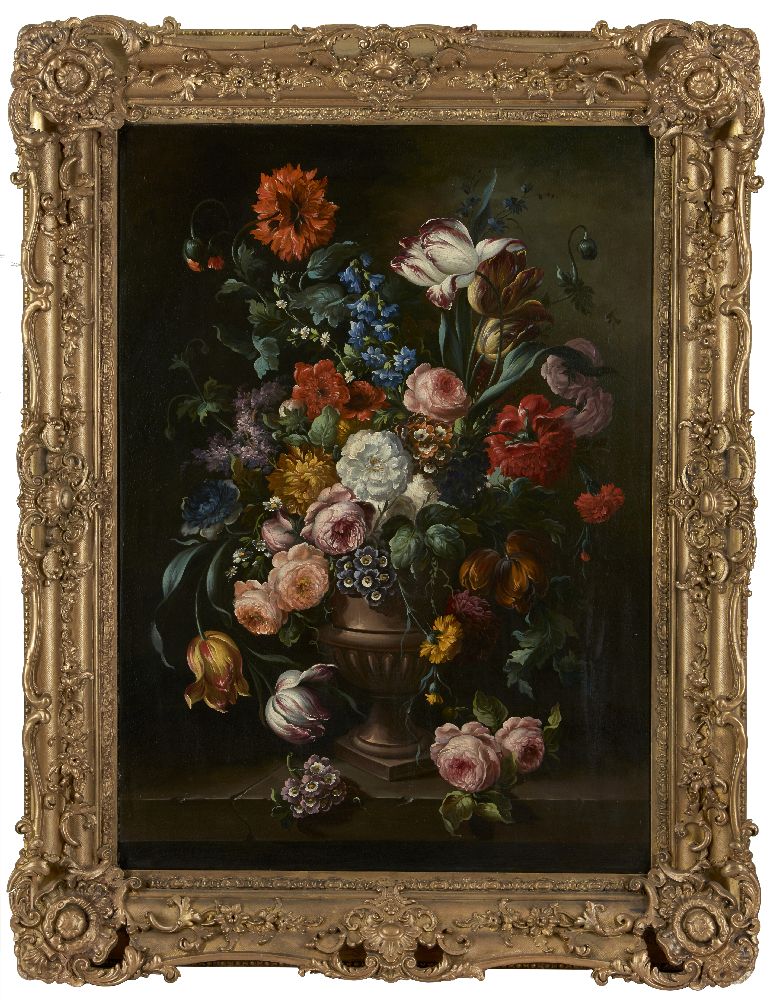 Further highlights in the ceramics section include a tall stylised cat by James Tower (1919-1988), a distinctive figure in post-war British ceramics. Made from tin glazed earthenware, the piece is decorated all over with typical abstract resist motifs in shades of dark grey blue. It dates to the early 1950s when Tower began his exploration of simplified figurative designs inspired by animal and plant forms. These became increasingly geometric and abstract in the years that followed. Bids are invited in the region of £2,000-3,000.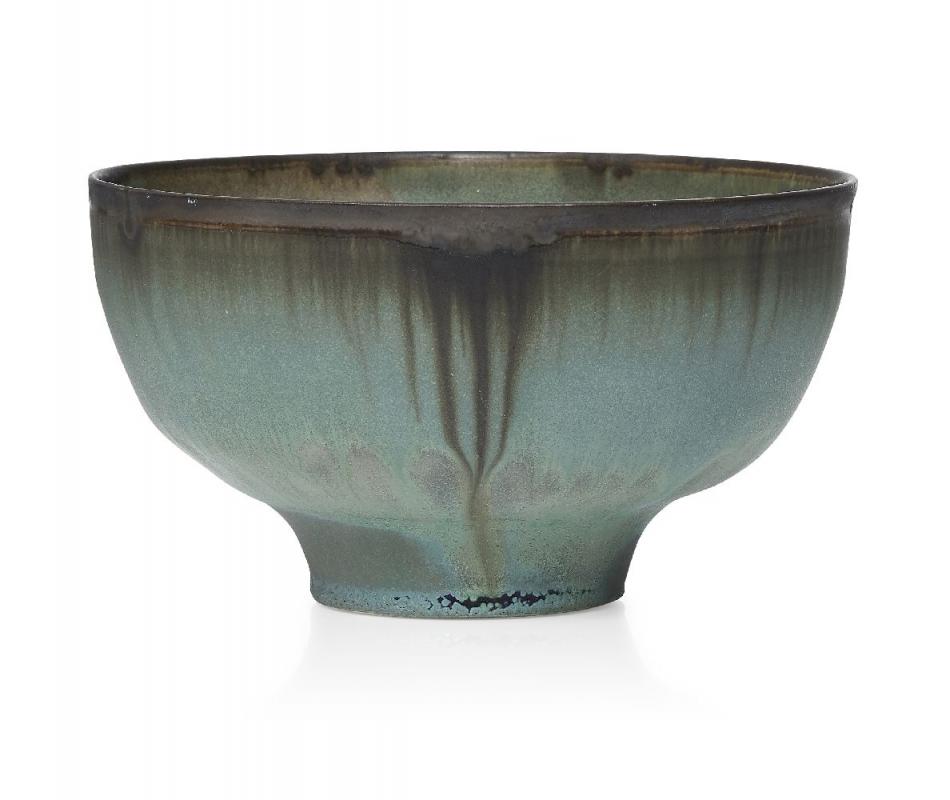 A fine c.1995 porcelain bowl glazed in matt blue and turquoise by the Yemen-born potter Abdo Nagi (1941-2001) is estimated at £300-500. The use of dry turquoise and royal blue glazes are a hallmark of Nagi's later work and invoke the colour palette of mosque interiors and the glazes of fellow potter Lucie Rie.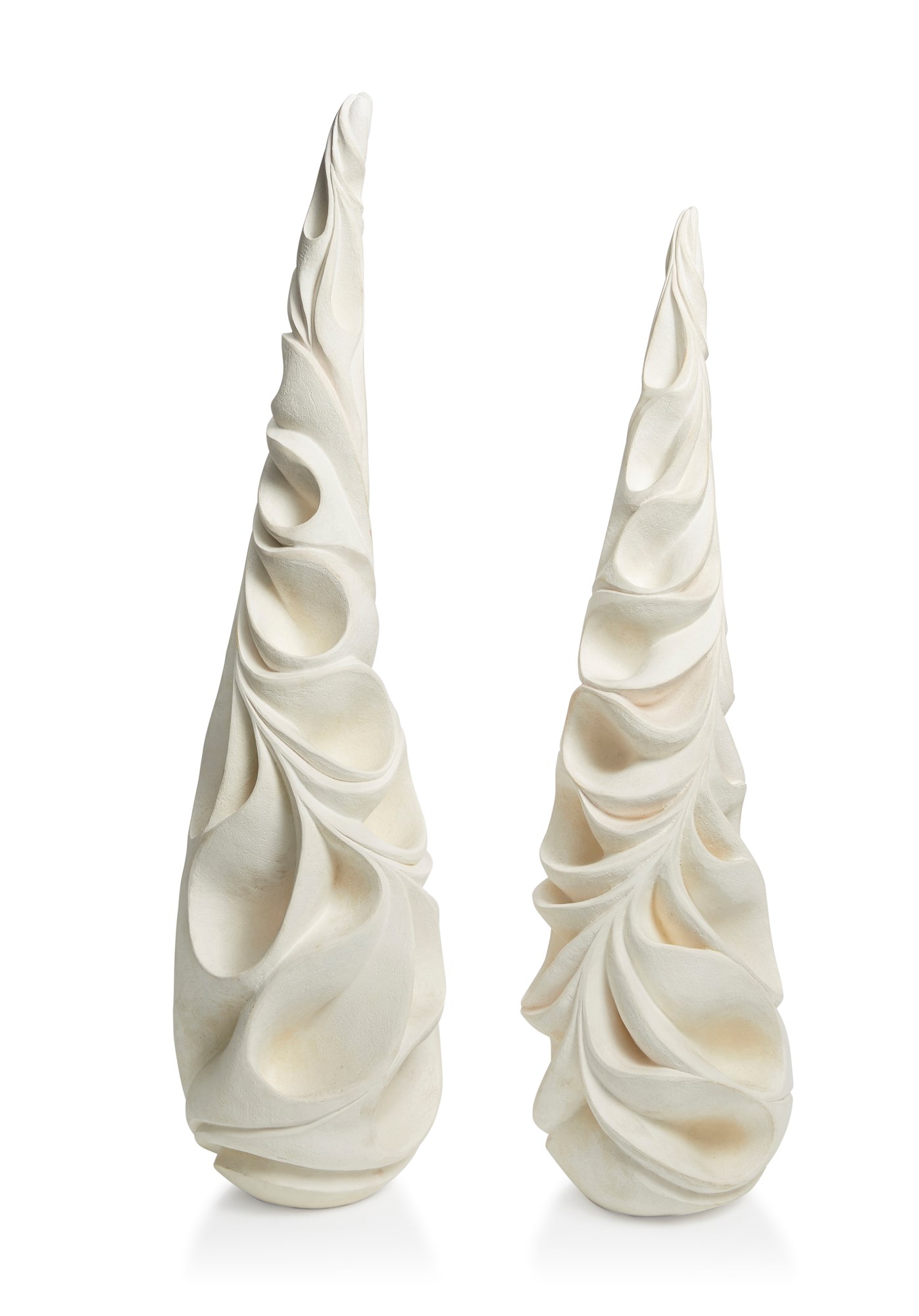 Estimated at £800-1,200, is a pair of impressively carved clay forms by the Pakastini English sculptor Halima Cassell (b.1975). Made in c.2010, these unglazed forms titled Flo-ra I & II are hand carved with deep organic and angular patterns that are characteristic of her work and are inspired by the repetitive motifs found in Islamic architecture and North African surface design.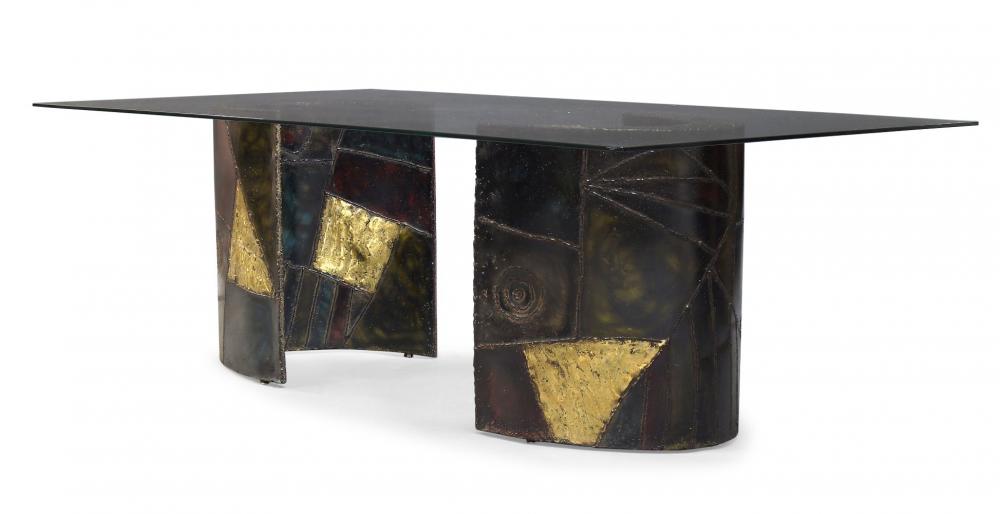 Starring in the furniture section is a table by Paul Evans (1931-1987), a leading figure in the mid-century American studio and brutalist furniture movement known for his innovative approaches to metalsmithing and furniture-making. The model 'PE24' dining table, c.1969, was made for the manufacturer Directional Furniture, an association that started in 1964 and significantly impacted the nature and scope of Evans's production. The piece, which features welded steel bases showcasing his masterful designs, polychrome technique and patchwork, is estimated at £6,000-8,000.
A c.1950 rosewood and ebonised desk attributed to the Italian designer and architect Osvaldo Borsani (1911-1985) carries hopes of £3,000-5,000. Borsani is best known for his research-based approach to making furniture and throughout his career merged technological and material improvements with inventive Modernist stylings. This desk has a shaped top inset with a green glass writing surface flanked by two pedestals raised on dramatic tapering legs.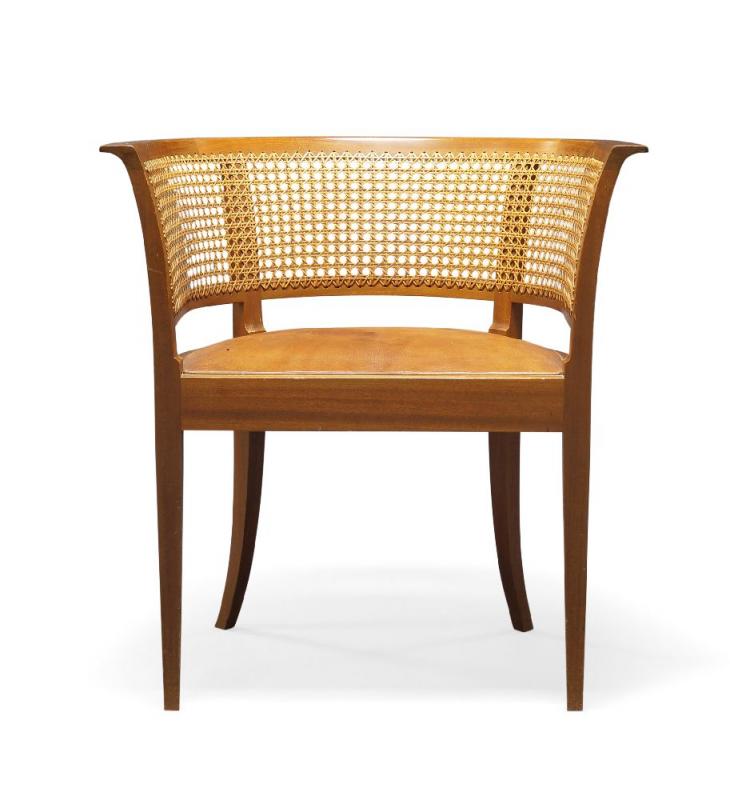 Estimated at £1,200-1,500 is a c.1950 'Faaborg' chair, which was originally designed in 1914 by Kaare Klint (1888-1954) for contemplating artwork at the Danish Faaborg Museum. The chair has since become an icon of Danish design, highlighting Klint's masterly sense of space and proportion and his ability to combine architecture and design. This example in curved mahogany was produced by Rud. Rasmussens, the wooden furniture manufacturer based in Copenhagen that collaborated with many leading Danish furniture designers in the 20th century.
DESIGN : DECORATIVE ARTS 1860 TO THE PRESENT DAY 
Tuesday 2 March, starting at 1pm
Viewing times 
Friday 28 February : 9.30am – 5.00pm
Sunday 1 March : 10.00 am – 2.00 pm
Monday 2 March : 9.30 am – 5.30 pm
Tuesday 3 March : 9.30 am – 12.30 pm
For further information please contact Peigi Mackillop
peigimackillop@roseberys.co.uk
+44 (0) 20 8761 2522