Craft & Tradition
12/07/2018 Ceramics & Glass, News Stories & Press Release, Works of Art, Sculpture & Clocks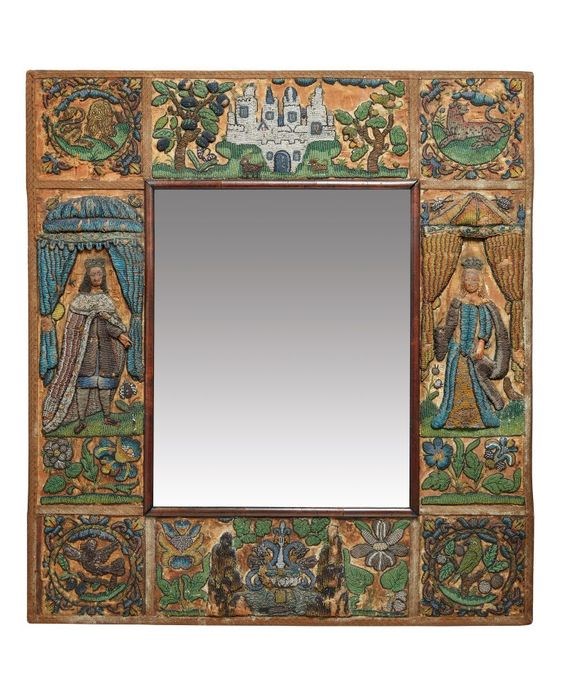 Anna Evans, Specialist introduces the Craft & Tradition auction and sale highlights: 'The inaugural Craft & Tradition sale on Thursday 19 July, features over 200 lots celebrating art and craft from the last 500 years. Leading the sale are 110 lots of 18th century English glass, including a rare George II Bielbey wine glass with beautiful enamel decoration and double-twist stem. Further highlights including a collection of 19th century tinsel pictures, a stone battlement figure from Alnwick Castle and a rare Charles II needle or 'stumpwork' mirror, a tour de force of English embroidery.
With an eye towards vernacular objects and furnishings, the Craft & Tradition sale is an exciting opportunity to bid on a wonderful selection of works of art'.
Further information on highlighted lots are below:
Opening the sale is an impressive collection of over 100 lots of glass. Lots 1-110 comprise of 17th and 18th century glassware. A key lot in the collection is Lot 24 A George II Bielbey wine glass, c. 1750/60, the bowl decorated with polychrome enamels and gilded with fruiting vine and flying insect in turquoise, amethyst and white enamels, the lip gilded, above opaque double series twist stem, on conical foot, 15.7cm high
Estimate £2000-4000*
Lot 183
A Charles II needle or 'stumpwork' table mirror, circa 1670-1680, the silk-ground worked in seed pearls and metal threads with a King and Queen in fine robes, probably Charles II and Catherine of Braganza, with a castle above and fountain below, the top corners worked with a lion and leopard, the lower corners with birds, the reverse with ink-inscribed label 'Bead-work of the time off Charles 2 (sic) constituting a sampler of that time, with portraits of Queen & Charles 2, Bishop of Nottingham', 80 x 73.5cm
Stumpwork was fashionable from c.1630 to the late 1680s and was seen as the most difficult embroidery technique to master by young women. It gained its name in later years, after the wooden padding sometimes used. It's raised and padded style was an extension of the method used especially in Germany and Hungary to sew heraldic and church vestments. Stitches are worked around pieces of wire to create individual shapes such as leaves, insect wings or flower petals. This is then applied to the main body of work by piercing the background fabric with the wires and securing tightly. Examples of this size are rare and celebrate the best of English embroidery of the 17th century. The exact iconography of the mirror remains a tantalising mystery. One interpretation is that the castle could represent Nonsuch Palace, commissioned by Henry VIII as a spectacular hunting lodge to rival Fontainbleau. Following Henry's death in 1547, Nonsuch had several owners before it was returned to the Crown after the Restoration in 1660. Charles II (possibly depicted in the lot) gave the palace to his mistress Barbara, Countess of Castlemaine in 1670 who had it pulled down in 1682-3 to pay gambling debts. Stained glass which survives from the 18th century at Nonsuch Park depicts exotic green parakeets, one of which can be seen on the lower right corner of the present lot.
Estimate £10000-15000*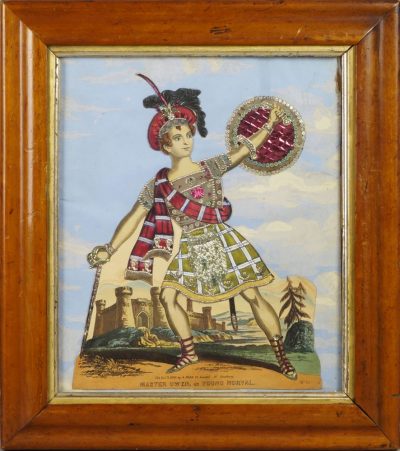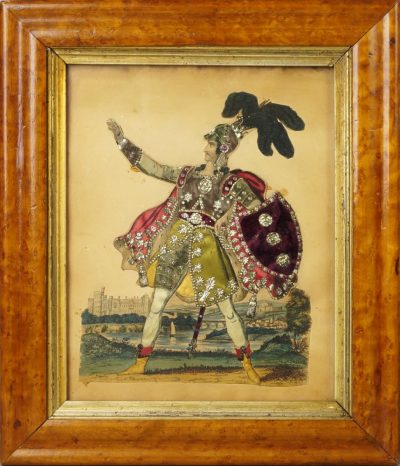 Lot 227
Two Theatrical tinsel pictures of Master Owen, as Young Norval and a knight, mid-19th century, titled, print heightened with watercolour and with applied foil and silk decoration, in maple frames, 25.5 x 21.5cm and 25 x 20cm.
From a private collection of fourteen lots (226-239)
The fourteen lots exemplify the popular nineteenth century fashion for making 'Tinsel' pictures. Typically featuring popular theatrical figures, a print is embellished with silks, satins and metallic or copper foil from tea or cigar packages. The prints, issued in sets by A. Park, of Leonard Road, Finsbury, could be purchased for a penny and then once bought home the owner had the artistic freedom to ornament them with their own decorations. This allows for their charming individuality and ensures that no two tinsel pictures are the same.
Estimate £200-300*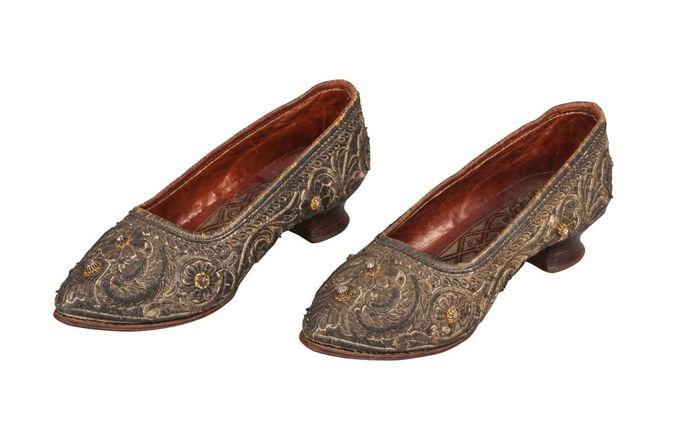 Lot 149
An exquisite and rare pair of late 18th century ladies shoes, silver thread and diamond mounted, probably French, with raised silver wire-work in a foliate and floral design, with stacked Louis heels, each shoe mounted with six diamonds, the interior with Indian inspired leather cut outs laid over gold leather, toe to heel approx 25cm.
Estimate £800-1200*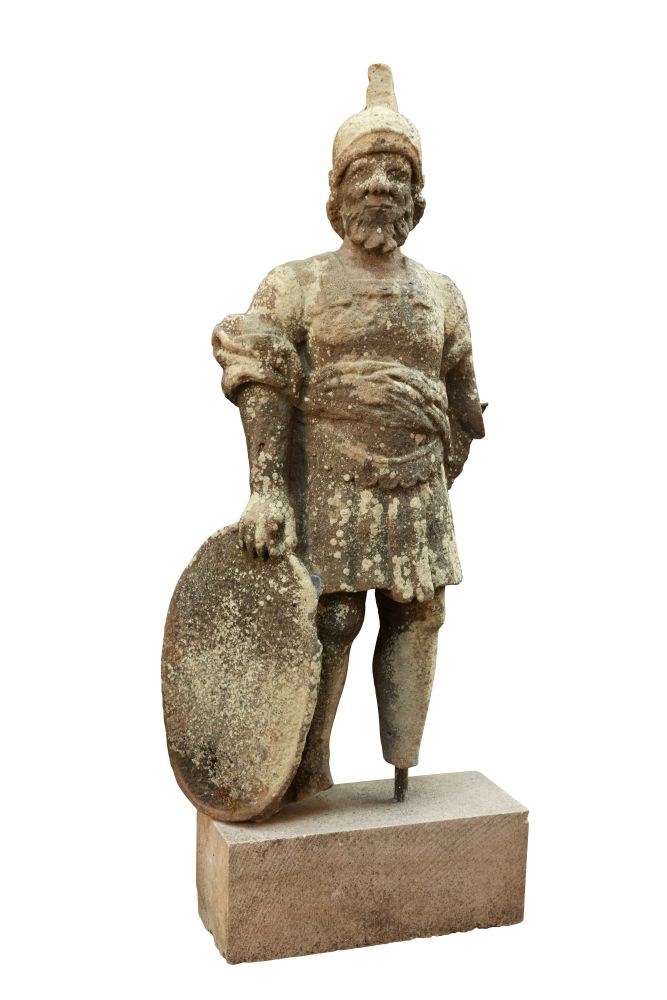 Finally lot 209
A carved stone 'Battlement Figure' from Alnwick Castle, circa 1750-1770, James Johnson of Stamfordham, the bearded centurion in full battle dress resting on his shield, mounted on later limestone plinth, the figure – 132cm high; overall – 153cm high.
Alnwick castle is the seat of the Duke of Northumberland and was first built following the Norman conquest. It has been renovated and remodelled a number of times and the current figure dates to the mid-18th century when the first Duke ordered a full restoration of the castle which was then in a ruinous state. A number of stone figures were added by the mason James Johnson of Stamfordham to complement the surviving medieval examples, apparently taking 20 years to complete. When Algernon became the 4th Duke in 1847 he chose to replace the 18th century 'gothick' architecture, including removing a large number of the stone battlement figures. Similar examples still adorn the castle but the current example is a rare survivor.
Estimate £2000-3000*
Viewing for the Craft & Tradition auction opens on Friday 13 July 1-5pm and continues:
Sunday 15 July 10am-2pm
Monday 16 July 9.30am-5.30pm
Tuesday 17 July 9.30am-5.30pm
Wednesday 18 July 9.30am-5.30pm
Thursday 19 July 9am-9.45am
Auction starts at 10am
Visit www.roseberys.co.uk for the full catalogue and details of how to bid.
~Ends~
BP* +27.6% Buyers Premium includes VAT at 20%.
For further information please contact Charlotte Meddings charlottemeddings@roseberys.co.uk +44 (0) 20 8761 2522
Roseberys is a privately owned auction house operating at the heart of the fine art market for 30 years.
With offices in London's Mayfair and Lambeth Roseberys offer a calendar of more than twelve specialist fine art, antiques and collectibles auctions each year.
Specialist sales include a wide range of Asian and Islamic Arts, Modern and Contemporary Art and Design, Decorative Art, Fine Silver and Jewellery, Ceramics, Paintings, Prints, Photography, Antique Textiles, Vintage Fashion and Fine Wine and Whisky.
Roseberys team of world-renowned specialists also provide a wide range of art market services to professional clients, including valuations for insurance and probate.
Roseberys is a member of SOFAA – The Society of Fine Art Auctioneers.