Collector's Guide to Republic and 20th Century Chinese Porcelain
27/11/2019 News Stories & Press Release, Chinese, Japanese & South East Asian Art
After the fall of the Qing dynasty there followed a period of great unrest in China, with revolts and political upheavals throughout the country. In spite of this turmoil, however, the porcelain industry in the Jiangxi province flourished, and a number of privately-operated kilns began producing high-quality porcelain in Jingdezhen. These factories produced not only wares copying Kangxi, Yongzheng and Qianlong-era porcelains, but there was also a revival in quality led by a number of schools and artists, all producing items with delicate painted decorations, with the pieces often signed.
Buyers are becoming increasingly drawn to Republic period and later 20th century porcelain pieces, attracted to the high-quality snow-white porcelain and skilful decoration. Pieces by prominent artists are very desirable, and as a result can fetch high prices at auction.
Know Your Artists
The most famous artists were part of the group 'The Eight Friends of Zhushan', which was comprised of the artists Wang Yi, Deng Bishan, Xu Zhongnan, Tian Hexian, Wang Dafan, Wang Yeting, Cheng Yiting and Liu Yucen. Regarded as the finest porcelain artists of the Republic period, the group was significant in the revival of the Chinese porcelain industry in the wake of the political uprisings and unrest that followed the fall of the Qing dynasty.
The artists were known for their differing specialities. Wang Yi was known for painting figures, Deng Bishan for bamboo and Wang Yeting for landscapes. Below is an example of Cheng Yiting, who was mostly known for his skilled paintings of flowers and birds. The delicately painted heron wading in water amongst grasses and flowers is an excellent example of his artistry.
Cheng Yiting, Chinese, (1895-1948), signed & dated 1935, framed, 38 x 24.5cm 
Sold at Roseberys for £52,000 hammer
Dive into the Stories
Stories and poems from Chinese history are illustrated on porcelain throughout the Ming and Qing dynasties. From the Yuan-era play 'Romance of the Western Chamber' by Wang Shifu to the Qing dynasty novel 'Dream of the Red Chamber', there is a rich literary history for artists to draw inspiration from, and porcelain from the Republic period is rich with these depictions.
The vase below is a rare baluster vase finely painted in polychrome enamels, with two large rectangular panels painted with depictions of scenes from two Tang dynasty poems 長恨歌 (Chang Hen Ge) and 夜雨寄北 (Ye Yu Ji Bei), and inscribed with two lines from each poem, signed Liu Zhongxun. This is a magnificent example of literary painting on Chinese porcelain, and one that combines scenes with traditional symbols, such as ruyi borders, Buddhist emblems and dragons.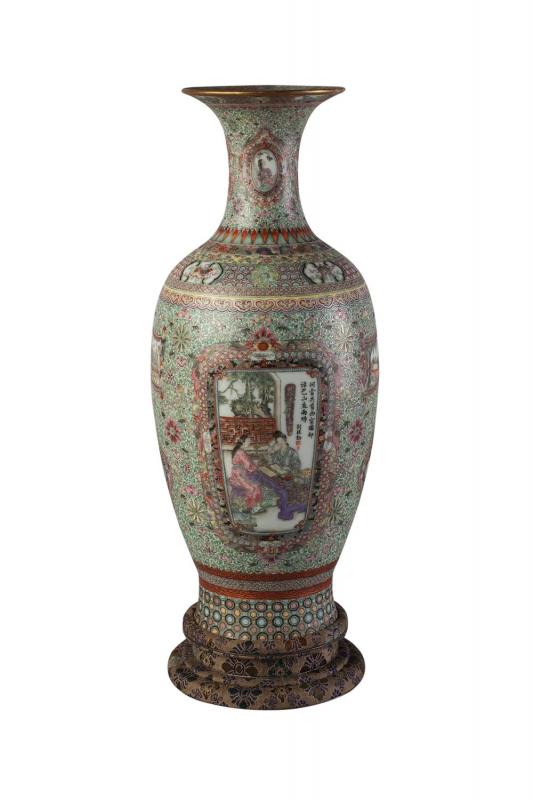 A rare Chinese porcelain baluster vase, Republic, 28cm high, on fitted silk stand and with fitted silk lined wooden box
Sold at Roseberys for £32,000 hammer
Look Beyond the Republic Period
It's not just high-quality porcelain produced in the Republic period that excites collectors, but also later pieces produced in the 20th century. Porcelain from the early years of the People's Republic of China are of particular interest – take for example the vase below, which was produced during the Cultural Revolution. The porcelain and painting quality are both very fine, and the decoration displays a later example of the 'snow painting' style that is primarily associated with He Xuren, a master of the style and one of the 'Eight Friends of Zhushan' from the Republic period.
A Chinese porcelain garlic-head vase, mid-20th century, iron red Jingdezhen factory seal mark to base, 25cm high 民國或更晚 鐵路人物故事圖 瓶
Sold at Roseberys for £40,000 hammer
Know Your Marks
The Republic period saw an increase in the variety of marks applied to porcelain items due to the growing numbers of private kilns and companies. In addition to these marks are inscriptions which are usually in black enamel applied to the body of porcelain pieces, and contain some or all of the following elements: artist's name, seal, calligrapher's name, poem, cyclical date or place of manufacture. Collectively, these elements paint a detailed picture of the history of individual items and manufacturers – a tool not available for earlier porcelain pieces.
In addition to these factory and artist marks are reign marks, nearly all of which are apocryphal, with the most common colour being overglaze iron red enamel. Some would argue that all Republic-era reign marks are apocryphal, as there is some dispute over whether Hongxian or Jurentang marks should be considered reign marks.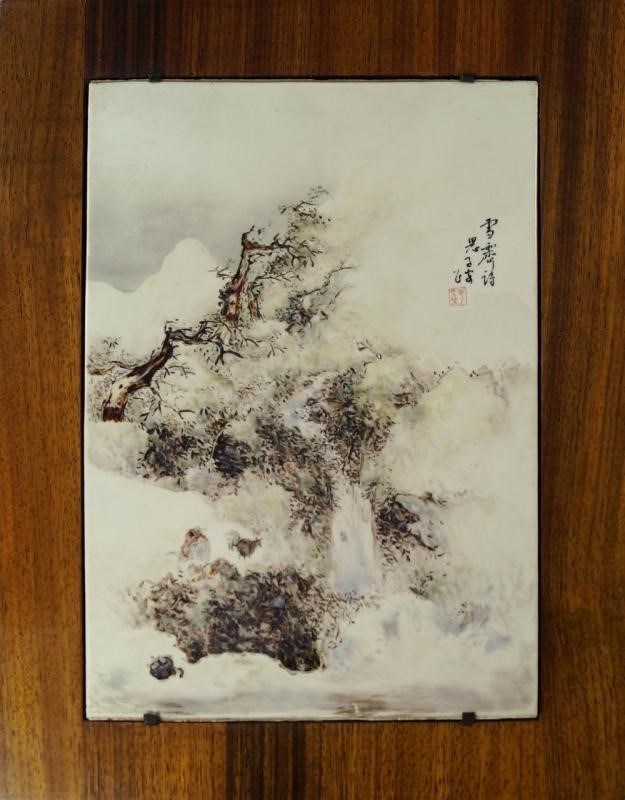 Zhang Zi'an, Chinese, circa. 1940, signed, framed, 26 x 39cm
Sold at Roseberys for £15,000 hammer
Text by Sam Howard

For more information contact the Chinese, Japanese & South East Asian department. 
The Chinese, Japanese & South East Asian are now welcoming consignments for 2020.