Collection of furniture and works of art from French noble family
20/11/2019 News Stories & Press Release, Furniture & Rugs , Works of Art, Sculpture & Clocks
LONDON: A treasure trove of art, antiques and collectables from across the centuries is going under the hammer in Roseberys London's last sale before Christmas.
The Fine & Decorative auction takes place on December 5, offering over 700 lots and catering to a diverse range of pockets and tastes, including a selection of fine antiques from the home of a French noble family in south-eastern France, refined continental silver, rare NASA photographs and sought after vintage luggage.
Specialist Mark Longley comments on the sale: The last Fine & Decorative sale of the year offers the usual opportunity to view and buy from an eclectic and exciting mix of art and antiques. We start with a private collection of furniture and works of art from a home in the Provencal Mas, the property of one of France's noblest families, which includes a collection of bird cages and furniture by known makers. Following this we offer varied properties which include a selection of NASA space photographs, a bowl from an Artic expedition, pastel art from the spiritual artist Sidney MacDonald, a private collection of carriage clocks and tea caddies, silver, furniture, collector's items and other works of art.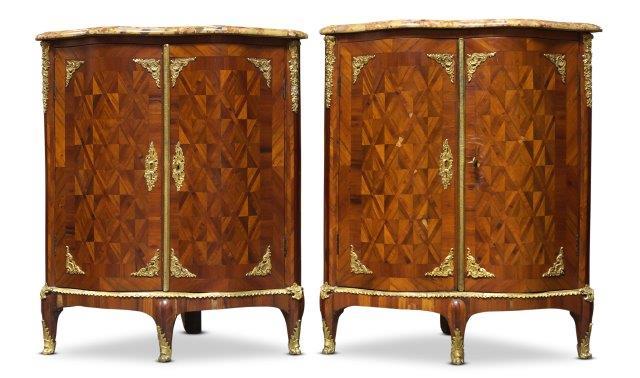 Among the sale's stars is a beautiful pair of Louis XV corner cabinets typical of the rich styling of French 18th century cabinet work. Kingwood, parquetry and ormolu mounted with Breche d'Alep marble tops, the pair is estimated at £3,000-5,000. [Lot 17]
A private collection of birdcages includes this large and impressive cherry wood example in the Neoclassical style and dating from the late 19th or early 20th century. In the form of a rotunda with a domed top and the door in the form of a portico, it carries hopes of £800-1,200. Other models are inspired by the Orientalist taste with exotic domes and turrets, making them opulent living quarters for prized birds. [Lot 16]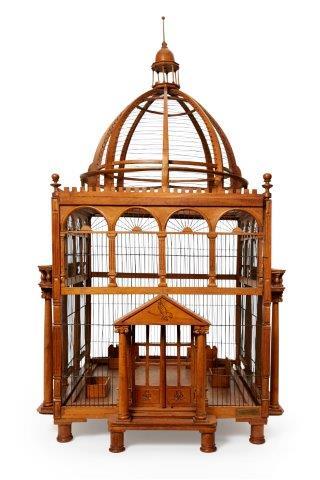 Fine figurines are also up for sale and include a pair of late 19th or early 20th century Continental porcelain figures of white elephants, mounted in the Louis XVI style. Probably made by Samson of Paris, the pair are modelled with curving trunks and wrinkled skin, and are valued at £3,000-5,000. [Lot 61]
There is also a pair of mid 19th century Louis Phillippe bronze and gilt bronze chenets, also in the Louis XVI style but from a later period. These fireside ornaments, modelled as children wrapped in blankets emblematic of Winter, are ideal accessories for wintry nights and carry hopes of £300-500. [Lot 87]
Outside the collection and carrying hopes of £2,500-3,500 is a refined Italian neoclassical commode in the manner of the late 18th century Lombardy maker, Giuseppe Maggiolini (1738-1814). The rectangular top features impressive oval floral marquetry medallions above four long drawers with a fine marquetry panel depicting a man chopping timber. [Lot 51]
Vintage wares by the exclusive luggage company Louis Vuitton are offered across five lots from two private sources and include a hat box and pink handbag. There is also a highly desirable 20th century 'Steamer' trunk model with a leather Paris label to the interior, hanging space and five drawers. This desirable piece is priced at £2,000-3,000. [Lot 99]
A series of iconic images from the golden age of space travel are up for sale with an estimate of £1,500-2,000. The selection comes from an official NASA press archive of photographs showing the Apollo 11 mission to the moon and other space missions. Among the stunning views are those showing astronaut Edward H White floating in zero gravity outside the Gemini Four space craft with a view of Earth below, together with nine black and white archive prints of the Apollo 11 mission, including three images of Edwin Aldrin and Neil Armstrong in the Moon's surface and an image of the lunar module returning to Apollo 11 command module from the lunar surface. There are also 31 black and white and colour photographs of the Apollo 12 mission, including a portrait of Charles Conrad with a reflection of Alan Bean in his helmet visor. [Lot 581]
Further Highlights
A specimen fossilised fish, Gyrodus, German Solnhofen formation,150 million years, together with another example of a lizard, within a plaster mount and frame.
This exquisite example of a fish preserved in time with a sample of the flora and fauna in the water. Estimate £150-200. [Lot 437]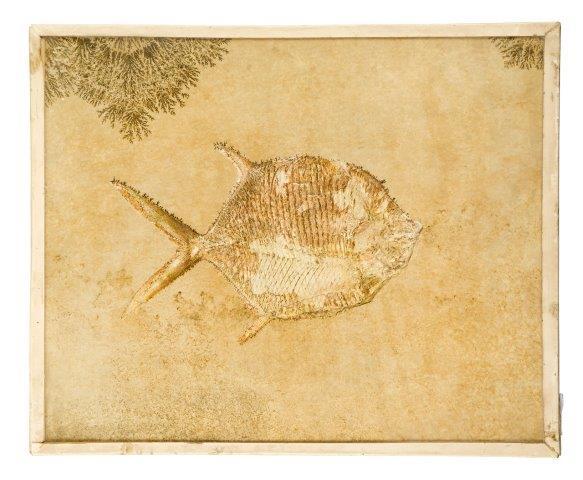 A French brass grand sonnerie striking repeating carriage clock, late 19th/early 20th century.
This fine piece comes from a private collection of carriage clocks, tea caddies and other collector's items. It has all the features of a desirable clock with repeat mechanism and grand sonnerie chiming and comes together with a key and leather carrying case marked JW Benson 86 Old Bond Street. Estimate £500-800. [Lot 410]
A George III mahogany and ivory mounted stick barometer by Peter Dolland.
This scientific instrument is made by one of London's finest makers and features a central Neoclassical urn finial and ivory adjustment knob. Estimate £1,500-2,500. [Lot 434]
A George II Scottish bullet-shaped tea pot, Edinburgh, c.1742.
Formerly the property of a gentleman, it was made in Edinburgh, c.1742, by William Aytoun, who is widely regarded as one of the finest makers of Scottish silver teapots from the Georgian period. Experts have described Aytoun's silver as among that of the most significant Edinburgh goldsmiths of the first half of the 18th century. Estimate £1,000-1,500. [Lot 244]
A Viennese silver cigarette case, by George Adam Scheid.
This eminently collectible piece features an enamelled portrait of a lady with a musical instrument surrounded by bright cut engraving. This is a beautiful example of Scheid's work, with well-preserved enamelling and engraved detail. Estimate £200-300. [Lot 290]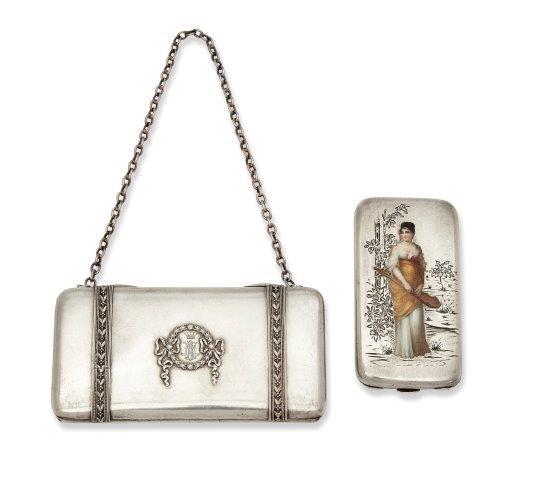 A large oak-cased part-canteen of late 19th/early 20th century French silver cutlery, by A. Aucoc, Paris.
This flatware was made by the renowned silversmith, Prudent Quitte, whose workshop was at 42 rue Notre-Dame-de-Nazareth, Paris. The Aucoc name is even more illustrious – established in 1821, the family company was patronised by the house of King Louis Philipps, the House of Orleans, Napoleon III and Empress Eugenie. The shop also gets a mention in Alexandre Dumas' The Lady of the Camellias.
The lid is inset with the coat of arms of the French gentleman to whom it belonged. The same coat of arms is repeated on the reverse of each piece of flatware. Estimate £5,000-7,000. [Lot 113]
Fine & Decorative 

Thursday 5 December starting at 10.00 am
Sunday 1st December 10-2pm
Monday 2nd December 9.30-5.30pm
Tuesday 3rd December 9.30-5.30pm
Wednesday December 9.30-5.30pm
For further information please contact Peigi Mackillop peigimackillop@roseberys.co.uk +44 (0) 20 8761 2522