Collecting Guides: 5 key things to know about Islamic Art
30/04/2019 News Stories & Press Release, Islamic & Indian Art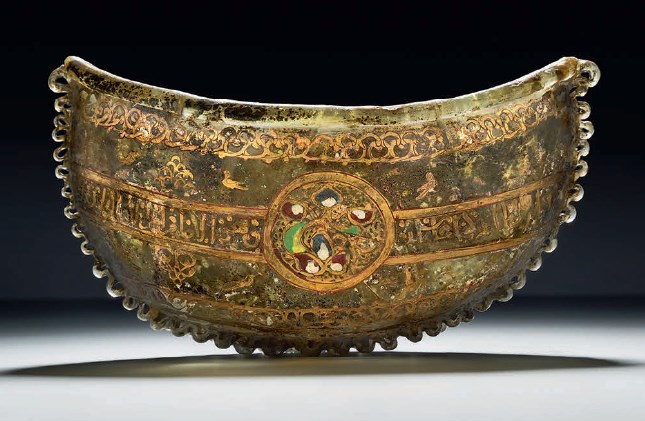 Roseberys London's Islamic Art and Manuscripts sale on May 3 will be a diverse affair, bringing together nearly 400 lots of historic artefacts heralding from the fascinating and diverse civilisations of the Middle East and wider Islamic world, including Arabic manuscripts, Persian paintings and Ottoman Turkish works of art. 
It's a broad field
This is because it covers a wide range of lands, periods and genres, including architecture, calligraphy, miniature paintings, glassware, pottery and textiles such as carpets and embroidery. 
Unlike Christian art, Islamic art incorporates all the artistic traditions in Muslim culture and is not restricted to religious work. Indeed, many of the objects produced in the Islamic world were made by unnamed and unknown craftsmen to be used by the middle and upper classes in their daily lives.
On the global art market, the term 'Islamic Art' loosely encapsulates pieces created between the mid-7th century to the 20th century with origins stretching from the Middle East and southern Spain through to China, India and Southeast Asia. Vibrant and distinctive with an emphasis on geometry and patterns, Islamic art has a strong coherence, regardless of the country or the time in which it was created, although there are also strong regional characteristics.  
Two collecting traditions dominate
Broadly speaking, two traditions determine the make-up of most private collections today; those who gather just a few select items on the basis of their aesthetic merit and those who take a comprehensive approach, assembling a complete series of objects. 
The Roseberys sale plays to both traditions with a broad range of beautiful one-off works and several comprehensive collections. Among the latter is a group of pieces originating from Khorassan in north eastern Iran and dating to the late middle ages. It features over a dozen fine bronze examples, including finely decorated ewers, bowls, oil lamps and candlesticks. Among the highlights is a monumental bronze openwork oil lamp and stand dating to the 13th century (Lot 213). It was acquired by the seller in 2013 from a long-standing private collection dating back to the 1960s and carries an estimate of £5,000-7,000.  
Earlier does not necessarily mean better
On the whole, later Islamic art has not enjoyed the same level of attention as pieces originating from the 10th–16th centuries – the period of cultural, economic and scientific flourishing dubbed the 'Islamic Golden Age'.
Yet, a wealth of fine objects and manuscripts were produced in the 17th, 18th and 19th centuries that are worthy of attention on aesthetic, historical and intellectual grounds.
An 18th century Qajar portrait of Shah 'Abbas I, one of Iran's great rulers from the earlier Safavid dynasty, is estimated in the Roseberys sale at £7,000-10,000 (Lot 322). This oil was painted during the reign of Fath 'Ali Shah (r.1797-1834), who was a keen patron of life-size oil portraits of himself and his sons.
Calligraphy also reached a pinnacle of excellence in the 19th century, especially in Istanbul where the quality of its production was unrivalled. An Ottoman prayer book originating from Turkey during the 16th-17th century is estimated at £600-800 (Lot 119), while two 19th century calligraphic manuscripts based on the writings of the great Persian mystic and scholar Khwajah 'Abdallah Ansari, carry hopes of £4,000-6,000 (Lot 59).  
London is a world leader in showcasing Islamic Art
Not only is the capital a top destination for serious collectors of Islamic art - thanks to its rich programme of auctions, in which Roseberys is a key player - its great museums hold an abundance of artefacts to broaden knowledge.
The Victoria and Albert Museum in South Kensington contains a vast assemblage of applied arts of the Islamic lands - a long-standing collection formed from the outset as a key source for improving and inspiring design in 19th century Britain.
Since the 1950s, the museum has devoted a gallery to the Islamic Middle East. In 2006, it was redesigned and renamed the Jameel Gallery of Islamic Art. Comprising more than 10,000 objects, the Islamic collection here is strong on ceramics, glass, metal wares, ivories and textiles, with an emphasis on works from Iran, Turkey and Egypt.
For an encyclopedic collection, the Albukhary Foundation Gallery of the Islamic World at the British Museum in Bloomsbury fits the bill. The state-of-the-art 6m-high galleries, which opened last year, contain works of art, textiles and clothing, as well as paintings, stonework, tiles, glass and calligraphy.  
Islamic Art has strong links with the classical world
Right from the start, Islam created its own distinctive aesthetic moulded around a mixture of classical influences, scientific sensibility and religiosity. Its emphasis on geometry and the creations of objects like the astrolabe show how it was the Arab world that preserved and expanded upon ancient Greek mathematical ideas during the middle ages.
It is therefore rather fitting that the Roseberys sale will feature a small section of classical antiquities. An impressive Corinthian partial helmet hammered from a single heavy sheet of bronze with almond-shaped eyeholes, is estimated at £1,200-1,500 (Lot 17). Originating from Ancient Greece during the Archaic period, it comes with an old collection label to the interior and a wooden plinth.
Islamic Art & Manuscripts Friday 3 May starting at 10am

Preview Event at The Clubhouse, St James
Thursday 25 April 12 noon pm - 5.00 pm 
Friday 26 April 10.00 am - 4.00 pm 
Viewing Times at Roseberys:
Tuesday 30 April 9.30 am - 5.30 pm 
Wednesday 1 May 9.30 am - 5.30 pm 
Thursday 2 May 9.30 am - 5.30 pm
For further information please contact Peigi Mackillop peigimackillop@roseberys.co.uk +44 (0) 20 8761 2522