Christmas Sparkle
21/12/2017 News Stories & Press Release, Jewellery & Watches

On 5 December Roseberys London will hold its first sale exclusively devoted to Jewellery and Watches curated by Head of Sale, Mark Bowis. Comprising 211 lots, the sale represents a wide selection of interesting pieces dating from the 1700s to the present day.
The main highlight of the jewellery section is a rectangular-cut diamond single stone ring (lot 211) Estimate £15000-20000 (+27.6% BP*) this is accompanied by a report from the Gemmological Certification Services Laboratory, GCS, stating the diamond to be D colour, VVS2 clarity. D colour diamonds are extremely rare and the stone is very sympathetically set within a pavé old-cut diamond border set off with princess-cut diamond shoulders.
As well as an attractive selection of diamond rings the auction includes examples from the great jewellery houses such as Cartier, Boucheron, Bulgari, Van Cleef & Arpels, Mellerio, Tiffany & Co and Chaumet. Representing the Belle Epoque Period are several highlights.
These include:
A very elegant, platinum, diamond and pearl sautoir, Produced around 1910 it measures an impressive 238cm long. It is rare for an item of jewellery like this to survive in its original length as many of these were shortened in later years or divided up into shorter necklaces to disperse to various members of the family.
(lot 128) Estimate £2000-3000 (+27.6% BP*) pictured left
Another special item representative of this period is a ribbon choker or 'collier de chien' by Cartier, Designed as a black moire ribbon with rose-cut diamond set buckle detail, it has a surprisingly contemporary look but is typical of the unrivaled quality of jewellery that Cartier produced during this period.
(lot 169) estimate £3000-5000 (+27.6% BP*)
Other items included in the Cartier section of the catalogue are three gilt and enamel table ornaments each with enamelled flower sprays in punnet baskets, (lots 171-173) each with estimates of £1000-1500 (+27.6% BP*)
An impressive diamond 'panthere' link necklace (lot 168) Estimate £6000-8000 (+27.6% BP*)
Continuing with this period is a beautifully made early 20th century French, platinum and diamond bracelet, when worn this bracelet just shimmers with luxury.
(lot 210) Estimate £7000-9000 (+27.6% BP*)
Featured in the selection of antique jewellery on offer is a gold, diamond and freshwater pearl pendant by Carlo Giuliano. This jewel exhibits the meticulous craftsmanship so often seen in examples by this famous art jeweller with his trademark enamelling, the pendant is also in remarkable condition having survived 150 years without damage and is unusual in its incorporation of freshwater pearls.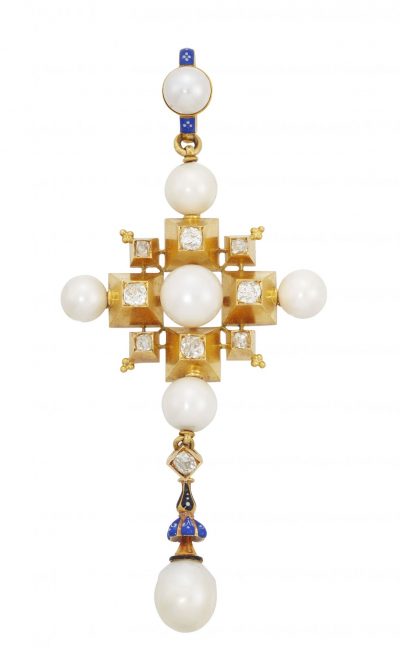 (Lot 36) estimate £5000-7000 (+27.6% BP*) pictured left
For something festive, included in the sale is a pair of garnet and diamond ear pendants (lot 124) Estimate £1000-1500 (+27.6% BP*)
Followed by a charming emerald and diamond cat brooch by Kutchinsky (lot 132) Estimate £800-1200, (+27.6% BP*) would make a perfect Christmas present!
The selection of watches includes an impressive 18ct. gold automatic 'Quantieme' wristwatch by Audemars Piguet (lot 87) estimate £5000-7000 (+27.6% BP*)
This watch from the 1990s is both highly collectable, smart and wearable. Another watch becoming increasingly popular is the stainless steel Omega Speedmaster Ref. 3570.50.00 or 'Moon watch' (lot 101) estimate £1500-2000 (+27.6% BP*)
This watch is loaded with nostalgia as it is a classic chronograph and the original model was launched more than 50 years ago. It is the same model that in July 1969 was worn on the lunar surface, this is why it is known as the 'Moonwatch'.
Selected highlights from the first standalone Jewellery & Watches sale will be on view at a preview event at The Club House, 8 St James's Square, SW1Y 4JU.
Thursday 23 November 12pm-5pm and Friday 24 November 10am-4pm
~Ends~
Prices include Buyers Premium of 23%.
For further information please contact Charlotte Meddings charlottemeddings@roseberys.co.uk +44 (0) 20 8761 2522
Roseberys is a privately owned auction house operating at the heart of the fine art market for 30 years.
With offices in London's Mayfair and Lambeth Roseberys offer a calendar of more than twelve specialist fine art, antiques and collectibles auctions each year.
Specialist sales include a wide range of Asian and Islamic Arts, Modern and Contemporary Art and Design, Decorative Art, Fine Silver and Jewellery, Ceramics, Paintings, Prints, Photography, Antique Textiles, Vintage Fashion and Fine Wine and Whisky.
Roseberys team of world-renowned specialists also provide a wide range of art market services to professional clients, including valuations for insurance and probate.
Roseberys is a member of SOFAA – The Society of Fine Art Auctioneers.