Celebrating British Art
26/01/2018 Modern & Contemporary British Art, News Stories & Press Release
Celebrating the achievements in Modern & Contemporary British art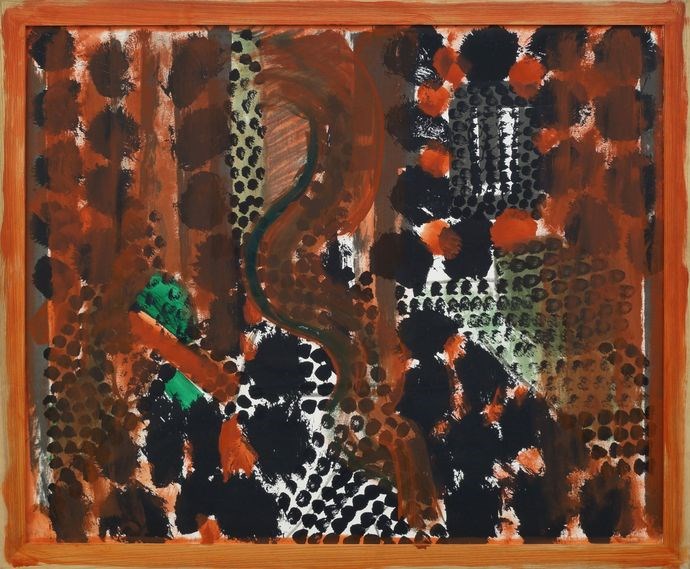 The Modern & Contemporary British Art auction, held at Roseberys London on Wednesday 24 January proved the strength of the British art market with positive sale results throughout the 252 lot sale.
Associate Specialist, Elizabeth Comba who curated the sale was delighted with the strong results across artists and movements from the St Ives School to British Surrealism and highlighted the following top lots:
(Lot 203) pictured above Painted Souvenir (1988) is a unique work by the celebrated British artist Sir Howard Hodgkin (1932-2017). Painted in oil on an artist's proof of his screenprint Souvenir (1981), the incorporated, painted frame makes it characteristic of the artist. Souvenir is typical of Hodgkin and his aim to translate moments and placers into a pictorial language that evokes them, rather than one that records precisely their physical detail. The addition of his distinctive broad brush strokes accentuate both the emotional depth and sense of mystery, whilst the green and orange is simultaneously evocative of his fascination with India.
Bidding across all platforms settled at £18,450 to a private buyer in New York.
Lots 66 & 67, two oils by Mary Potter 1900-1981 were accompanied by wonderful provenance, both having come from the collection of the late Jennifer Vyvyan. Vyvyan was a British classical soprano who was part of Benjamin Britten's inner circle of singers, and had a number of roles written specifically by him with her unique voice in mind including The Governess in The Turn of The Screw. Mary Potter was also a very close friend of Benjamin Britten, after moving to Aldeburgh in 1951 with her husband where they lived at the Red House. Six years later, after the break-up of her marriage, Mary swapped houses with Britten and Pears, moving to Crag House on the sea-front.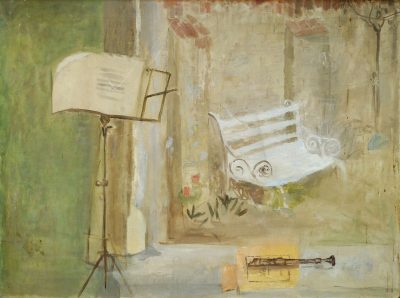 (Lot 66) Pictured left – Garden scene with a music stand and recorder; oil on canvas was a popular choice with buyers on the day, finally going to a successful bid of £12,300 to a London based dealer.
(Lot 67) – The second piece offered by Mary Potter Nocturne; oil on board, signed with initials continued the trend of popularity with the hammer closing the sale at £7,150 for a private UK based collector.
(Lot 200) – Gouache (1959), painted in red, black and white, demonstrates the impact William Scott's close encounter with Abstract Expressionism had on his art. Scott met Mark Rothko in New York in 1953, and was the first British artist to do so. They became close friends and when Rothko came to Britain in both 1957 and 1959, he stayed with Scott's family in their cottage in Somerset. In 1956 MOMA's Modern Art in the United States came to Tate Britain, and in early 1959 came The New American Painting; Scott wrote of Rothko's "daring and beautiful colour and handling".
The gouache, originally with Victor Waddington, confirmed the buoyancy of the market with a final hammer price of £16,600 to a private collector in Dublin.
Five works by Carel Weight CH CBE RA, British 1908-1997 were offered, presenting an interesting overview of the artist's oeuvre. All lots sold well but the highlight was (Lot 164) – Mrs Fontana (No.3), oil on board, an excellent example of the artist's penetrating portraits. It closely relates to Mrs. Fontana reading Bernard Shaw, an oil on canvas held in the Government Art Collection, purchased from the Leicester galleries in 1947.
The connection between the portraits of Mrs Fontana tipped the bidding to £6,400 from an original estimate of £500-700.
For further information or a complimentary valuation please contact Elizabeth Comba
elizabethcomba@roseberys.co.uk
Roseberys London are currently inviting entries to auction.
Friday 9 – Tuesday 27 March – Online Only
Entry deadline 2 March
Tuesday 26 September
Entry deadline 10 August
Tuesday 1 – Thursday 15 November – Online Only
Entry deadline 25 October
~Ends~
*Prices include Buyers Premium of 23%.
For further information please contact Charlotte Meddings charlottemeddings@roseberys.co.uk +44 (0) 20 8761 2522
Roseberys is a privately owned auction house operating at the heart of the fine art market for 30 years.
With offices in London's Mayfair and Lambeth Roseberys offer a calendar of more than twelve specialist fine art, antiques and collectibles auctions each year.
Specialist sales include a wide range of Asian and Islamic Arts, Modern and Contemporary Art and Design, Decorative Art, Fine Silver and Jewellery, Ceramics, Paintings, Prints, Photography, Antique Textiles, Vintage Fashion and Fine Wine and Whisky.
Roseberys team of world-renowned specialists also provide a wide range of art market services to professional clients, including valuations for insurance and probate.
Roseberys is a member of SOFAA – The Society of Fine Art Auctioneers.