Cartier-style French bracelet makes £10,000
25/03/2019 News Stories & Press Release, Jewellery & Watches
Results: Jewellery & Watches
LONDON: Historic and esoteric pieces, including a ring worn by Lord Cardigan of Charge of the Light Brigade fame and a Victorian book bracelet, attracted eager bidding at Roseberys London's Jewellery & Watches sale in March.


Mark Bowis, Head of the Jewellery & Watches Department, said:
 I was encouraged by the interest prior the sale and pleased that the results still reflected a very healthy market both for jewellery and wristwatches. I was particularly pleased that the good historic more esoteric pieces were chased enthusiastically ultimately reaching strong results.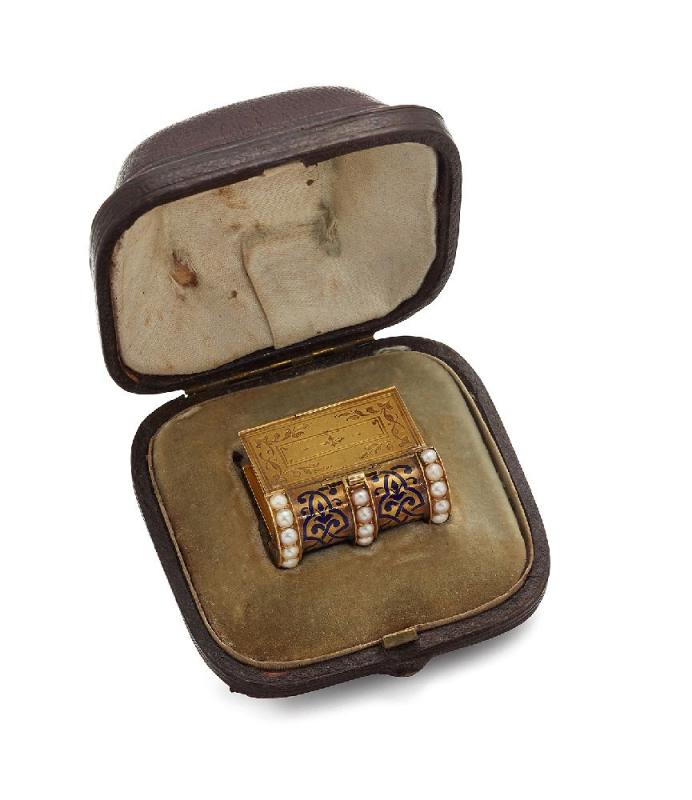 A Victorian gold, enamel and pearl 'souvenir' book bracelet
 The charming gold, enamel and pearl 'souvenir' book bracelet (above), which folded into book form, sold for £3,400 – well up on its £600-800 estimate (lot 86). The c.1845 piece is composed of a series of hinged panels each pierced with a letter spelling the word 'souvenir'. These types of souvenir bracelets do appear on the market from time to time but rarely do they survive with their original fitted case like the example here. Coupled with this, the bracelet was still in exceptional condition which only added to its appeal.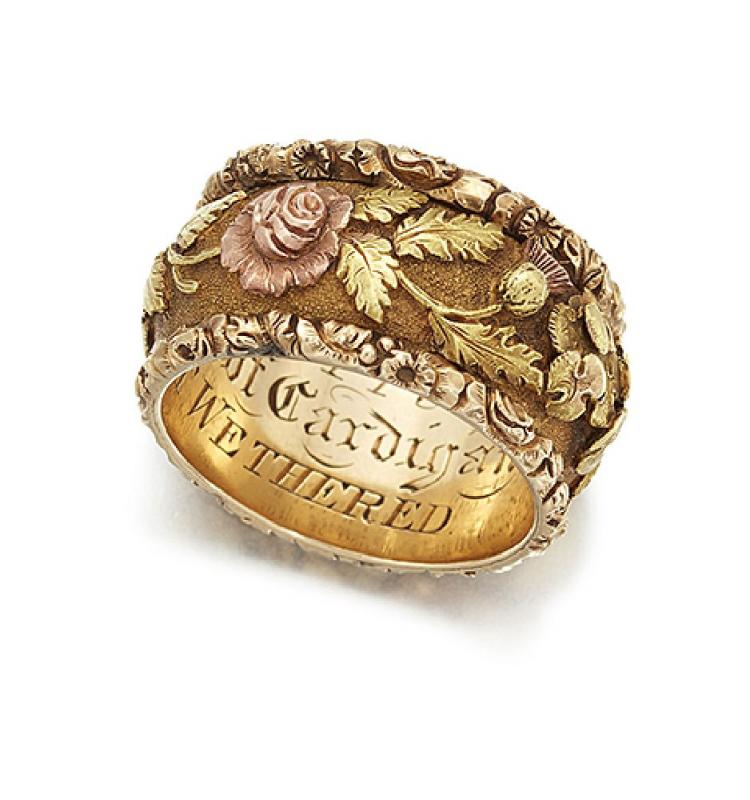 A historically important early 19th century gold ring that was given to Lord Cardigan of 'Charge of the Light Brigade' fame
A magnificent early 19th century ring worn by Lord Cardigan, who led the Charge of the Light Brigade at the Battle of Balaclava during the Crimean War, fetched a high price of  £8,800 (lot 223). The fine chased three-colour gold ring (shown above centre) is believed to have been presented by a Captain Wethered to James Brudenell (1797-1868), 7th Earl of Cardigan, around the time he inherited the earldom from his father in 1837 - nearly 20 years before the Crimean War. The inside hoop is engraved A TRIBUTE OF GRATITUDE To the Rt. Hon'ble the Earl of Cardigan, FROM CAPT. G.T. WETHERED.Lord Cardigan is seen wearing the ring in a painting by English portraitist Richard Buckner. With extremely high-quality goldsmith work coupled with its wonderful provenance and fresh to auction status, it attracted many interested parties on the day.Cardigan's most famous exploit came during the Crimean War when he led the Charge of the Light Brigade at the battle of Balaclava on 25th October 1854. A miscommunication in the chain of command saw Cardigan lead his light cavalry on a frontal assault against a heavily-equipped artillery battery. The Light Brigade reached the battery under withering direct fire and were forced to retreat immediately. The assault ended with high British casualties and no decisive gains. The manoeuvre cost the lives of about 107 out of the 674 men under Cardigan's command. Cardigan himself was unscathed. He was later made Knight Commander of the Order of the Bath and appointed Colonel of the regiment of the 11th Hussars. He retired in 1866 and died soon after on March 28, 1868 from injuries sustained in a fall from his horse.


An early 19th century gold, diamond and enamel mourning ring commemorating the death of Lady Anna Maria Tollemache 
An equally interesting historic ring in the sale was a rare diamond set mourning ring made to commemorate the death of Lady Anna Maria Tollemache, who had her portrait painted by both Sir Joshua Reynolds and John Constable as a young girl (lot 224). The diamond enamel mourning ring contains a circular bezel with a glazed lock of hair and an applied pear-shaped old-brilliant-cut diamond with rose-cut diamond funerary urn motif. A legend to the tapering hoop reads: TO. THE. M'y. OF A.M: COUNTESS. OF. DYSART.14. SEPT. 1804.The Countess of Dysart married Wilbraham Tollemache, 6th Earl of Dysart, a British politician who sat in the House of Commons from 1771-84. The ring came in its original box, adding to the appeal, and together sold beyond hopes for £4,600.
The Belle Époque period was represented by a selection of jewels including an outstanding platinum, cabochon emerald and diamond ring (lot 234). Jewels made during this time were arguably of the finest quality and have become highly sought after. The platinum diamond mount was set with a stunning mid green cabochon emerald, which sat like a green crystal ball high in the setting. The ring was in superb condition and once examined was difficult to put down! Dated to c.1915 ring, is was knocked down at £8,200, comfortably exceeding the £3,000-5,000.
One of the surprise results of the day was a diamond and ruby bracelet that sailed to £10,000 (lot 155). Composed of circular-cut diamond scroll and carved ruby articulated panels, the good quality bracelet is reminiscent of similar jewellery made by Cartier during the 1930s. It had French hallmarks and was produced in platinum both of which were a mark of quality.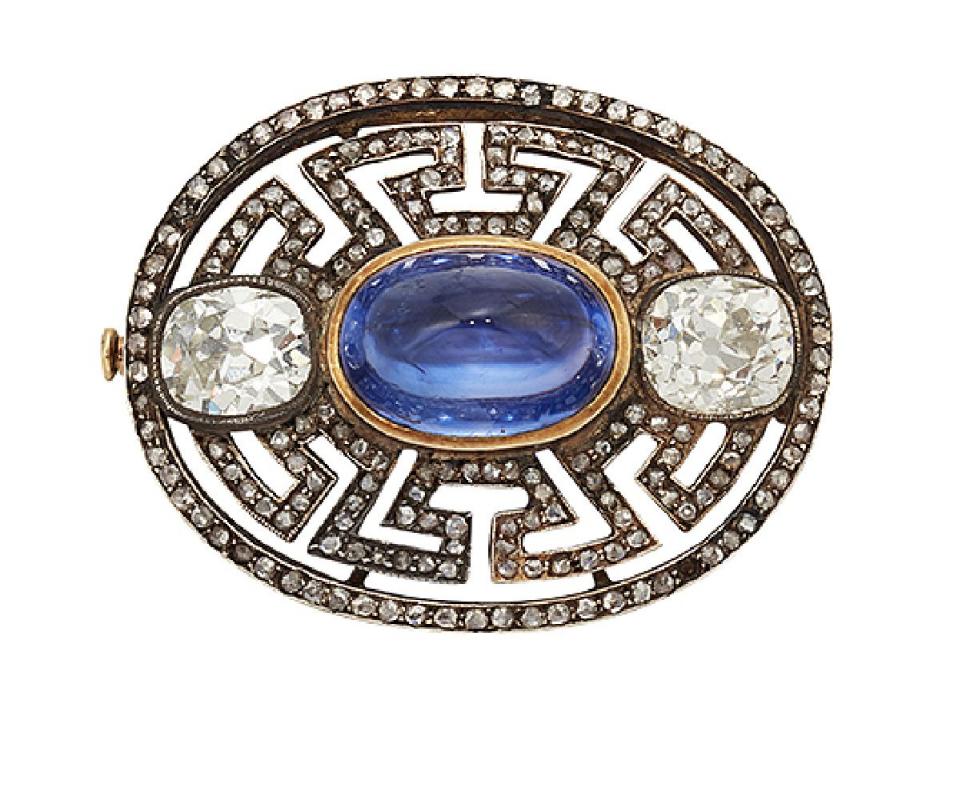 A Russian, platinum, gold, sapphire and diamond brooch, designed as a rose-cut diamond-set openwork
Another fine lot was a Russian sapphire and diamond brooch (lot 236). The strong blue sapphire was complimented by two cushion-shaped diamonds in a rose-cut diamond key pattern border. The piece was produced in Moscow in c.1908– a period in Imperial Russia known for its excellent craftsmanship – and took £8,500.
The finale of the sale was a typically elegant brooch by the famous French jewellery atelier Boucheron (lot 237). The classic diamond, pearl and black onyx brooch was produced in c.1915.
Early pieces by such great jewellery houses have become scarce and whenever an example appears on the open market there is plenty of competition to acquire it, as was the case here. Estimated at £2,500-3,500, it was eventually knocked down at £6,000.
For further information please contact Peigi Mackillop peigimackillop@roseberys.co.uk +44 (0) 20 8761 2522