British artworks on offer by some of the leading artists of the 20th century at Roseberys
4/02/2021 Modern & Contemporary British Art, News Stories & Press Release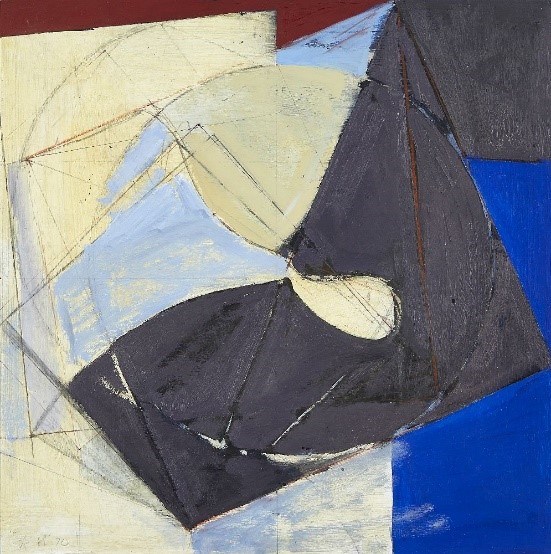 Adrian Heath, British 1920-1992- Untitled 1970; oil on card
ROSEBERYS LONDON : The first specialist sale to take place at Roseberys this year will be the Modern & Contemporary British Art auction on Tuesday 23 February, starting at 11am. The wide-ranging sale features an extensive selection of paintings, sculpture, and works on paper by British artists, with the highlight of the sale being an artwork by the renowned British painter and printmaker Patrick Caulfield. Other highlights come from artists who have multiple works in the sale including Adrian Heath, Henry Cliffe, Alan Davie and Frank Brangwyn. Lots 1-28 come from a private London collector, which includes an oil by Walter Richard Sickert.
Vicki Wonfor, Joint Managing Director commented on the sale 'Roseberys are pleased to present a well-rounded selection of Modern British Artist's to the market, many of the lots are being offered to the secondary market for the first time. This includes the Patrick Caulfield, Wall Plate: Small Ridges, 1986, which was designed to be part of a print series but in the end it wasn't selected for publication as a print, so is a unique work, smaller and one of the better examples. Further the Ben Nicholson, work on paper has been in the same family since acquired from the gallery in which it was first sold. In addition, we are delighted to continue to offer a broad range of high quality and well-regarded artists with some very accessible pieces for everyone to enjoy.'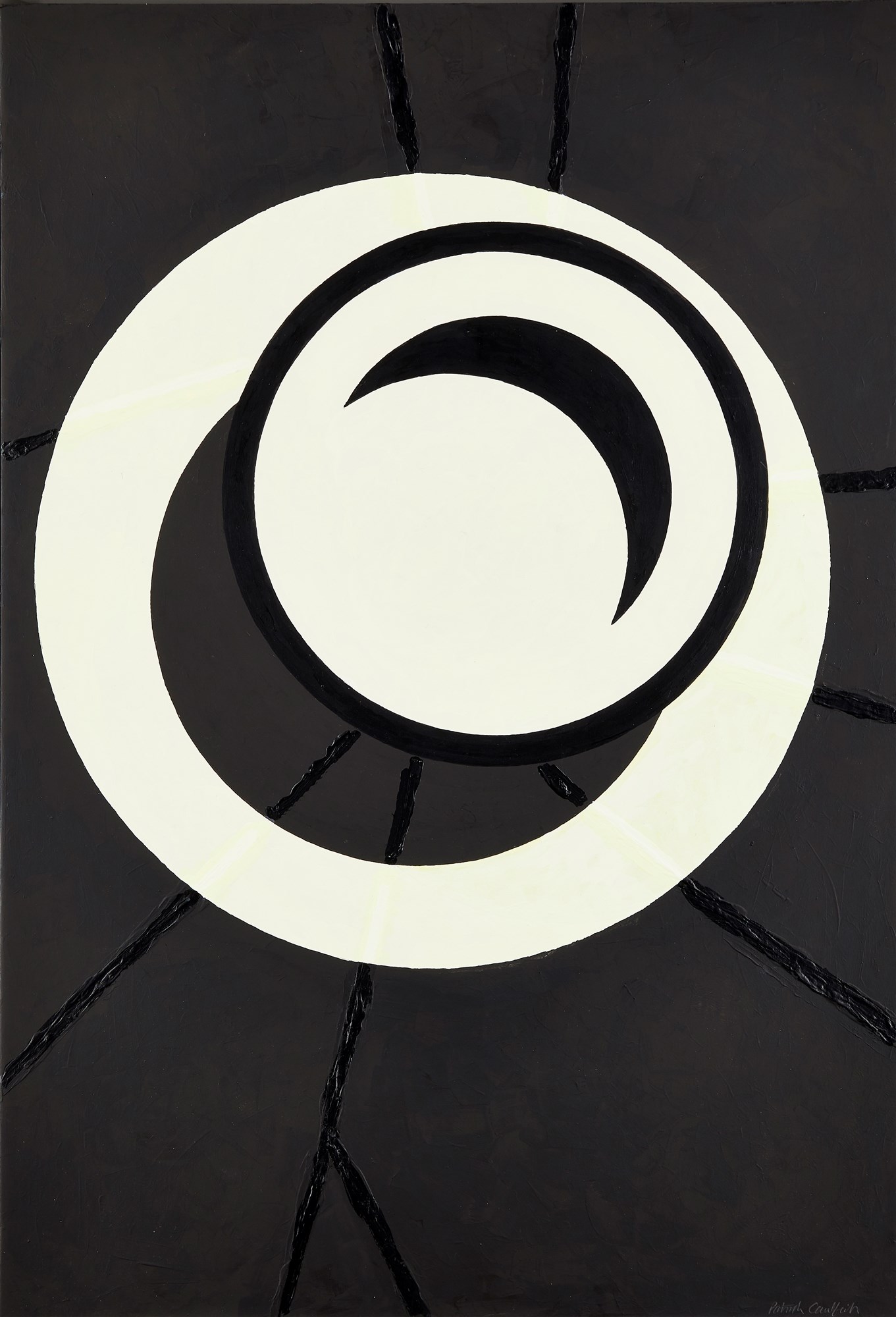 Patrick Caulfield CBE RA, British 1936-2005- Wall Plate: Small Ridges, 1986; acrylic on board
Leading the sale is an artwork titled Wall Plate: Small Ridges by the seminal British painter and printmaker Patrick Caulfield CBE RA 1936-2005. Caulfield was a student at Chelsea School of Art and the Royal College of Art, studying alongside Allen Jones and David Hockney. This piece on sale at Roseberys with an estimate of £25,000-30,000 is one of a number of studies in acrylic on board made by Caulfield for his 'Wall Plates' screenprints, made by the artist for Waddington Graphics in 1987. 'Small Ridges' is one of approximately a dozen of these studies made in which Caulfield played with the representation of light and shadow on a textured base. This painting is a key example of Caulfield's instantly recognisable approach, which lies in the stripping back of scenes to their most basic, minimalist forms. This piece, being acrylic on board, is also a typical example of the artist's use of materials and technique. Caulfield's use of acrylic allowed him to create bold and contrasting patches of colour, and imbues this painting with a flatness which is characteristic of his wider work.
David Bomberg, British 1890-1957- Portrait of artist, 1937; oil on board
Elsewhere in the sale is work by British painter David Bomberg. Entered into the auction with an estimate of £18,000-22,000 is an oil portrait of artist painted in 1937 with provenance from Christie's London, where it was previously exhibited at the Boundary Gallery. David Bomberg was a British painter and member of the Whitechapel Boys. He studied at the Slade School of Art under Henry Tonks, and alongside artists such as Stanley Spencer, Paul Nash and Ben Nicholson who is also is included in the auction.  After winning the Slade Prize for drawing in 1913, he travelled to France and met artists including Pablo Picasso and Amedeo Modigliani. This work is a particularly rare and unusual work from Bomberg, being the only known self-portrait in which the artist depicts himself wearing both glasses and a cap. It is nevertheless easily recognisable as one of the Bomberg's self-portraits, a subject to which he repeatedly returns, applying distinctive shades of red, orange and blue with characteristically confident brushstrokes.
Ben Nicholson OM, British, 1894-1982- Black and Brown, 1981; oil ink and wash on paper
Another highlight painting within the sale comes from fellow student at the Slade School of Art during 1910-11 and friend of Bombergs, Ben Nicholson OM (1894-1982). Titled Black and Brown, the oil ink and wash on paper created in 1981 comes with an estimate of £10,000-15,000 and provenance from the Waddington Galleries, London, where purchased by Michael Nicholson, thence by descent. Ben Nicholson, who, as a central member of the St Ives School in the early 20th century, exerted an immense influence on the shape of British art to follow. His approach was later influenced by the leading proponents of abstract art in Europe, including Pablo Picasso and Piet Mondrian, both of whom he met, whilst his preoccupation with the simplicity of lines and forms also demonstrates an affinity with the work of Barbara Hepworth, to whom he was married for a time. This work exemplifies Nicholson's unmistakeable style, particularly his focus on the representation of objects through flattened shapes and blocks of contrasting colours.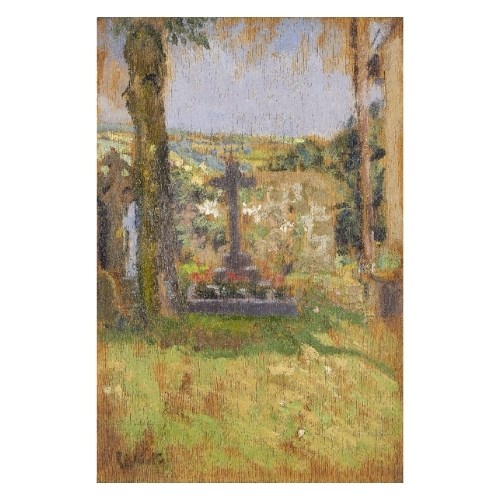 Walter Richard Sickert RA PRBA NEAC, British 1860-1942- Chagford Churchyard, 1916; oil on panel
Estimated to sell for £5000-7000 is an oil titled Chagford Churchyard by Walter Richard Sickert RA PRBA NEAC, coming from a private collector and a strong provenance. Sickert spent the summer of 1916 in Chagford, Devon. The churchyard there became one of Sickert's favourite subjects to depict and several sketches, studies and oils were produced of the churchyard with it's gravestones silhouetted against the Devonshire countryside. The present lot is a study for an oil, listed in Wendy Baron's catalogue raisonée as 480.2, and now resides in the Fitzwilliam Museum, Cambridge, having been bequeathed by Lillian Browse CBE.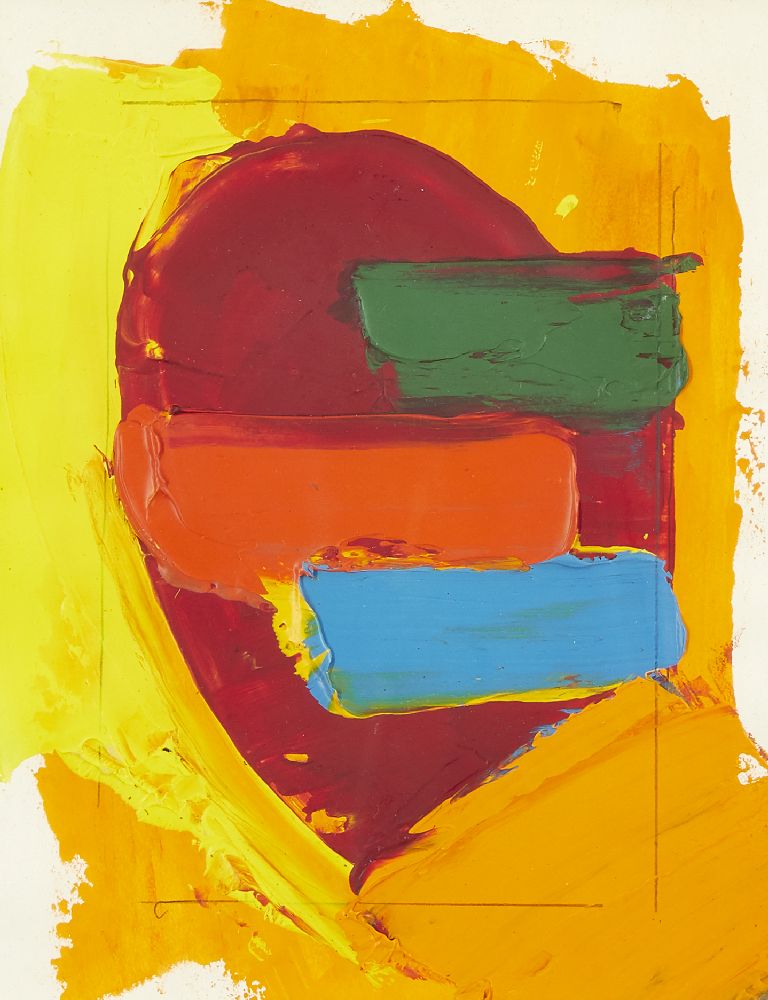 John Hoyland RA, British 1934-2011- Composition for the Deck of Cards, 1976; oil with pencil on paper
Lots 37 and 38 by John Hoyland RA (1934-2011), one of Britain's leading abstract painters also feature within the sale at Roseberys. Both works of oil with pencil on paper titled Composition for the Deck of Cards created in 1976 come with matching estimates of £3,000-5000 and a provenance from JPL Fine Arts, London. Both works on offer are a brilliant example of Hoyland's work which was characterised by simple shapes and high-key colour.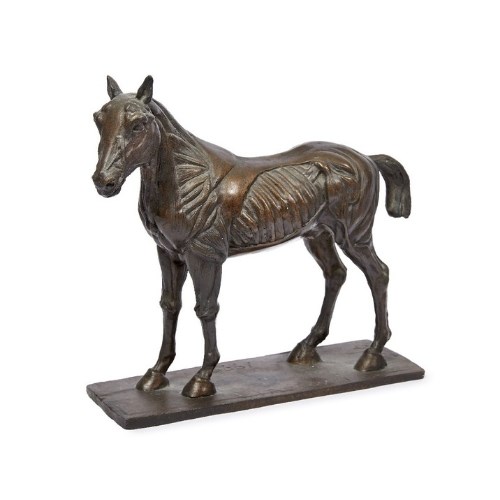 Eduardo Paolozzi CBE RA, Scottish 1924-2005- Horse with Anatomy, 1998; bronze with brown patina

Fresh to the market are two works of art by Scottish artist Sir Eduardo Paolozzi CBE RA (1924-2005), that were previously gifted by the artist to the current owner. Lot 172 Head; painted plaster comes with an estimate of £2,000-3000 and lot 173 Horse with Anatomy, 1998; bronze with brown patina comes with an estimate of £8,000 -12,000. Eduardo Paolozzi, was a founding member of the Independent Group with contemporaries Nigel Henderson and Richard Hamilton. While he produced art in a range of media, Paolozzi was arguably best known for his sculpture, with numerous works commissioned for notable public locations, including the British Library, the Queen Elizabeth Hall at the Southbank Centre, and the Royal Society, alongside many others.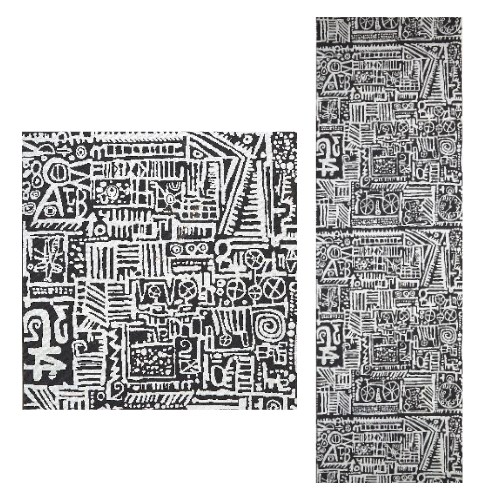 Nigel Henderson & Sir Eduardo Paolozzi, British 1917-1985 & Scottish 1924-2005- 'Barkcloth' textile panel, c. 1954; hand screenprint on cotton twill
Lots 174 – 176 are artworks all produced by Hammer Prints Ltd company founded in 1954 by Nigel Henderson and Eduardo Paolozzi. Hammer Prints Ltd was established: "To purchase, sell, manufacture, hire or act as agents for the sale of textiles, wallpaper, statuary, ceramics, furniture and photographic equipment and materials". Working from a studio at Henderson's home at Landermere Wharf near Thorpe-le-Soken in Essex, they developed over eleven designs that were screen printed onto wallpapers, textiles and readymade ceramic products. Hammer Prints coincided with the artists' involvement in the Independent Group, a contingent of artists, architects and writers who celebrated popular culture and mass production. It is quite rare to have anything presented on the market as the prints were in production for such a short time. Lot 174 is the highlight out of the group. A Barkcloth' textile panel, c. 1954; hand screenprint on cotton twill that is estimated to make  £2,000- £3,000.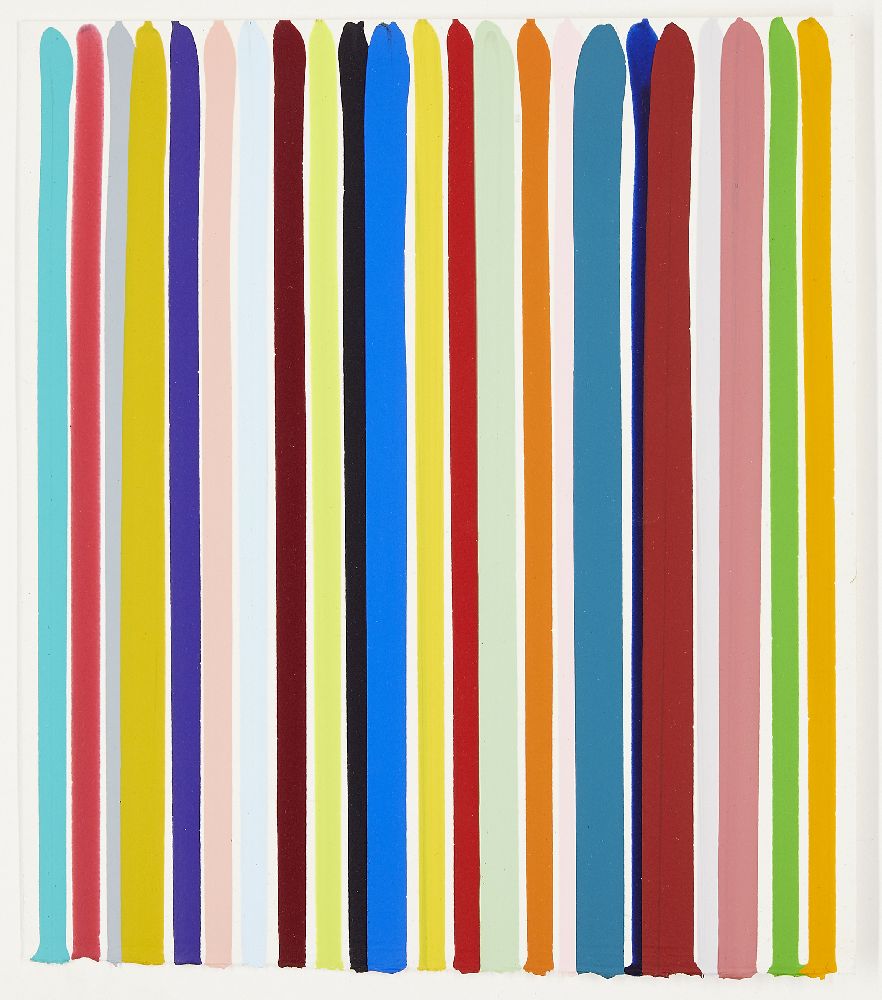 Ian Davenport, British b.1966- 22, 2014; acrylic and water-based paints on Fabriano Aristico paper
Estimated to make £3,000- £5,000 is Lot 41 by British artist Ian Davenport. The acrylic and water-based paints on Fabriano Aristico paper created recently in 2014 comes with provenance from the Waddington Custot, London, where purchased from the present owner. It comes accompanied with a special edition monograph book on the artist.  Ian Davenport attended Goldsmiths College alongside classmates Damien Hirst, Sarah Lucas and Gary Hume. His work was also included in Freeze, a 1988 exhibition curated by Hirst which featured the artworks of a number of artists who would later be classed as the Young British Artists (YBA). This work demonstrates Davenport's signature style, which involves the application of bright pigments in large-scale vertical lines, leading commentators to compare his work with that of Bridget Riley, another influential contemporary British artist.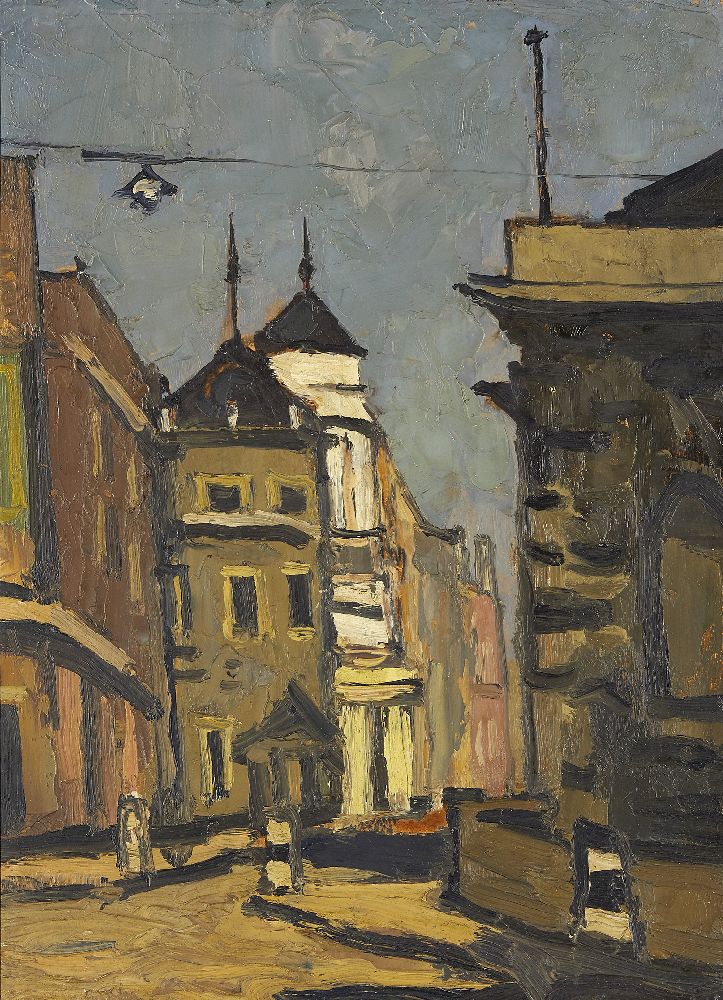 Sir Kyffin Williams KBA RA, Welsh 1918-2006 Lower Thames Street, London, 1955; oil on panel
The final highlight in the sale is lot 14 by Welsh landscape painter Sir Kyffin Williams KBA RA, (1918-2006). The oil titled Lower Thames Street, London created in 1955 is estimated to make £5,000- £8,000 and comes with a provenance from Martin Tinney Gallery, Cardiff; Heal & Son Ltd, where purchased by the present owner. Kyffin Williams is known for his instantly recognisable depictions of the British countryside.  Williams typically applied thick layers of paint with a palette knife, using a muted palette of greys and greens to convey the dignified solemnity of the landscape, an approach which can be seen in this painting of Lower Thames Street in London. Williams has been described as one of the most significant forces in twentieth-century Welsh art, with his paintings shaping the style of those which followed.
-Ends -

Modern & Contemporary British Art : Live online auction only
Tuesday 23 February, starting at 11am
There will be no in person viewing available for this auction due to the current lockdown restrictions. We now offer extra images and video viewing. Please email pictures@roseberys.co.uk for further information
View the fully illustrated auction catalogue here