Boodles ring sells for £16,875
27/11/2019 News Stories & Press Release, Jewellery & Watches
LONDON: A diamond single stone ring from Boodles and abstract pieces by the innovative British designer John Donald starred in a varied sale of jewellery and watches at Roseberys London. The auction took place on November 20 and contained pieces dating from the 19th century to the present day, many the creations of world famous brands.
Geoff Young, Senior Consultant commented: The auction offered a wide selection of jewels and watches from antique to modern and this saw broad appeal amongst bidders. Interest was strong in signed jewels and watches, keenly priced, good quality antique jewels and highly wearable jewels from all periods.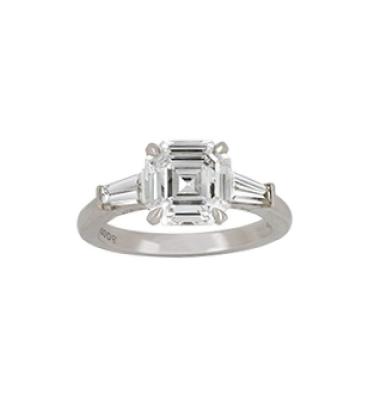 Among the most satisfying results was the sale's final lot – an enticing platinum and diamond single stone ring by Boodles. Weighing 2.22 carats with a popular Asscher-cut set in 18ct. white gold and accompanied by a laboratory report for the diamond, it sold for £16,875 with premium. [Lot 324]
Three characteristic abstract design jewels by the English jeweller John Donald (b.1928), who is widely regarded as one of the most innovative jewellery designers to have emerged from post-war Britain, attracted strong interest and realised prices above estimates. The results reflect a wider trend of growing prices for pieces designed by the founders of modern British jewellery during the 1960s and 1970s. The most expensive piece at £2100 was a quintessential 1960s rock crystal brooch. The uniformity of the polished rods both mirror and contrast with the abstract clustering of the natural crystals. The design is an embodiment of 'balanced irregularity', a concept favoured by the designer who believed that "all stones, however valuable, however beautiful, must be subordinate to design." Brooches played a particularly significant part in launching Donald's career, as they provided him with maximum scope for expression. As a result, some of his most important ideas can be traced back through his brooch designs. [Lot 54]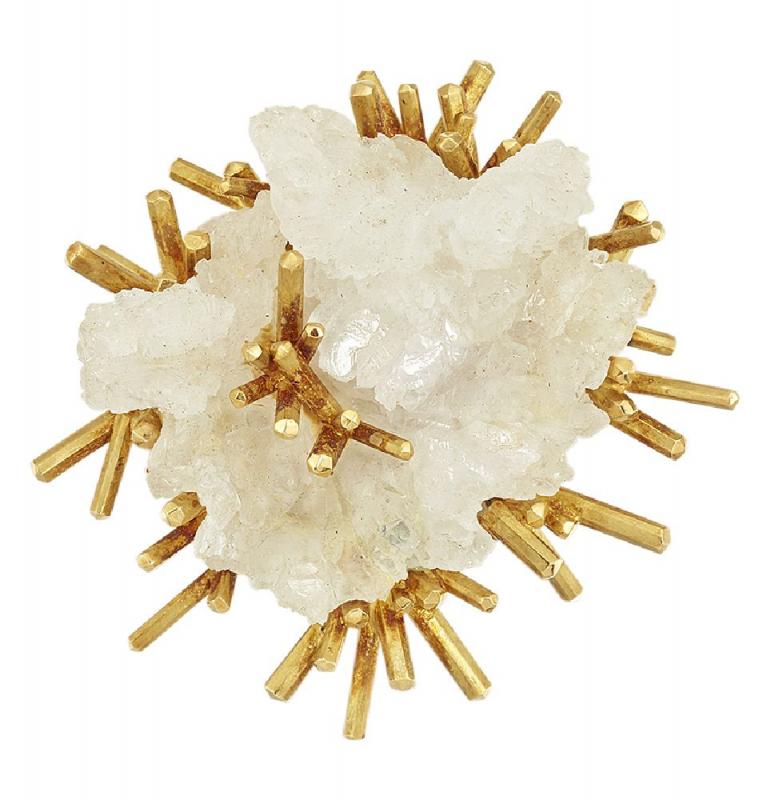 An 18ct white gold and green tourmaline brooch with tourmaline crystals radiating hammered spikes from floral clusters made £1700, and an 18ct gold and amethyst ring, offered with a pair of 18ct gold earrings made £1800. [Lot 55] [Lot 56]
Donald's iconic work attracted many notable clients and patrons, including Princess Margaret and the Queen Mother. He earned a name as a pioneering artist-jeweller who championed creative expression and individuality through his revolutionary designs. Major brands from the world of high-end watches were also for sale including timepieces by Audemars Piguet, Rolex, Omega, and Jaeger-LeCoultre. A dozen lots from a distinguished collector were keenly contested, including an 18ct gold automatic wristwatch by Vacheron & Constantin that realised £3400 against a pre-sale estimate £2,000-3,000. Knocked down for the same price was an 18ct white gold and diamond quartz wristwatch with a pave single-cut diamond cushion-shaped dial by Audemars Piguet. An 18ct gold and diamond quartz wristwatch with a black cushion shaped dial and single-cut diamond dot hour markers, also by Audemars Piguet, made £2700. [Lots 163] [Lot 174]
Further Highlights 
This attractive ring, with a central claw set with a cushion shaped peridot between two triangular-cut diamond single stones, was much admired and achieved £1150 against a £600-800 estimate. [Lot 81]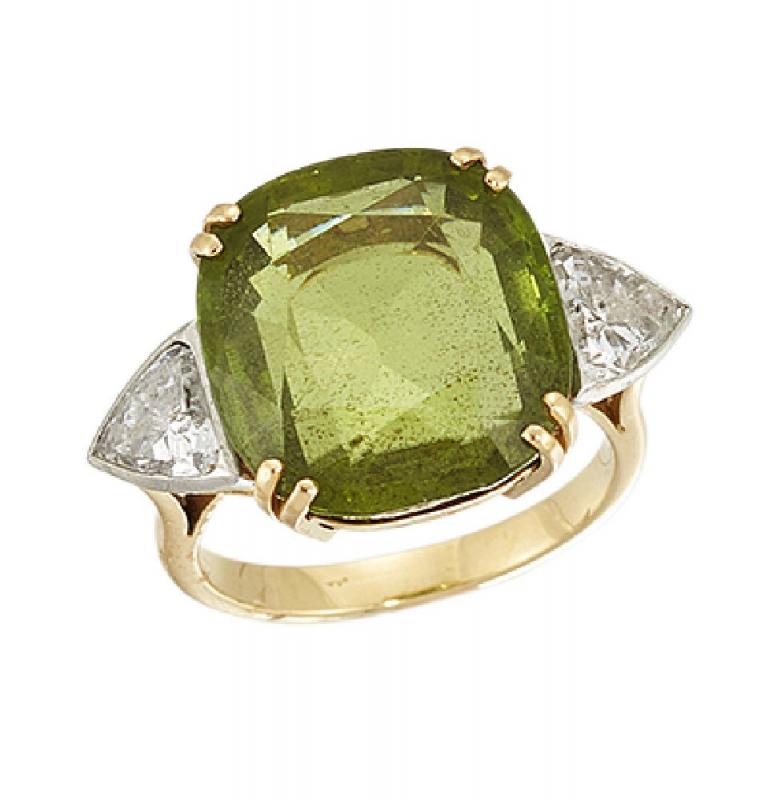 The interest shown in this 19th century emerald and diamond ring demonstrated the appeal of good quality, gem-set antique jewellery. It sold for £3,200 against a £1,500-2,000 estimate. [Lot 105] 
 Period charm and timelessness epitomised these Edwardian rock crystal drop earrings as competitive bidding took them to more than triple their low estimate to sell for £620. [Lot 233]
Competitive bidding reached £4,000 against an estimate of £1,400-2,000 for these modern diamond cluster earclips, demonstrating the demand for highly wearable jewels. [Lot 238]
For further information please contact Peigi Mackillop peigimackillop@roseberys.co.uk +44 (0) 20 8761 2522
The Jewellery & Watches department are now welcoming consignments for inclusion within their next sale.
To get a complimentary valuation click on the link below.