Bidders out in force for Roseberys Modern & Contemporary British Art auction
14/08/2020 Modern & Contemporary British Art, News Stories & Press Release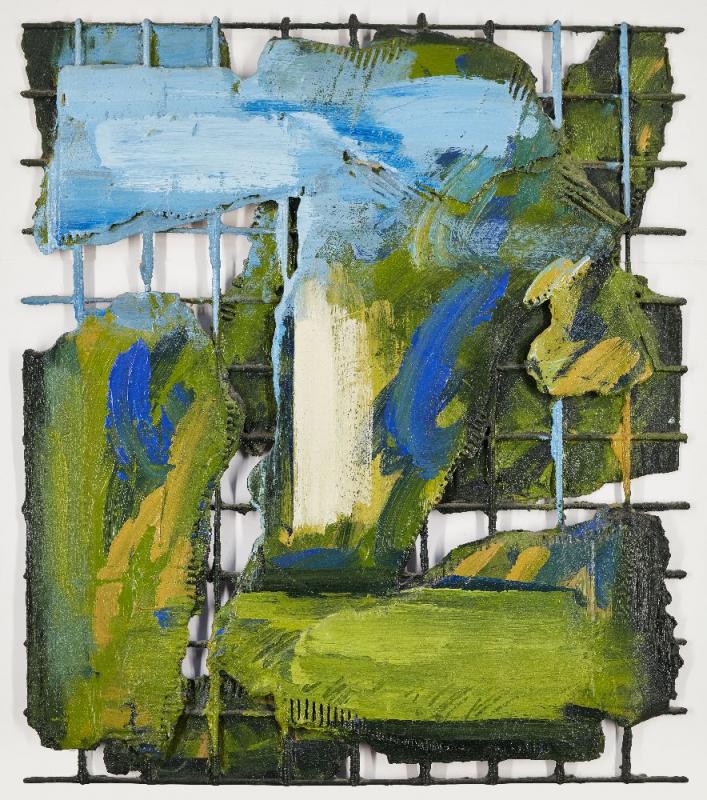 William Tillyer, British b.1938- Untitled, 1980; mixed media, welded wire mesh, acrylic, and cardboard

ROSEBERYS LONDON: Bidders were out in force for Roseberys Modern & Contemporary British Art auction on Tuesday 11 August, absorbing 80% of the lots on offer. Containing a wealth of high-quality art by celebrated British artists, the auction that took place on a scorching hot day generated spirited bidding throughout with a number of lots exceeding expectations.
Vicki Wonfor, Joint Managing Director commented 'I was delighted to see a strong sold rate of 80% across the board in the sale. We are operating an appointment system for viewings which has been well received by clients as they get to enjoy the view safely and our specialists can ensure they can spend time with the clients assisting them. 95% of bidding took place online with the remainder on the telephone, it is great to see the clients have the confidence in the options that are available to them including video viewing pre auction as an alternative to attending. The sale had a stronger focus on the third to fourth quarters of the 20th century on this occasion, but it was good to see the popularity of the earlier works was still evident with pieces from Stanley Spencer, Walter Sickert and Sir Jacob Epstein selling well.'

Opening the sale off to an exciting start was lot 2, by British artist William Tillyer. Rarely does his work on mesh come onto the market, especially in such great condition, so this artwork proved to be extremely popular amongst bidders on the day. Entered into the auction at £5,000- £8,000, the work exceeded its estimate to make £13,750. The artwork was purchased from Bernard Jacobson gallery London in 1980s by the current owner's father, where it was exhibited at in 1980. Tillyer studied at Middlesbrough College of Art (1956-1959) and the Slade School of Art in London (1960-1962). In 1978, he moved to Wiltshire, where he first began to paint on wire mesh, such as this piece.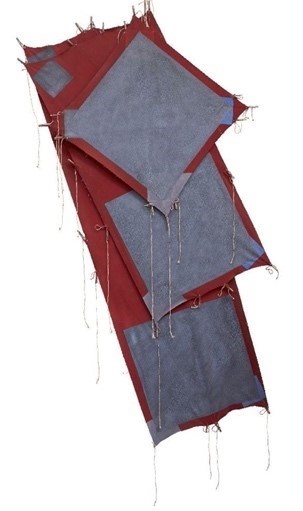 Richard Smith CBE, British 1931-2016- Bucklee, 1972; oil, wood and canvas


Following incredible sale results from Richard Smith CBE in the previous sale, Roseberys were delighted to be able to offer multiple works by the artist once again. Lot 7 was the highlight sale from the collection by the renowned artist making £12,500. The artwork named 'Bucklee' is a pun on the name Stephen Buckley, a close friend of Richard Smiths who owned works by the fellow Pop artist. The artwork was bought from Christie's in 2013 and purchased by the present owner from the Roger Hilton Gallery.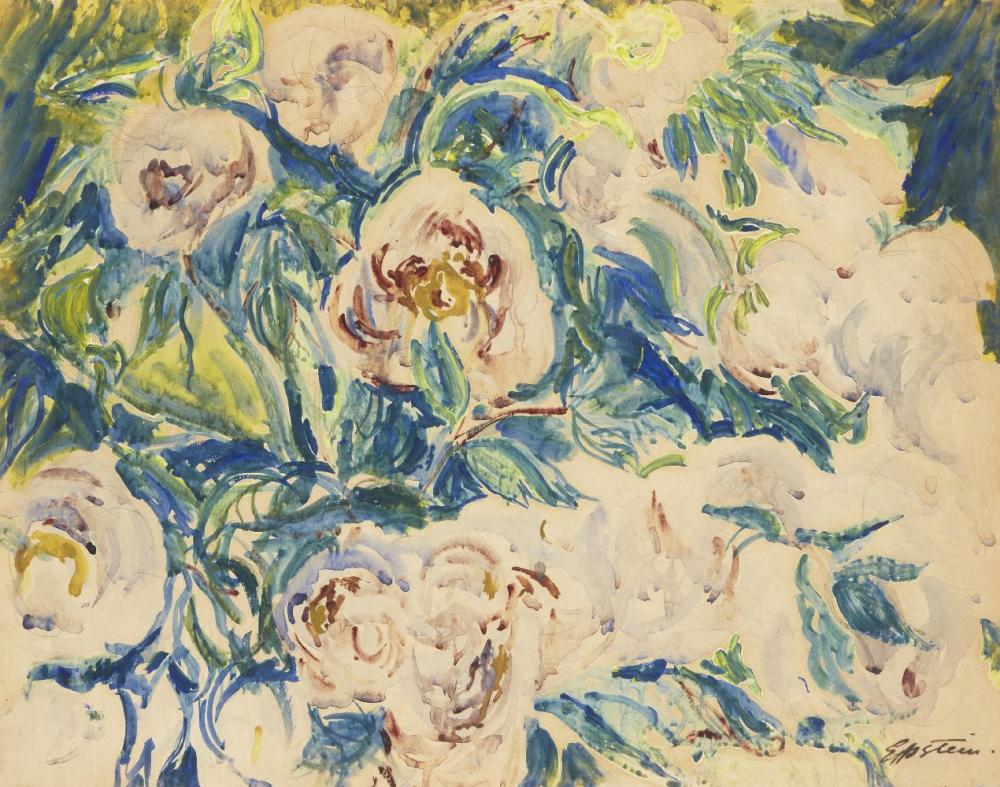 Sir Jacob Epstein, British 1880-1959- Peonies; watercolour on paper

Among the other highlight sales from the auction was work by Sir Jacob Epstein, titled 'Peonies'. Jacob Epstein made his name as a sculptor of monuments and portraits, as well as working as a painter and illustrator. The watercolour on paper (lot 35) that was estimated to sell for £1,000 - £1,500 eventually made over double its top estimate selling for £4,500.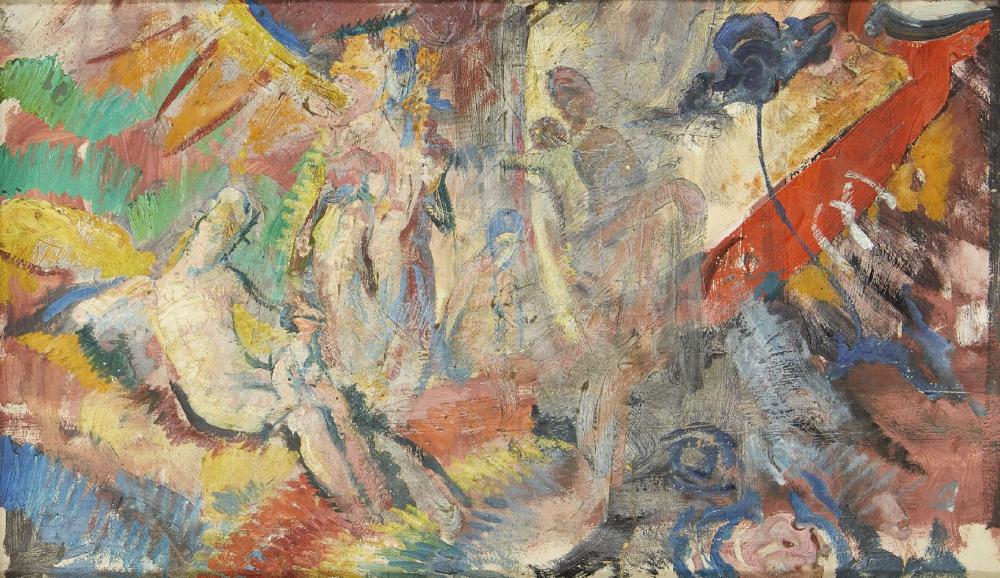 Charles Henry Sims RA RWS, British 1873-1928- Pastorale; oil on board

Entered into the market at £400 - £600, lot 48 by Charles Henry Sims RA RWS, exceeded its top estimate to make £1,625. The oil on board titled 'Pastorale', is a beautiful example of the unique style that he adopted later in his career. An expert at portraying sunlit landscapes, Sims specialised in society portraits and neo-classical fantasies, typically idealised scenes of women, children or fairies in outdoor settings. Later in life his artworks became a lot more modernist in style, termed "Spirituals" like the artwork sold at Roseberys.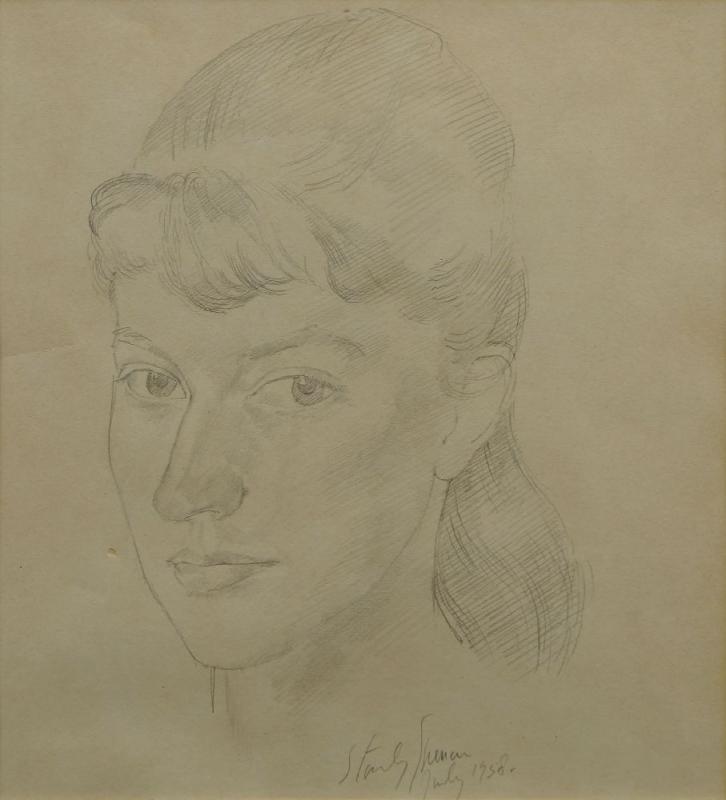 Sir Stanley Spencer CBE RA, British 1891-1959- Portrait of a girl; pencil on paper


Following shortly after this highlight was an artwork by British artist, Sir Stanley Spencer CBE RA that sold for £5,750, exceeding its top estimate of £3,000. Titled 'Portrait of a girl', this particular drawing would have been executed over a year before the artist's death on 14th December 1959. Spencer was frequently commissioned to complete portrait drawings - referred to as 'heads' - until the end of his career. The fine lines and precision of the drawing shows the influence of his time at the Slade under the tutelage of Henry Tonks between 1908 and 1912.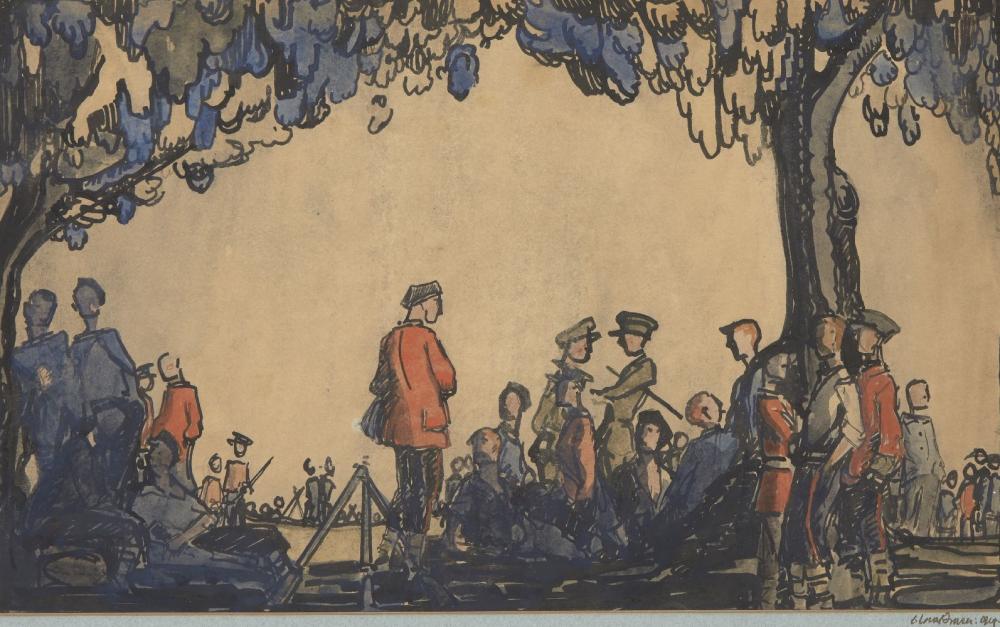 Claud Lovat Fraser, British 1890-1921- Kitchener's Army, 1914; brush and black ink and wash and watercolour on buff coloured paper
The Illustrations within the auction did very well, including works by Claud Lovat Fraser, Quentin Blake and Louis Wain. Entered into the auction at £150 - £200, titled 'Kitchener's Army', Claud Lovat Fraser's work finally realised £2,500. The black ink and wash and watercolour on buff coloured paper is from an album of twenty-two studies entitled 'The Costumes and Uniforms of the British Army'. The work by the illustrator and costume designer has previously been exhibited at Leicester Galleries, London, Exhibition of Works by C. Lovat Fraser in December, 1921, the RWS Galleries in London for their Fifty Years Ago Exhibition in June 1965 and examples from the same series have also been displayed at the Ashmolean Museum in Oxford.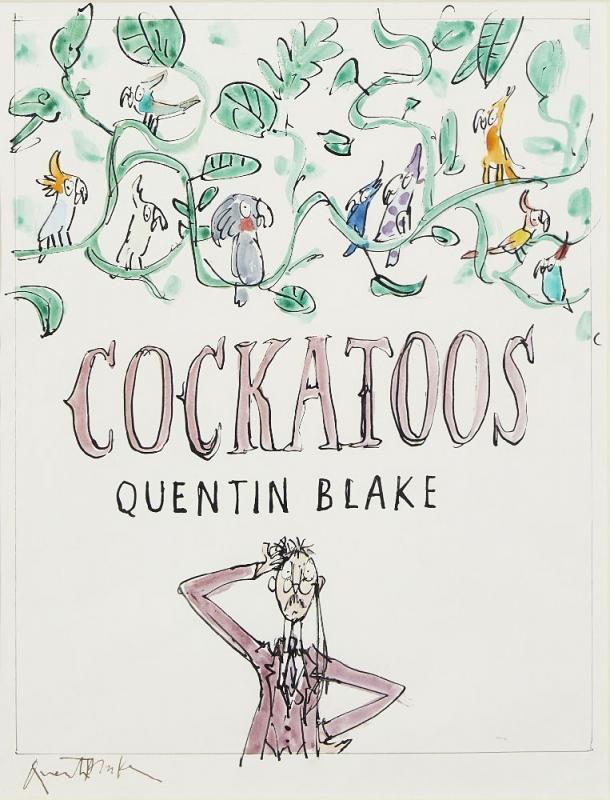 Quentin Blake OBE, British b.1932- Cockatoos; pen and ink and watercolour
Estimated to make £800 - £1,200, the illustration in pen, ink and watercolour by the popular illustrator Quentin Blake OBE, titled 'Cockatoos' made £5,750. The provenance of this work comes from Chris Beetles Ltd., in London, where it was also exhibited in 2000.  The illustration was created for the cover of his classic book series, about a group of troublesome cockatoos on the run from their owner, first published in 1992.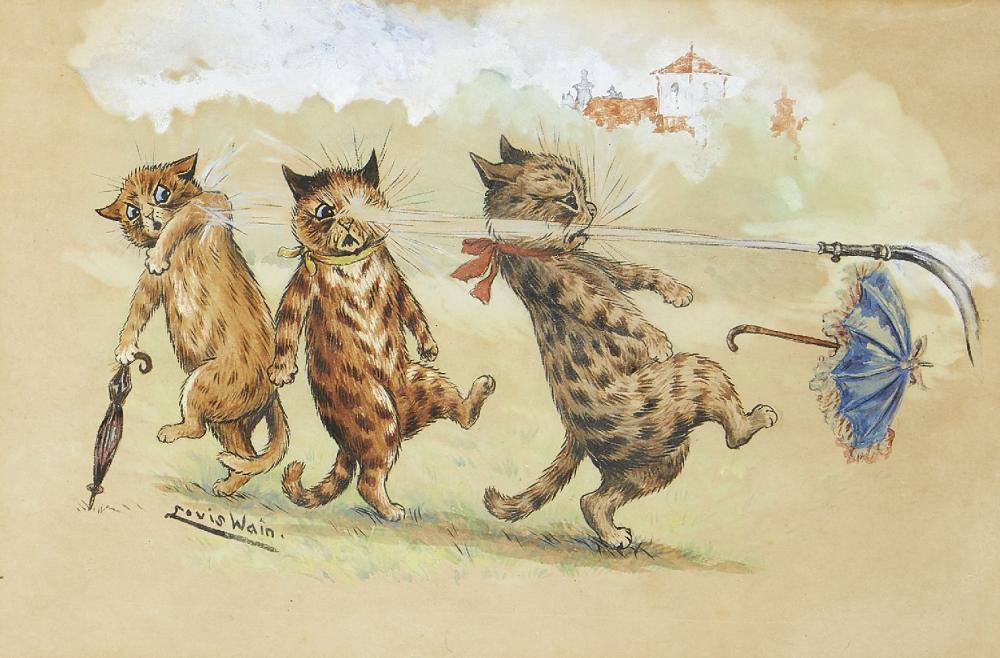 Louis Wain, British 1860-1939- It Rained Very Hard; pen, ink and watercolour heightened with white on buff paper


Estimated to make £300 - £500, the signed, pen, ink and watercolour illustration by the hugely prolific British artist Louis Wain titled 'It Rained Very Hard' made £3,000. Louis Wain was one of the most popular commercial illustrators in the history of England. Born in 1860, his anthropomorphic portrayals of cats captured the imagination of the Edwardian era and his work helped to raise the profile and popularity of felines to unprecedented heights. Before Wain, cats in England were often thought of with disdain but his work humanised them and helped to show them as something to be liked, admired and eventually loved.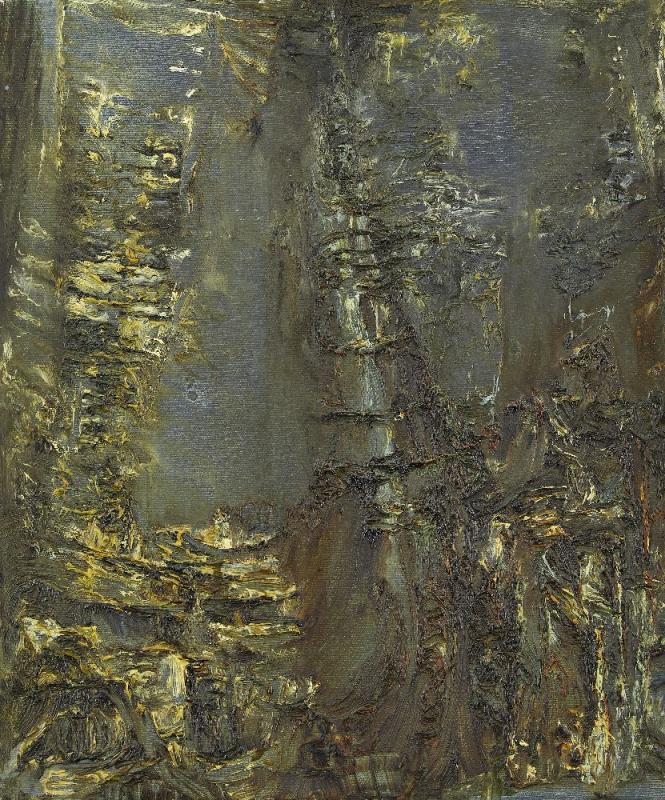 Therese Oulton, British b.1953- Heresies No.2, May 1986; oil on canvas
Both coming with fantastic gallery provenance were lots 109 and 110 by former Turner Prize nominee Therese Oulton. The two oils gained great interest from both the UK and the US to achieve results beyond their original estimates. Lot 109, titled 'Heresies No.1, Opus316', was entered into the auction at £400 - £600, selling for £2,125. Following swiftly after lot 110 titled 'Heresies No.2', also estimated at the same value, sold for £3,250.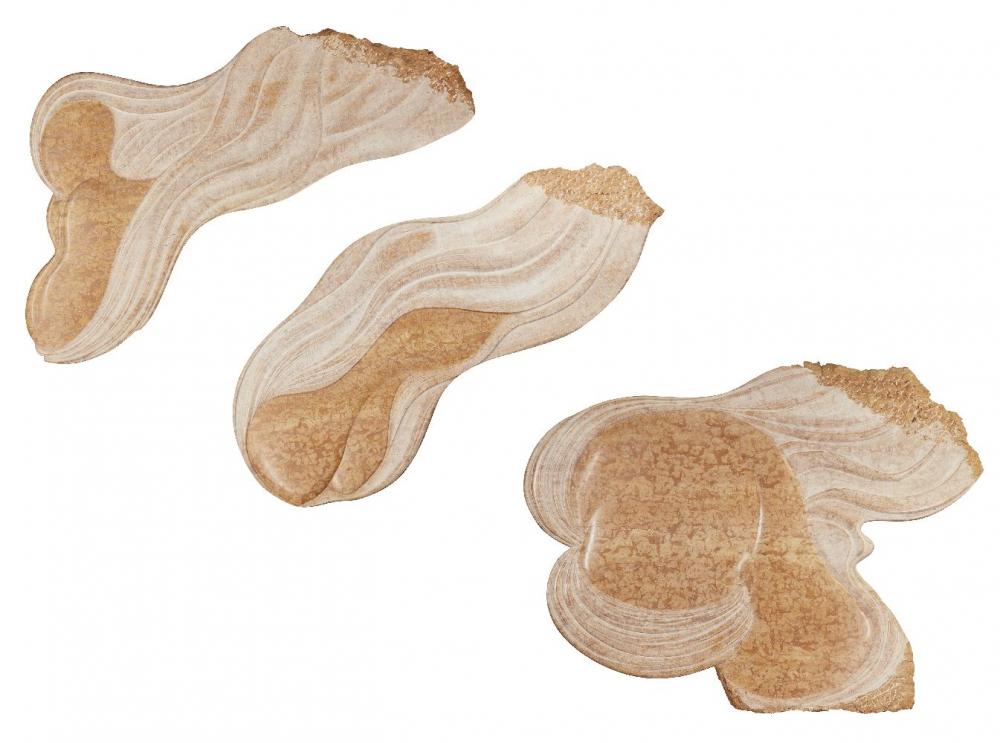 Stephen Cox RA, British b.1946- Ecstasy: St Agatha, 1983; red verona marble
Lot 172, by artist Stephen Cox RA, proved to be the highlight of the auction. The work on offer titled 'Ecstasy', made from red verona marble is a very significant work to have come onto the market by this artist. It comes from a private collection and was previously on display at the Tate, so comes with great exhibition history. The result signals a new auction record for the artist. Roseberys has had previous outstanding results for the artist in past Modern & Contemporary British Art auctions. Estimated to sell for £3,000 - £5,000, the bidding was between a phone and internet bidder, finally selling to a UK bidder for £15,000.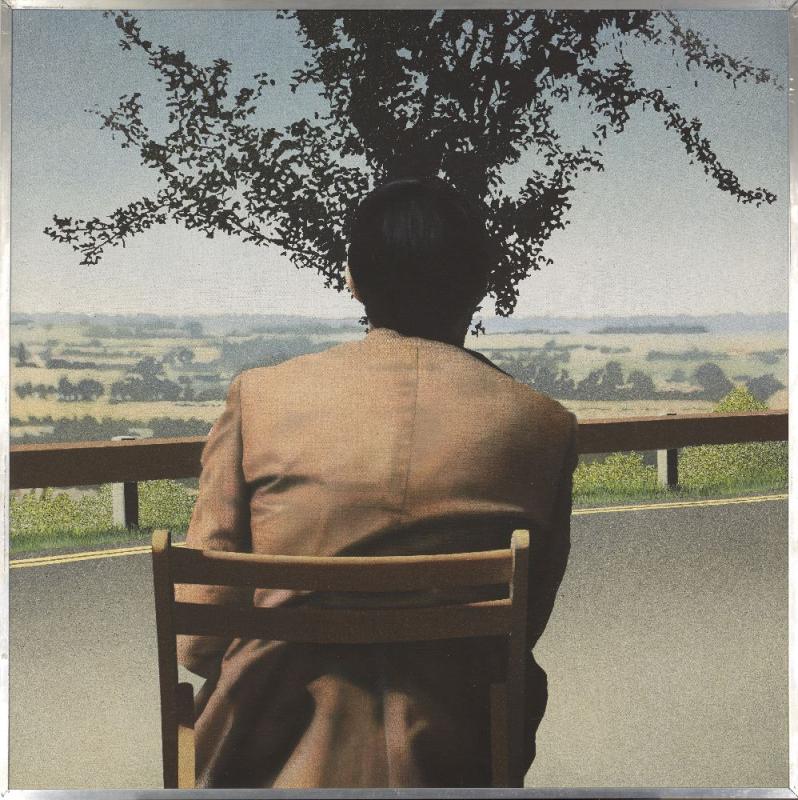 Boyd & Evans, British b.1944/1945- Point of View, 1972; acrylic on canvas
Ending the highlights from the sale is lot 267 by artist duo Boyd & Evans. Roseberys are delighted to have offered work by the artists again following the collection for sale in September 2019, alongside an event featuring a talk by the artists about their work to date. The acrylic on canvas titled Point of View created in 1972 coming from the Flowers Gallery in London was estimated to make between £800 - £1,200, finally realising a price of £4,250.
View all the results from the auction here.
The next Modern & Contemporary British Art auction will take place on Wednesday 4 November. Now welcoming consignments for this auction. To request a valuation please contact pictures@roseberys.co.uk 
-ENDS-

For any press or marketing related questions please contact Peigi Mackillop
peigimackillop@roseberys.co.uk