Auction led by major avant-garde artists Egon Schiele and André Lanskoy
12/06/2019 News Stories & Press Release, Impressionist, Modern & Post War Art
LONDON: Celebrated avant-garde painters Egon Schiele and André Lanskoy will lead a stellar line up of art works dating from the Impressionists through to Contemporary at Roseberys London. The sale will also feature a longstanding private collection of Magnum photographer's prints by Henri Cartier-Bresson and Bill Brandt among others.
Tess O'Brien Specialist in Impressionist, Modern, Post-War & Contemporary Art comments: 'We have a wonderful selection of works in the Impressionist and Modern section including works some of the period's celebrated masters including, Armand Guillaumin, Egon Schiele, Andre Lanskoy, Andre Derain, Mordecai Ardon, Mane Katz, Georges Mathieu, Jankel Adler, Andre Minaux, and Gerhard Hoehme. I am delighted that we also have included many female artists including Alice Penalba, Alice Halicka (Alicja Halicka) and Yvette Achkar - all of who were important players at the time.'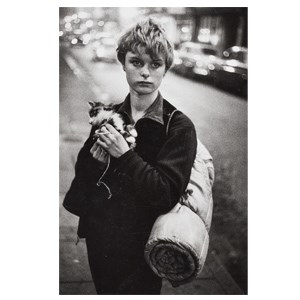 Kate Pritchard Valuer & Cataloguer of Post-War & Contemporary Art and Prints comments: 'We are also proud to present a private collection of Magnum photographer's prints, held in single ownership for more than 50 years, which illustrate the breadth and innovative portrayal of subjects shot by some of its members to include: Henri Cartier-Bresson, Bill Brandt, Elliot Erwitt, Sir Donald McCullin and David Hurn among others. To complement this we have expanded the section further with notable exponents from the world of photography, which includes a transcendental work by Massimo Vitali, time frozen in motion in front of the Blue Mosque by Steven McCurry, and fascinating insights into 1960s unseen Russia by Leonid Nikolaevich Lazarev.'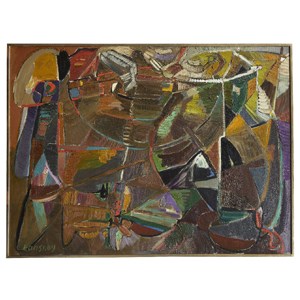 Leading lights of the Avant-Garde Terrain précis (1953) is the title of the abstract work depicted above by the Russian painter André Lanskoy (1902-76) (Lot 54). It dates to the 1950s – a high point in the artist's career when he was achieving international recognition and had developed his abstract depictions, abandoning his earlier figurative pieces. Well-sized and signed, the work is estimated at £25,000-30,000. Lanskoy worked alongside other artists of the School of Paris, such as Hans Hartung, Wols and Serge Polikaoff, developing the discourse of Tachisme. Similar in aims to the American Abstract Expressionists, this form of non-geometric abstract art developed in Europe in the 1940s and 1950s and is characterised by abstract shapes and splashes of paint. 

In a similar vein, the sale will also include a collection of works by Conrad Marca-Relli (1913-2000), an American artist who belonged to the early generation of New York School Abstract Expressionism (Lots 66-69). The group come from a private collector in New York who was friends with the artist.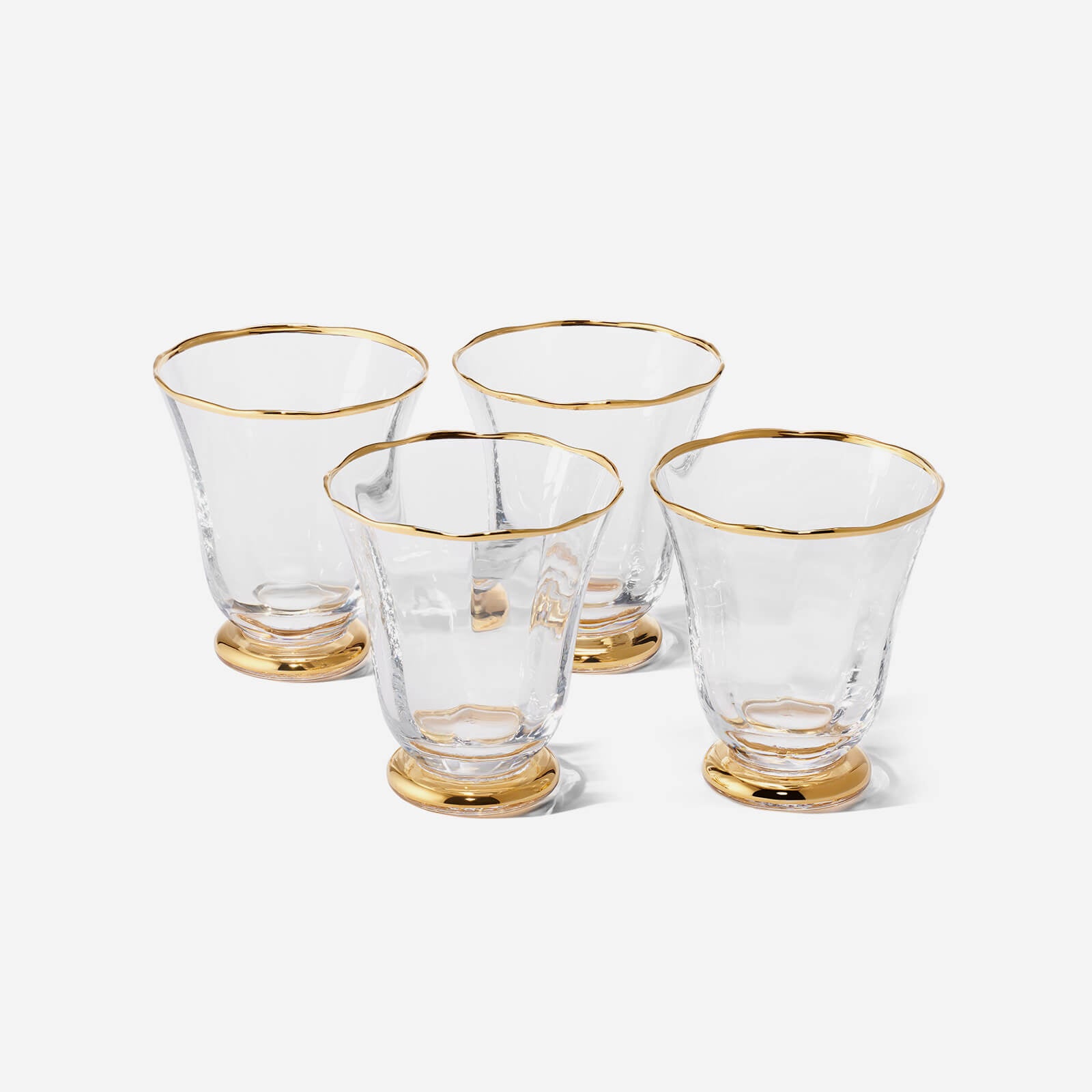 This early portrait by the famous Austrian painter Egon Schiele (1890-1918) carries hopes of £20,000-30,000 (Lot 10). Portrait eines jungen Mädchens (1907) was created the first year Schiele studied at the Vienna Academy of Fine Arts and is very similar to Portrait of a Girl (1907) held at the Albertina Museum in Vienna. During his three years at the academy, the artist was influenced by the Jugendstil - the German Art Nouveau movement. It was also around this period he met Gustav Klimt, who soon became his mentor. Klimt exchanged his own pieces with the artist and also arranged models and potential patrons for Schiele. The artist was prolific during his short life, creating numerous nudes and portraits executed in a confrontational style that would become his trademark. Schiele died of Spanish flu at the age of 28, three days after his pregnant wife, Edith, had succumbed to the disease.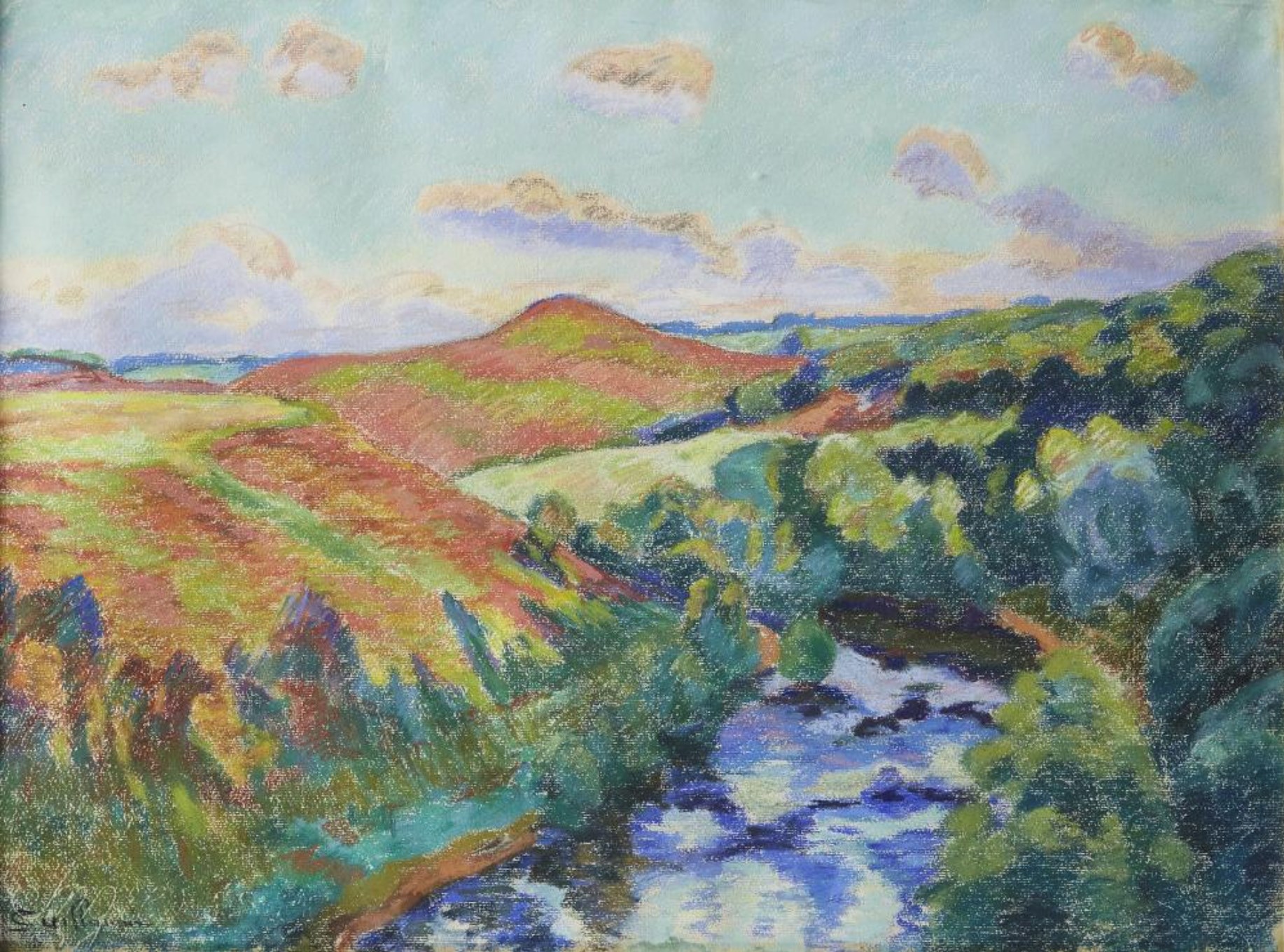 La Creuse – an area in central France named after the river that runs through it – is depicted in a fine scene by the French Impressionist painter Armand Guillaumin (1841-1927), estimated at £8,000-10,000 (Lot 11). A place often repeated in the artist's oeuvre, La Creuse drew the attention of numerous other painters, who named themselves École de Crozant after a small village in the region called Crozant. Guillaumin studied at the Académie Suisse in the 1860s, where he met Paul Cézanne and Camille Pissarro. He exhibited alongside his contemporaries in the Salon des Refusés in 1863 and in six of the eight renowned Impressionist exhibitions. In 1886, he befriended Vincent van Gogh whose brother Theo van Gogh (1857-1891), an art dealer, began to sell the artist's works.
André Derain's (1880-1954) oeuvre marries the volumes of Paul Cezanné's flatness with known non-Western sculpture, which is evident in a portrait included in this sale (Lot 30). The signed oil on panel - Portrait de Femme (c. 1922) – likely depicts Derain's wife, Alice. The sitter's features appear to be similar to those of Derain's other portraits of Alice, including Madame Derain in Green, 1907 held in the collections at the Museum of Modern Art in New York. It is estimated at £6,000-8,000. Derain is best known for his contribution to the Fauvist movement. In 1905, with a group of artists including Henri Matisse and Maurice de Vlaminck, Derain exhibited at the Salon d'Automne in Paris where the critic Louis Vauxcelles used the word 'fauves' (wild beasts) to describe what he saw. The movement later became known as Fauvism.
Trailblazing Women

Regarded as a significant artist of the Paris School, Yvette Achkar (b.1928) was born in Sao Paulo in Brazil and grew up in Lebanon (Lot 63). She graduated in 1957 from the Académie Libanaise des Beaux-Arts in Beirut, where she was under the influence of the Italian painter Fernando Manetti and the French painter Georges Cyr. But it was during her stay in Paris, on a scholarship from the French government, that her artistic career took hold. Most of the artist's works are signed Y Achkar, however the work offered here, titled Untitled Composition VI, is signed with the addition of Hampartzoumian – her second husband's name. Ashkar signed her name in this manner only for a short duration during the late 50s and early 60s, so this painting is a rare example. It comes from a private collection and is estimated at £12,000-18,000.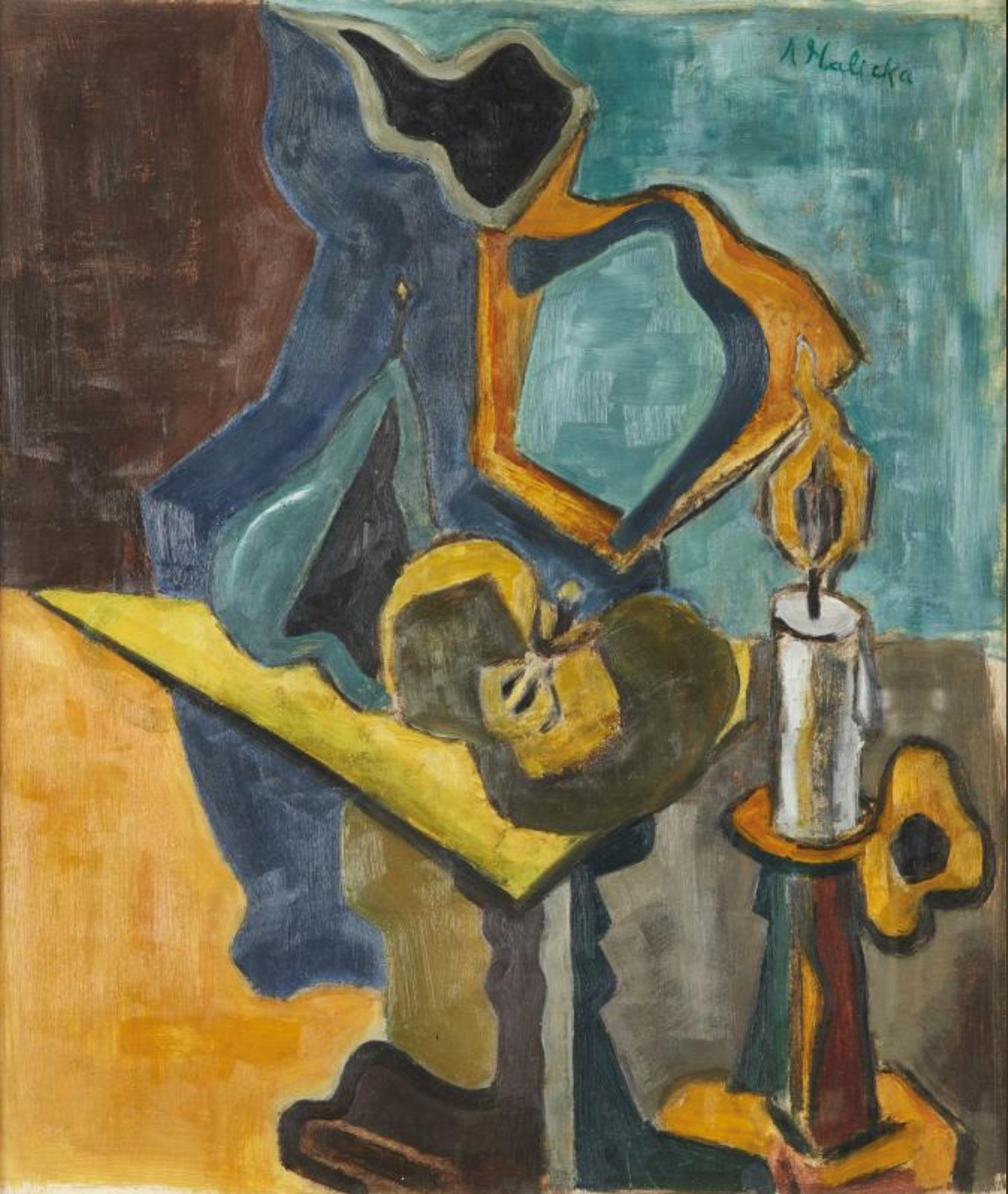 Polish Cubist painter Alice Halicka (Alicja Halicka) (1894-1975) is another woman artist from the Paris School to feature in the sale (Lot 53). On offer is Nature morte avec pichet, pomme, bougie (c.1912), a rare Cubist period still life estimated at £6,000-8,000. The signed oil of a pitcher, apple and candle comes from a private collection and was exhibited in London in 2005 at the Ben Uri Gallery show, Chagall and his Circle.  Halicka moved to Paris around the time this picture was created, and studied at l'Académie Ranson under Paul Sérusier and Maurice Denis. It was here where she also met her husband, the renowned Cubist painter Louis Marcoussis (1878-1941). Halicka exhibited at the Salon des Indépendants and began to work under the influence of art dealer Léopold Zborowski (1889-1932), who was a strong proponent of Cubism. He represented her work, though her husband strongly discouraged it. As a result, Halicka destroyed much of her Cubist work and, from 1919 focused on collage and fabric design.
Alicia Perez Penalba's (1913-1982) Esquisse du Double (1959), a bronze made in a small edition of just nine from her so-called 'Doubles' series, is expected to bring £12,000-15,000 (Lot 62).
Penalba moved to Paris in 1948 where she enrolled in engravings at the School of Fine Arts, and from 1950 she worked in the studio of the prominent Russian sculptor, Ossip Zadkine.
Penalba created her 'Doubles' series in the late 1950s. The rigidity of vertical rhythms split into distinct elements, which allows light to emerge between them, is a typical theme of the group. Bela Levikova (b.1939) belongs to the Moscow group of conceptual artists (Lot 106). She began her artistic career in 1965 while still studying at the Moscow State University for a degree in Theory and History of Art. The artist says she is fascinated by meanings and this is the theme she explores in the majority of her works: "Matisse shook me with an unexpected power to organize apart from meaning... Malevich shook me with both meaning and organisation...".  Her art is concentrated on bringing together opposites and on exploring the visions that guide people's minds. Interaction (1980) is one such work and is estimated in the sale at £6,000-8,000.
Native American First

An intriguing painting of a crouching Native American by Eanger Irving Couse (1866-1936) carries hopes of £10,000-15,000 (Lot 9). Couse was president and a founding member of the Taos Society of Artists who held true to his formal academic training throughout his career. His depictions of Native Americans and landscapes of the Southwestern United States, such as this painting, are among Couse's most celebrated images. Watching Game (c.1906) has never been offered before and marks the first time a work like this is being sold in the UK. A comparable work, Indian at Sacred Lake, is held in the El Paso Museum of Art in Texas.The signed oil on canvas was purchased in 1906 for $150 from the artist by L. Lehamier, who is believed to have been an art dealer. Subsequently, it entered the collection of Bion Hall Barnett (1857-1958), an American banker who founded the Bank of Florida, and has since passed by descent.
This work will be included in the artist's forthcoming catalogue raisonné by Virginia Leavitt, the artist's granddaughter.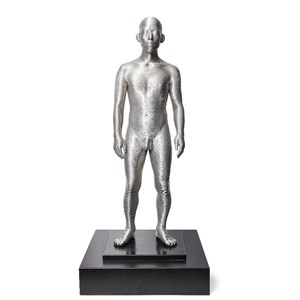 Unique Wire Creation

A one-off sculpture of a standing man by South Korean artist SeungMo Park (b.1969) is another highlight in the sale at £8,000-12,000 (Lot 137). The piece is made from aluminium wire and fibreglass and was bought from the Albemarle Gallery in London by the current owner. Park's painstakingly-made and highly original wire sculptures and mesh installations are instantly recognisable, and on close inspection show the intricate fabrication and surprising materials used to create them. They embody the artist's preoccupation with the nature and illusion of existence, our environment and the way we interpret it in relation to his artwork. Perhaps it is no surprise he compares himself with his metal wire sculptures: "Ultimately then am I really SeungMo Park just because I have a body and existence, or am I an empty shell, or a shadow like them?"
Impressionist, Modern, Post War & Contemporary Art Sale begins at 12 noon
Sunday 30 June 10am-2pm
Monday 1 July 9.30am-5.30pm
Tuesday 2 July 9.30am-5.30pm
Wednesday 3 July 9.30am-11.30am
View the full auction catalogue here
For further information please contact Peigi Mackillop peigimackillop@roseberys.co.uk +44 (0) 20 8761 2522