Asian Art Week
4/11/2016 News Stories & Press Release, Chinese, Japanese & South East Asian Art
Asian Art Week
Roseberys London are delighted to be part of a preview exhibition for Asian Art Week, held at the Rountree Tryon Galleries, St. James' in partnership with Association Accredited Auctioneers (AAA).
Rountree Tryon Galleries
7 Bury Street
London SW1Y 6AL
12 lots from the forthcoming Asian Arts Auction will be available to view from midday until 9pm on Sunday 6 November.
Lot highlights include:
A fine porcelain yellow ground dou, Daoguang iron red seal mark and of the period, painted with five-clawed dragons amongst clouds
Provenance: Gifted to the great uncle of the current owner by a wealthy family for whom he served as valet during their visit to the Far East prior to WWI
Est. £10,000-£15,000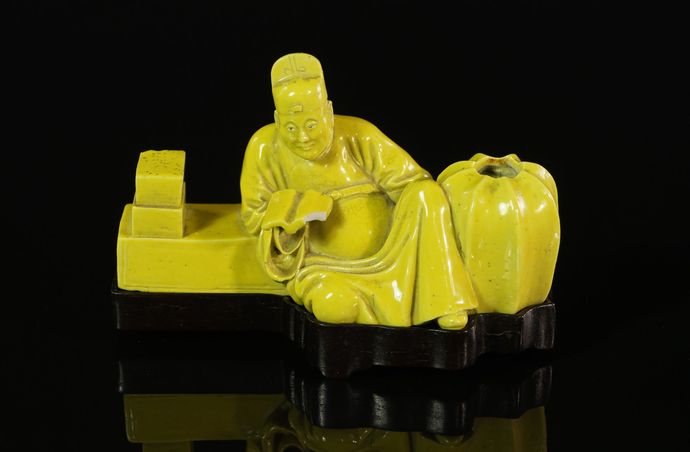 A fine porcelain yellow glazed scholar's brush rest and water pot, Qianlong period, modelled as the poet Li T'ai Po seated holding a book beside a lobed pot, on fitted hardwood stand, with Oriental Ceramic Society 1947 Exhibition label
Provenance: Exhibited at the Oriental Ceramic Society Chinese Ceramic Figures April 8th-June 21st 1947, no.122, Ex. D.W.Rudorff Collection
Est. £1,000-£2,000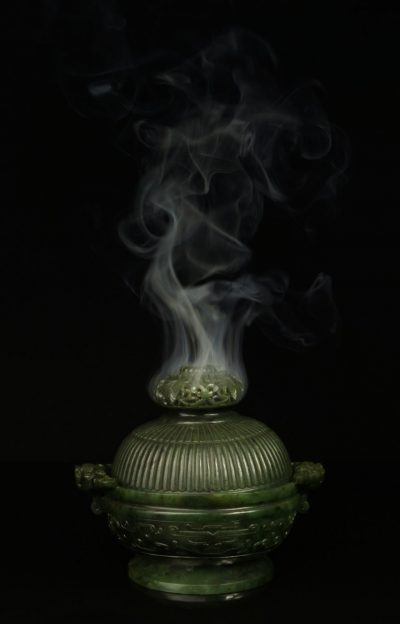 A spinach green jade koro and matched Mughal style cover, Qianlong period, with Taotie handles
Provenance: Purchased from Sydney L. Moss, London, 22nd April 1961 for £170
Est. £1,500-£2,500
A massive green hardstone figure carved as a recumbent horse, on fitted hardwood stand
Provenance: Lot 162 Sotheby's New York, June 28th 1985
Est. £20,000-£30,000
A large Mongolian-style silver jade mounted three-handled jar and cover, 19th century, the body set with three large oval pale green jade plaques, the handles set with three pale green jade carved chi-long dragons
Est. £10,000-£15,000
A Mongolian-style parcel gilt and jade mounted silver vase and cover, 19th century, the body inlaid with two jade plaques mounted with various hardstone carvings, with jade ring handles and chi-long mounts
Est. £4,000-£6,000
A cinnabar lacquer brush handle and cover, 18th/19th century, carved with dragons amidst clouds
Est. £500-£1,000
A cinnabar lacquer brush handle and cover, 17th century, carved with chrysanthemum sprays
Est. £500-£1,000
A Junyao green glazed ewer, Song Dynasty, with early gilt metal mounts to rim, spout handle and foot rim
Provenance: Private UK collection assembled in 1960s and 1970s
Est. £1,500-£2,500
A porcelain baluster 'Twelve Magpies' vase, Republic period, attributed to Pan Yongbing
Est. £5,000-£7,000
A large gilt bronze standing Buddha, Burma, 18th century
Est. £3,000-£5,000
A rare porcelain vase, Republic period, finely painted with panels signed Liu Zongxun and with depictions of Chang Hen Ge by Bai Juyi, with fitted box and with silk stand
Provenance: Acquired in Singapore in the 1950s and thence by descent within the family.
Est. £20,000-£30,000
~Ends~
For further information please contact Charlotte Meddings charlottemeddings@roseberys.co.uk +44 (0) 20 8761 2522
Or
Bill Forrest
billforrest@roseberys.co.uk
Roseberys is a privately owned auction house operating at the heart of the fine art market for more than 25 years.
With offices in London's Mayfair and Lambeth Roseberys offer a calendar of more than twelve specialist fine art, antiques and collectibles auctions each year.
Specialist sales include a wide range of Asian and Islamic Arts, Modern and Contemporary Art and Design, Decorative Art, Fine Silver and Jewellery, Ceramics, Paintings, Prints, Photography, Antique Textiles, Vintage Fashion and Fine Wine and Whisky.
Roseberys team of world-renowned specialists also provide a wide range of art market services to professional clients, including valuations for insurance and probate.
Roseberys is a member of SOFAA – The Society of Fine Art Auctioneers.