Asian Art Preview
15/06/2017 News Stories & Press Release, Chinese, Japanese & South East Asian Art
Asian Art Tuesday 27 June, 10am
Roseberys London presents the first Asian Art sale of 2017, the specialist sales continue to go from strength to strength and the latest offering is no exception.
Roseberys Specialist Bill Forrest comments:
Contemporary Chinese paintings are seeing a meteoric rise at present. There has been a revived appreciation for the spirit of the past in China, so artists like Peng Wei working in traditional media such as pen and ink, employing traditional techniques and incorporating traditional themes are increasingly in vogue. Bronze icons of Buddhism and Hinduism are particularly sought after too. Deities 'on the threshold of Buddhahood' known as bodhisattvas have been celebrated in various forms by sculptors for thousands of years, and many survive, particularly those cast in bronze.
Highlights from the sale include:
Lot 331- A collection of thirty-three Chinese scroll paintings, dating from 15th century to the 1930s. One of the most interesting of these is painted by the celebrated artist of the late Qing dynasty, Ron Bonian. This is a superb watercolour painted on silk with just a few choice brush strokes representing the fondly anticipated season of spring.
(As pictured above)
(LOT 331)
Estimate £3000 – £5000 (+27.6% BP*)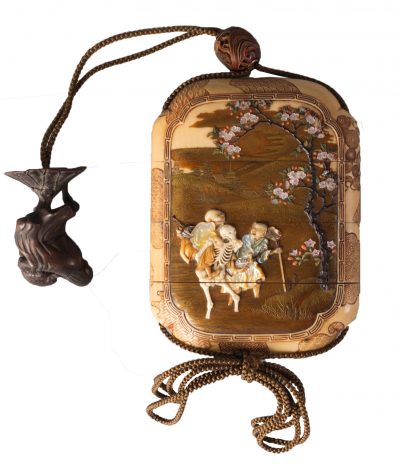 Lot 415 – Also consigned is one of the finest Japanese inro our specialist has come across; A five-section box which was worn on a cord with a robe lacking any pockets. It was made by one of the greatest Japanese craftsmen of the Meiji period, Nemoto, and it is in remarkable condition. This is Japanese art at its zenith, and is expected to be met with great interest from across the world.
(LOT 415)
Estimate £5000 – £10000 (+27.6% BP*)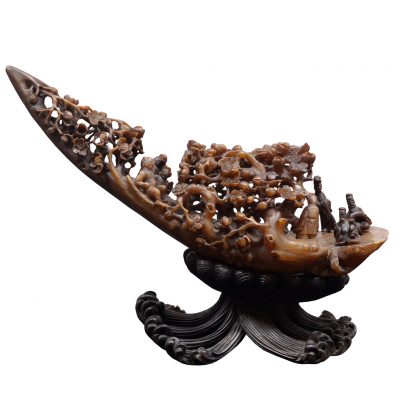 Lot 245 – The star of the sale will likely be a large rhinoceros horn boat carving. This is a truly great work of art, intricately carved with blossoming prunus, itself regarded as a symbol for long life.
Provenance: presented to a British missionary, McNab, whilst posted in Nagar Hills District c.1885, and thence by descent.
(LOT 245)
Estimate £10000 – £20000 (+27.6% BP*)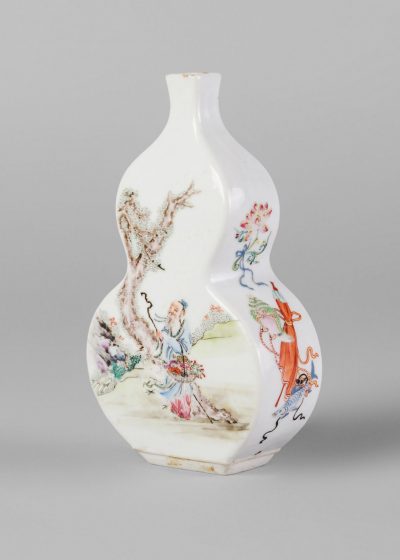 Lastly Lot 131 – a small porcelain vase, made during the reign of Emperor Qianlong (1735 – 1796). Unusual in shape, it is finely painted with Caishen, god of prosperity, and Shoulao, god of longevity. Vases with this iconography seldom appear on the open market.
(LOT 131)
Estimate £800 – £1200 (+27.6% BP*)
~Ends~
Prices include Buyers Premium of 23%.
For further information please contact Charlotte Meddings charlottemeddings@roseberys.co.uk +44 (0) 20 8761 2522
Roseberys is a privately owned auction house operating at the heart of the fine art market for more than 25 years.
With offices in London's Mayfair and Lambeth Roseberys offer a calendar of more than twelve specialist fine art, antiques and collectibles auctions each year.
Specialist sales include a wide range of Asian and Islamic Arts, Modern and Contemporary Art and Design, Decorative Art, Fine Silver and Jewellery, Ceramics, Paintings, Prints, Photography, Antique Textiles, Vintage Fashion and Fine Wine and Whisky.
Roseberys team of world-renowned specialists also provide a wide range of art market services to professional clients, including valuations for insurance and probate.
Roseberys is a member of SOFAA – The Society of Fine Art Auctioneers.