Arts of India lead by strong Jewellery
30/06/2021 News Stories & Press Release, Islamic & Indian Art
Roseberys Arts of India auction played host to an array of highlight results on Tuesday the 15th of June. Alice Bailey, Head of Islamic & Indian Art department at Roseberys commented: "We were thrilled with the results of the third Arts of India sale at Roseberys. The overall sale total hammer demonstrated a fierce demand for quality and rarity, spurred by the opportunities to acquire desirable works of Indian art. The highlight was the sale of the ruby- and diamond-set sarpech that sold for a glittering price of £81,250, but throughout the sale at every price level we saw impressive prices for jewellery, works of art, contemporary painting and sculpture, with strong interest and bidding from a truly international pool of collectors."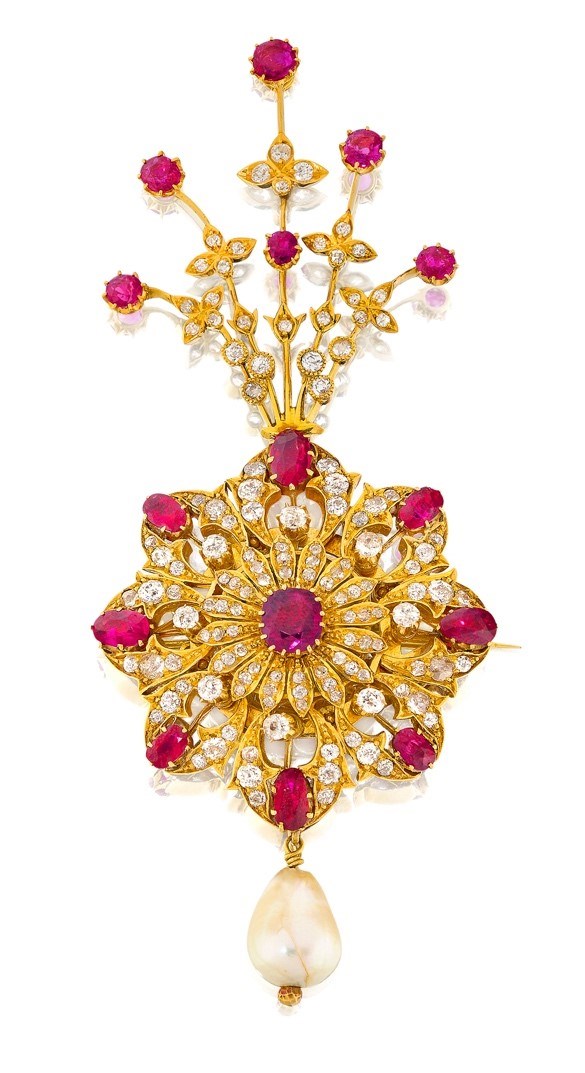 Highlighting the sale, alongside several other pieces of jewellery was lot 121, a stunning diamond-and ruby set- gold sarpech. This lot was accompanied by strong provenance, having formerly owned by the Maharaja of Patalia, Bhupinder Singh. The sarpech was passed onto Bhupinder Singhs son Maharaja Yadavindra Singh, who then sold the sarpech to the Gazdar's Jewellers, the luxury Jewellery firm based within the Taj Mahal Hotel in Bombay, where it was acquired by the current vendor. Set with 133 diamonds, 15 Burmese Rubies and a large natural pearl, the sarpech attracted plenty of interest, with telephone and internet bidding battling it out, settling for the price of £81,250 won by a buyer in America.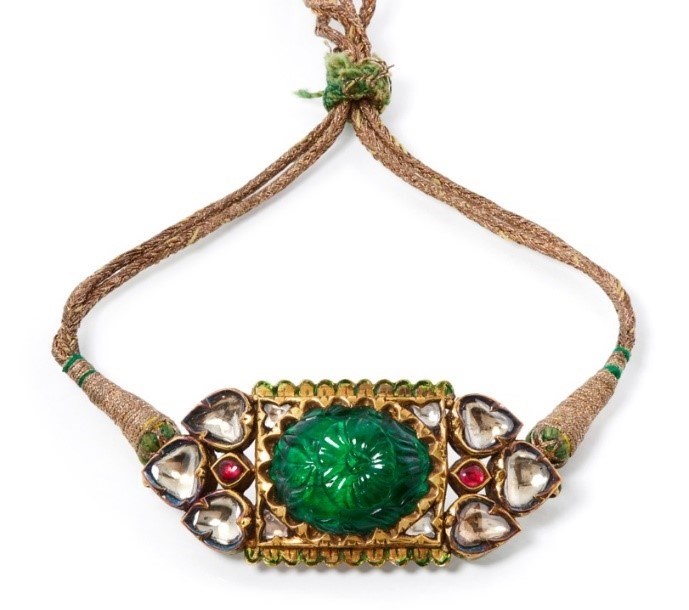 Arguably one of the stand-out lots of the sale and within the fine selection of jewellery of offer, was lot 117, an emerald and diamond-set enamelled gold bazuband. Lot 117 entered the sale with an estimate of £6,000 - £8,000 and attained the price of £27,500, a truly thrilling result. Lot 117 attracted a combination of telephone, online and commission bidding and was won by a bidder on Roseberys Live. Alongside its excellent craftmanship, lot 117 was accompanied by a strong provenance by repute from the collection of Maharani Jindan Kaur, who was the wife of Mahrarjah Ranjit Singh.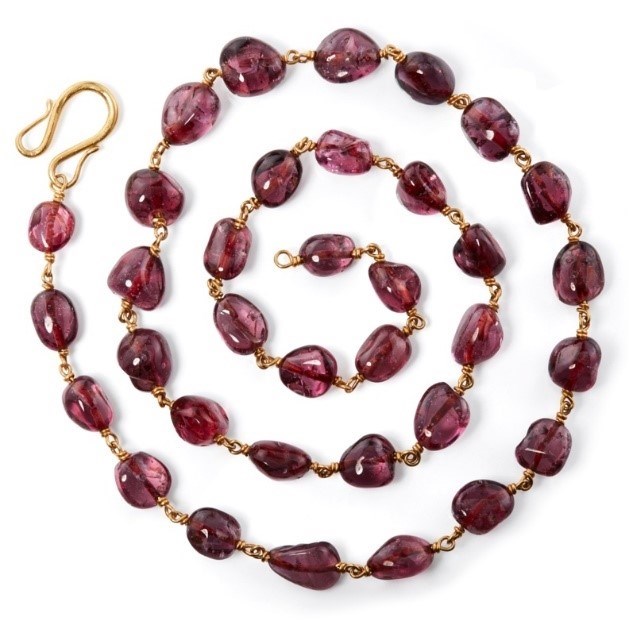 Another beautiful piece of jewellery sold was lot 75, a spinel necklace, with thirty-seven polished spinels, each weighing between 12-15 carats with gold wire links and a gold hook clasp. Necklaces like these were loved by Mughal emperors because of their precious stones. Emperors commissioned special officials to search for spectacular stones, that they would then wear in multiple strand necklaces to adorn their outfits. The gems were a symbol of the opulence and dignity of the empire. This necklace was also adored by a lucky buyer, as it reached a spectacular price of £47,500.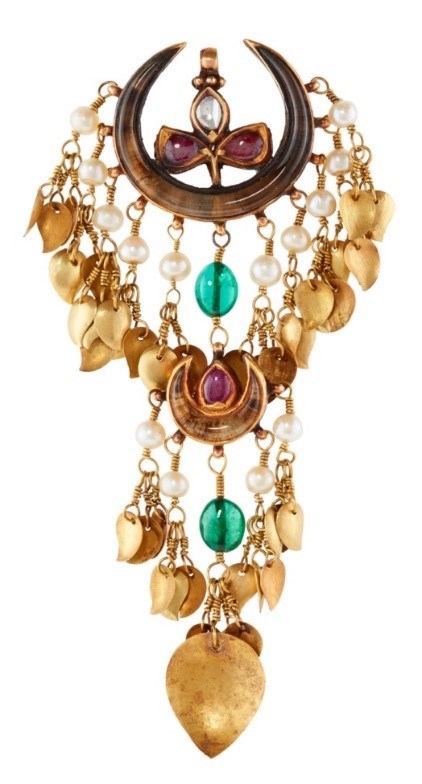 Lot 118, a gem-set gold forehead pendant (chand-tikka) was entered into the sale also by repute from the collection of Maharani Jindan Kaur and achieved the price of £31,250. The upper element of the pendant is in the form of a crescent set with rock crystal surmounted by a three petaled flower motif set with rubies and a diamond. The lower element is in the form of a crescent set with rock crystal, surmounted by a single spinel, and a fringe of natural pearls and gold foliate motifs. It comes with a provenance from a private collection, acquired by the vendor from the family of renowned London jeweller John Brogden (1820-1884) and formerly in the collection of Maharani Jindan Kaur (1817-63). John Brogden was one of the best known and most prolific of Victorian manufacturing jewellers during the second half of the 19th Century, although his family had been in the trade since the early 18th century. He exhibited successfully at the Great Exhibition of 1851 in London's Crystal Palace showcasing a range of jewellery designs including archaeological revival style pieces inspired by the recently discovered ruins of the ancient city of Nineveh. Further acclaim was granted them at the 1855 Exhibition Universelle in Paris where the company won a gold medal, details of which were duly added to the silk linings of their jewellery cases. Brogden was awarded the Légion d'Honneur for "Goldsmiths' work and jewellery in exquisite taste" as well as the gold medal of L'Academie Nationale, Paris. Examples of his Assyrian, Egyptian and Renaissance revival jewellery can be seen in both the Victoria and Albert Museum and The British Museum amongst others. During 1880, Brogden moved the firm and manufacturing capability to new premises at 6, Grand Hotel Buildings in Charing-Cross and he was granted a Royal Warrant from H.R.H. Prince Leopold, son of Queen Victoria, which he proudly added to the company information stamped on the silk linings of his jewellery boxes.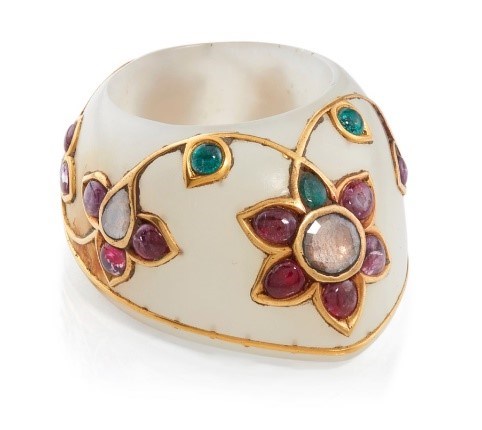 An interesting gem-set jade archer's ring, from the collection of Maharani Jindan Kaur, also highlighted the jewellery section of the sale. Interestingly archers in India used the thumb to draw the bow string rather than the two forefingers that European archers used. The archers ring would protect the inside of the thumb. Archer's rings like the one above were also worn as jewellery to convey the rank and social status of the wearer. Lot 120 attracted a number of phone bids and commission bidding, settling on a final hammer price of £8,750.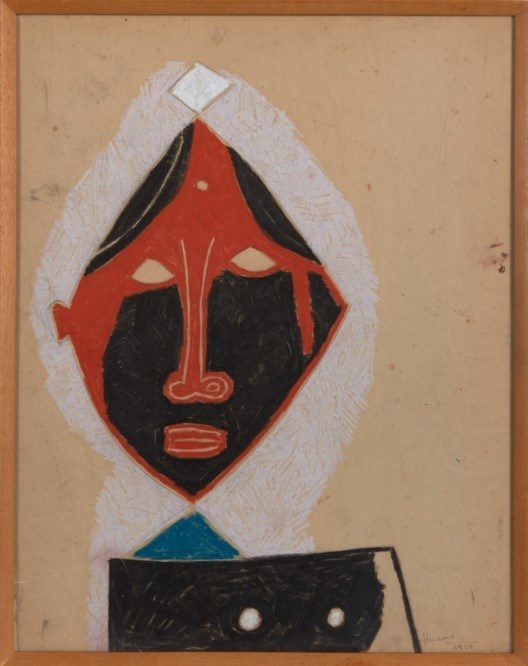 The sale was also highlighted by artist M.F Hussain (lots 226-232), seven lots in total from two private collections. Lot 232, 'Face in red and black' executed in 1954, a pastel on paper, stole the show, as a lot that has never been entered onto the market before, belonging to a British council representative in Mumbai. With a pre-sale estimate of £1,000-£1,500, lot 232 climbed up to a final price of £18,750. The artwork was fought out by 7 telephone bidders and a number of online bidders and was won by an online bidder via Roseberys Live based in London. The remaining six works by the artist on offer were bought by buyers in the U.K, America and India.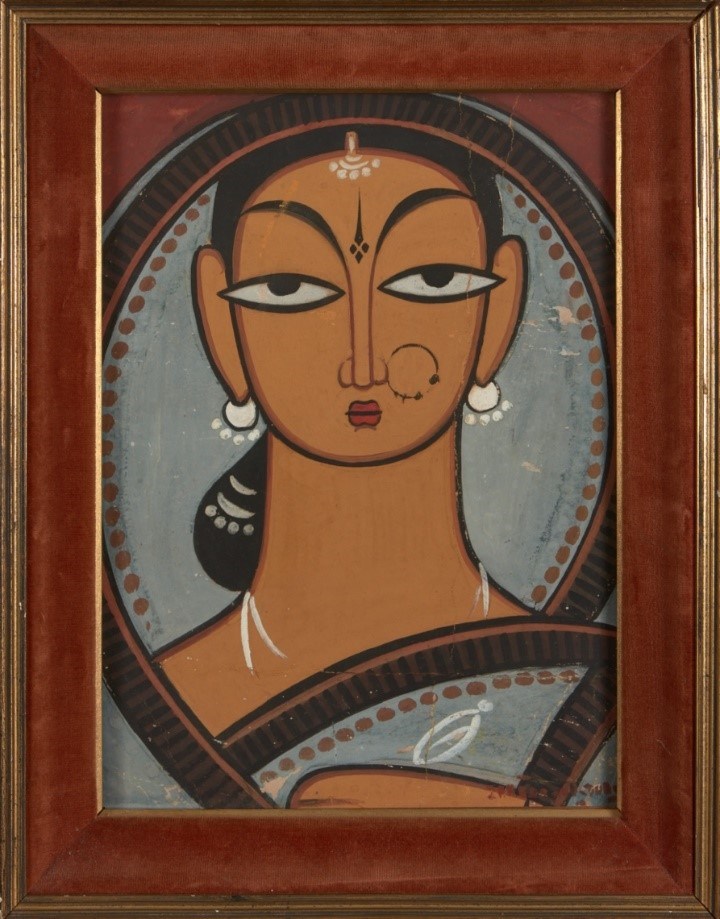 Another impressive result within the range of artwork on offer in the sale was lot 242 by Jamini Roy, 1887-1972, Untitled, Woman in Grey, tempera on paper laid on board. This work garnered a lot of pre-sale interest. Jamini Roy was honoured with the State award of Padma Bhushan in 1955. He was one of the most famous pupils of Abanindranath Tagore, whose artistic originality and contribution to the emergence of art in India remains unquestionable. The artwork was gifted to the current owner by his late great uncle who worked as defence attaché in Burma in the late 1940s for Lord Mountbatten (1900-1979). Entered onto the market with a guided price of £3,000-£5,000, with a number of internet bidders and five telephone bidders, lot 242 was finally settled at £8,250 to a successful telephone bidder in India.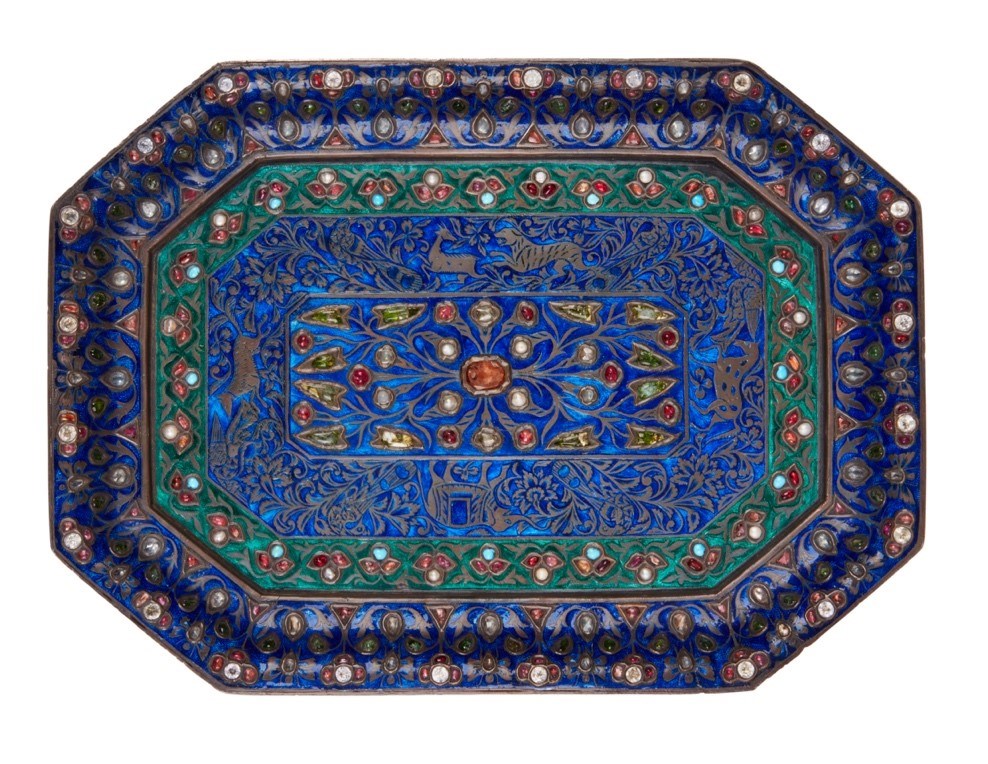 Lot 70, a Mughal gem-set and enamelled tray, India, 18th century, of canted rectangular form, the tray set with table-cut diamonds, white sapphires, seed pearls, turquoise and cabochon rubies was presented with a pre-sale estimate of £1,000-£1,500. There was back and forth bidding between a phone bidder and a bidder in the room, eventually going to the bidder on the phone based in New York for the price of £13,125. 
The final highlight of the sale was lot 47, a scroll depicting Markandeya and Bhavana Rishi Purana performed before the Padma Sale, Padmasali caste, Eastern India, Andhra Pradesh,Telangana, late 19th-early 20th century. This scroll measures an impressive 600cm or nearly 20ft and originates from Andhra Pradesh, where such scrolls were used to relate stories of a particular caste. Scrolls such as this were employed by hereditary itinerant performers or storytellers locally called Patamuvaru, to perform before people of their community. With a pre-sale estimate of £4,000-£5000, the scroll was bought by an internet bidder on RoseberysLive in Singapore for £15,000.
- ENDS -
You can find all the results from the Arts of India auction on Tuesday 15 June here
Contact Marketing & PR Manager Peigi Mackillop for further information
peigimackillop@roseberys.co.uk