Artists who became innovative in the face of adversity
1/05/2020 News Stories & Press Release
During this surreal time, it's important that we keep ourselves optimistic, energized, and entertained. Because nothing—not even a global pandemic—can stop human creativity. We just have to adapt. Like art critic Jerry Saltz has said "Viruses come, viruses go. Art will be here on the other side."
Here we research into artists who adopted a similar ethos to Saltz and managed to be innovative and creative in the face of difficulties and change, to inspire us to do the same.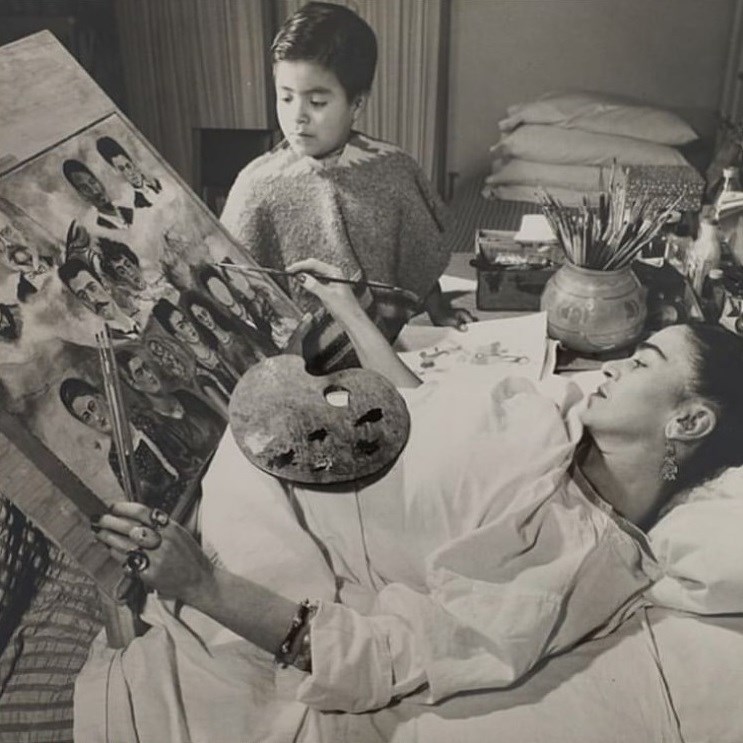 Image of Frida Kahlo at home via @semaine Instagram
Frida Kahlo
 Frida Kahlo spent most of her life at La Casa Azul, her family home in Mexico City—now publicly accessible as the Frida Kahlo Museum. Despite having polio as a child, Kahlo had been a promising student heading for medical school until she suffered a bus accident at the age of eighteen, leaving her homebound for three months. During her recovery she returned to her childhood pastime of art with the idea of becoming an artist, predominantly a career as a medical illustrator, which would combine her passions in science and art. To help her reach her goals she had a specially-made easel that enabled her to paint in bed, and a mirror placed above it so that she could see herself. Painting became a way for Kahlo to explore questions of identity and existence, and she later stated that the accident and the isolating recovery period made her desire to begin again, painting things just as she saw them with her own eyes and nothing more.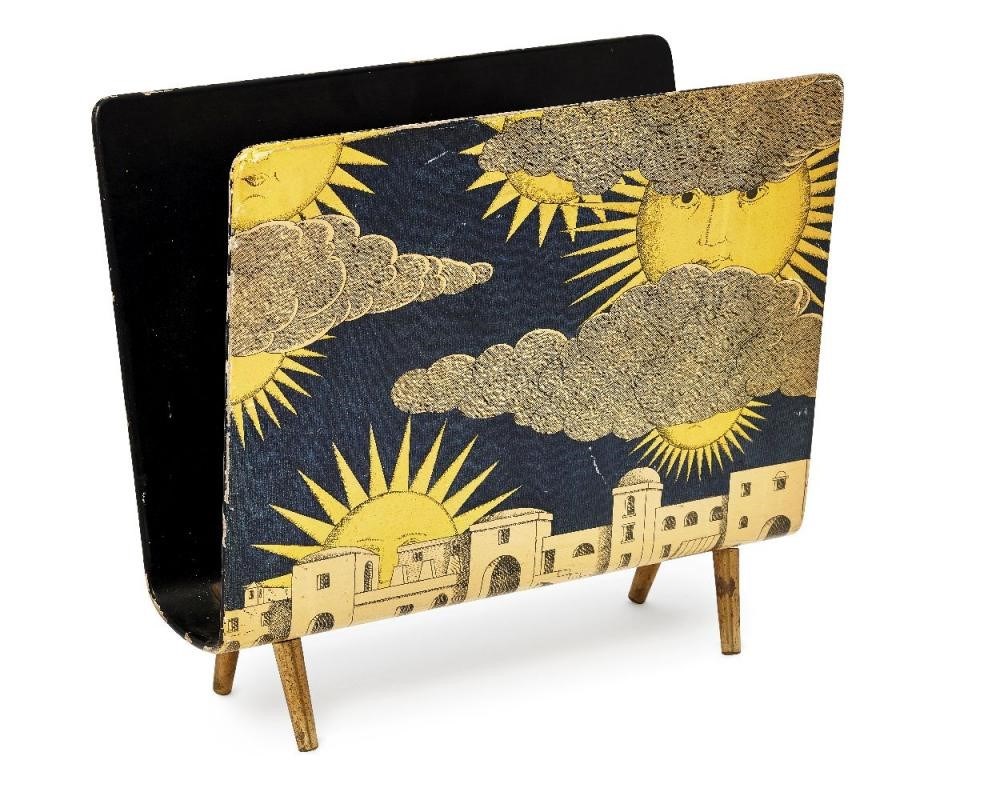 Pierro Fornasetti (1913-1988), a "Sole di Capri" pattern magazine stand c.1950s sold at Roseberys Design auction
Piero Fornasetti
Called up on the outbreak of World War II, renowned Italian designer Piero Fornasetti initially managed to remain in home in Milan by getting the job of decorating army barracks. Later, in 1943, he took refuge from the war and went into exile in Switzerland, where he continued his artistic research and produced posters and lithographs for theatrical events and magazines from 1943 to 1946. Although not planned this period represented an unprecedented opportunity, during which he created oil portraits, watercolours, and drawings in ink, Indian ink and ballpoint pen. In the face of change Fornasetti devoted himself to investigating intriguing points of view, mostly of the human body, on which he would later draw in his production of decorative graphic arts that would make him the famous household name he is today.  
Robert Capa, American 1913-1954- ''Matisse on his bed signing a poster'' sold at Roseberys
Henri Matisse
Diagnosed with abdominal cancer in 1941, French artist Matisse underwent surgery that left him chair and bedbound. His usual practice of painting and sculpture had become a physical challenge, so he turned to a new type of medium. With the help of his assistants, he began creating cut paper collages, or decoupage. He would cut sheets of paper, pre-painted with gouache by his assistants, into shapes of varying colours and sizes, and arrange them to form lively compositions. Originally, these pieces were modest in size, but eventually transformed into murals or room-sized works. The result was a distinct and dimensional complexity—an art form that was not quite painting, but not quite sculpture. Although Matisse's subject was not pioneering, his innovative approach to colour, line and expression was extremely influential – and altered the course of art. 'I have attained a form filtered to its essentials,' he said.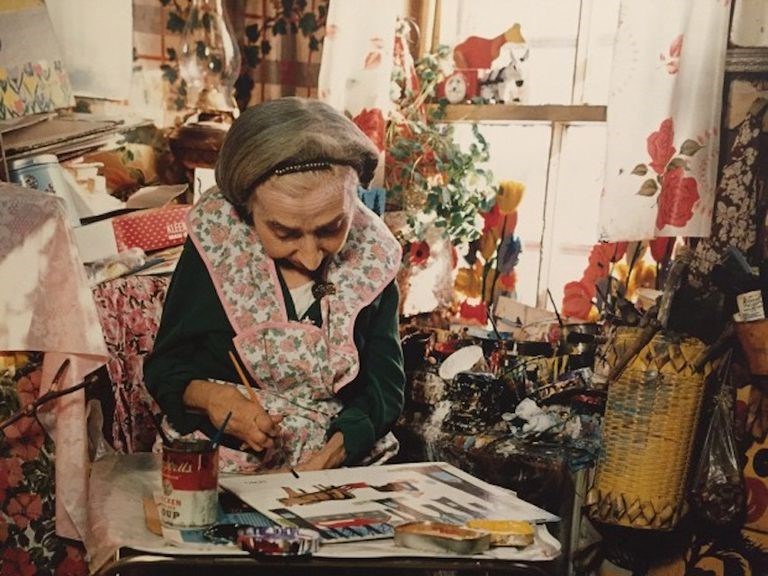 Maud Lewis painting in her home in Nova Scotia. Image via © CBC
Maud Lewis
Canadian artist, Maud Kathleen Lewis, was a folk artist from Nova Scotia. Lewis lived most of her life in poverty in a small house in Marshalltown, Nova Scotia, achieving national recognition in 1964 and 1965.  She was born with birth defects and ultimately developed rheumatoid arthritis, which reduced her mobility, especially in her hands. She was introduced to art by her mother, who encouraged her to make watercolour Christmas cards to sell. Later in life these cards proved popular with her second husband's customers. Due to the popularity her husband then inspired her to paint, and he bought her first set of oils. In the last year of her life, due to bad health Maud Lewis stayed in one corner of her house, painting as often as she could. Homebound she expanded her range, using other surfaces for painting, such as pulp boards and cookie sheets and more or less every available surface in their tiny home: walls, doors, breadboxes, and even the stove. She covered the commercial wallpaper in her home entirely with sinewy stems, leaves, and blossoms. Expressing innovation in the face of adversity by using materials close and available to her at the time.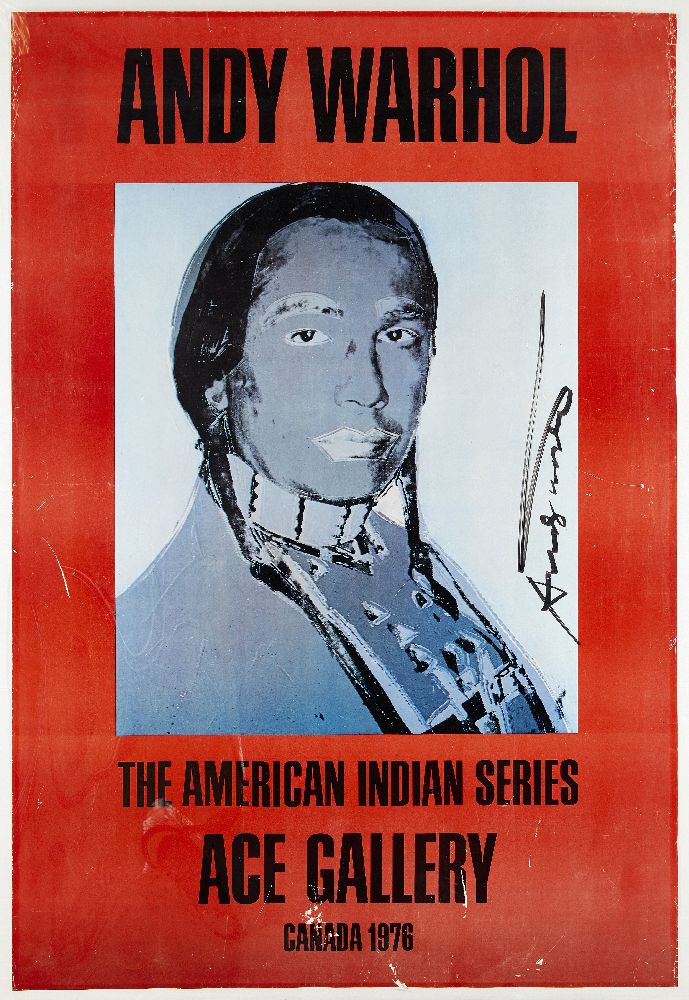 Enzo Apicella, Italian b.1922- ''After Andy Warhol''; screenprint in colours, signed, dedicated, numbered 41/50 and dated 73 in pencil sold at Roseberys
Andy Warhol
In third grade, Andy Warhol, the prince of Pop Art had developed Sydenham's chorea, the nervous system disease that causes involuntary movements of the extremities. Due to his illness he was confined to his bed in his early years. It was during this time he focused on drawing, finding inspiration from popular magazines and comic books. Bedridden, with an absence of glamor in his life, his mind began to wander. At this time his fascination with fame, celebrity culture, consumerism and money grew, which would pave the way of his artistic practice and own fame. Warhol later described this period as very important in the development of his personality, skill-set and preferences.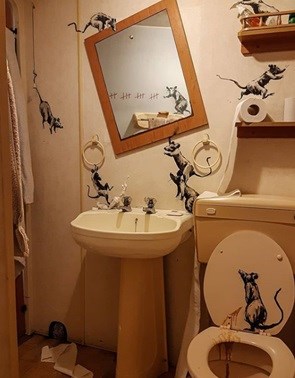 Image of Banksy's bathroom via the artists Instagram @banksy
Banksy


The elusive artist, whose identity has never been publicly revealed, recently published five pictures on his Instagram account of some new work – but unlike most of his artwork, it cannot be found on the street. Due to the UK, along with many other countries around the world being in lockdown amid the coronavirus pandemic, the artist has been forced, like many others, to work from home. His latest graffiti, therefore, appears in his own bathroom. Banksy revealed the new work digitally via his Instagram, where he posted pictures of his walls covered in his famous rat drawings. "My wife hates it when I work from home," wrote the artist. Nine rats appear in the new pictures, hanging from the towel ring, stepping on a tube of toothpaste and knocking the bathroom mirror to one side. One appears to be counting the days of lockdown while another is swinging from the light cord.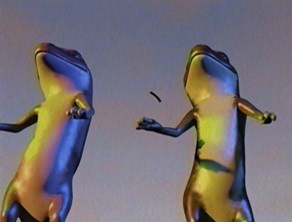 Image via artist Meriem Bennani Instagram @MeriemBennani
Artist Meriem Bennani and filmmaker Orian Barki
The artist and filmmaker duo have been gaining attention on Instagram recently for their new must see video series called "2 Lizards" (2020), featuring a pair of chatty, quarantined reptiles pals. Naturally like their creators, the anthropomorphized reptiles are also self-isolating, in what appears to be north Brooklyn. Bennani and Barki started the project on a whim, with a simple wish to make collaborative work about their pandemic-mandated confinement. As Bennani explains in an Instagram caption, the series reflects a "beautiful moment of communion through sound waves in Brooklyn despite social distancing—the protective membrane is very sensitive to soap and heat but also bass—these 2 lizards are lucky they work from home and can afford to stay inside. This is Yani and I's first collaboration, we made this over the weekend to take a break from editing and animating for work."  2 Lizards, has numerous references to pop culture including Justin Bieber's recent Instagram live broadcasts, Zoom parties and ASMR videos, which created a candid reflection of our new reality. Bennani, who works in a wide array of mediums, including video, sculpture and installation, is known for using satire to address topical issues — and was one of the four artists chosen for the 2019 Whitney Biennial who requested their work be withdrawn via a collective published letter in Artforum.