Artists of the Skate World
17/02/2021 Modern & Contemporary British Art, Prints & Multiples , News Stories & Press Release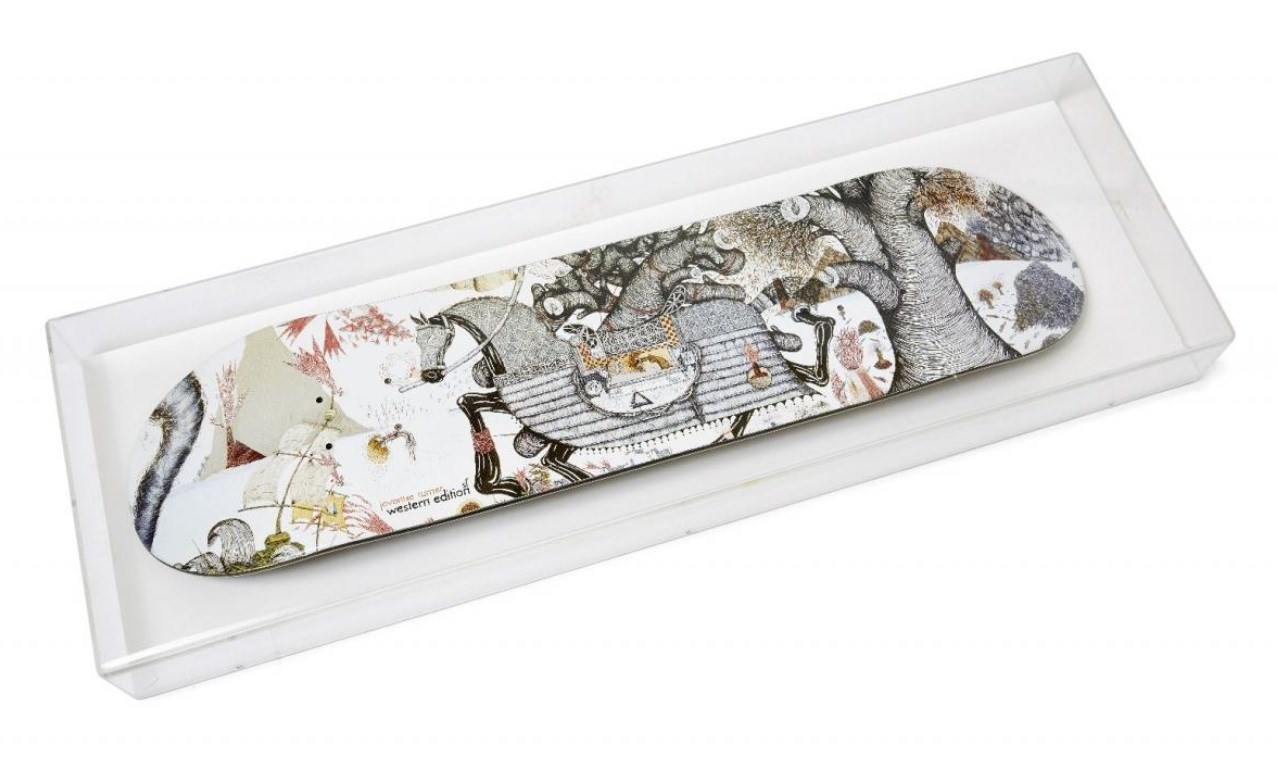 Andrew Schoultz, American b.1975- Skate Deck, 2007; offset lithograph 7 ply wood skate deck to be included within the Urban & Contemporary Art on Tuesday 24 February
Since its inception in the 1950s, skateboarding has been an emblem of counterculture and rebellious youth. Skateboarding has often swung in and out of popularity within mainstream culture with booms in the 1980s and the early 2000's, however it has always managed to keep a core following throughout its history. The skateboarding scene has often spilled over into the art world, by nurturing not only sporting and athletic talents but also producing a strong batch of artists too. It makes sense that there would be this crossover – after all, both forms of expression require determination and resilience in the face of repeated failure, and both passions both share an association with counterculture. The skate and graffiti scene, especially goes hand in hand, with boards to skate parks and many cities covered in graffiti art.
Here we will take a look at some of those artists that skate and create exciting works of art, whose works are now on sale at Roseberys in the upcoming Urban and Contemporary Art auction on Wednesday 24 February.
Shepard Fairey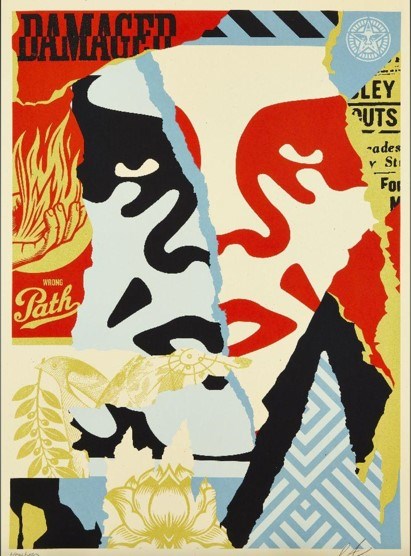 Shepard Fairey, American b.1970- Damaged Icon, 2018; screenprint in colours on wove, signed to be included within the Urban & Contemporary Art auction
American artist Shepard Fairey began his career as an artist in Palm Springs California and later went to the Rhode Island School of Design in 1992. He was a skate obsessed artist and began to use his drawings and art on t-shirts and to create skateboard decks. He also used his skills to create stickers and graffiti art, which is a scene very closely intertwined with skateboarding. He was also influenced by punk music. One of the first images he used within his artwork was Andre the giant, which can be seen in the work on offer at Roseberys. He had found the image in newspaper and put it all over the streets and later it became the OBEY skate brands main logo.  Shepard Fairey has been labelled as one of the most influential street artists of our time. He has worked across nearly every medium and touched on a number of different art matters outside of street art such as contemporary and political art. One of his most notable works being that of his work of Barrack Obama, the image was later used as the Time Magazine cover of the year. He also produced work to support the aftermath of the terrorist attacks in Paris in 2015.
Ed Templeton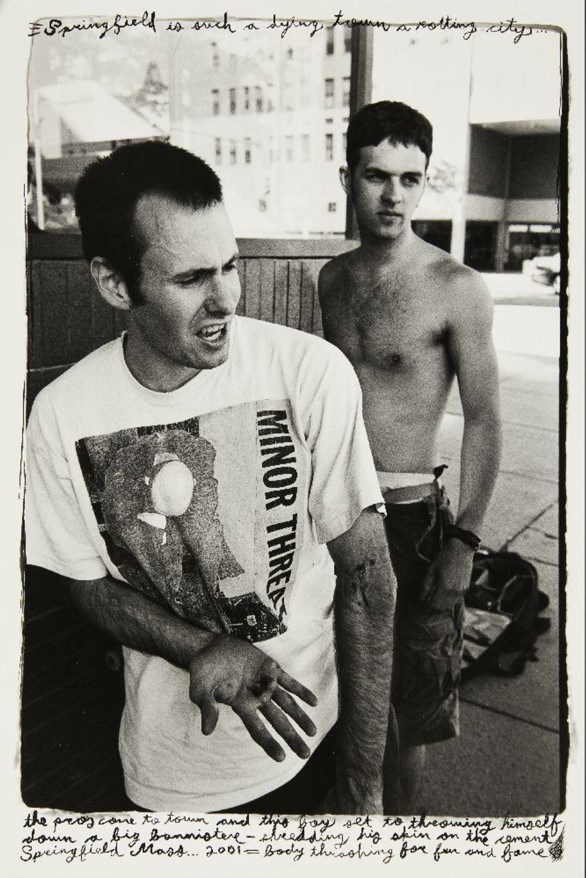 Ed Templeton, American b.1972- Springfield Mass, 2003; gelatin silver print with handwritten text, signed.to be included within the Urban & Contemporary Art auction at Roseberys on Wednesday 24 February
Ed Templeton was born in Orange County Los Angeles. He began his career as a skateboarder in high school, this is also when his interest in art was born, where he became inspired by artists such as Picasso, Egon Schlie and Dali. Templeton's success as a skateboarder meant that he was touring Europe and he could visit various museums and gain further inspiration for his art. He started his own company Toy Machine Bloodsucking Skateboard Company which is a skateboarding team and board maker using Templeton's artwork. Templeton is a painter but also a photographer. His photography work is about capturing the moment and some of his older works are about evoking a strong reaction. 
Andrew Schoultz
 
Andrew Schoultz, American b.1975- Crisis, Panel No.27, 2009/2010; acrylic, collage, gouache and spray paint on wood panel to be included within the Urban & Contemporary Art auction at Roseberys on Wednesday 24 February
Andrew Schoultz began his career as a skateboarder travelling around the US. He finally settled in San Francisco due to the lax laws on graffiti and street art. It is here he developed his skills as a muralist and artist. Today he focuses on issues facing society in contemporary life. Although he has done smaller works such as skate decks and a few paintings, the majority of his work is featured in large public spaces as murals.
Urban & Contemporary Art  : Live online only auction 
Wednesday 24 February, 12 noon  
There is no in person viewing for this auction.
We offer video viewing and extra images.
Please contact pictures@roseberys.co.uk for condition reports and further information. 
LEARN MORE ABOUT THE URBAN ART DEPARTMENT