Artist Spotlight: Joseph Beuys
26/11/2021 Impressionist, Modern & Post War Art
Artist Spotlight: Joseph Beuys
Joseph Beuys was a German artist, teacher, and theorist of art, who was highly influential in international contemporary art in the latter half of the 20th century, in Europe and the United States.
Lot 234: After Andy Warhol, American 1928-1987- Stripes From the House of the Shaman, Joseph Beuys Exhibition Poster, 1980; offset lithograph in colours sold in Roseberys Prints & Multiples auction 14/10/2019 for £190
At Roseberys we have sold many works by the German creative. Here we get to know the artist better, who is widely regarded as one of the most influential artists of the second half of the 20th century.
Joseph Beuys was the founder of the art movement known as Fluxus, and a practitioner and exemplar of happenings and performance art. Beuys's diverse body of work ranges from traditional media of drawing, painting and sculpture, to process-oriented or time-based "action" art. His performance art suggested how art may exercise a healing effect (on both the artist and the audience) when it takes up psychological, social, and/or political subjects. His work is grounded in concepts of humanism, social philosophy, and anthroposophy; it culminates in his "extended definition of art" and the idea of social sculpture as a gesamtkunstwerk, for which he claimed a creative, participatory role in shaping society and politics. His career was characterised by open public debates on a very wide range of subjects including political, environmental, social and long-term cultural trends. Ultimately, Beuys had a grand and ambitious goal for his work: the transformation of Western culture into a more peaceful, democratic and creative milieu. As well as being a multifaceted artist, Beuys was also a charismatic teacher; Beuys was a mentor to a generation of younger artists who were inspired by his passionate fusion of art, life and activism.
Joseph Heinrich Beuys was born on May 12, 1921, in Krefeld, a small city in northwest Germany.  As a youth, he pursued dual interests in art and the natural sciences. At age 19 in 1940, he joined the German air force. He was wounded several times and interned in a British prisoner-of-war camp, during his five years of service. He returned home in 1945 and spent nearly a decade recovering on a friend's farm. During this time, he dedicated himself to his art as a form of healing and made hundreds of drawings and small sculptures. Healing from his time spent fighting in World War II, inspired much of his art. In 1961, he was appointed to a professorship at the Düsseldorf Art Academy and became a popular teacher. At the same time, he began to develop his sculptural practice. One of his most famous works from this time is Sled (1969), which he called a "survival kit". Beuys was also a performer. The best-known performance work of his was 'I Like America and America Likes Me' (1974). For this work, he spent several days with a coyote in a New York gallery space. During the 1970s, Beuys focused much of his energy on political activism, helping to found such groups as the German Student Party, the Free International University and the Green party, whose goals included worldwide disarmament, educational reform and environmental stewardship. A well-known slogan of Beuys during his career was: "Everyone is an artist".
Lot 1779: Joseph Beuys, German 1921-1986- Untitled sketches, after the Madrid Codices by Leonardo da Vinci; pencil on note paper with perforated edge sold in Roseberys Fine Art auction on 18/03/2014 for £1,875
Beuys is especially famous for works incorporating butter, animal fat and felt, all common materials - one organic, the other fabricated or industrial - that had profound personal meaning to the artist. They were also recurring motifs in works suggesting that art, common materials, and one's "everyday life" were ultimately inseparable. These mediums used, are also well known as materials with strong healing function in Beuys' works. Fat and gelatin are materials that Beuys used also in such actions as Moor Film which shows the artist throwing small lumps of fat into the landscape of Ranch Moor, Celtic (Kinloch Rannoch), as well as his later action with throwing small gelatin lumps into the landscape of Rannoch Moor. These actions show the artist's concern for changes to the local landscape and are an act of healing for these natural areas.
Joseph Beuys, German 1921-1986- Irish Energy, 1974; peat briquette and butter
Within the upcoming Contemporary Art auction on Wednesday, 1 December, Joseph Beuys, work titled 'Irish Energy' (lot 172) created in 1974, using a medium of peat briquette and butter is on offer with an estimate of £4,000-£6,000. It is a great example of Beuy's work, using the symbolic medium of butter, which became a recurring theme within the artist's oeuvre as mentioned above.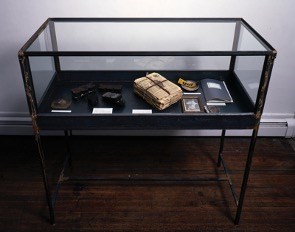 Installation view of a showcast with Irish Energies at the exhibition Bits & Pieces, Ronald Feldman Gallery, New York, Nov 17 - Dec 22, 1989
Irish Energies, 1974, are small sculptures made from peat briquettes containing a layer of Irish Kerrygold butter. Irish Energies are part of Bits & Pieces – a collection of works dating from 1957 –1986 assembled by Beuys for his friend and biographer, Caroline Tisdall. It consists of over 200 objects, drawings and multiples intended to offer a microcosm of the artist's concerns, from nature and the evolutionary process, to the survival of the spirit, and the planet, in our materialist times. Bits & Pieces were formally on display in 1989 at the Ronald Feldman Gallery in New York curated by Caroline Tisdall.
In May 1970, Beuys went to Scotland for the first time following the invitation of Richard Demarco. For Beuys, Scotland, as the "world of celts", was a unique place with a special power of myths and legends. There, he visited among other places Loch Awe and Rannoch Moor and created works using materials from the local landscape, especially peat. The peat, which shaped the landscape there and still has significance as a source of energy, as the peat in Ireland was still used as fuel for heating at that time. For Beuys, using local materials meant the connection with the earth and intuitive engagement with the essence of this special place.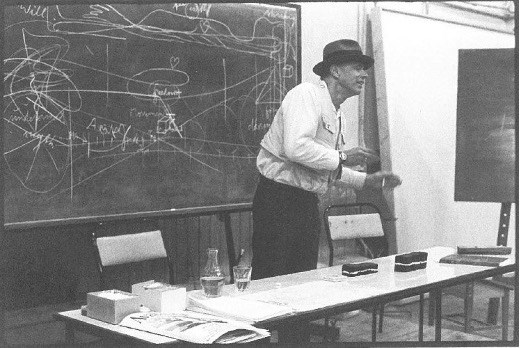 Image of Beuys teaching in Ireland, 1974, photo by Caroline Tisdall. Source: Sean Rainbird 2005, p. 38
Moreover, a part of Irish Energies was used by Beuys in his teaching actions and can be seen beyond the blackboard and chalk on the photograph of Beuys lecturing in Ireland taken by Caroline Tisdall in 1974.
Beuys died 23 January 1986, in Düsseldorf, Germany. During his career and after his death, Beuys's work has been collected and shown widely in Europe and the United States, with major retrospectives mounted by the Guggenheim Museum (1979) and Tate Modern (2005), among others. Large collections of his multiples are held by several American institutions, including the Walker Art Center and the Broad Art Foundation in Los Angeles. In 1986, Beuys was awarded the Wilhelm Lehmbruck Prize by the city of Duisburg, Germany.